What is a SWOLF score is the topic of our blog this week.  SWOLF score explained: everything you need to know to make you a better swimmer.
What does SWOLF mean?
Starting with the basics, what does SWOLF mean?  Essentially SWOLF is an abbreviation for SWim gOLF.  This magic SWOLF number will help bring more science to your swim training and improve your performance.  It is a swimming metric designed to help measure swimming efficiency.
>>>   Do Buoyancy Shorts Work?  Learn why they are a useful addition to your swim training.
Discovering your SWOLF scores
If you have a multi-sport watch such as the Garmin Forerunner 945 or a Suunto 9 you will have seen SWOLF.   You may well have read with interest your SWOLF score after a swim but ignored it.  Dismissing it as something relatively useless with the number meaning nothing to you.  Is a big number good or bad?  What number should I be aiming for?  How is the number calculated?  We will try and cover all of this and provide the answers.  Don't ignore SWOLF as this is a useful indicator of your swimming efficiency.
>>>   15 of the Best Triathlon Wetsuits for 2022: Complete Buyers Guide 
How is the SWOLF score calculated?
Starting with how the number is calculated.  Your SWOLF score is the sum of the time for one pool length (assuming a 25m pool) plus the number of strokes for that length. For example, 30 seconds plus 15 strokes equals a SWOLF score of 45.  For open water swimming, SWOLF is equally calculated over 25 meters.  SWOLF is a measurement of swimming efficiency and therefore like golf, a lower score is better.  So stop beating yourself up if you keep getting a smaller number!  It isn't a measure of speed alone though so don't use your SWOLF score alone to determine your finishing time in your next race.
>>>   Best Alternatives to the Garmin 945 GPS watch.  What else should you be considering?
What does average SWOLF score mean?
Every 25 meters of swimming produces a unique SWOLF number.  At the end of your set these scores are summed and then divided by the number of 25m increments.  Thus giving you an average of the individual scores through the set.  When data from your multi-sport watch is uploaded to Garmin connect or equivalent you get trend analysis of your SWOLF scores.
What is a Good SWOLF score?
The basic idea of SWOLF is that the fewer strokes and less time you take, the more efficient your are in the water.  As a result you should use the SWOLF score to track your efficiency in the water which for triathlon is almost as important as your speed.
If you are after a target number to aim for then anything 40 is considered a good SWOLF score.
Essentially your SWOLF score helps you track how much juice you will have left after the swim leg before you hit the bike in triathlon.  What you are looking for is a quick time out of the water that you can deliver efficiently enough to still perform well on the bike and run.  It isn't a replacement for a CSS (Critical Swim Speed) pace but is good to help with that efficiency question.  Speed = No.  Efficiency = Yes.
>>>    Top Tips on swimming in Open Water
What is a good SWOLF score Open Water?
SWOLF scores are calculated in the same way regardless of swimming in open water or in a pool.  So a good SWOLF score in open water is anything under 40.  This mirrors your targets for pool swimming.  If comparing open water scores to pool scores you should be looking to be lower in open water as there is no turns on each lap to slow you down.
What can SWOLF tell us?
SWOLF is better than simply counting strokes because you can lower the amount of strokes taken by gliding along in the water. This slows you down, something the SWOLF score will indicate.  So, there is no point in gaming the score.  Swimming with a very slow glide through the water using few strokes.  This is technically efficient you might as well just be doing breast stroke and potter around while having a chat.  This will equally leave you exiting the water with plenty of energy but so far behind the pack even a Tour De France paced bike leg is unlikely to help you.
An SWOLF score isn't an exact science as you need to consider we are all different sizes.  It is a relatively good indicator if coupled with pure time and CSS type inputs on your performance.  General consensus across the experts is that a score in the region of 35-45 is good and no need to keep pushing yourself harder than you already are.
How to Lower SWOLF & Improve your SWOLF Score
If you are knocking around a score of 50 then your goal is essentially to get this number as low as possible.  There are three different ways to do this and reduce your SWOLF score:
1) Reduce the number of strokes you take but maintain the same time per length of the pool
2) Maintain the same stroke rate but reduce the time taken per length.
3) Or most likely achieve an improvement against both with less strokes and less time over 25 metres.
Technique and efficiency is something that you can only develop through practice.  Strength and overall fitness are enhanced through training.  The SWOLF score shows that optimal swimming is a balance between efficiency (stroke length) and power (stroke rate).  SWOLF is a pool drill designed to measure efficiency in swimming. It's been used by some of the best swimmers in the world.  Including Olympic champions, and some of the sports' leading coaches.  It is worth noting that SWOLF is not particularly meaningful in comparing different swimmers.
>>>     Top 5 Triathlon Saddles – Find the best saddle for you
What SWOLF am I?
So where am I in the world of SWOLF scores to give some sense of reality to this?  On a good day I push a sub 40 SWOLF score with a more lazy session leaving just the wrong side of 40.  Swimming is in reality my strength in the triathlon three disciplines and in most pool sessions I can hold my own.  Tee me up next to a proper dedicated swimmer though and I have my arse kicked all over the pool.  In most races to date I tend to find myself in the top quarter of the pack.  So if you are struggling with your swim and you have an SWOLF score in the 50's a good target may be to try and get your score to around 45.  This should see you find yourself competing in the thick of the pack.
What do the charts mean?
When you track your swimming the SWOLF score can be tracked in a multi-sport app such as Garmin Connect.  You can review your swim within this application but what do the charts mean?  The chart provides each interval SWOLF score which from the below diagram you can see as the purple block of results.  The app then allows you to overlay this result with either your Pace measured over 100 metres or your stroke rate over a 35 metre distance.  If doing structured swimming you can adjust your stroke rate and effort to get the right balance for efficient swimming.
Why is SWOLF not a good measure?
SWOLF is intended to give you a metric of the efficiency of your swim.  It is ultimately flawed as it isn't actually measuring effort.  There is no heart rate element to the score so impossible to determine effort applied.  It is merely combining time with stoke rate.  To be truly effective it needs to combine heart rate into this number seeking a lower heart rate linked to lower effort.
>>>    Orca S7 Wetsuit review – Perfect first triathlon wetsuit tested by our team 
3 Best watches to track your SWOLF score
While you could track your SWOLF score manually we would recommend using a specialist watch for this.  Below are our favourite watches for tracking your SWOLF score.
Garmin Forerunner 945 – TRIVELO RECOMMENDED
Suunto 9 GPS Sports Watch
COROS APEX PRO Watch
Garmin Forerunner 945 Multisport GPS Watch
Garmin Forerunner 945 – Buy it now from Chain Reaction Cycles £499
The Daddy of triathlon watches and a masterclass in swimming smart watch technology.  Unfortunately all that pedigree and capability also comes with an eye watering price tag against others in this line up.  Garmin have worked to refine the recipe since the 80's inspired 910XT.  Each rebirth of this classic has added more functionality and slimmed down the profile.  The latest model being lighter and thinner than any previous while still delivering a wrist based heart monitor.  If you are serious about triathlon this is a real contender.
This is our choice as the best watch to track your SWOLF score.
Read our article on the 3 best alternatives to the Garmin 945 if you are looking for more options.
Suunto 9 GPS Sports Watch
Suunto 9 GPS watch – Buy it now direct from Suunto's own Direct Amazon store for £335.59
Read our review of the entry level Suunto 5 multi-sport watch for more on Suunto.  The Suunto 9 is their top of the range and a real competitor to the well established Garmin 945.  Suunto's 9 comes with an all new intelligent battery with three predefined battery modes: Performance, Endurance, and Ultra. The modes provide from 25 to 120 hours of recording time with GPS tracking on. The watch comes with 80 different built-in sport modes the watch comes with specific metrics for each sport. The modes include swimming, cycling, running, and much, much more.
COROS APEX PRO Premium Multisport GPS Watch
COROS APEX PRO Watch – Buy it from Wiggle for £449 
Popular in the States the COROS is traversing the globe and gathering a fan base.  No surprises with incredible build quality and features.  Not as common placed as Garmin in triathlon circles but with plenty of pedigree.  Fully featured with SWOLF scores tracked along with a wealth of endurance metrics.  Full 240 x 240 touchscreen enabled Sapphire glass and a 100 metre waterproof rating.  Rechargeable battery with an unrivalled 40 hours battery life when running in full GPS mode allowing you to complete 2 Ironmans back to back!  Take your pick between classic all black or a slightly more bold green/silver colour combo.
Professional Swimmers SWOLF scores compared – INFOGRAPHIC
Compare how Micheal Phelps, Alistair Brownlee and Trent Grimsey's SWOLF swimming scores compare over very different distances.  We've been calculating the swim scores so you can compare your scores with the best of the best.  Check our SWOLF infographic for the details.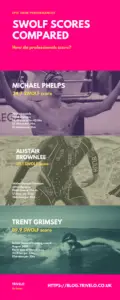 Still looking for ways to improve your swimming?  Check out our triathlon blog article on swim parachutes: do they help improve your swimming for further tips to improve in the pool.  Or check out all our most popular swimming posts right now.