Trivelo independently review everything we recommend. When you buy through our links, we may earn a commission. Learn more >
This week I have compiled the 15 Best Triathlon Wetsuits: 2023 Buyers Guide for every budget.  Using our panel of experts and our wealth of previously reviewed wetsuits I have created this buyers guide. This post has been updated to ensure reflects the latest deals and quality wetsuits on the market in 2023.
With most races needing a triathlon wetsuit given temperatures it is one of the most important pieces of kit you need. No matter how good a swimmer you are the right wetsuit will help you go faster.  Equally the wrong wetsuit will unquestionably slow you down.   There are so many to choose from with options around buoyancy and flexibility that need considering depending on your swimming ability. 
To find the best triathlon wetsuit for you, you need to consider all of these factors. Starting from £100, up to over £1000 I provide an independent and trusted review on what wetsuit to buy. For every wetsuit I have given them a rating out of 5. This is from the reviews on our triathlon blog. Every triathlon wetsuit here is worth inclusion. The ratings reflect this with 15 of the best and our ratings are intended to help pick choose between them.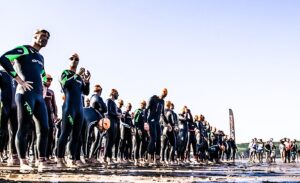 For those of you training in pools through the winter I recommend trying buoyancy shorts. If you enjoy the feeling of swimming in a wetsuit in open water you may love them. I have been using buoyancy shorts for the past 8 years and they are a must for me. If you want to know more read our article on how buoyancy shorts work and can improve your pool swim sessions.
---
Triathlon Wetsuits Q&A
What is a Triathlon Wetsuit?
A triathlon wetsuit serves a number of functions.  It maintains body heat while swimming.  Improves buoyancy in the water.  It reduces friction between skin and the body of water.  And finally it is designed to be easy to remove in the transition before heading out on the bike.  
Do you need a Triathlon Wetsuit to Race in a Triathlon?
If you are entering a pool based swim then the simple answer is No.  If it is in open water then the answer is slightly more complex and depends on conditions.  If water temperature is below 25 degrees you will likely need a triathlon wetsuit.  Exact temperatures vary depending on local region rules.  
What is the Best Triathlon Wetsuit?
The answer to the best triathlon wetsuit will depend on the individual buying the wetsuit.  We have created the following guide to help you find the best triathlon wetsuit for you.  Key factors to consider are price, buoyancy and flexibility.  
How thick should a Triathlon Wetsuit be?
The thickness of a triathlon wetsuit varies around the body depending on the level of flexibility and buoyancy needed.  In general you are looking for thinner neoprene around the shoulders for flexibility.  Around the middle section and upper legs you will be looking for thicker neoprene for increased lift and buoyancy.  
For better swimming performance insight you should be paying attention to your SWOLF scores. Lap times alone are not enough to track efficient swimming. Read our article working that explains what SWOLF is and how to use it to improve swimming sessions effectiveness.
List of the 15 Best Triathlon Wetsuits
---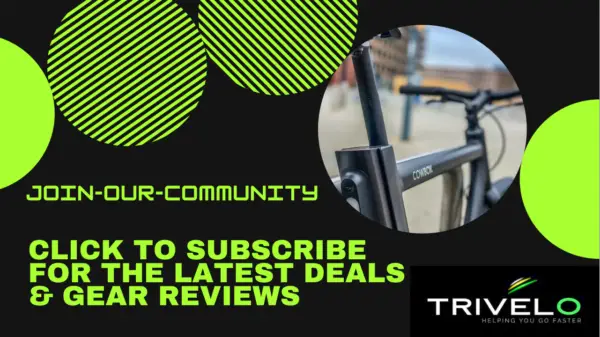 Every month we publish an email to our subscribers with the latest tips and trusted reviews plus a round-up of all the latest deals and discounts on kit.  We have over 100 manufacturers across our network who share exclusive deals each month on wetsuits and triathlon kit. We won't clog up your inbox just send you one email a month to help you Go Faster and Spend Smarter.  Sign up now with a simple email address and no other information requested.  We won't ask for your life story! 
Cheapest Triathlon Wetsuit
DHB Hydron 2.0
£130
Trivelo Rating : 3.5 / 5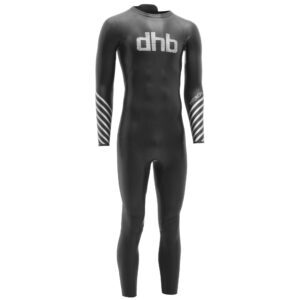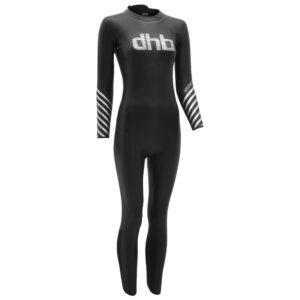 The DHB Hydron 2.0 is the Cheapest triathlon wetsuit in our line up and available in both mens and womens specific models. DHB is the in-house brand of the mighty Wiggle and no surprises that they have been investing in developing a triathlon wetsuit to add to their range. They have been making wetsuits now for around 5 years and over this time continually improving their design. The latest model the Hydron 2.0 was launched in 2020 and features a combination of 3mm, 2.5mm and 2mm neoprene. It also comes in sleeveless models should you wish to have more shoulder flexibility in the water.
Pros and Cons of the DHB Hydron 2.0
Pros – Amazing value for money
Cons – Not as much buoyancy as others around the middle / upper thigh area
Best Price for the DHB Hydron 2.0
Buy the DHB Hydron 2.0 Triathlon Wetsuit for £130 from Wiggle
---
Triathlon can be an expensive business and triathlon watches can be one of these costly decisions. The Garmin Forerunner 965 is one of the best. But is an expensive option. Read our in-depth comparison of the Garmin Forerunner 965 versus 955 versus 945. Insight to help you decide if now is the right time to upgrade, or not?
---
Best Entry Level Triathlon Wetsuit
Orca S7
£163.99
Trivelo Rating 4 / 5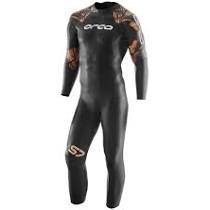 Orca are a well established name in triathlon. Across the Trivelo team a number of us have trusted Orca with our wetsuits for training and racing for many years. The S7 is available in mens and womens models and for the money is the perfect entry level triathlon wetsuit. If you are looking for the right wetsuit for a beginner swimmer then this could be for you. The wetsuit is loaded with technology lifted from the more expensive Orca wetsuits. From the nano SCS outer coating to the Infinity skin inner lining you could still be using this for many years as your experience grows.
For more information on this quality wetsuit check out our Full in-depth review of the Orca S7 from James.
Pros and Cons of the Orca S7
Pros – Looks good, robust, well sized and feels fantastic in the water
Cons – Not much at this price
Best Price for the Orca S7
The Orca S7 has been discontinued. The closest current model is the ORCA TRN that Sigma Sports are selling for £119.
---
For a triathlon getting set up in transition can be stressful even if you have done it before. A well structured triathlon bag can make this much simpler. Read through our list of 9 of the best triathlon bags.
Best Sleeveless Triathlon Wetsuit
BlueSeventy Glide Short wetsuit
£139
Trivelo Rating : 4.8 / 5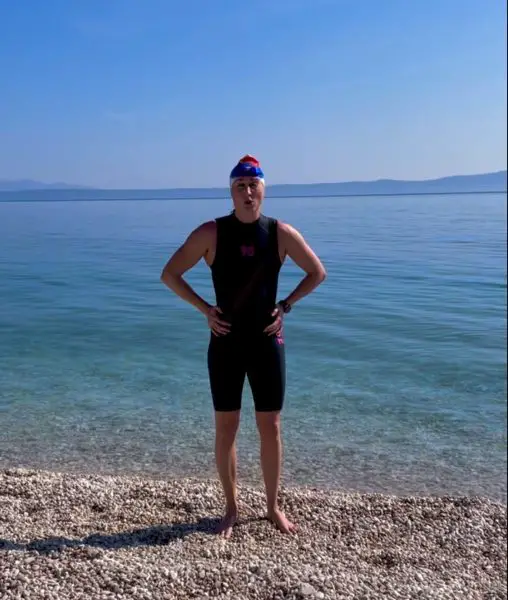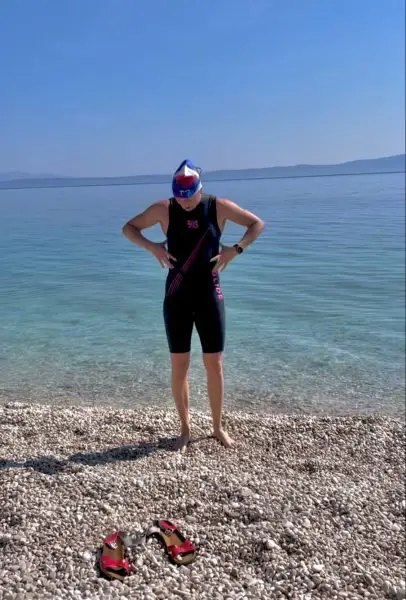 The Glide wetsuit is BlueSeventy's 'shorty' wetsuit. It's priced at around £139-£150. We couldn't find a comparable 'shorty' swim wetsuit on Zone 3, Huub or Orca's website with short legs as well as sleeveless. It fills a gap in the market. It's not a swim skin, it's not a sleeveless wetsuit, it's a shorty swimming wetsuit.
Sophie absolutely loved this sleeveless shorty wetsuit. Read her review of the Blue70 Glide to find out why she rated this so high, and why it wasn't quite 5 out of 5 stars.
Pros – Supreme flexibility for arm movement through the water
Cons – Neoprene is not the toughest and can be fragile
Buy the BlueSeventy Glide Shorty wetsuit from Blue70 direcy for £139
---
If you have invested in a triathlon bike you may not have considered your saddle. If you are thinking of going long give the saddle serious thought. 6+ hours in the saddle through an Ironman mean that being comfortable is key. Read our Top 5 Triathlon Saddles to help you find the best saddle for you.
---
Orca Equip
£249.99
Trivelo Rating : 4 / 5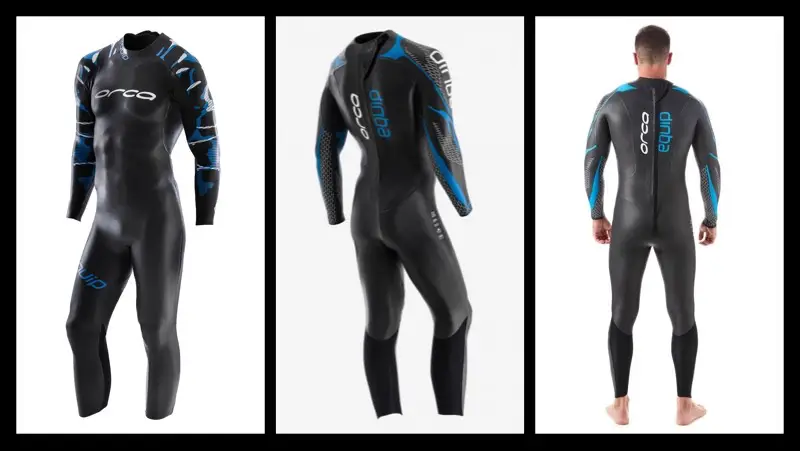 The Orca Equip Wetsuit uses SCS hydrodynamic panels incorporated into the design much like the Orca S7 already listed above. For maximum flexibility in the arms and shoulders, The Orca Equip uses Yamamoto 39 neoprene, which is just 1.5mm thick. The wetsuit prioritises flexibility over buoyancy, making this a great wetsuit for natural swimmers with good technique. Lined with Infinity Skin, this is a seriously comfortable option that's gentle on your skin.
Pros and Cons of the Orca Equip
Pros – Incredible flexibility and smoothness through the water
Cons – Very little buoyancy to help swimmers needing more core lift
Best Price for the Orca Equip
Buy the Orca Equip from MyTriathlon for £209
---
Zoot Kona
£210
Trivelo Rating : 3 / 5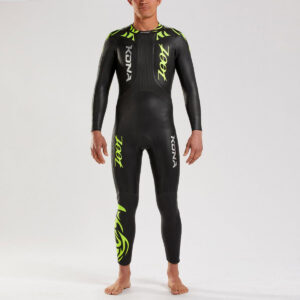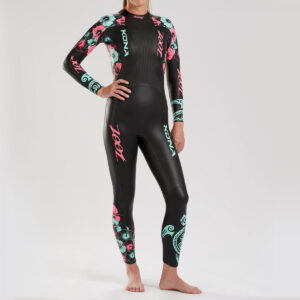 Creeping in just under £300 thanks to a current discount from Wiggle the Zoot Kona triathlon wetsuit sits squarely in the mid-range of our list. With a range of neoprene from 2mm to 5mm using Yamamoto 38 grade neoprene. Lots of flexibility across the shoulders combined with buoyancy in the middle and upper thigh. The wetsuit is finished with SCS (Super Composite Skin) to help with further speed in the water. Lots of wetsuit performance on offer here for under £300. Available in both mens and womens gender specific designs Zoot offer a stylish and well specified triathlon wetsuit.
Pros and Cons of the Zoot Kona
Pros – Extremely comfortable buoyant triathlon wetsuit
Cons – Design may be somewhat marmite for people
Best Price for the Zoot Kona
Buy the Zoot Kona For £210 from Wiggle
---
Best Thermal Triathlon Wetsuit
Huub Aegis X
£313
Trivelo Rating : 4 / 5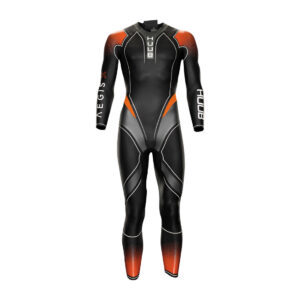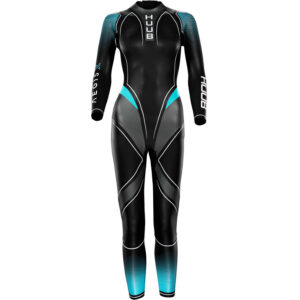 The Aegis X 3.5 Wetsuit exceeds expectations with a construction that uses premium materials that improve buoyancy. With a superior panel system, and highly technological materials, the suit helps you glide through the water at speed – making it a great choice for open water swimmers and triathletes alike.
Pros and Cons of the Huub Aegis X
Pros – Incredible design and materials for the money
Cons – Can be subject to tears – be careful with it!
Best Price for the Huub Aegis X
Buy the Huub Aegis X for £313 from Wiggle
---
You don't need to have a triathlon bike to do a triathlon. If considering a road bike read through our list of the best road bikes for £1500.
---
BlueSeventy Fusion
£350
Trivelo Rating : 4 / 5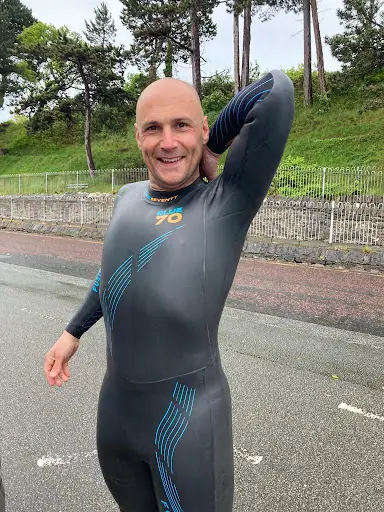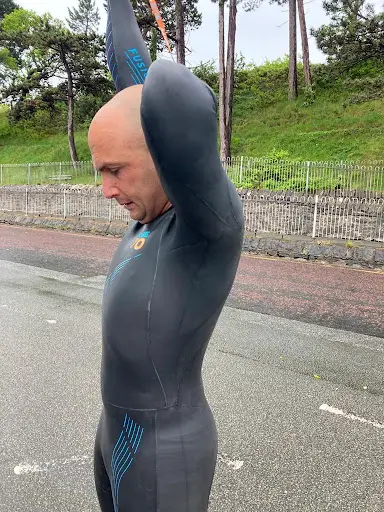 It is a very supple wetsuit and really comfortble to swim in. The only reason I would not score it higher is concerns on how long it would last with regular use. Otherwise would have scored it higher. For anyone spending more than £300 / $300 you would want it to last a reasonable while.
Read the review of the BlueSeventy Fusion Triathlon wetsuit from Richard. Hear how it compares to other wetsuits and performance characteristics of this open water wetsuit.
Pros and Cons of the BlueSeventy Fusion
Pros – Great fit
Cons – Question on how durable it will be
Best Price for the BlueSeventy Fusion
Buy the BlueSeventy Fusion for £350 from Blue70 Direct
---
Zone3 Aspire Thermal
£403.75
Trivelo Rating 3.5 / 5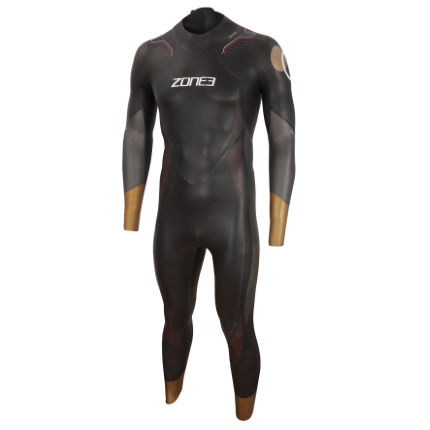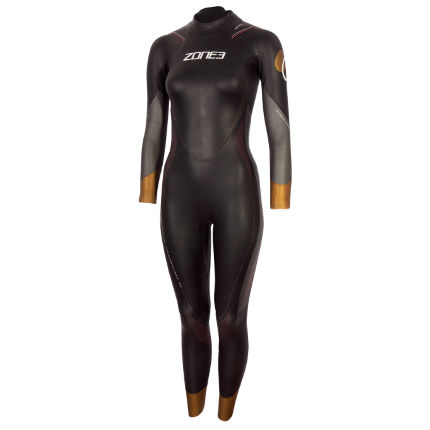 The second of three Zone3 wetsuits in our list of the best triathlon wetsuits for 2022. The Zone3 Aspire Thermal is a high end wetsuit that even discounted still comes in above £400. Suited in water temperatures below 18 degrees this is a great option for open water sea swims out of the summer season. Using a blend of 2mm, 4mm and 5mm neoprene it offers buoyancy as you would expect from a thermal triathlon wetsuit but also crucially flexibility. It also benefits from advanced design transition aiding features such as Pro Speed Cuffs. If you suffer with poor circulation this thermal wetsuit could be for you.
Pros and Cons of the Zone3 Aspire Thermal
Pros – Excellent wetsuit for early UK season races
Cons – Expensive suit especially if you need a second non-thermal wetsuit
Best Price for the Zone3 Aspire Thermal
Buy the Zone3 Aspire Thermal for £403.75 from Wiggle
---
If open water swimming is something you find daunting we have a series of tips on how to master open water swimming. Compiled from our panel of swimming specialist writers you can conquer your fears and attack the water.
---
HUUB Varman
£425
Trivelo Rating : 4 / 5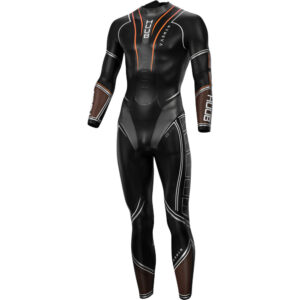 The second HUUB triathlon wetsuit in our list and the most expensive from HUUB we have included. HUUB have been taking the world of triathlon by storm over the past decade and this latest wetsuit continues to deilver. Using HUUB's proprietary +43 neoprene they offer 43% more buoyancy than standard neoprene, a complete USP in the field. If you are looking for maximum buoyancy from a lightweight wetsuit the HUUB is hard to argue with. Sizing and fit are precise so be sure and take your time when choosing the right size. Not always the easiest to put on "right" but don't be put off by this.
Pros and Cons of the HUUB Varman
Pros – Pioneering wetsuit technology
Cons – Tricky to get the size that is right for you (but worth it when you get there)
Best Price for the HUUB Varman
Buy the HUUB Varman from Wiggle for £304.99
---
BlueSeventy Reaction Triathlon Wetsuit
£449
Trivelo Rating : 4.5 / 5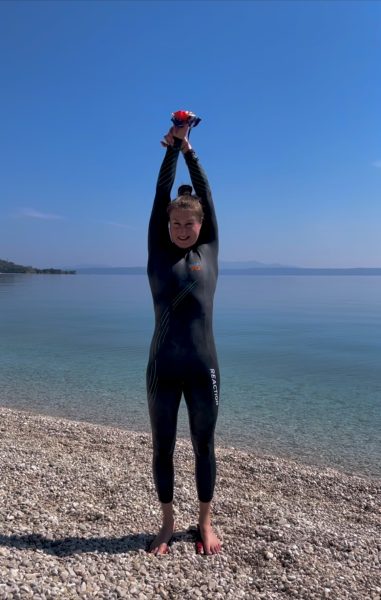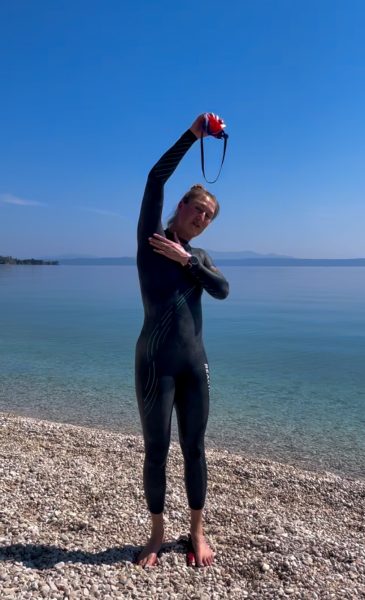 The Blue70 Reaction triathlon wetsuit is BlueSeventy's Mid to High level wetsuit. Its neoprene distribution varies from 1.5mm over the shoulders for increased flexibility to 5mm on hips and thighs for increased buoyancy and rotation. 
The BlueSeventy Reaction is priced at around £450 putting it on par with the Zone 3 equivalent and slightly cheaper than Huub and Orca. On first impression the quality of the neoprene is high, but not as flexible as their highest end suit and the seams look well bonded and durable.
The most recent evolution of this wetsuit claims they've improved rotation and lowered the neckline as they previously have received feedback on wetsuits feeling restrictive in that area. Sophie from the Trivelo team completed an epic review of the BlueSeventy Reaction Triathlon Wetsuit. Read it for more information on why she previously favoured the Zone 3 wetsuit.
Pros and Cons of the BlueSeventy Reaction
Pros – Fast wetsuit in the water that is sensibly priced
Cons – Not as comfortable around neckline as other wetsuits such as the Zone3
Best Price for the BlueSeventy Reaction
Buy the BlueSeventy Reaction for £449 from Blue70
---
Best High End Triathlon Wetsuit
Orca 3.8
£449
Trivelo Rating : 5 / 5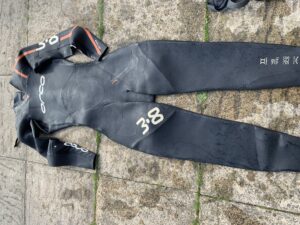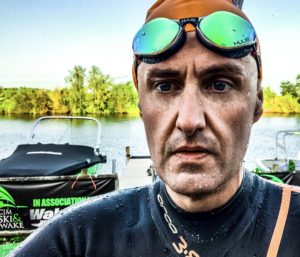 Having been a fan of Orca triathlon wetsuits for over a decade the Orca 3.8 continues to cement this loyalty. It is an extremely comfortable wetsuit and gives a high degree of buoyancy around the core. If you are looking for a wetsuit to help you swim with a more horizontal swim position then this is a great choice. The buoyancy across the core, bum and upper thighs is fantastic. Is it the fastest wetsuit on the market? I'm not totally convinced as I feel there are quicker wetsuits but maybe that is just me getting slower! The Orca 3.8 is an incredibly comfortable highly technical wetsuit and perfect for anyone after loads of buoyancy.
For more information on the Orca 3.8 read the full review of the Orca 3.8 triathlon wetsuit 
Pros and Cons of the Orca 3.8
Pros – Good level of buoyancy from core suiting "lazy legs" swimmers
Cons – Restricts natural roll of swimming more than other wetsuits
Best Price for the Orca 3.8
Buy the Orca 3.8 from MyTriathlon for £339
---
2XU Propel Pro
£499
Trivelo Rating : 4.5 / 5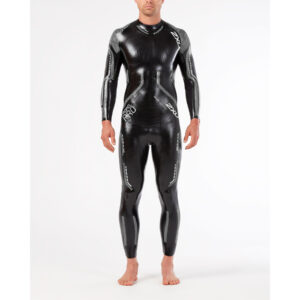 Firmly in the high-end triathlon wetsuit territory the 2XU Propel Pro creeps under the £500 price tag. 2XU offer a range of products for triathletes and we have long been fans of their running tights. The Propel Pro suits strong swimmers helping them to swim faster with class leading mobility. The 2XU Propel Pro smashes it using the most flexible neoprene in the world, 45 Cell 1mm Yamamoto neoprene. It also includes cutting edge panels throughout for enhanced speed through the water for buoyancy and stretch.
Pros and Cons of the 2XU Propel Pro
Pros – All the mod cons from top to tail
Cons – High price and most suited to warmer water races with 1mm neoprene panels
Best Price for the 2XU Propel Pro
Buy the 2XU Propel Pro from My Triathlon for £499
---
BlueSeventy Helix
£527.99
Trivelo Rating 4.5 / 5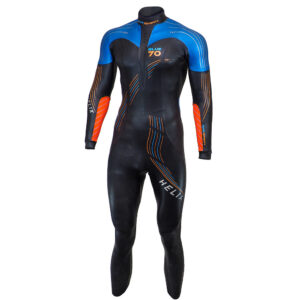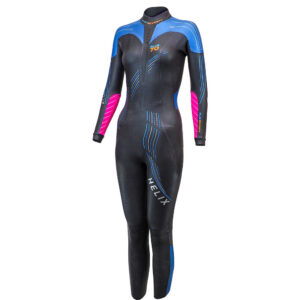 Redesigned in 2021 the latest BlueSeventy Helix wetsuit looks mean. We love the Avengers style shoulder colour flashes! Not that how you look in the water matters of course. Ahem. With a world-class fit, the BlueSeventy Helix Wetsuit features a premium Yamamoto construction and improved panelling that increases rotation and distance per stroke, helping you to move through the water at speed. Super fast in the water and in transition.
Pros and Cons of the BlueSeventy Helix
Pros – Looks awesome and performs to match the design
Cons – Not much if you can stomach the price tag
Best Price for the BlueSeventy Helix
Buy the BlueSeventy Helix wetsuit for $920 direct from BlueSeventy
---
Sailfish G-Range 7 wetsuit  
£539.99
Trivelo Rating : 4 / 5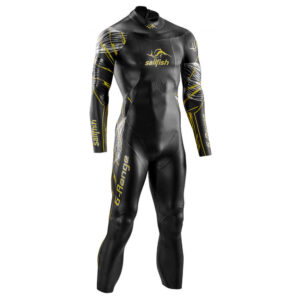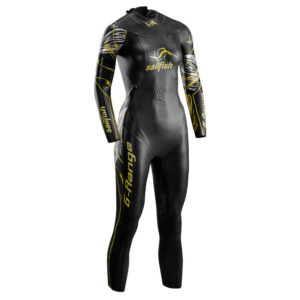 We've been late to the Sailfish party but they are storming the start line with a wide range of triathlon wetsuits for all budgets. We've included their high end triathlon wetsuit the G-Range 7 model. A lightweight wetsuit that focuses on delivering maximum flexibility for ease of movement. Ideally suited for swimmers who prefer a natural swimming feel and natural water position. Using Nano Space Cell 2 neoprene construction and thin surface coating offers excellent efficiency through the water.
Pros and Cons of the Sailfish G-Range 7
Pros – Great for strong swimmers
Cons – Not as much buoyancy as others trading this for flexibility
Best Price for the Sailfish G-Range 7
Buy the Sailfish G-Range 7 wetsuit for £450 from MyTriathlon
---
Zone3 Vanquish  
£546.25
Trivelo Rating : 4.5 / 5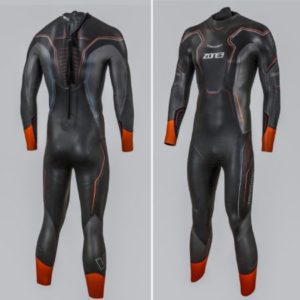 The most expensive wetsuit in our line-up of 15 of the Best Triathlon Wetsuits for 2022 and a firm favourite in the Trivelo offices. The Zone3 Vanquish wetsuit is highly recommended for any swimmer that does not naturally need much help with buoyancy. From our expert review Jason, he commented that he was not a fantastic swimmer by any means. Usually swimming around 30-32 mins for 1900m (70.3 swim). 61-64 mins for the full distance Ironman/Long course 3800m swim. The Zone3 Vanquish wetsuit allowed him to swim at his best without having to worry whether or not I am actually swimming well.
Read the full review of the Zone3 Vanquish for more information. Scott has been a long term fan of the Zone3 Vanquish and shares his review with you. A wetsuit that supported him through 3 successful Ironman races with strong swim times.
Pros and Cons of the Zone3 Vanquish
Pros – Supports a natural swim position in the water
Cons – Neckline can rub for longer distance swims
Best Price for the Zone3 Vanquish
Buy the Zone3 Vanquish for £299 from Wiggle
---
What to look for when buying a triathlon wetsuit
Having owned and tested dozens of triathlon wetsuits I share my tips on what to look for when buying one. When buying a triathlon wetsuit, there are several key factors to consider to ensure you get the best triathlon wetsuit for your needs. Triathlon wetsuits can be awesome for anyone who is looking for more speed in the water. They are specifically designed to provide buoyancy across your core and upper legs. This really does improve swim performance without spending more hours doing laps in the pool. Here is my list of the Top 11 tips to look for when buying a triathlon wetsuit:
Fit: No surprises here really. The most important factor is finding a wetsuit that fits you well. It should be snug but not overly tight. This allows for easy movement in the water. This is especially important across your shoulders. Restricted shoulder movement will impact your ability to maintain a natural swim stroke. A properly fitting wetsuit will limit the amount water from entering, which helps maintain buoyancy and warmth.
Buoyancy: Look for a wetsuit with adequate buoyancy in the right places. Modern neoprene is designed to increase buoyanc. This is coupled with the distribution of neoprene thickness. Buoyancy across the core and upper thigh helps lift your body higher in the water. The added buoyancy helps reduce drag and increases efficiency. In turn it means when you come out of the water for the bike leg of a triathlon you have more preserved energy.
Neoprene thickness: Wetsuits are made of neoprene, this comes in different thicknesses from 1mm generally up to 5mm. The thickness affects buoyancy, flexibility, and warmth. Thicker neoprene provides more buoyancy and insulation but can limit flexibility. If you are a strong swimmer and swim in warmer temperatures you will need lower neoprene thickness. The counter can also apply. The thickness of neoprene is not uniform across the entire wetsuit so look at the various panels and corresponding thickness.
Material quality: Consider the quality of the neoprene and other materials used in the wetsuit. Yamamoto are one of the leading manufacturers of neoprene and feature in a number of the triathlon wetsuits in our list. All neoprene is graded and will vary the level of flexibility it delivers but also the strength of the wetsuit. A super supple neoprene can also mean it is fragile so consider how you use and look after any wetsuit you might buy.
Range of motion: Triathlon wetsuits should allow for a full range of motion, especially in the shoulders and arms. Check for flexibility in these areas to ensure you can swim comfortably and efficiently. Do this from trying on the wetsuit before you buy. Most open water swimming venues with a shop will be happy for you to try something on before buying. Swimming in it may also be possible if they have a demo version.
Seam construction: Pay attention to the seam construction of the wetsuit. Glued and blind-stitched seams are common in high-quality wetsuits, providing better water resistance and preventing chafing.
Zipper type: Triathlon wetsuits typically come with a back zip. This is unlike surfing wetsuits that have evolved more commonly to having a step through neck with a chest horizontal zip. A back zip is needed for triathlon to aid transition when you complete the swim before the bike. I have had a zip fail before on a triathlon wetsuit at a race before so ensure you look after them drying them fully after each use.
Ease of removal: During a triathlon, you'll need to remove the wetsuit quickly during transition periods. Look for features like smooth coatings and extended zipper pulls that make it easier to take off the wetsuit efficiently. You may also want to consider cutting the legs to shorten them and make them easier to take off. This can feel hideous cutting your brand new wetsuit but could help you through transition.
Water temperature rating: Consider the water temperature rating of the wetsuit. Some wetsuits include a thermal lining such as the Zone3 Aspire Thermal are designed for colder water. Choose one that matches the typical water temperatures of the triathlon events you'll be participating in. In time this may mean you have more than one but initially consider the normal races you will be doing.
Brand reputation and reviews: Consider the reputation of the brand for quality, customer service, and performance. There a great range of brands to choose from as our list of the best triathlon wetsuits 2023 demonstrates. I would personally avoid a cheap unknown brand from somewhere like Alibaba. We have included triathlon wetsuits at a range of price points. I would steer you at the DHB Hydron 2.0 rather than something unknown.
Price: While price is a consideration, it's essential to balance your budget with the features and quality you need. Invest in a wetsuit that meets your requirements and will last for multiple seasons if properly cared for. Also worth considering there is a healthy second market for buying and selling wetsuits. For a first wetsuit consider buying second-hand if budget is a factor. I bought my first triathlon wetsuit from eBay and it served me well in my first season. For those interested it was an Orca S2, the first of 4 Orca wetsuits I have since owned.
By considering these factors, you can find a triathlon wetsuit that enhances your performance and makes your swimming experience more enjoyable during your triathlon events.
---
About the Author
---
Follow us on Social Media
---