This weeks blog builds on a number of recent articles helping you improve your swim times. This week we are focused on swim parachutes: do they help improve your swimming? Can a swim parachute help you achieve a PB in the swim? For me the swim is my strongest discipline but I am still searching faster times and improvements for my winter swim training. So I decided time that I looked into swim parachutes.
What are Swim Parachutes?
Starting with the basics we cover what exactly a swim parachute is. A swim parachute is a training aid that is attached to your waist held in place by an adjustable velcro strap. The strap tails behind you dragging a small fabric parachute behind your kicking feet. In some ways it functions in the same way as swimming in lose clothing increasing your resistance through the water. Obviously you need to consider when and where you might use something like this. Most of the pools I swim in tend to be busy and multiple people in a swimming lane. Trying a swim parachute for the first time definitely needs space and no traffic.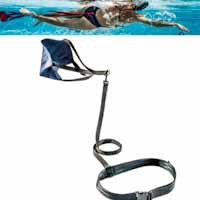 How does a Swim Parachute work?
It is all about resistance and drag. Did you know that water is roughly 1,000 times more dense than air? It may explain why some of you hate swimming so much. So, if you add the drag of a parachute into your swimming set it makes it even harder to advance through the water. The results are that you can build up power in your swimming from the same work out. It is an alternative to strength training in the gym with the results much more targeted. As a consequence it means you can finish strong in the swim leg of your triathlon ready to burst into transition one.
Benefits of a Swim Parachute
With the parachute tailing behind your feet it minimises the impacts on your stroke. This means that much in the same way as a pair of buoyancy shorts you can maintain your normal swimming technique. The benefits of a swim parachute are more than just making the workout more intense however. Training with increased drag helps improve your swim technique as you seek to propel your body. The drag will increase the importance of your catch and ensure you are fully extended to enter your hand as far into the water as possible. If you are weak through the core it will also expose this as you will struggle to maintain a horizontal position.
Disadvantages of Swim Parachutes
Swimming with a cord trailing behind you can mean that your feet become tangled. This is especially relevant for very flat swimmers as the feet remain horizontal. A swim parachute should be used for short reps in the same way you would consider gym weight sets. Short 25 metre or 50 metre bursts in repetitive sets building up the strength. It can form the build phase of any swim training set.
Swim Parachutes: Swimming Training Set
Warm up – 250 metres front crawl (easy pace)
Build – 6 sets of 50 metres front crawl with parachute (flat out) 10 secs rest between each set
Rest – 30 secs (remove swim parachute)
Main set – 5 x 200 metres front crawl (race pace) 10 secs rest between each set
Rest – 30 secs
Warm down – 100 metres back stroke or breast stroke (easy pace)
3 Best Swim Parachutes to buy
Swim parachutes are not an expensive addition to your triathlon wardrobe but if you are looking for inspiration here are 3 swim parachutes available to buy.
Finis Swim Parachute – £18.99
Decathlon Nabaji 800 Swim Parachute – £8.99
Strechcordz swim parachute with 12″ chute – £29.99
For a detailed review on how a member of the Trivelo Squad found using a swim parachute check our review of the FINIS swim parachutes.
Our summary on swim parachutes is that they are a worthwhile addition to your swim bag if you can have some solitary training and fade at the end of your swim. If you are looking for other swim aids then check out our blog on "Do Buoyancy Shorts Work?" that will help give further ideas for your swimming training. So, swim parachutes: do they help improve your swimming? I think they are worth a go and they certainly have made swim sessions a bit more entertaining!