For our blog this week we are providing our Open Water Swimming Guide with 5 top tips on how to swim faster.  We have gathered the answers to the 25 most frequent questions you shared with us on open water swimming.  Using our panel of swimming experts we can help you master open water swimming.  Fearing the water is pretty common in Triathlon virgins which for many means they never get to try out multi-sport triathlon action.  Hopefully this article can help reduce those fears and get you into the water. I am personally a huge fan of open water swimming and take the time to go regularly so it has been a pleasure to put this together.
Read on for our list of open water swimming FAQs.
---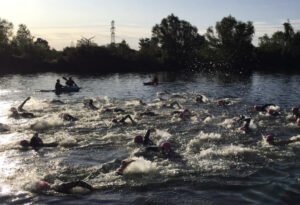 Content Guide
---
General Open Water Swimming FAQs
Is open water swimming more difficult?
Your body generally works harder in open water due to it being colder than a pool. You usually cannot stand up in the middle of a lake or sea so you have to keep moving, whereas you can in the pool you can stop at any time.  This means physically it is more draining from the cold.  Also it is more mentally challenging as you cannot just quit when you want. 
Is open water swimming good for you?
Cold water and open water swim training can make other systems of your body more efficient and more effective.  This rush from cold water helps improve your body's defensive response.  
What is open water swimming like?
Open water swimming is not a simple splash and dash. Open water swim distances are at least 500m. Spend time in a swimming pool to ensure you can confidently swim.  Open water swimming is liberating and invigorating.  Take your time to adjust to the temperature and allow the water to surround you.  
What are the Best Open water swimming Venues?
From our super social following of over 20,000 followers we have been able to pull together the following list with gems from all over the globe for the best open water swimming venues.
Race Rapid – Stoke Golding, England 
Walden Pond State Reservation – Lincoln, Massachusetts, USA 
Shepperton Swim – Shepperton, Middlesex, England 
Ellerton Park – Northallerton, England
Blue Lake – Rotorua, New Zealand
Blue Lagooners – Womersley, England
Milton Country Park – Cambridge, England 
Cavershsam Lakes – Reading, England 
Queenford Lake Swimming Venue – Oxford, England 
Clevedon Marine Lake – Clevedon, England
The Quays – Farnborough, England 
Box End Park – Bedfordshire, England
Siikajarvi – Finland
---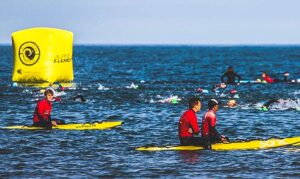 Open Water Triathlon FAQs 
At what temperature can you use a wetsuit in open water triathlon?
In America, USAT guidelines state that you may wear a wetsuit if the water temperature is 78 (25.5°C) degrees or below for triathlons. You may wear a wetsuit if the temperature is 79 (26°C) degrees to 84 (28.9°C) degrees but you won't be eligible for awards. Anything 85 (29.5°C) degrees or over, no wetsuits are allowed.
The British Triathlon Federation suggests a wetsuit for all novice swimmers and Age-Groupers up to 22°C. So, in the UK the vast majority of open water swims and triathlon events will allow wetsuit use. 
Can you do breast stroke in a triathlon?
Breaststroke is allowed in all triathlons and open water swims.  You should avoid backstroke as for safety reasons many events do not allow it.  This is due to most events recommending you roll onto your back in a triathlon swim if you are in difficulty.  While you can swim beast stroke for triathlon most people only use front crawl due to speed.  
How to prepare for first mass start open water swimming triathlon?
Mass starts and swimming with lots of people can be a bit of shock and even scary the first time you swim in open water.  It makes sense to get used to it in a pool.  Get together with a group of friends and share one lane once or twice a week.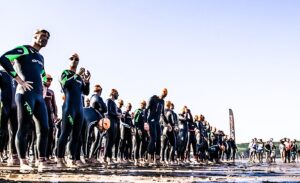 ---
Open Water Swimming Equipment FAQs
Do I need a wetsuit for open water swimming?
If you're new to open water swimming, it's wise to wear a wetsuit. You'll still feel the cold initially but soon after the layer of water trapped between the skin and wetsuit will warm you up.  Most open water swimming venues will not enforce you to wear a wetsuit.  They will likely mandate you wear a bright swim cap for visibility.  
What are the best wetsuits for open water swimming?
First tip would be to buy a swimming wetsuit or better still hire one for your first couple of sessions and check it out.  A swimming wetsuit (see Orca, Blue Seventy, Zoot, Huub, 2XU, TYR, Speedo) is very different to a conventional wetsuit for surfing or similar.  It is thinner  all over so will protect you from the cold, but not that much.
It offers superior flexibility around the shoulder and arms allowing for you to move freely.  Additionally it has been built to make you float with buoyancy across the middle and upper legs forcing you into a more flat body position.
Final difference is that is built to be removed in transition so the wrist  and ankle sections offer greater flex.  Swimming in one of these you will be quicker than you have ever been, it makes normal swimming feel like swimming in soup.  You might just find you like it!
Top 3 open water swimming wetsuits to buy
Read our full round up of 15 of the best triathlon wetsuits to buy in 2022.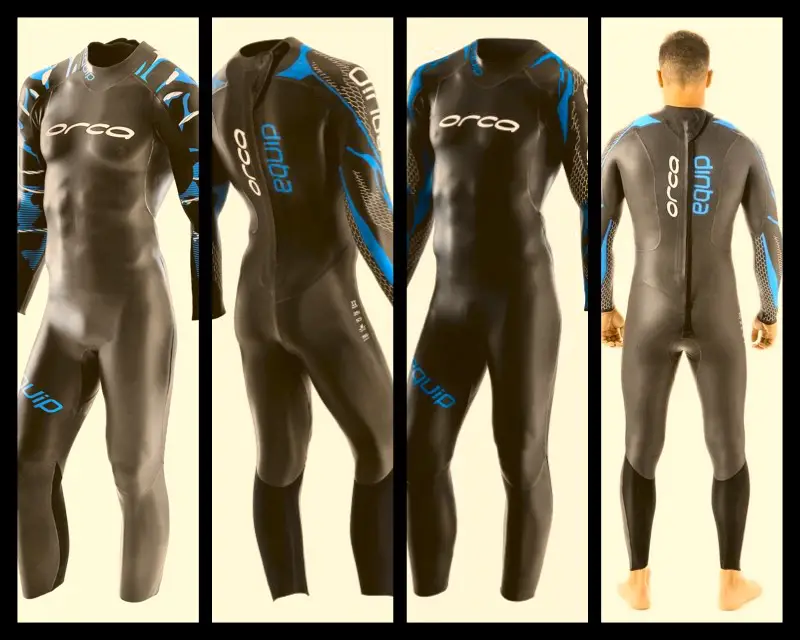 What do I need to swim in open water?
Top five pieces of open water swimming kit
Silicone hats. A bright coloured swim hat will make you visible.  
Swimming wetsuit 
Goggles
Ear Plugs
Lubricant or anti-chafe stick to protect your neck from wetsuit burn
How do you look after a swimming wetsuit?
A good swimming wetsuit should last you ar least 5 years if you look after it.  Never put your wetsuit in a washing machine or tumble drier. After open water swimming, wash your wetsuit by rinsing it thoroughly with clean water.  Do this inside out and allow it to dry completely. When you hang your wetsuit to dry, hang it over the middle of the torso to prevent stretching.
Is swimming with a wetsuit easier?
Swimming using a dedicated swimming wetsuit is easier as you have less drag, more smooth body surface and better catch.  This is because swimming wetsuits have more buoyancy so lift your lower body higher in the water.  They are also designed with a more smooth surface allowing you to glide more freely through the water. Finally, modern swimming wetsuits have catch panels to improve the "catch" from your swim stroke.  
---
How to Prepare for Open Water Swimming FAQs
How do I prepare for my first open water swim?
When you are preparing to swim in open water here are our 6 Top Tips on how to prepare for your first open water swim:
Check your swim equipment 
Learn how to sight in open water before you go 
Don't panic in the water
Adapt your swimming technique to pace your swim evenly
Plan your training sessions
Learn to breathe bilaterally
What should I eat before open water swimming?
An hour before any open water swimming you can eat some fast-digesting carbohydrates.  This can provide you with energy.  It could include fruit or a few handfuls of cereal (one low in fiber). Stay hydrated around 30 minutes before you swim and drink 8 to 12 ounces of water.
---
Open Water Swimming Pacing FAQs
How long does it take to swim a mile in open water?
How long does it take to swim a mile? Top swimmers can swim a mile in a pool in around 15 minutes.  An experienced swimmer can swim a mile in the open water in approximately 25-30 minutes.  Use a suitable GPW swim watch to track your pace in open water swimming.  I am a strong swimmer and can swim a mile in 28 minutes using front crawl. I rely on breathing bilaterally and using a trusted swimming wetsuit when doing this in open water.
Is open water swimming slower than in a pool?
For most people open water swimming cadence is higher than a swimming pool.  This can often result in a faster overall pace. This is especially true if using a swimming wetsuit.  With increased buoyancy your body position is more horizontal.  Your pace will also be higher due to the lack of wall push-offs.  Your swim is less interrupted.  
How far do open water swimmers swim?
Triathlon open water swimming tends to start with a distance of 750m  This steps up all the way to 3.8km for Ironman.  Endurance open water swimming events are held over distances of 5km, 10km and 25km.  
How long would it take to swim 10km in open water?
A 10km open water swimming race will take between 2 to 3 hours. A 25km race can take between 5 and 7 hours. Swimmers take a wide variety of liquids and gel packs during races above 5km. 
How hard is it to swim 10km in open water?
A 10km open water swimming is considered comparable to a marathon in running.  You are going to use a lot of energy. It is  essential to fuel yourself properly for the challenge ahead. The process should begin in the build up to the event.  Make sure to have plenty of nutritious meals in the days leading up to your swim.  Also make sure to taper ahead of the event to rest your body.  
What is a good pace for open water swimming? 
Any pace under 2:00 minutes per 100 meters in the open water is good for anyone swimming more than 400 meters.  Competitive swimmers will be seeking a pace of under 1:45 minutes per 100 metres.    Swimming pace in triathlon is a balance of pace and efficiency to preserve enough energy for the remaining disciplines.  
---
Open Water Swimming Technique FAQs
How do you swim in open water straight?
Swimming straight in open water is key to racing as you minimise time wasted.  The technique to swimming straight in open water is called sighting.  This is an important skill to learn.  Essentially you are making sure that you are swimming on the right heading in any training or race.
The more you lift your head up to sight the more energy you will use and more drag you create.  So how do you use sighting to swim straight in open water effectively?  Firstly, ensure your swim stroke is balanced on both sides.  If you are unbalanced it will pull you to one side and off course.  Secondly, learn bi-lateral breathing.  The process of breathing on both sides.  Third, discipline to sight only every few strokes.  Not every stroke.    
Sighting is a common issue for swimmers in open water as you do the infamous zig-zag trying to reach the next marker.  Swim techniques including crocodile eyes give you the ability to keep moving without restriction.  It allows you to maintain focus on where you're headed.  Swimming with bi-lateral breathing gives the best chance of swimming straight.  All people tend to pull to  one side or another but at least by breathing on both sides you have some option to level out.
How different is open water swimming?
The key difference between pool and open water swimming is the water's temperature.Open water swimming is generally much colder.  It is also natural so be prepared for weeds and possibly fish.  You can turn up to the pool on any day of the year in all weathers and get the same conditions.  The same cannot be said for open water. 
Is open water swimming the same as wild swimming? 
Wild swimming essentially means swimming in the wild.  Alternatively, in natural bodies of water.  Open water swimming is the same in every definition aside from name.  Swimming in open air locations.  The alternative to this being pool swimming where you are enclosed.  Open water or wild swimming has no lanes, no bottom to see and varying conditions.  
How to swim faster in open water?
5 Top Tips to swim faster in open water
Improve your kick. Small flutter kicks.
Make sure you are making a full stroke all the way back to you bum
Include interval swimming in your training. 
Swim in a straight line.  Swimming off course loses you time.  
Fuel your body before you swim.  
For tips on improving your swimming stroke efficiency check out our video from Sophie with her tips on how to improve.
How is Open Water swimming different to Pool Swimming?
Swimming in a pool is generally in a regulated temperature environment with clear water and lines  painted on the bottom, you might get out of your depth but you are unlikely to  be more than a few metres from the edge and if  all else fails there is always that spotty teenage lifeguard to come to the rescue.  Open water swimming is none of the above and can be cold and dark and involve touching things under water that you don't really know what they are.  Eeek.  Sea, Lake or river open water is a very different but it isn't all bad.
A key metric for swimmers is SWOLF. Check out our post on SWOLF Scores explained. Everything you need to know for swim metrics. SWOLF is not just for pool swimming and you can use in open water.
---
Open Water Swimming Safety FAQs
How do you Protect your body in  Open water swimming?
To protect your body in open water swimming you should wear ear plugs.   to protect you from the nasties in the water, we are talking about bacteria here rather than monsters!  Goggles are a must but the difference here to consider is you might want polarized lenses to cater for shifts in light conditions as you swim in direct sunlight or shade.  Swim hats.  Not just for grannies but in open water they make you visible as most wetsuits are pretty much black and you can be hard to spot.
Should you swim in open water alone?
Don't try open water swimming alone.  One of the most important tips for open water swimming is don't do it on your own.  Make sure you head to an organised open water swimming venue that has  marked course, kayaks in the water and other swimmers in the water.  If you follow the course  but you need a break swim to the side of the course and rest, your wetsuit will give you buoyancy so lie back and enjoy being outdoors.
What should you do after swimming in open water?  
Final top tip on how to swim in open water would be to drink a can of coke after swimming.  Go Zero or Max if you want no sugar but make sure you drink some.  All the corrosive nasties  in these drinks actually help do some cleansing of your insides after a swim and  can help kill off some of the bacteria you may have ingested.  It won't sort  everything but at least it might rid you of some of the horrors that could drag you screaming to the loo.
---
Summary of Top Tips on how to swim in open water
Embrace the outdoors.  Try to enjoy it.  On a summers morning with the sun shining and the water temp above 20 degrees its a pretty amazing experience, give it a go.  Mastering open water swimming takes time like all things but with this blog hopefully you can find it less daunting.
About the Author
---
Follow us on Social Media
---