The prospect of swimming laps in a pool is enough to put many off ever even entering a triathlon let alone the thought of having to do the same in a lake.  Swimming forms the first phase of any triathlon and getting around without burning yourself out means less pain for the bike & run.  While cycling through beautiful countryside or running along beaches takes little motivation in the morning swimming laps in a pool week after week can really be a struggle.  This week we help you to simple swim training sets for triathletes.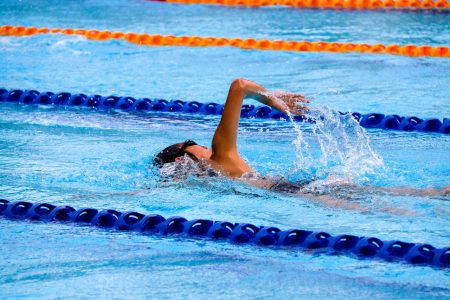 Target your swimming training
Don't waste your hours in the pool merely going up and down day after day seeking to shave the odd second from your PB.  Lap after lap making the same mistakes over and over doesn't help you improve your triathlon performance and find you in transition 1 ready to smash it on the bike.  Below are a few swim sets that might help you break up the routine and see you build more swim stamina and all importantly improve your efficiency through the water.  Front crawl is all you need for all of this unless it says so – killer back stroke won't do you any good as you join the masses on the start line.  All of these need about an hour of your time in the water.
Swim Set 1
200m front crawl easy warm up.  6 x 50m legs only using a float (focus on straight legs and get power through your hips).  15 min pyramid (50m, 10sec rest, 100m, 10sec rest, 150m, etc).  15 min pyramid (reverse of your set starting where you got to, e.g.250m, 10sec rest, 200m, 10sec rest, 150m, etc). 2 laps warm down back stroke.
Swim Set 2
4 x 100m warm up front crawl easy with 10sec rest.  4 x 50m sighting practice (look up to end of pool every 6th stroke) with 10sec rest between each.  10 sets of 75m (25m easy, 25m race pace, 25m flat out).  2 laps warm down breast stroke.
Swim Set 3
200m warm up.  4 x 50m (one arm only switching arms after each lap focus on body position through the water) with 10 secs rest between each.  CSS test session (400m flat out with 2 mins rest followed by 200m flat out – record your times and enter them into www.swimsmooth.com/css-calculator.html) 1 min rest. 2 laps back stroke warm down.
Swim Set 4
100m front crawl easy followed by 100m back stroke warm up.  4 x 25m (front crawl with hands clenched in a fist focus on catching the water).  30 mins endurance aiming to maintain your CSS pace throughout.  2 laps warm down breast stroke.
Put variety into your swim training
Try and mix up your swimming using these routines alongside some endurance or open water swimming to improve your time in the water and keep the motivation.  Make every session focused on quality rather than speed thinking through your stroke, breathing and body position.  Good quality training will always outweigh quantity.
Use technology in your swimming
If you are looking for additional guides on how smooth your swimming is check out our blog on using the Garmin SWOLF scores to measure swim efficiency.
BILLY
About the author – Billy is the founder of Trivelo Bikes. An avid triathlete for the past 5 years, keen & pretty handy in the swim but useless out of the water.