Trivelo independently review everything we recommend. When you buy through our links, we may earn a commission. Learn more >
Read from Richard and the BlueSeventy Fusion Wetsuit Review where he compares to his other triathlon wetsuits. As a regular open water swimmer all year round and owner of multiple top quality triathlon wetsuits he has incredible insight on this wetsuit.
Summary of BlueSeventy Fusion wetsuit review
Trivelo Score 4/5
It is a very supple wetsuit and really comfortble to swim in. The only reason I would not score it higher is concerns on how long it would last with regular use. Otherwise would have scored it higher. For anyone spending more than £300 / $300 you would want it to last a reasonable while.
---
Swimming Wetsuit Experience
Since starting open water swimming (many moons ago) I have been fortunate enough to try a number of swimming wetsuits. My first was a 2XU T3 which was built like a bulletproof vest and which was a solid performer for a total beginner. Since then I've swam almost entirely in a Zone 3 Aspire, but I have also tried the Huub Alpha wetsuit (you can read my review of that suit here). But up until this point I had never tried any suits from Blue Seventy so I was really excited to get my hands on the Fusion. 
Now I really like my Zone 3 Aspire and find that the M:L size (Medium Large for those of you that are asking) fits me very well. It is easy to put on, comfortable to swim in and easy (ish!) to take off. It's durable too; I bought my Aspire in 2017 when I completed the Bantham Swoosh 6km and River Dart 10km swims. Since then I've done a lot more swimming in it and although it has had a zip replaced (thanks to BodyLine Wetsuits in Cornwall), the neoprene is still in decent condition and showing little wear. 
Trivelo Blue Seventy Wetsuit Assignment
When Billy from Trivelo asked me to review the new BlueSeventy Fusion wetsuit, I jumped at the chance. Blue Seventy describe the new Fusion as being an "entry level suit" and claim to have "re-imagined what an entry level suit should be". But with an RRP of £380.00 (currently reduced to £350.00 on the BlueSeventy website) the Fusion is not a "cheap" or "budget" suit. Interestingly, the pricing puts the Fusion in the same ball-park as my long serving Aspire (the 2023 version of which currently retails at £375) so I was interested to see how they compare.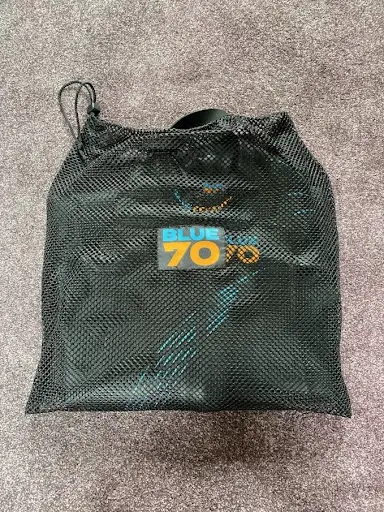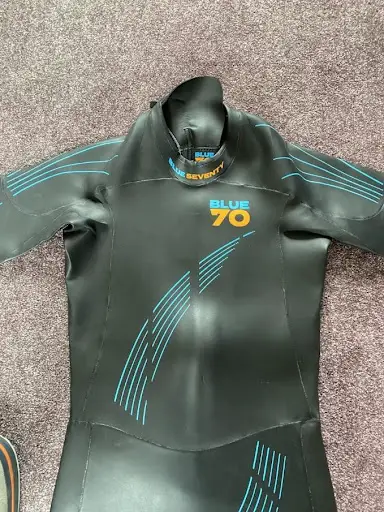 Opening Up the Blue Seventy Fusion Wetsuit
The BlueSeventy Fusion comes in a simple mesh drawstring bag. It certainly looks the part and the neoprene feels supple and stretchy right from the start. The bag is not a shoulder carry bag and it's not very big so you can't really use it to carry all your additional items (goggles, hat, tow-float, towel etc.), but it does the job. I should point out that the wetsuit that I'm testing is presented as being an "as new Ex Demo" – it doesn't have any tags on it, and there are a few minor defects in the neoprene with a couple of deep nicks on the upper left leg. 
First Impressions of the BlueSeventy Fusion wetsuit
Despite what BlueSeventy claim, the Fusion does not look or feel like an entry level suit. The neoprene feels thin, supple and distinctly "premium". BlueSeventy use "upgraded #39 cell Yamamoto neoprene, pairing it with premium liners to maximise flexibility through the shoulders and the arms", and without even getting in the water I get the impression that it will not feel restrictive. The suit I'm testing is a Medium Large (the same as my Zone 3) so it should fit pretty well.
If you swim all year round you swimming buoyancy shorts are a game changer in the pool. Read our post on how buoyancy shorts help you create a wetsuit swim feel. Not only that make you faster through the water. Read to find out how.

Putting on the BlueSeventy Fusion wetsuit for the first time
Before getting in the water, I decided to try the suit on and make sure that it fit me. This is where I came across the first problem. That thin, supple neoprene feels great, but those three nicks in the upper left leg make me question how durable the suit will be. The suit is easy to put on and the long zipper cord makes it easy to zip up, even if you are swimming solo. It's also easy to take off, even when it's not wet. I have a suspicion it should be really easy to remove after a swim… The suit feels good; the fit is generous and not restrictive and there are some nice features – the "S-Grip forearm catch panels" look interesting…but questions remain about those holes.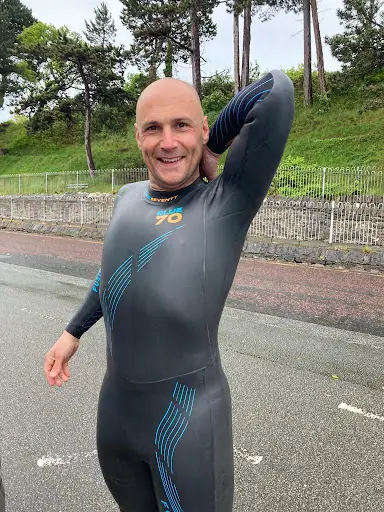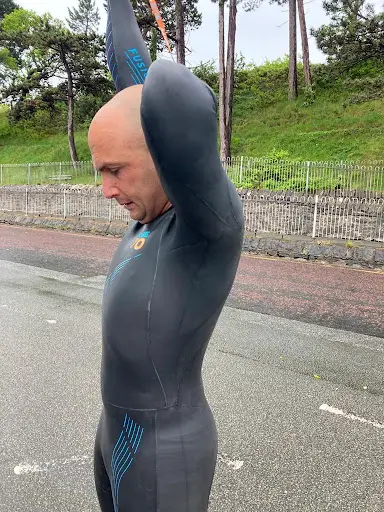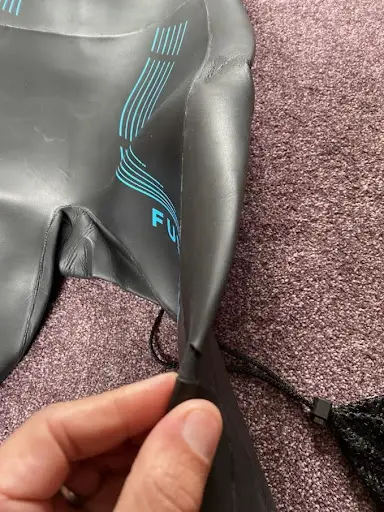 Swimming in the BlueSeventy Fusion swimming wetsuit
My first swim in the BlueSeventy Fusion took place on 08 May 2023 in the sea at Colwyn Bay, North Wales. The suit has a minimum comfort rating of 12.5° C and with the weather not having been all that warm all year, I was pleased to find that I was not cold while swimming in the Fusion. 
Getting ready to go into the water
BlueSeventy have lowered the neckline to improve comfort and minimize chafing without compromising the seal to prevent water entry, and I had no problems with chafing on my neck despite not using any BodyGlide. I didn't experience any water coming in around the neck or up the sleeves either, and the suit felt light and quick.
The suit also feels buoyant thanks to a well thought through mix of neoprene thicknesses. The buoyancy profile is a 3:5:4 and uses a buoyant 5mm panel in the lower half of the body, 4mm neoprene in the legs and a 3mm panel for the upper body that lifts the lower half of the body in the water, raising the hips and helping to promote a faster swimming position. For a "heavy legged" swimmer like me, it felt very nice to use and I felt relaxed and smooth in the water. 
First impressions are broadly positive. 
Since that first swim at Colwyn, I've swum using the BlueSeventy a few times both in the sea at Nefyn on the Llyn Peninusula and in my local swimming lake in North Wales. The suit is very comfortable, very un-restrictive and certainly quick. 
If you are daunted by the prospect of open water swimming read our post on how to master open water swimming. A collection of the best tips from our panel of over 100 experienced swimmers helping you conquer the water.
Overall review of the BlueSeventy Fusion
I like this suit; if it were a brand new suit and not an ex-demo one, then I would be very happy to swim in it regularly. The fit is generally good, although I did find that the legs rode up on my lower legs a little, and the belly of the wetsuit sagged a touch after time in the water, so maybe the fit (for me) is not spot on.
I think that Blue Seventy have pitched the Fusion at the right level for experienced open water swimmers who want to benefit from proven mid-range technology and fabrics. As I said at the beginning of the review, it's not a cheap suit, and I still have questions over its durability, but overall, if you buy this suit then I don't think you'll be disappointed. 
Video Review of BlueSeventy Fusion Triathlon Wetsuit
Hear from Richard using the BlueSeventy Fusion in the sea during testing.
---
Buy the BlueSeventy Fusion Mens Triathlon Wetsuit
UK Readers – Buy the BlueSeventy Fusion for £350 from BlueSeventy
US Readers – Buy the BlueSeventy Fusion for $375 from BlueSeventy
---
About the Author
---
Follow us on Social Media
---