Trivelo independently review everything we recommend. When you buy through our links, we may earn a commission. Learn more >
---
This weeks blog is the second in a series of reviews of swimming wetsuits by the triathletes themselves. This week we bring you the Zone3 Vanquish Wetsuit review. To really help you get a feel for the wetsuit we have 2 separate reviews of this wetsuit. First review comes from one of Team Trivelo who has shared his experience of the Zone3 Vanquish swimming wetsuit. Second review comes from one of our fantastic triathlete associate testers who has shared his views.
Zone3 Vanquish Wetsuit Review by Scott Maguire
I previously had the Zone3 Venture and was really happy with the fit, comfort and performance so I was sceptical about an upgrade to the top end Zone3 Vanquish wetsuit. After deciding to focus on improving my swim I thought an upgrade would help. It did, well pleased with it. I'm not the strongest swimmer but my times have improved. It's hard  hard to get on initially but felt like a second skin once on. Really comfortable with full range of motion helping to reduce fatigue. The ultra thin neoprene on the arms is great improving comfort and reducing the buoyancy but overall buoyancy feels fine to me.
Zone3 Vanquish wetsuit performance in the water
I'd seen concerns about neck chaffing with this new Zone3 model but I didn't experience anything more than normal and nothing lube would not resolve.
First time I'd experienced cuff catch panels and for a novice like myself I'm convinced it helped improve my stroke. First time I have had a downward zipper which was so much easier to get out of after a long swim. No more grabbing at your neck with shoulders aching wasting valuable time in transition.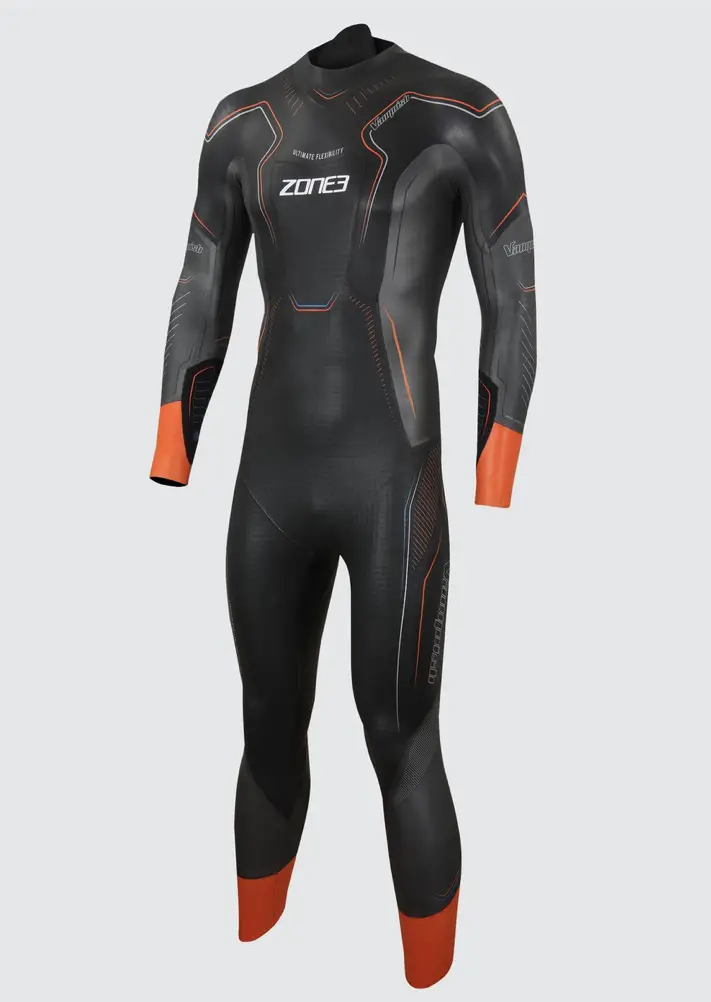 Zone3 Vanquish wetsuit overall summary from Scott
The Vanquish is not the cheapest but it's not the most expensive either so I felt with all the features and obvious improvement in performance was worth the extra money.
Our second review of this high quality wetsuit comes from Jason Walkley one of our hugely experienced triathlete associate testers.
Zone3 Vanquish Wetsuit Review from Jason Walkley
The first thing I noticed about the new Zone 3 Vanquish wetsuit was the changes in the arms. Having previously had an older Vanquish it is amazing how thin the arms and shoulders were. Zone3 have tapered them down from a 1.5mm shoulder panel to an incredible 0.3mm thick arm sleeves. This makes the suit very comfortable, easy to put on and remove. Best of all the flexibility that arises from this is absolutely fantastic.
First impressions of the Zone3 Vanquish wetsuit
When I tried it on for the first time it felt so easy to put on. This is something that all zone 3 wetsuits do. No more wrestling yourself into your swimming wetsuit. The familiar feeling of becoming hotter and hotter as you fight the neoprene. This suit just slides on. This is due to the silky material that lines the suit It makes the art of getting it right ''up there" an easy and painless task.
Zone3 Vanquish Sizing
I chose a size small wetsuit. I am right on the upper limit of the sizing chart and actually weigh a couple of kg's more than suggested for a small. Having swam in an SM & ST, the best size for me was a small. Don't be afraid of going the one size down with the Zone3 wetsuits.
First swim in the Zone3 Vanquish wetsuit
First swim felt so natural. It almost felt as though I wasn't even wearing an open water swimming wetsuit. I also had a session in an endless pool wearing it. At the end of a swim stroke analysis session my coach assessed that wearing this suit did not change my stroke technique at all. I had the same high elbow catch, the same pull and finish, the same
horizontal (flat) body position. The only thing that was different was that it enabled me to rotate that little bit more. Not all suits have been able to do that for me!
Quick removal of the Zone3 Vanquish Wetsuit
The package is complete when you can remove the triathlon wetsuit quickly. I always trim the legs of a swimming wetsuit to allow a larger hole to drag my legs and feet through quicker in transition. I have found with the Zone3 Vanquish that I have not needed to do this. As long as the triathlon wetsuit is still wet it just comes off with ease. After several open water swims and a couple of races in the wetsuit it has confirmed that I have made the right choice for my wetsuit this year.
Negative points on the Zone3 Vanquish wetsuit
I have only found two negative points with the Zone3 Vanquish wetsuit. Firstly, I have experienced that the cord for undoing the zip doesn't stick very well to the Velcro. This results in it sometimes ending up wrapping around over my shoulder and under the front of my arm/chest. This might just the way I have it fastened though.
The second negative is that you need to lubricate your neck when wearing the Zone3 Vanquish. If you don't get some form of lubrication on your neck then in a long swim it can rub and leave some marks. Something I have only had once when I forgot to lube up around the neck.
Summary of the Zone3 Vanquish wetsuit by Jason
This wetsuit is highly recommended for any swimmer that does not naturally need much help with buoyancy. I am not a fantastic swimmer by any means. I usually swim around 30-32 mins for 1900m (70.3 swim). 61-64 mins for the full distance Ironman/Long course 3800m swim.
The Zone3 Vanquish 2019 wetsuit allows me to swim at my best without having to worry whether or not I am actually swimming well.
About Zone3 Wetsuits
In 2007, Zone3 was founded by a group of elite triathletes from Loughborough University in the UK. The original concept was drawn from a deep-rooted passion for endurance sports. This group of students has gone on to create a market leading set of products for triathletes.
Best place to buy a Zone3 Vanquish wetsuit
You can no longer buy the Zone3 Vanquish wetsuit new but there are lots of great second hand wetsuits worth looking at.
Best alternative to the Zone3 Vanquish
Buy the Zone3 Vanquish X wetsuit from Wiggle from £503
Alternatively read our complete round up of the best 15 triathlon wetsuits for 2023 for a wide selection of wetsuits. All reviewed and with comparisons against each.
Hope you have enjoyed the Zone3 Vanquish Wetsuit review. If you have a wetsuit you love then please drop us a note in the comments and share your experience.
Check out our earlier review of the Yonda Spirit wetsuit for more options in open water swimming wetsuits.
---
About the Author
---
Follow us on Social Media
---