Continuing to help you go faster with our top 5 triathlon saddles 2023. Not only helping you go faster but also making you more comfy! Our panel of real triathletes round up the finest triathlon saddles to help you find the perfect fit for you. We have also sourced the cheapest triathlon saddle that we have reviewed and happy to sell through our Triathlon shop as an alternative.
We originally compiled this list in 2020 and have been updating each year based on new products and availability. This latest update in 2023 has the best on offer for this season.
Why buy a triathlon saddle?
We all love an upgrade. Taking a stock factory bike and lavishing it with upgrades is part of the fun of having a bike. The focus for most triathletes is on going faster. So upgrade decisions centre on speed gains and weight reduction. This misses the point if every mile your rear aches and ultimately slows you down. A poor fitting triathlon bike can be uncomfortable at best and cause you injury at worst.
Avoiding injury and enjoying the ride is why you need to consider finding the best triathlon-specific saddle for you. So it's essential for your triathlon performance not to forget the saddle. A good triathlon (or TT) saddle will allow you to retain an aero position for longer that will make you feel more at ease on the bike and ultimately go quicker. Winning!
What's the difference between a triathlon saddle and a road saddle?
A triathlon specific saddle is not the same as a road bike saddle. Most factory triathlon specific saddles are often in truth the same as a road bike saddle to keep down costs. A road bike saddle allows you to sit further back in the frame and putting more weight on your tail bone. On a triathlon bike the desired position is to move further forwards into more of an upright position. This means you can more readily use the aero bars and stay in this position for longer.
Why are triathlon saddles different?
When racing in a triathlon of any distance the bike leg constitutes the longest duration. To finish strongly it is important that you can come off the bike onto the run leg with fresh legs. Triathlon saddles are designed to allow you to maintain the aero position for longer while not straining your legs. You will need them for the run still! The design is a combination of enhanced aerodynamic efficiency and allowing you to move into the run with energy.
What is the most comfortable triathlon saddle?
This is a very personal decision. Finding the right triathlon saddle for you unfortunately may be some trial and error. We are all different shapes and comfort for each of us will vary. This is why aero bars are so different in style as they allow for different styles of cyclist. This combination of aero bar and saddle are more important than groupset potentially. Below are the saddles our panel find the best to buy and hopefully within them is the perfect triathlon saddle for you.
>>> 15 of the Best Triathlon Wetsuits 2023 – Complete Buyers Guide
The 5 best triathlon specific saddles 2023
ISM PS 1.0 Saddle – £164.99 TRIVELO BEST BUY
Fizik Transiro Mistica – £155
Fabric Tri Flat Pro Saddle – £112
Prologo Dimension Tri CPC Nack Saddle – £192
Selle SMP T5 Triathlon Saddle – £186
ISM PS 1.0 Triathlon Saddle
ISM was founded by Steve Toll. An American cyclist and swimmer. He began creating a new design for bike seats over 20 years ago. In 1999 he patented the first ISM saddle and the basis of the business.
The ISM design is the most radical of all those listed. They have taken the central channel design to the extreme of creating a fork nose to the saddle. The two channels that hold your weight remain separated. This channel is designed to provide a wider area to relieve pressure. The nose is gently sloped to permit a more comfortable position. With smooth surfaces the saddle limits leg injuries in particular hamstring injuries.
The back of the saddle has an incline design. This slope at the rear of the triathlon saddle gives additional hip support. This hip protection is particularly relevant to triathletes where you are positioned forwards for aero profile.
This is our favourite saddle and used by the Trivelo team themselves.
Pedals are a likely consideration for any bike upgrade. But are clipless pedals worth the upgrade? We compare clipless pedals and flat pedals with the science behind differences. If you have resisted using clipless pedals to date you should read this post to help you make the right decision for you.
Specification of the ISM PS 1.0 Saddle
Category: Performance Short
Length: 250mm
Width: 130mm
Padding: 15-Series Foam and Gel
Rails: Titanium
Colors: Black, white
Weight: n/a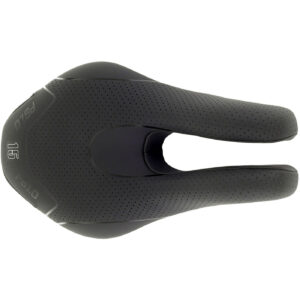 Best Price for the ISM PS 1.0
Buy the ISM PS 1.0 for £164.99 from Wiggle
---
>>> Best Alternative to Huel Black – High Protein, High Fibre, Low Fat meal replacement shakes
---
Fizik Transiro Mistica
Fi'zi:k is the phonetic spelling of the word physique for those curious on the origins. Founded in 1996 they are mainly known for their bicycle saddles and shoes. Fizik are owned by Selle Royal who also have a saddle in our line up of the best triathlon saddles.
The Transiro Mistica Carbon has a minimalist design. The saddle has a short length with a stubbed nose at the front. With carbon rails and lightweight nylon materials weighs only 205 grams. The short design gives it a chunky look that suggests more weight. The deep channel through the middle to the nose allows comfortable weight distribution. The microtex cover should have a long life with the added bonus of stability for the rider.
Specification of the Fizik Transiro Mistica saddle
Shell: Carbon reinforced nylon
Length: 241mm
Width: 135mm
Cover: Thermo-Welded microtex
Rails: Carbon braided 7x9mm
Colors: Black, Multi
Weight: 205g
Best Price for the Fizik Transiro Mistica
Buy Fizik Transiro Mistica for £155 from Wiggle
---
>>> 9 of the Best Triathlon Bags to help transition that much simpler and less stressful
---
Fabric Tri Flat Pro Saddle
Fabric's Tri saddle is designed to suit the specific requirements of triathlon and time trial. Shorter in length than a traditional saddle and featuring a centralised relief channel. The Fabric Tri Flat Pro saddle is designed with a similar style to the Fizik saddle. Shorter stubby design compared to a conventional road bike saddle.
The Fabric Tri Flat Pro Saddle like others in our line up enhances comfort when your weight is fully shifted forwards in the aero tuck position. The central relief channel provides a relief of pressure when you are riding in an aggressive position. By alleviating pressure on your pudendal artery, this channel reduces issues of numbness and discomfort.
Carbon fibre rails provide a strong, stiff and lightweight base for the saddle. The rear of the saddle includes fittings foran interchangeable bike hanger or bottle mount.
Specification of the Fabric Tri Flat Pro Saddle
Category: Performance Short
Length: 240mm
Width: 134mm
Cover: Nylon
Rails: Carbon
Colors: Black
Weight: 176g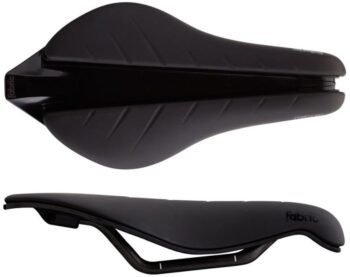 Best Price for the Fabric Tri Flat Pro Saddle
Buy the Fabric Tri Flat Pro Saddle for £112 from Tredz
Prologo Dimension Tri CPC Nack Saddle
The Prologo Dimension Tri CPC Nack Saddle is one of the more conventional looking saddles listed. Albeit with the most complex name of any saddle here!
The Prologo saddle is designed for long distance rides so perfect for anyone looking at Ironman distance events. The saddle features hard wearing microfibre fabric that suggests it will wear well over a life time of cycling. The padding has a variety of densities of foam to provide increased comfort.
With a weight of only 181g this is the lightest triathlon saddle featured. Prologo have achieved this using cutting edge materials including carbon rails. Built with carbon fibre helping reduce weight but also creating a stiff saddle most likely to be noticed on hill climbs. The hollow central channel further aids weight reduction. Less saddle, less weight! It is also designed to reduce numbness and improve blood flow relieving pressure on the perineal area.
Prologo are promoting their new CPC patented technology hard. Claims are that this makes the Dimension Tri CPC Nack saddle a unique choice in our line up. CPC stands for Connect Power Control. CPC essentially is a series of hollow cones arranged to create a comfortable seating position. The theory being that this design permits increased shock absorbing and air cooling. Although the saddle has a conventional look this internal design science is worth looking at to find a comfortable saddle.
Specification of the Prologo Dimension Tri CPC Nack Saddle
Category: Performance Short
Length: 245mm
Width: 143mm
Cover: Microfibre
Rails: Carbon
Colors: Black
Weight: 181g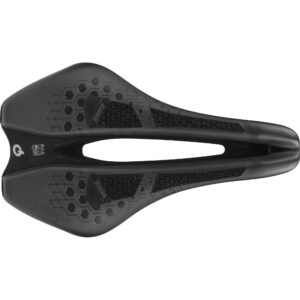 Best Price for the Prologo Dimension Tri CPC Nack Saddle
Buy the Prologo Dimension Tri CPC Nack Saddle – £192 from Wiggle
Selle SMP T5 Triathlon Saddle
Selle pop up for the second time in our line up with their other sister brand the Fi'zi:k already listed. They are the oldest manufacturer listed with history dating back to 1947 being formed in Italy shortly after the second world war. With more than 70 years behind them they still pride themselves on being 100% made in Italy. They also have provided saddles for numerous professional riders that further demonstrates the heritage of the brand.
The Selle SMP T5 is visually very similar Prologo Dimension Tri CPC Nack. The Selle triathlon saddle features a standard short nose coupled with hollow central channel matching the Prologo. The stubbed nose promotes cyclists adopting the aero riding position with weight forwards on the bike. Very common with the others seen here. One unique consideration of the Selle SMP T5 is that is designed to be more comfortable for riders with a wide pelvis. Read into this that it suits bigger cyclists. I am 6'3″ so by anatomy my pelvis is likely wider than shorter cyclists.
The Selle SMP T5 triathlon saddle comes in two models. One with carbon rails and one with steel (model we list). The key difference between the models as you would expect is weight. The carbon version coming in 50g lighter. The trade off is cost. In our view 50g reduction is not worth the extra cost so have included the steel model. Given the others in the line up and the costs for them a more fair comparison is to include the steel version.
Specification of the SMP T5 Triathlon Saddle
Category: Performance Short
Length: 245mm
Width: 143mm
Cover: Microfibre
Rails: Carbon
Colors: Yellow Fluo, Black, White
Weight: 319g (steel rails version)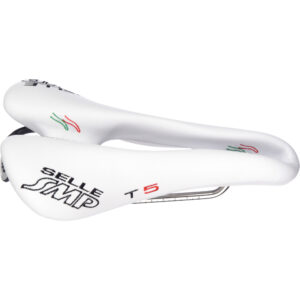 Best Price for the SMP T5 Triathlon Saddle
Buy the SMP T5 Triathlon Saddle for £186 from Wiggle
List of 5 of the best Tri saddles 2023
ISM PS 1.0 Saddle
Fizik Transiro Mistica
Fabric Tri Flat Pro Saddle
Prologo Dimension Tri CPC Nack Saddle
Selle SMP T5 Triathlon Saddle
See our round up of 9 of the best triathlon bikes you can buy for more information on tri specific bikes.
We have been looking for lower cost alternatives while reviewing the current top 5 triathlon saddles 2022. We have been carefully testing and selecting products from overseas suppliers. Focusing on low weight and comparable design to ride comfortably we have found a budget alternative triathlon saddle.