Trivelo independently review everything we recommend. When you buy through our links, we may earn a commission. Learn more >
---
This week we have the BlueSeventy Glide Wetsuit review from Sophie. Sophie has been completing expert reviews for Trivelo for a number of years and has an amazing background for a review like this.
Introduction to Sophie
I'm Sophie Johnson, a 36 year old team GB Triathlete. I've swam since I was 4, coached swimming on and off since my early teens and represented other wetsuit brands as an ambassador fitting people at various triathlon shows and helping them find the right suit for their shape and swim style.
Summary of the BlueSeventy Glide Wetsuit Review
Trivelo Score – 4.8 / 5
The Glide wetsuit is BlueSeventy's 'shorty' wetsuit. It's priced at around £139-£150. I couldn't find a comparable 'shorty' swim wetsuit on Zone 3, Huub or Orca's website with short legs as well as sleeveless. I'm excited as this fills a gap I've noticed in the market. It's not a swim skin, it's not a sleeveless wetsuit, it's a shorty swimming wetsuit.
A great suit for the price and unique in the market. Room for improvement on the neckline but I'm sold on it.
Pros & Cons
Pros
Fun and free feeling
Unique in the market
Easy fit and removal in races
Well priced
Great for beginners and pool swimmers
Cons:
Not great for cold water
Neckline rubs a little
First Impressions
On first impression the quality of the neoprene is decent enough, not as flexible as their highest end suit, pretty chunky all over, and the seams look well bonded and durable. This is aimed at entry level and markets the ease of getting in and out and the buoyancy. It's 3mm all over apart from the 4mm over the hips to give better alignment in the water.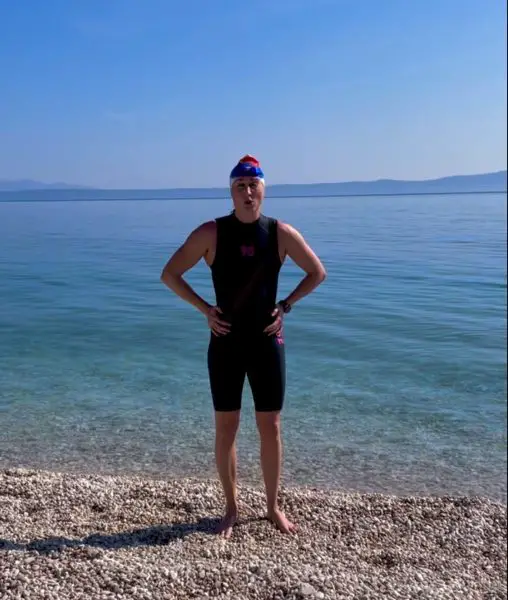 Fit & Functionality of the wetsuit
In fitting into the suit the first time I was in the water already as I'd had another suit on to try before this one, because of this I found the suit gaped under my arms and down my front. I got onto dry land to fit it properly and got back in and the issue was fixed, the suit fitted like a dream with maximum comfort and no restriction.
If you are considering your BlueSeventy Glide wetsuit for an upcoming triathlon check out our Guide to the best triathlon bags currently available. With a range of bags tested and compared we have something for every budget. Well worth considering to gain some competitive advantage in transition.
Who is this wetsuit for?
I love this wetsuit. Although it's aimed at entry level, given the lack of alternatives I'd happily purchase this suit. I felt fast and unrestricted and really impressed by the buoyancy for a short wetsuit. Having been a pool swimmer since I was 4 I'm not a massive fan of being fully wetsuited up (I'm one of the few people who celebrate a non-wetsuit swim), this suit gives all the alignment benefits of a wetsuit but the free feeling of swimming without.
For any male triathletes reading this looking for a full length wetsuit see our review of the BlueSeventy Fusion wetsuit. Richard from our team has been testing this mid-range wetsuit in open water swimming. Find out if he loved it as much as Sophie does the BlueSeventy Glide.
Swimming Performance in the BlueSeventy Glide
In terms of performance…I'm faster in the suit than without it and roughly the same, maybe a tad slower in this suit compared to the Reaction.
If you are looking for improvements in swim performance read our article on how buoyancy shorts are essential to improve your swim speed. For those who love the buoyancy of open water swimming in a wetsuit buoyancy shorts in the pool could be a revelation.
Summary of the BlueSeventy Glide wetsuit review
I'd recommend this to beginners and pros alike because of that. The only drawbacks I could say is that the neckline is still a touch high and I found it to rub at the back without bodyglide to protect my neck, but it's a small price to pay for such a fun open water experience. The other drawback is that it's obviously only good for warmer open water swims, unless you're a cold water swimmer and then this is positively a luxury compared to skin.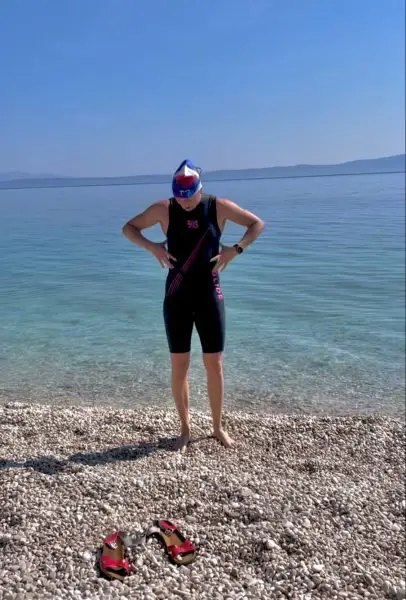 Would you buy this?
Absolutely. It's a bargain and is perfect for warm weather open water swims at speed.
Best Price for the BlueSeventy Glide wetsuit
Buy the BlueSeventy Glide wetsuit from UK BlueSeventy for £139
Buy the BlueSeventy Glide wetsuit direct from US BlueSeventy for $175
Video review of the BlueSeventy Glide Wetsuit
Hear from Sophie in her video review where she talks about testing the BlueSeventy wetsuits
---
About the Author
---
Follow us on Social Media
---