Helping you get organised for triathlon transition set up we bring you 9 of the best triathlon bags and our 2022 complete buyers guide. Compare models in terms of size, structure, best prices and our in-depth reviews. First published in 2021 we have updated the review for everything new and shiny in 2022.
---
List of the 9 Best Triathlon Bags 2022
Zone3 Triathlon Transition Bag
Sundried Triathlon Rucksack
Zoot Sports Transition Backpack
TYR Apex Transition Bag
HUUB TT bag
Decathlon Aptonia Transition Triathlon Bag
DHB Transition Bag
KitBrix
HUUB Transition II Bag
---
Still wanna add an exquisite decoration to your Triathlon Bags?
Show your personality with customized pins! Pins designed and created by yourself are the ideal accessories to decorate your Triathlon Bags.
There're numerous styles and add-on options at GS-JJ in quick easy steps, you can also attach your pins to jackets, jeans, hats, etc.and more. Go have fun with your creativity!
---
Zone3 Triathlon Transition Bag
Available in blue/orange or black/red (that gives it a touch of a HUUB vibe) the Zone3 Triathlon Transition bag ticks a lot of boxes. The bag has been designed specifically for triathlon rather than a sports bag branded as a triathlon option with a 20% price hike. The bag has 3 separate compartments (bottom, middle and top).
Each section designed for the swim, bike run. This includes a waterproof swim bottom section to protect your other kit from getting wet from your swim kit. The bag includes a number of clever zipped pockets for those smaller but essential items such as gels and goggles meaning you are not rummaging around the bottom in transition.

The bag is a rucksack style with two shoulder straps and a 3mm foam back in case you have a slog to get from the car to transition. There is thought for external attachment for a helmet as well with generic large mesh outer sections for water bottles. On the top is a secure flap section perfect for storing your paperwork when heading to registration with any information that must not be lost.
>>> Triathlon Heart Rate Monitors Buyers Guide
---
Sundried Triathlon Backpack Transition Kitbag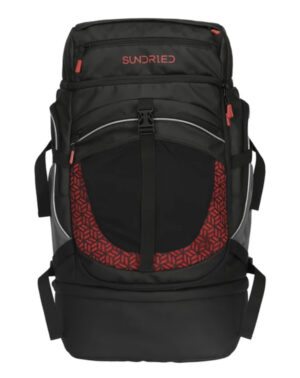 Buy it now from Amazon
Price – £77
Size – 40L
Dimensions – 56.5cm x 34cm x 26cm

The Sundried Triathlon Backpack is a 40 litre capacity backpack designed specifically to make triathlon transition painless. The main compartment is huge and opens up fully with a wrap around zip. The main zip pocket has three mesh pockets for separating kit between disciplines ensuring you can find it. In addition there is a shoe compartment in the base of the bag as well as provision for an elastic helmet pocket on the front.
Unlike a number of the other triathlon bags in the line up the Sundried triathlon backpack is also designed to hold a hydration pack pocket. This is not supplied with the rucksack. Purpose being it gives a broader range of applications for the bag beyond triathlon but in my view not sure on how directly applicable this is for triathlon race prep.
---
Zoot Sports Transition Backpack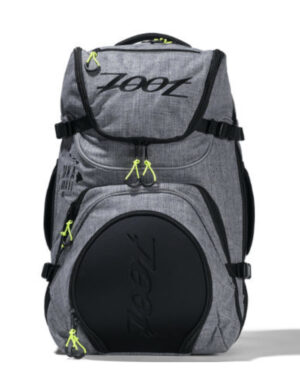 Buy it now from Amazon
Price – £95
Size – 40L
Dimensions – 58cm x 42cm x 11cm

Bucking the trend of a sea of black rucksack is this pale grey 40 litre triathlon bag from Zoot Sports. The Zoot Triathlon bag and Sundried triathlon bag follow a very similar design approach. The Zoot Sports has a large central bag area with multiple pockets that opens completely to gain access to your kit. There is an end pocket for shoes that can be expanded inwards. There is a helmet attachment on the rear of the back that unlike others is a dedicated pocket. This gives increased protection compared to others where the helmet has a mesh pocket to secure it only.

Unique to the Zoot Sports Transition Bag is a removable wet clothes bag. This sealable waterproof bag allows you to store your swim kit without fear of soaking your other kit.
>>> Best Alternatives to the Garmin Forerunner 945 Triathlon Watch
---
TYR Apex Transition Bag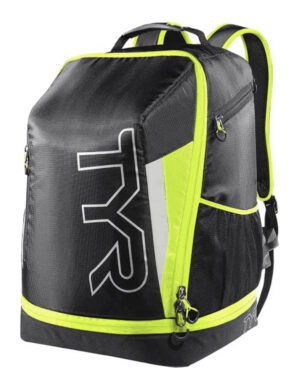 Buy it now exclusively from Wiggle
Price – £68
Size – 40L
Dimensions – 50cm x 35cm x 30cm

The TYR Apex transition bag is currently discounted with Wiggle down from a list price of £79 to £68. It pushes the TYR into the cheaper end of our round up of 9 of the best triathlon bags. With a black a flouro yellow trim finding your bag in the pile should not be an issue with this. With a 40 litre capacity the TYR Apex transition bag comes in the most common size from our list. It uses a large main compartment with various mesh pockets for all your bits making set up times quicker. There is a waterproof internal wetsuit chamber to protect your other kit.
Unlike some others the TYR Apex triathlon bag does not provide three core compartments but a central main compartment and wet storage only. It is a rucksack with padded harness for comfort while heading to the registration area. Unique among the triathlon bags the TYR includes a 15" laptop sleeve in case you were using this combined with some travel. I'd normally keep my laptop and other kit separate from my triathlon kit when Trivelo work calls. But could be useful for those wanting to travel as light as possible.
---
Huub TT Bag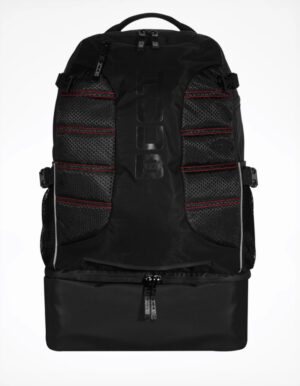 Buy it now from Wiggle
Price – £99.99
Size – 40L
Dimensions – 60cm x 34cm x 20cm
The very black HUUB TT bag follows the trend for 40 litre triathlon capacity triathlon bags. The rucksack features three sections for storing all your swim, bike and run kit but one of these is pretty small. This might make it impossible to be purist in the separation of your kit. The rucksack also features a conventional top down opening not following some others with a complete open Zip allowing you to lay the bag flat. This might not be how you like to set yourself up and be a limiting factor. The padded and fully adjustable shoulder straps ensure a comfortable journey irrespective of the distance to registration from the car park.
The bag comes loaded with extra compartments and mesh pockets for all your kit. This includes a waterproof storage pocket for your swim kit post race. Build quality and finish is very much HUUB. Top notch.
>>> Round up of 15 of the Best Triathlon Wetsuits 2022
---
Cheapest Triathlon Bag 2022
Decathlon Aptonia Triathlon Transition Bag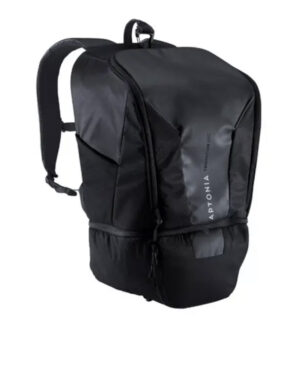 Buy it now exclusively from Decathlon
Price – £49.99
Size – 35L
Dimensions – 50cm x 30cm x 30cm
Decathlon seem to recovered from their supply chain nightmares following COVID-19 and appear to be back fully stocked. The Decathlon Aptonia Triathlon bag thankfully is one of those products you can now successfully buy. Priced at under £50 this is very much an affordable option for any triathlete. Size wise it is on the smaller end in our Top 9 triathlon bags buyers guide with only 35 litres capacity. With a fully opening zip allowing access to the entire contents makes it simple to use coming into transition. It also has a detachable bottom compartment that can be used to keep all your wet kit watertight. The main section is divided into two main sections with a "shelf" to partition the compartment.
With loads of pockets and compartment adjustments this is a great bag for the money. While maybe not as stylish or well finished as some others here such as the HUUB bag it is a very clever piece of kit.
---
DHB Transition Bag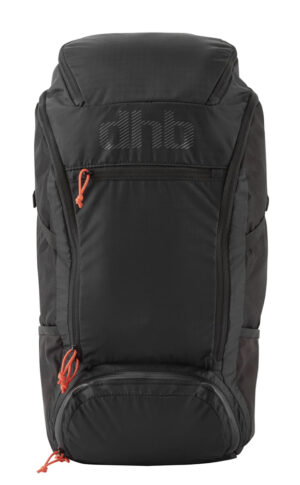 Buy it now exclusively from Wiggle
Price – £52.50
Size – 35L
Dimensions – 50cm x 30cm x 30cm

The second cheapest triathlon bag in our guide to the best triathlon bags you can buy at only £52.50. The DHB Transition bag is from Wiggles own brand that continues to mature and relentlessly take on the big boys in triathlon. An all black affair that from first impressions looks like a normal rucksack. With a fully opened main compartment allowing access to the largest section you can readily get all kit. This section has 2 side "buckets" to allow you to distribute your kit more readily. In addition there is a top small sleeve for essential paperwork and other valuables. In the base of the rucksack is a water-resistant sealed compartment for swim kit.
A high quality product with plenty of flexibility for triathletes. At only 35 litres if you travel with the kitchen sink you might find this a touch small for your needs. This is the only negative I can level against this bag. I love it.
>>> Top 5 Triathlon Saddles 2022 – Compare prices and specs
---
Top Rated Triathlon Bag 2022
KitBrix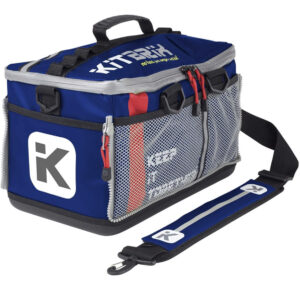 Buy it now from Amazon
Price – £64.95 per bag
Size – 20L per bag
Dimensions – 39cm x 24cm x 24cm
And now for something completely different. The KitBrix triathlon bags are unique. KitBrix have created a series of connectable bags with various pockets allowing you to have a bag per discipline. Each of the bags has a 20 litre capacity with the intention of you having three creating a class leading capacity of 60 litres. That may be overkill however and you can cope with the 40 litres that 2 bags permits. Also given the bags are a mighty £65 per bag it might suit you to only buy 2. Other factor to consider is how tall you are. Might sound strange but if you are under 5'6" three bags connected together may not be sensible for you to carry on your back.

The KitBrix triathlon bags are beautifully made and for a full review read our in-depth review of them for training and racing.
---
HUUB Transition II Bag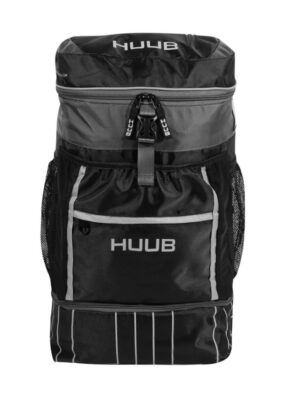 Buy it now from Wiggle
Price – £79.99
Size – 40L
Dimensions – 60cm x 34cm x 20cm

The second triathlon bag from HUUB in our line up is their cheaper HUUB Transition II bag. Looking very similar to the HUUB TT bag with grey rather than red trim. The HUUB Transition II has the same dimensions and 40 litre capacity. With waterproof storage for your swim kit including your wetsuit. The only real difference between the two is HUUB have clearly worked hard on the design of the straps and back panel on the HUUB TT bag that is superior. If you can live without the creature comforts you can save yourself £20 and get the HUUB Transition II bag.