Trivelo independently review everything we recommend. When you buy through our links, we may earn a commission. Learn more >
---
This week we have the BlueSeventy Reaction Wetsuit review from Sophie. Another great triathlon wetsuit review from her. She also completed the review of the BlueSeventy Glide shorty open water wetsuit. Sophie has been completing expert reviews for Trivelo for a number of years and has an amazing background for a review like this.
---
Introduction to Sophie – GB Triathlete
I'm Sophie Johnson, a team GB Triathlete. I've swam since I was 4, coached swimming on and off since my early teens. I have also represented other wetsuit brands as an ambassador fitting people at various triathlon shows and helping them find the right suit for their shape and swim style.
Summary of the BlueSeventy Reaction Wetsuit Review
Trivelo Score 4.5 / 5
The Reaction wetsuit is BlueSeventy's Mid to High level wetsuit. Its neoprene distribution varies from 1.5mm over the shoulders for increased flexibility to 5mm on hips and thighs for increased buoyancy and rotation. 
The BlueSeventy Reaction is priced at around £450 putting it on par with the Zone 3 equivalent and slightly cheaper than Huub and Orca. On first impression the quality of the neoprene is high, but not as flexible as their highest end suit and the seams look well bonded and durable.
The most recent evolution of this wetsuit claims they've improved rotation and lowered the neckline as they previously have received feedback on wetsuits feeling restrictive in that area. Personally this was why I made the switch to Zone 3 many years ago so I was keen to find out if they'd improved it.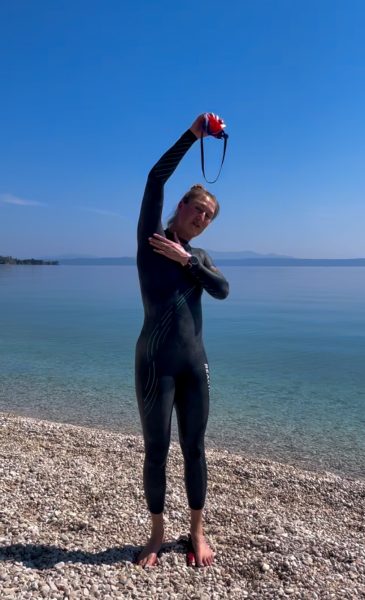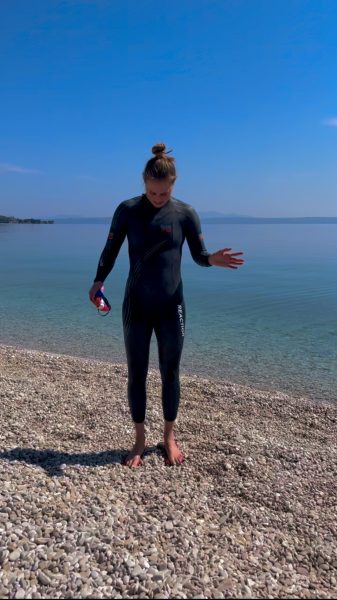 Pros & Cons
Pros: 
Faster in the water
Easy fit and removal in races
Well priced
Uses all the learnings from their top end suit
Cons:
As a 'chunkier up top' athlete I need a touch more room
It's still not quite as comfortable around the neckline as my Zone 3
I'd love it if they did an up and over zip (might not be a con for others, just personal preference).
If you are looking for a swim bag we have also reviewed the BlueSeventy swim bag. This could be a perfect partner for the BlueSeventy Reaction.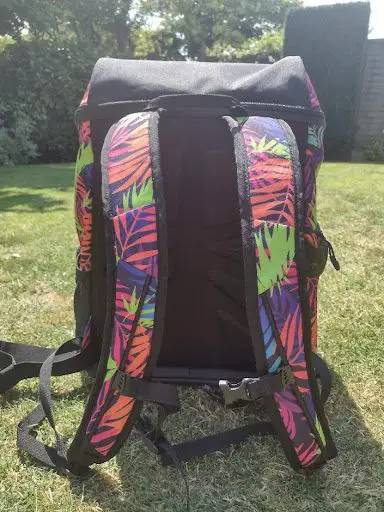 Fit / Functionality of the wetsuit
In fitting into the suit the first time I was in a hot climate so I struggled to get the fit I wanted around my arms and shoulders. For the review of the BlueSeventy Reaction wetsuit I also tried it again in the UK for a local race I was much happier with the fit going into the water.
How the BlueSeventy Reaction compares to other wetsuits
In the water the suit felt tighter on my arms and front of shoulders than my Zone 3 Vanquish (top end suit). However, it's a new wetsuit and I certainly remember my Zone 3 feeling the same early doors. I suspect the neoprene will give a little over time but I do also think that although BlueSeventy have now adopted a single panel across the shoulders like Zone3 suits. They're made for people slightly less bulky and muscular in the arms. I do crossfit alongside triathlon so I accept that my arms are not the average size of a triathlete's and my proportions are top heavy. This wetsuit will fit those with a balanced physique best, or possibly those who are muscular in the legs and lower half.
I was conscious of the neckline in the water when I was working hard but I'm pretty sure it had no impact on my breathing and I can say it's much better than older versions of their suits. I think they can still make micro adjustments/improvements, possibly even thinner or more flexible neoprene or just a wider neck hole but I suspect for many they'll be much happier with the neckline as it is.
Richard from the Trivelo Squad completed a review of the BlueSeventy Fusion mens triathlon wetsuit. A great test across a range of swimming conditions.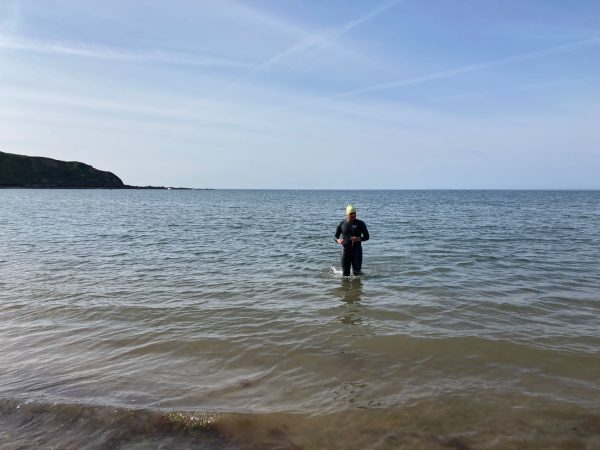 Swimming Performance in the BlueSeventy Reaction Wetsuit
In terms of performance, I am fast in this triathlon wetsuit. I did feel the impact to my rotation, I did find it easier to establish a natural feeling kick in it and I will be using it again for shorter distance triathlon races (sprint and Olympic). My times were 3-5 seconds per 100m faster in the BlueSeventy wetsuit.
Summary of the BlueSeventy Reaction Review
The BlueSeventy Reaction wetsuit is a great triathlon wetsuit for the price and will be utter perfection for some folk. Still some room for improvement on the neckline and front of shoulder flexibility/space.
Would I buy this?
Completely torn here. On the one hand I'm faster in the suit, on the other hand I know other brands fit my body shape more comfortably.
If I were only racing short-course, I'd buy this suit. 
Best Price for the BlueSeventy Reaction Wetsuit
Buy the BlueSeventy Reaction Wetsuit from UK BlueSeventy for £449
Buy the BlueSeventy Reaction Wetsuit from US BlueSeventy for $600
Video Review of the BlueSeventy Reaction Wetsuit
Hear from Sophie as she summarises her use of the BlueSeventy Reaction Wetsuit review.
---
About the Author
---
Follow us on Social Media
---