This weeks blog brings a round-up of 7 of the best triathlon wetsuits from our series of wetsuit reviews. A reflection on the popularity of the brand HUUB feature heavily in our list with a number of different models. Something to consider if looking for the best HUUB triathlon wetsuit for you. Read the review snippets below and if you wanted to read on to get the full review. Find the best prices for each wetsuit and links to buy and help you get in the open water fast.
Orca Equip wetsuit
Orca Equip Wetsuit Review Summary
The Orca Equip comes highly recommended following our review by Iron Phil. His recommendation is based on it being a comfortable, easy to put on and remove, speedy to swim in wetsuit. He caveats this as long as you don't mind striking getting into some interesting poses to manoeuvre it into the perfect position. Additionally you can cope with a zip that has a life of its own.
Pros and Cons of the Orca Equip Wetsuit
Pros – Comfortable to swim in and exit in transition
Cons – Thin neoprene so limited thermal properties for colder water swims
Read the full review of the Orca Equip triathlon wetsuit from Iron Phil.
Buy the Orca Equip from Tredz for £249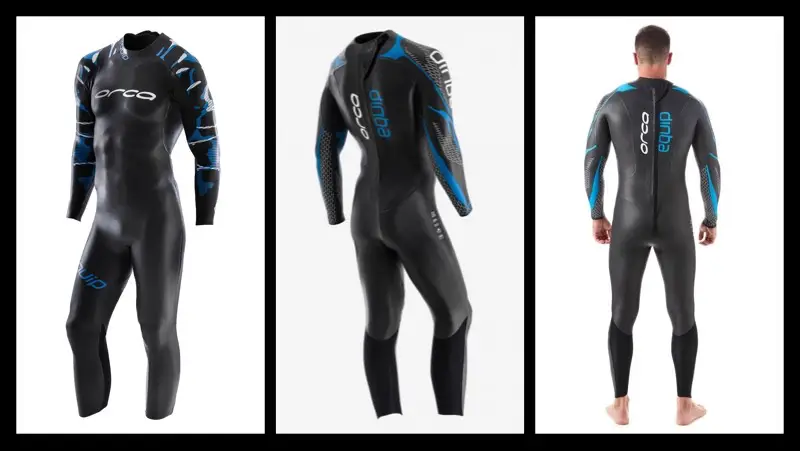 HUUB Aegis 3 wetsuit
HUUB Aegis 3 Thermal Wetsuit Review Summary
The only reason why I would change to any other wetsuit from the HUUB Aegis is its weight. I think it is a bit heavy and sometimes too much for me. I also sometimes felt a bit of discomfort through my shoulders given the thickness of the neoprene. It is a trade off for a thermal wetsuit though. For most people, If you plan to race triathlons in cold water conditions for the first time and need an affordable and durable wetsuit. I believe that the HUUB Aegis 3 thermal wetsuit 100% should be your first choice.
Pros & Cons of the HUUB Aegis 3
Pros – Best thermal wetsuit available
Cons – Heavier than other wetsuits
Read the full review of the HUUB Aegis 3 thermal triathlon wetsuit from TC Tanakorn
Buy the HUUB Aegis wetsuit from Wiggle from £199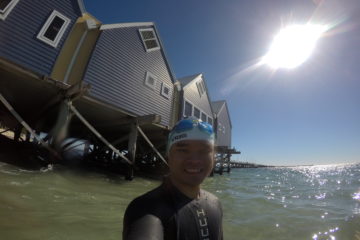 Orca 3.8 wetsuit
Orca 3.8 Wetsuit Review Summary
Having been a fan of Orca triathlon wetsuits for over a decade the Orca 3.8 continues to cement this loyalty. It is an extremely comfortable wetsuit and gives a high degree of buoyancy around the core. If you are looking for a wetsuit to help you swim with a more horizontal swim position then this is a great choice. The buoyancy across the core, bum and upper thighs is fantastic. Is it the fastest wetsuit on the market? I'm not totally convinced as I feel there are quicker wetsuits but maybe that is just me getting slower! The Orca 3.8 is an incredibly comfortable highly technical wetsuit and perfect for anyone after loads of buoyancy.
Pros and Cons of the Orca 3.8
Pros – Good level of buoyancy from core suiting "lazy legs" swimmers
Cons – Restricts natural roll of swimming more than other wetsuits
Read the full review of the Orca 3.8 triathlon wetsuit by Billy.
Best place to buy the Orca 3.8 – £359 from Sigma Sports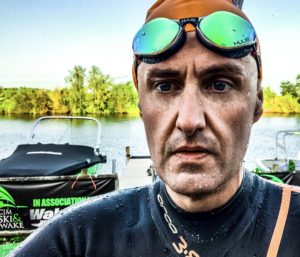 HUUB Alpha 2.3 wetsuit
HUUB Alpha 2.3 Wetsuit Review Summary
If the Alpha fits you, then you'll be benefiting from some quality inherited technology at a fantastic price. The HUUB Alpha 2.3 wetsuit feels well put together and robust. Relevant when compared to some of HUUB's other higher end wetsuits which can be more delicate with a focus on speed. An additional quality feature is that all HUUB wetsuits are covered by a 12 month warranty and you can register your suit for an extra 6 months cover taking it to 18 months total from date of receipt.
Pros and Cons of the HUUB Alpha 2.3 wetsuit
Pros – Amazing value for money
Cons – Difficult to get comfortable in and find good fit
Read the full review of the HUUB Alpha 2,3 triathlon wetsuit by Richard.
Buy the HUUB Alpha 2,3 wetsuit from Tredz for £129.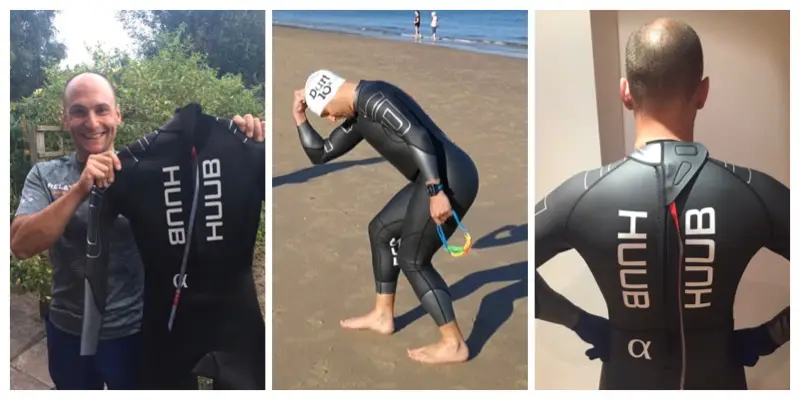 HUUB Aerious II wetsuit
HUUB Aerious 2 Wetsuit Review Summary
Shayne was really impressed by the HUUB Aerious II triathlon wetsuit. But also impressed with HUUB. Impressed with their other products, but more so their commitment to understanding the sport of triathlon and what is required to go fast.
Pros and Cons of the HUUB Aerious II
Pros – 5mm thickness of neoprene in the legs for added buoyancy
Cons – Takes time to work out the right way of putting the wetsuit on
Read the full review of the HUUB Aerious II triathlon wetsuit from Shayne.
Best place to buy the HUUB Aerious II Triathlon Wetsuit – Amazon are one of the few companies with any stock at present for £308 (noted July 2020)
Zone3 Vanquish wetsuit
Zone3 Vanquish Wetsuit Review Summary
The Zone3 Vanquish wetsuit is highly recommended for any swimmer that does not naturally need much help with buoyancy. Jason commented that he was not a fantastic swimmer by any means. Usually swimming around 30-32 mins for 1900m (70.3 swim). 61-64 mins for the full distance Ironman/Long course 3800m swim. The Zone3 Vanquish 2019 wetsuit allows me to swim at my best without having to worry whether or not I am actually swimming well.
Pros and Cons of Zone3 Vanquish wetsuit
Pros – Supports a natural swim position in the water
Cons – Neckline can rub for longer distance swims
Read through the full review of the Zone3 Vanquish wetsuit from Scott and Jason.
Buy the Zone3 Vanquish wetsuit from Wiggle – £402.50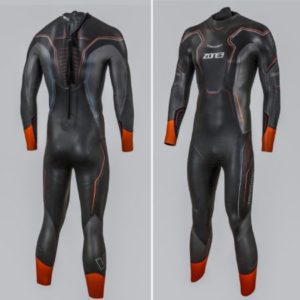 Yonda Spirit wetsuit
Yonda Spirit Wetsuit Review Summary
The Yonda Spirit is a mid-range triathlon wetsuit priced at under £300 Andrew was instantly impressed by the fit and the flexibility of the wetsuit. Even more so when used in open water swimming for the first time. The key features of the Yonda wetsuit include Yamamoto neoprene which gives the wetsuit extremely good flexibility and buoyancy. Overall Andrew thought the Yonda wetsuits were easily comparable to that of the bigger brands but at a fraction of the cost.
Pros and Cons of the Yonda Spirit Wetsuit
Pros – Competitively priced wetsuit
Cons – Reverse zip can be unfamiliar to people
Read the full review of the Yonda Spirit triathlon wetsuit by Andrew.
Buy the Spirit wetsuit Direct from Yonda supporting this UK firm – £249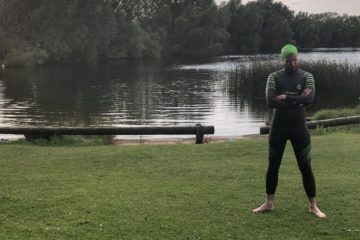 In case our collection of 7 of the best triathlon wetsuits hasn't tempted you below are more options to consider.
Alternative wetsuits to consider
BlueSeventy Helix. A class act and popular brand on the triathlon circuit. Currently £569 from Wiggle – well worth a look.
2XU Propel Pro. Another big dog on the triathlon scene. My first trisuit was a 2XU and still use today as a back up. Quality products that last. Currently £570 from Wiggle
Sailfish Wetsuit One. A less common wetsuit at the starting line up of triathlons the Sailfish Wetsuit one. A very popular wetsuit in North America and seeing increased popularity across Europe. Buy the Sailfish Wetsuit One currently for £511.99.
We are currently testing the full range of wetsuits from TYR and will shortly have full reviews of their wetsuit to consider.