Trivelo independently review everything we recommend. When you buy through our links, we may earn a commission. Learn more >
---
This weeks blog follows our hugely popular blog on the topic of Do buoyancy shorts work? In response to a number of our subscribers I have compiled this list of the 15 Best buoyancy swim shorts on the market. I've been an advocate of buoyancy shorts since 2018 and use them for most of my pool sessions. I originally created this post back in 2019 after I started testing a number of different pairs. It has been updated regularly since then with input from a number of our t
est associates using buoyancy shorts. If you are looking for buoyancy shorts I have tried to make sure this post covers something for every budget and experience level.
---
Why use Buoyancy Swim Shorts?
If you are a triathlete used to racing in wetsuit open water swimming pool based swimming can be a challenge. Triathlon wetsuits offer a great deal more buoyancy meaning pool swimming suffers from dragging your feet like anchors. The best answer is to build up core strength and achieve a flatter swim position. For those short on time that is not always easy. To help you in your mission buoyancy swim shorts provide some of the same feeling as a triathlon wetsuit. You can swim without any compromise but the neoprene buoyancy shorts elevate your core. You therefore retain a flatter position in the water and can go quicker. No issues with kicking being restricted as they may with a pull buoy and you are free to swim.

---
List of the 15 Best Buoyancy Swim Shorts 2023
---
Decathlon Nabaiji 500 Neoprene Buoyancy Shorts
Trivelo Score – 3/5
£49.99
From the affordable Decathlon Nabaiji swim range comes this pair of neoprene buoyancy swimming shorts. Classic looking swim jammer set of shorts with limited graphics through the thigh. The neoprene used is 4mm thick across the entire unit. Unlike some other more expensive shorts listed here these have a uniform deployment of neoprene. A simpler design a result of the more affordable sub £50 price tag. This gives a good level of buoyancy elevating your core while swimming but reduces levels of flexibility in comparison to some alternatives.
A solid entry level neoprene buoyancy short well worth inclusion in our list of the 15 best buoyancy swim shorts. I like Decathlon kit. It is always well priced and durable. These neoprene buoyancy shorts are a basic design with 4mm all round so not as comfortable as others but they will do the job. Well worth considering if you are looking for a first pair of buoyancy swim shorts.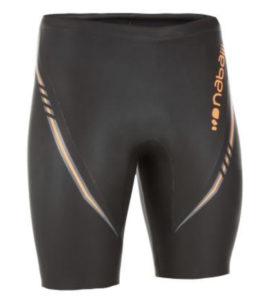 Best price – £49.99 from Decathlon
---
For those using buoyancy shorts for training for triathlons you are likely to need a triathlon wetsuit. We have reviewed dozens of triathlons since we were formed in 2015 and have collated the 15 of the Best Triathlon Wetsuits 2023 Buyers Guide. A guide with wetsuits for different conditions and budgets. With reviews and insights from our panel of over 100 triathletes.
---
Zone 3 5/3mm The Original Neoprene Buoyancy Shorts
Trivelo Score – 3.5/5
£45.12
From the swim specialists at Zone 3 comes this pair of classic buoyancy shorts with a 5:3mm composition. Zone 3 have been in the buoyancy shorts game longer than most bringing the concept to the market in 2007. This product has benefited from product development to enhance comfort for the swimmer. Addressing the waistband they have been redesigned for increased comfort. I have certainly found that this style of short can rub your tummy due to the neoprene and heat with chlorine water. Not so for the Zone 3 with a redesigned waistband.
The "Originals" are developed from premium quality smoothskin neoprene manufactured to the same process as the Zone 3 wetsuits.  A 5:3mm design brings a slimmer 3mm neoprene panel through the centre with 5mm side panels. The design is intended to promote hip rotation through the swim with the change in neoprene thickness. With 5mm through the side panels you have plenty of core support for a horizontal swim position. With over a decade of design behind the Zone 3 Originals they are a great choice for anyone trying buoyancy shorts for the first time.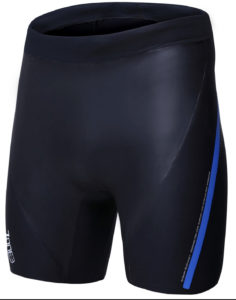 Best price – £45.12 – From Wiggle
---
Zone 3 Aerodrome Elite Buoyancy shorts
Trivelo Score – 3.5/5
£64.12
More difficult to find as discontinued in most retailers was Zone 3's premium buoyancy short launched to compliment the Original neoprene swim shorts. The design follows the same subtle style as the Originals but has been enhanced in the engineering.  Aerodrome Elite buoyancy shorts using Yamamoto 39 SCS neoprene reducing drag and increasing buoyancy. The shorts use the same 5:3mm composition as the Originals following a proven formula. With little to differentiate them from the cheaper Zone 3 shorts they are a great short and often discounted so worth looking out for.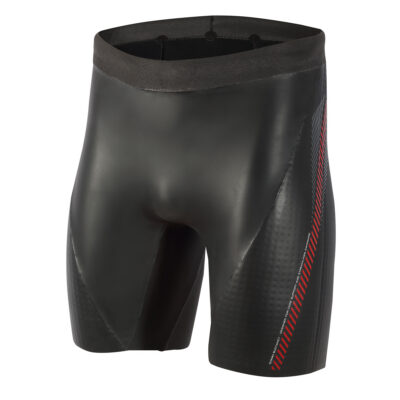 Best Price – £64.12 from Wiggle
---
Measuring your swim performance is key to tracking improvements. You are likely to be familiar with the CSS score if a regular swimmer but have you looked at your SWOLF score and understand it. We have put together a simple guide that covers SWOLF Score Explained – Swimming metrics to help you Go Faster. Don't just rely on lap times and splits and learn more about how SWOLF can help you track your swim efficiency as well as time.
---
Zone 3 The Next step 3/2mm buoyancy shorts
Trivelo Score – 3/5
£45.12
The final pair of buoyancy shorts from Zone 3 is "The Next Step". Swim shorts intended to bridge the gap between standard swim shorts and neoprene shorts. The 3:2mm design uses the same design principals as Zone 3's other shorts with thinner neoprene. 2mm through the centre and 3mm on the side panels. If have a strong core with good hip rotation heavy neoprene may not feel natural and needed. These could be the perfect solution for you with a half way house. Neoprene Buoyancy shorts are a great preparation for open water swim triathlons where you need to wear a wetsuit. The Next step buoyancy short from Zone 3 will help you adjust your swim technique in readiness for this.
I would recommend these for anyone who is worried about creating too much buoyancy across their core and lazy legs. With a 3:2mm thickness neoprene they will be less buoyant that others. If you are confident in your core strength and don't want to rely on a wetsuit for swim efficiency they are a great match.
Best price – £45.12 from Wiggle
---
Best Buoyancy Shorts
Huub Mens Sphere Neoprene Buoyancy Shorts
Trivelo Score – 5/5
£44.99
We have previously conducted a detailed product review of the Huub Mens Sphere Neoprene Buoyancy Shorts and I love them. Huub are an increasingly dominant brand in the triathlon community and the Sphere buoyancy shorts build on their wetsuit experience. All Huub products have a top end luxury feel and these are no different. Beautifully branded and packaged you are urged to get out and swim in them from the moment they land on your doorstep. In our side by side comparison testing these permitted an improvement in CSS pace of 10 seconds. Be the king of your local Lido swimming pool and get a pair.
These are in my opinion the best buoyancy shorts and my personal recommendation. Incredible value at the moment and a game changer from my experience.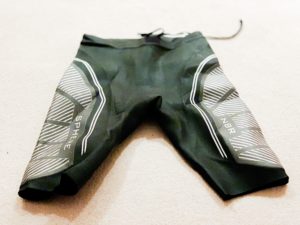 Best Price – £44.99 from Wiggle (limited sizes available – noted Jan 2022)
Trivelo Score – 4/5
£56.99
The second pair of buoyancy shorts from Huub in our list of 15 of the best neoprene buoyancy shorts. The Alpha have a more prominent design than the Sphere following the X-O skeleton with a design to compliment this. The shorts are made using the same construction process as the award winning wetsuits and feel every inch a quality product. Following the same approach as the Zone 3 shorts using 3mm front and rear central panels with 5mm neoprene on the sides and legs. The Alpha shorts provide plenty of core support and aid hip rotation.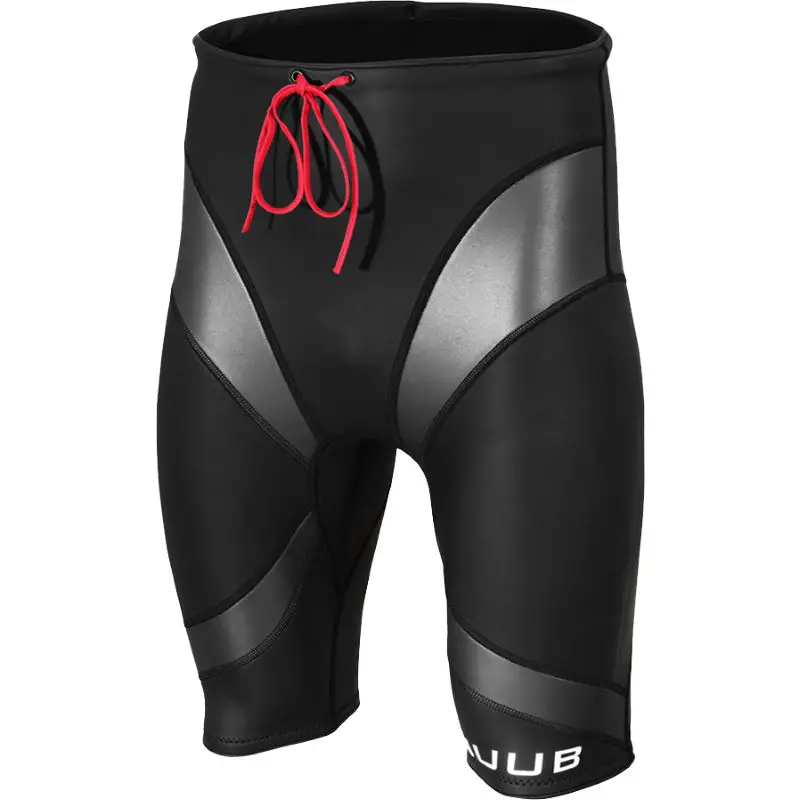 Best price – £56.99 from Wiggle
---
If you are looking for your next watch to track your swim performance and triathlon training read our review of the Garmin 965 v 955 v 945. Is it worth the money to upgrade? As a user of Garmin watches for the past 10 years I love checking through the latest models.
BlueSeventy Core Neoprene Buoyancy Shorts
Trivelo Score – 4.5/5
£57
BlueSeventy are another brand well established in triathlon with a number of world class wetsuits. These are possibly the most popular neoprene buoyancy shorts and a pair you are most likely to have seen in the pool. The BlueSeventy Core swim shorts use 5mm Yamamoto aerodrome SCS coated neoprene on the front with thinner neoprene on the sides and rear. This is a diversion from the Zone 3 and Huub shorts design where they reverse this thinking.
The BlueSeventy Core buoyancy shorts use the same neoprene as the BlueSeventy top of the range Helix model. So if you are already an owner of the BlueSeventy Helix this is a good option and likely familiar ground for you. Many people in my triathlon club favour these and would recommend them as the best buoyancy shorts. A close second in my opinion to the Huub Sphere buoyancy shorts.
BlueSeventy have been innovating with pool equipment for decades. We recently tested their latest innovation a shorty sleeveless swim wetsuit. Read the review of the BlueSeventy Glide wetsuit for more information if you want something more than just buoyancy shorts.
---
BlueSeventy Sprint Buoyancy Shorts
Trivelo Score – 4/5
£66.50
Priced below the costs of the BlueSeventy Core neoprene swim shorts are the Sprint shorts. At prices around £70 these are far from cheap still and still the quality you would expect from this New Zealand based brand. Unlike the Core the Sprint are almost universally black without the orange design used to help show your hip rotation. Designed with the same 5mm:3mm panels as their more expensive big brother these are another option to consider. At this price point you have to question if you would be as well going the whole hog and getting the Core for only a little bit more.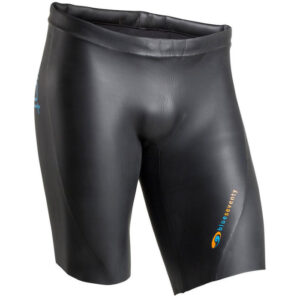 Best price – £66.50 from Wiggle
Orca Neoprene Buoyancy Shorts
Trivelo Score – 3/5
£59.99
I have owned three Orca swimming wetsuits so am a big fan of the brand and the quality of their swimming kit. The Orca Neoprene Buoyancy Shorts are less well known than their wetsuit range. They are made with Yamamoto 39 cell SCS coated neoprene. Unlike others here the neoprene thickness really steps it up. The Orca neoprene shorts are built using 8mm front, 6mm back and 3mm side panels. This complex design gives huge levels of core stability physically pushing you up in the water. With that much neoprene if your local pool keeps the temperature high you may cook in these. The neoprene insulation will really raise your body temperature. Fantastic core support to help with a horizontal swimming position and a very low drag due to the quality of the neoprene.
Check out our full review of the Orca buoyancy shorts.
See Richards review of the Orca Buoyancy Shorts.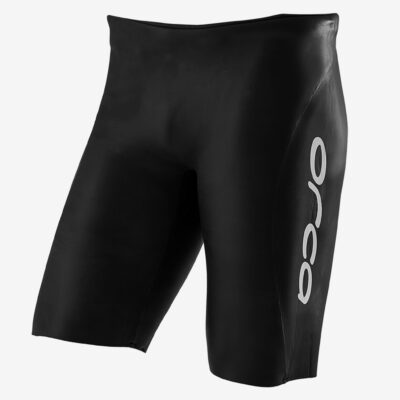 Best Price – £59.99 from mytriathlon
Sailfish Current Neoprene Buoyancy Short 2
Trivelo Score – 3/5
£54
This is the updated Sailfish Current Buoyancy short 2. A distinctive set of buoyancy shorts from Sailfish with a break from the norm and not black! Stand out in metallic blue neoprene glory. The sailfish shorts have used a uniform 3mm neoprene across each panel rather than varying the thickness between panels like many others here. With only 3mm of neoprene again the buoyancy levels compared to some alternatives is reduced. It makes the Sailfish Current Neoprene Buoyancy shorts suited a more confident swimmer with a flat swim technique.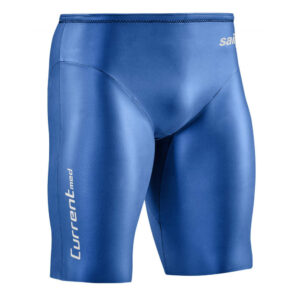 Best Price – £54 from Wiggle (Limited sizes available at time of writing – Noted Jan 2022)
---
Cheapest Buoyancy Swim Shorts
DHB Hydron 2.0 buoyancy short
Trivelo Score – 3.5/5
£35
From the mighty machine that is Wiggle some the DHB Hydron buoyancy shorts. As you would expect from the DHB range this is a well priced pair of neoprene swim shorts. The all black DHB Hydron Buoyancy Shorts are no nonsense does what it says on the tin swim short. That isn't to say that these are not clever swim aid with 5mm smoothskin neoprene front panels and 3mm neoprene across the side and back. That is a lot of science for a pair of swim shorts for less than £50. Another perfect low cost buoyancy short option to consider. Not the best buoyancy shorts in this round-up but excellent value for money if looking for a cheaper alternative.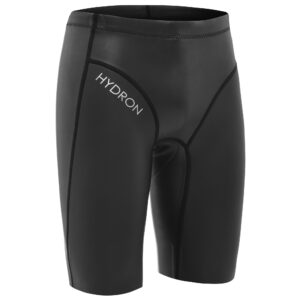 Best price – £35 from Wiggle
Best Thermal Buoyancy Shorts
Phelps Aquaskin Buoyancy Shorts
Trivelo Score – 4/5
£82.99
One of the most expensive pairs of buoyancy swim shorts available. Already proving incredibly popular the Phelps Aquaskin Buoyancy Shorts are a unisex pair of swimming shorts. The shorts are made from a combination of 2mm and 4mm neoprene. Featuring a 'Dura Glide' skin coating, the Aquaskin Buoyancy Short let you flow through the water with ease. The buoyancy shorts include Thermo-Guard technology to provide excellent levels of warmth in the chillier conditions of open water swims. Phelps have also used special panels under the crotch to prevent chafing and thus give a boost to comfort in the water.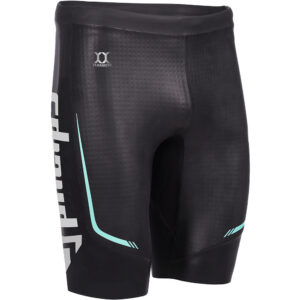 Best Price – £82.99 from Wiggle (Limited sizes available at time of writing – Noted Jan 2022)
---
Lomo Neoprene Swimming Buoyancy Shorts
Trivelo Score – 3/5
£37.50
From a less well known manufacturer to some come the Lomo neoprene swimming buoyancy shorts. The swim shorts have been made using AirCore neoprene that sandwiches air voids between the outer sheets of neoprene. The result of this is increased buoyancy that Lomo claims can be as much as 30% more than standard neoperene. If you want to support a challenger British brand then check out the Lomo website for more on these competitively priced buoyancy shorts.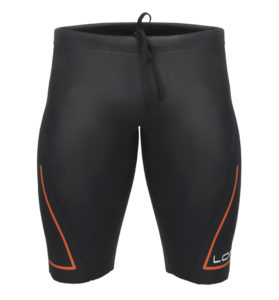 Best price – £37.50 from the Lomo store on Amazon
---
Roka SIM II Pro Buoyancy shorts
Trivelo Score – 3.5/5
£110
From Austin in Texas come the Roka SIM II Pro Buoyancy Shorts. It means if ordering from the UK allow time for delivery as they are dispatched from the USA. Manufactured using the Yamamoto 39 SCS coated neoprene the Roka promise to be a fast pair of buoyancy shorts. Rare as well. I've not seen a pair myself in the flesh so if you can a pair then let us know what you think!
The shorts are made using the same material and design as the full Maverick Pro wetsuit. The shorts combine varying thickness of neoprene with a thinner aerodome neoprene on the front and back through the centre. This aerodome neoprene from Yamamoto is the same concept as deployed by the much cheaper Lomo shorts by sandwiching air between layers. Lots of buoyancy and quality through these shorts from across the pond.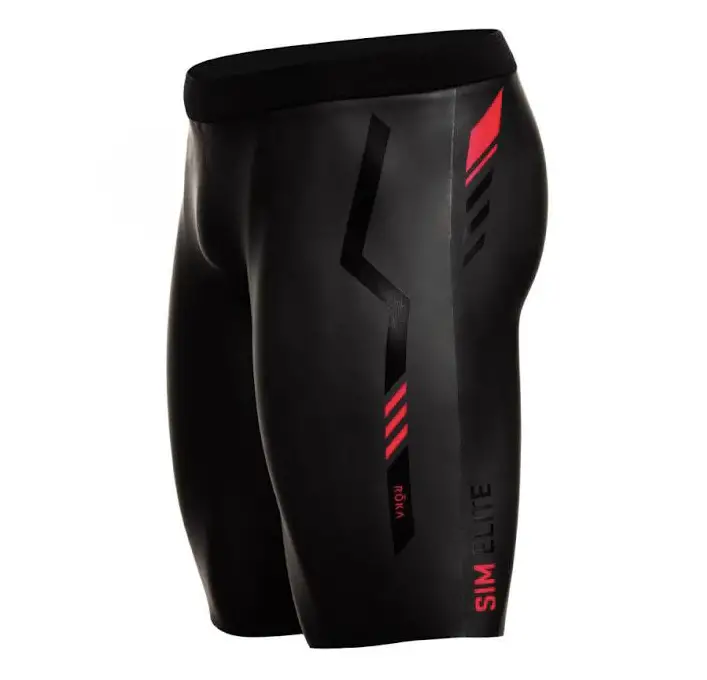 ---
Best Full Length Buoyancy Shorts
HUUB Varman Kickpant buoyancy shorts
Trivelo Score – 4/5
£132.99
From the trusted HUUB stable come this pair of full length neoprene buoyancy shorts. Premium quality comes at a cost coming in well over £100 and in full wetsuit territory. Designed using HUUB proprietary +43 buoyancy foam, the HUUB Varman Shorts deliver more buoyancy than standard neoprene. They raise the body from the water for better water displacement and lower surface friction. Outcome? You Go Faster through the water. They look the business but you will struggle to blend in at the pool in them!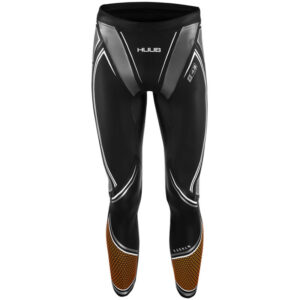 Best Price – £132.99 from Wiggle
---
Buoyancy Shorts Q&A
Do Buoyancy Shorts Help You Float?
Just like a neoprene wetsuit the material buoyancy shorts are made from is buoyant. Being a pair of shorts compared to a full wetsuit they are less buoyant compared to swimming in a triathlon wetsuit. Buoyancy Shorts improve the level of buoyancy you would naturally achieve while swimming through your core.
What do you wear under Buoyancy Shorts?
You don't wear any clothing under buoyancy shorts. Like swimming in swim jammer shorts you are nude underneath the buoyancy shorts. So make sure they fit!
Should Buoyancy Swim Shorts feel tight?
Much like a wetsuit when you put on a pair of buoyancy swim shorts outside of water they will not feel comfortable. The neoprene material buoyancy shorts are made of softens in water and becomes less noticeable. A sensation anyone will be used to that has worn a wetsuit before.
Are Neoprene Buoyancy Shorts Worth It?
I am a firm believer that buoyancy shorts are beneficial to improve swimming performance. They need to be used in conjunction with normal swim shorts but to prepare your swim form for open water wetsuit swimming they are perfect.
Video explaining on why you should use buoyancy shorts
See my video explaining more on buoyancy shorts and the benefits I see.
---
About the Author
---
Follow us on Social Media