This weeks blog follows our hugely popular blog on the topic of Do buoyancy shorts work? In response to a number of our subscribers we have compiled this list of 15 of the Best Neoprene buoyancy shorts on the market.
Decathlon Nabaiji 500 Neoprene Buoyancy Shorts
One – From the affordable Decathlon Nabaiji swim range comes this pair of neoprene buoyancy swimming shorts. Classic looking swim jammer set of shorts with limited graphics through the thigh. The neoprene used is 4mm thick across the entire unit. Unlike some other more expensive shorts listed here these have a uniform deployment of neoprene. A simpler design a result of the more affordable sub £40 price tag. This gives a good level of buoyancy elevating your core while swimming but reduces levels of flexibility in comparison to some alternatives. A solid entry level neoprene buoyancy short well worth inclusion in our list of the 15 of the best neoprene buoyancy shorts.
Best price – £39.99 from Decathlon
Zone 3 5/3mm The Original Neoprene Buoyancy Shorts
Two – From the swim specialists at Zone 3 comes this pair of classic buoyancy shorts with a 5:3mm composition. Zone 3 have been in the buoyancy shorts game longer than most bringing the concept to the market in 2007 and this product has benefited from product development to enhance comfort for the swimmer. Addressing the waistband they have been redesigned for increased comfort. I have certainly found that this style of short can rub your tummy due to the neoprene and heat with chlorine water. Not so for the Zone 3 with a redesign waistband. The "Originals" are developed from premium quality smoothskin neoprene manufactured to the same process as the Zone 3 wetsuits. A 5:3mm design brings a slimmer 3mm neoprene panel through the centre with 5mm side panels. The design is intended to promote hip rotation through the swim with the change in neoprene thickness. With 5mm through the side panels you have plenty of core support for a horizontal swim position. With over a decade of design behind the Zone 3 Originals they are a great choice for anyone trying buoyancy shorts for the first time.
Best price – £59 – From Tredz (Use code "MAR10" to get £10 off if you spend over £100 before end of March 2020)
Zone 3 Aerodrome Elite Buoyancy shorts
Three – More difficult to find as discontinued in most retailers was Zone 3's premium buoyancy short launched to compliment the Original neoprene swim shorts. The design follows the same subtle style as the Originals but has been enhanced in the engineering. Aerodome Elite buoyancy shorts using Yamamoto 39 SCS neoprene reducing drag and increasing buoyancy. The shorts use the same 5:3mm composition as the Originals following a proven formula. With little to differentiate them from the cheaper Zone 3 shorts they are a great short and often discounted so worth looking out for.
Best price £85 – from Tredz (Use code "MAR10" to get £10 off if you spend over £100 before end of March 2020)
Zone 3 The Next step 3/2mm buoyancy shorts
Four – The final pair of buoyancy shorts from Zone 3 is "The Next Step". Swim shorts intended to bridge the gap between standard swim shorts and neoprene shorts. The 3:2mm design uses the same design principals as Zone 3's other shorts with thinner neoprene. 2mm through the centre and 3mm on the side panels. If have a strong core with good hip rotation heavy neoprene may not feel natural and needed. These could be the perfect solution for you with a half way house. Neoprene Buoyancy shorts are a great preparation for open water swim triathlons where you need to wear a wetsuit. The Next step buoyancy short from Zone 3 will help you adjust your swim technique in readiness for this.
Best price – £59 from Tredz bikes
Huub Mens Sphere Neoprene Buoyancy Shorts
Five – We have previously conducted a detailed product review of the Huub Mens Sphere Neoprene Buoyancy Shorts and loved them. Huub are an increasingly dominant brand in the triathlon community and the Sphere buoyancy shorts build on their wetsuit experience. All Huub products have a top end luxury feel and these are no different. Beautifully branded and packaged you are urged to get out and swim in them from the moment they land on your doorstep. In our side by side comparison testing these permitted an improvement in CSS pace of 10 seconds. Be the king of your local Lido swimming pool and get a pair.
Best Price – £74.99 from Tredz (Use code "MAR10" to get £10 off if you spend over £100 before end of March 2020)
Huub Mens Alpha Buoyancy Shorts
Six – The second pair of buoyancy shorts from Huub in our list of 15 of the best neoprene buoyancy shorts. The Alpha have a more prominent design than the Sphere following the X-O skeleton with a design to compliment this. The shorts are made using the same construction process as the award winning wetsuits and feel every inch a quality product. Following the same approach as the Zone 3 shorts using 3mm front and rear central panels with 5mm neoprene on the sides and legs. The Alpha shorts provide plenty of core support and aid hip rotation.
Best price – £38.99 from Wiggle
BlueSeventy Core Neoprene Buoyancy Shorts
Seven – BlueSeventy are another brand well established in triathlon with a number of world class wetsuits. These are possibly the most popular neoprene buoyancy shorts and a pair you are most likely to have seen in the pool. The BlueSeventy Core swim shorts use 5mm Yamamoto aerodrome SCS coated neoprene on the front with thinner neoprene on the sides and rear. This is a diversion from the Zone 3 and Huub shorts design where they reverse this thinking. The BlueSeventy Core buoyancy shorts use the same neoprene as the BlueSeventy top of the range Helix model. So if you are already an owner of the BlueSeventy Helix this is a good option and likely familiar ground for you.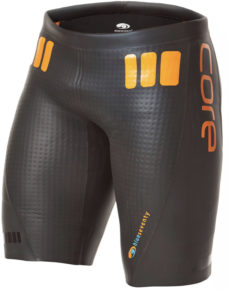 Best price – £94 from Wiggle (use code "NEW01" so save £20 when spending over £100 before end of March)
BlueSeventy Sprint Buoyancy Shorts
Eight – Priced below the costs of the BlueSeventy Core neoprene swim shorts are the Sprint shorts. At prices around £70 these are far from cheap still and still the quality you would expect from this New Zealand based brand. Unlike the Core the Sprint are almost universally black without the orange design used to help show your hip rotation. Designed with the same 5mm:3mm panels as their more expensive big brother these are another option to consider. At this price point you have to question if you would be as well going the whole hog and getting the Core for only a little bit more.
Best price – £47.99 from Wiggle (use code "NEW01" so save £20 when spending over £100 before end of March)
Orca Neoprene Buoyancy Shorts
Nine – I have owned three Orca swimming wetsuits so am a big fan of the brand and the quality of their swimming kit. The Orca Neoprene Buoyancy Shorts are less well known than their wetsuit range. They are made with Yamamoto 39 cell SCS coated neoprene. Unlike others here the neoprene thickness really steps it up. The Orca neoprene shorts are built using 8mm front, 6mm back and 3mm side panels. This complex design gives huge levels of core stability physically pushing you up in the water. With that much neoprene if your local pool keeps the temperature high you may cook in these. The neoprene insulation will really raise your body temperature. Fantastic core support to help with a horizontal swimming position and a very low drag due to the quality of the neoprene. Check out our full review of the 2020 Orca buoyancy shorts.
Best price – £74 from Simply Swim
Sailfish Current Neoprene Buoyancy Shorts
Ten – A distinctive set of buoyancy shorts from Sailfish with heavy slashes of blue across the thighs. The sailfish shorts have used a uniform 3mm neoprene across each panel rather than varying the thickness between panels like many others here. With only 3mm of neoprene again the buoyancy levels compared to some alternatives is reduced. It makes the Sailfish Current Neoprene Buoyancy shorts suited a more confident swimmer with a flat swim technique.
Best price – £45 from Wiggle – (use code "NEW01" so save £20 when spending over £100 before end of March)
DHB Hydron buoyancy short
Eleven – From the mighty machine that is Wiggle some the DHB Hydron buoyancy shorts. As you would expect from the DHB range this is a well priced pair of neoprene swim shorts. The all black DHB Hydron Buoyancy Shorts are no nonsense does what it says on the tin swim short. That isn't to say that these are not clever swim aid with 5mm smoothskin neoprene front panels and 3mm neoprene across the side and back. That is a lot of science for a pair of swim shorts for less than £50. Another perfect low cost buoyancy short option to consider.
Best price – £45 from Wiggle (use code "NEW01" so save £20 when spending over £100 before end of March)
Zoot Wave Neoprene Buoyancy Shorts
Twelve -In stark contract to the DHB Hydron swim shorts are the Zoot wave neoprene shorts. These are awash with pattern to shock the senses. Styled like a mash up of a space invaders game and a bad day at the paintball are the Zoot Wave shorts. Best not get these unless you want to be noticed. If you swimming is still a couple of lengths of breast stroke maybe leave these for others. The Zoot have the most complex design construct of any of the shorts here. The shorts have a 1.5mm waistband, 3mm centre & side, 5mm across the front and seat, 3mm through the leg and 4mm in the crotch. Phew. We got there. All of the neoprene is top class Yamamoto SCS C39 throughout for minimal drag through the water. A high quality and "stand out" pair of neoprene buoyancy shorts.
Best Price – £63 from Wiggle (use code "NEW01" so save £20 when spending over £100 before end of March)
Lomo Neoprene Swimming Buoyancy Shorts
Thirteen – From a less well known manufacturer to some come the Lomo neoprene swimming buoyancy shorts. The swim shorts have been made using AirCore neoprene that sandwiches air voids between the outer sheets of neoprene. The result of this is increased buoyancy that Lomo claims can be as much as 30% more than standard neoperene. If you want to support a challenger British brand then check out the Lomo website for more on these competitively priced buoyancy shorts.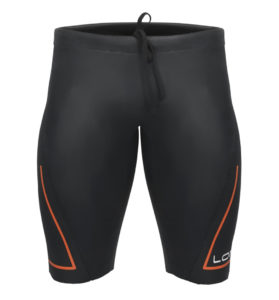 Best price – £37.50 from Lomo
Roka SIM II Pro Buoyancy shorts
Fourteen – From Austin in Texas come the Roka SIM II Pro Buoyancy Shorts. It means if ordering from the UK allow time for delivery as they are dispatched from the USA. Manufactured using the Yamamoto 39 SCS coated neoprene the Roka promise to be a fast pair of buoyancy shorts. Rare as well. I've not seen a pair myself in the flesh so if you can a pair then let us know what you think! The shorts are made using the same material and design as the full Maverick Pro wetsuit. The shorts combine varying thickness of neoprene with a thinner aerodome neoprene on the front and back through the centre. This aerodome neoprene from Yamamoto is the same concept as deployed by the much cheaper Lomo shorts by sandwiching air between layers. Lots of buoyancy and quality through these shorts from across the pond.
Best price – $120 from Roka
TYR Hurricane buoyancy shorts
Fifteen – Another pair of buoyancy shorts that you might struggle to get natively in the UK come the TYE Hurricane. Or to give them their full title Hurricane Neoprene Shorts Category 1. They sound like something from the Top Gun movie rather than the swimming pool. Styled in stealth black are the classic looking TYR neoprene shorts. Using slick skin neoprene throughout these are a straight forward all neoprene buoyancy shorts. Unlike many others one unique feature about the TYR shorts is that they have a male and a female specific model. Worth considering all the women readers keen to get a female specific pair.
Best price – $69.99 direct from TYR
Full list of 15 of the Best Neoprene Buoyancy Shorts
Decathlon Nabaiji 500 Neoprene Men's Jammer Swimsuit
Zone 3 The Original 5:3mm Buoyancy Swim Shorts
Zone 3 Aerodrome Elite Buoyancy Shorts
Zone 3 The Next Step 3:2mm buoyancy swim shorts
Huub Sphere buoyancy shorts
Huub Alpha buoyancy short
BlueSeventy Core Swim Shorts
Orca Neoprene Buoyancy Short
Sailfish Current Neoprene Buoyancy Shorts
DHB Hydron Buoyancy shorts
Zoot Wave neoprene buoyancy shorts
Lomo neoprene buoyancy swimming shorts
Roka SIM II Pro Buoyancy Shorts