This week we are thrilled to be working with the triathlon guru's at Orca. They have been working on their market leading buoyancy shorts and released a new version for 2020. Enclosed is our Orca Buoyancy shorts review for their brand new 2020 edition which we have been testing ahead of the launch.
What is a buoyancy short?
Buoyancy shorts basically equate to a swimming wetsuit that has been cut-down to shorts/jammer size. Most are made from thick neoprene – typically thicker than 3mm. They are designed to lift your core in the water, and provide swimmers with many of the benefits of a wetsuit. This means that they are becoming increasingly popular amongst the triathlete community.
A few years ago, only a few brands made buoyancy shorts. Now it seems as if every major wetsuit brand offers them. They are becoming a much more common sight at the pool because they are recognised as being a very effective training aid.
Orca's new buoyancy shorts launch in Feb 2020 and offer a number of improvements over their original neoprene shorts.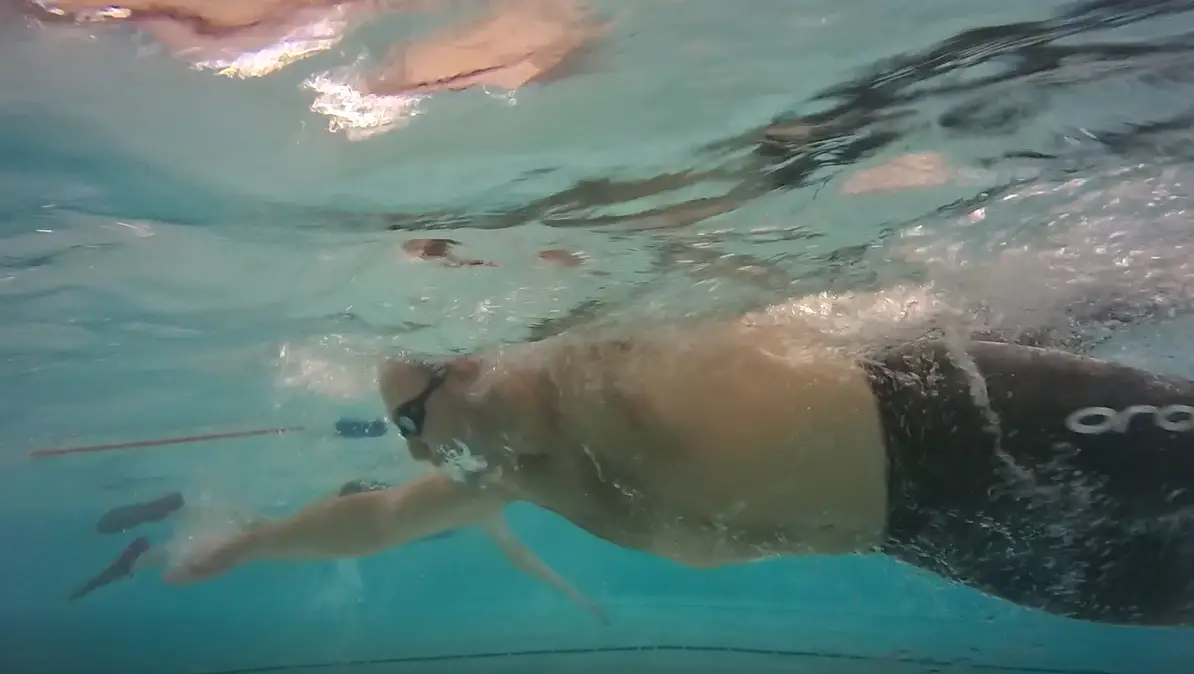 Why you should use buoyancy shorts?
Buoyancy shorts improve your body position in the water, helping to put you in a more neutral position. Until recently, swimmers relied on a pull buoy to do this, but buoyancy shorts do the same job better. They provide many of the benefits of training with a pull buoy without restricting your kick or increasing drag. Buoyancy shorts lift the hips and facilitate your body's natural rotation in the water, helping you to concentrate on the pull and catch phases of your stroke.
They can be worn to add more buoyancy to your normal pool swim training, or for extra buoyancy under a swimming wetsuit.
So buoyancy shorts can provide a significant gain for most swimmers,. Especially for swimmers who, like me, suffer from "sinky leg syndrome" (otherwise known as "poor technique"). Maybe that's why Trivelo asked me to trial Orca's new shorts and review them?
Unboxing the Orca neoprene shorts
Orca's blurb says that "Orca evokes the instinct and prowess of the powerful ruler of the oceans. Like the Orca whale, our designs have always been organic, streamlined and in tune with nature. Orca provides athletes with the confidence to achieve whatever they want, by empowering them with the strength to reach further than they thought possible".
In practice this means that like the Orca whale, the shorts have a minimalist – though not unattractive – black and white design. I'm not sure that they evoke the instinct and prowess of the powerful ruler of the oceans in me, but hopefully they will make me swim better.
The packaging is simple but provides a sense of quality, and the shorts are nicely wrapped and presented within the box.
How tight should buoyancy shorts be?
Buoyancy shorts should be tight but not restrictive on your legs when you are on land. Flexibility is not so much of an issue as it is with a full wetsuit, but you do not want the neoprene to feel too inflexible. In the pool you should be able to move naturally without restriction.
The Orca's feel very snug when you put them on, almost feeling like a pair of compression shorts when on dry land. In the water though, you soon forget that you are wearing them meaning that you can concentrate on your stroke. You should not be able to feel any water coming through the shorts.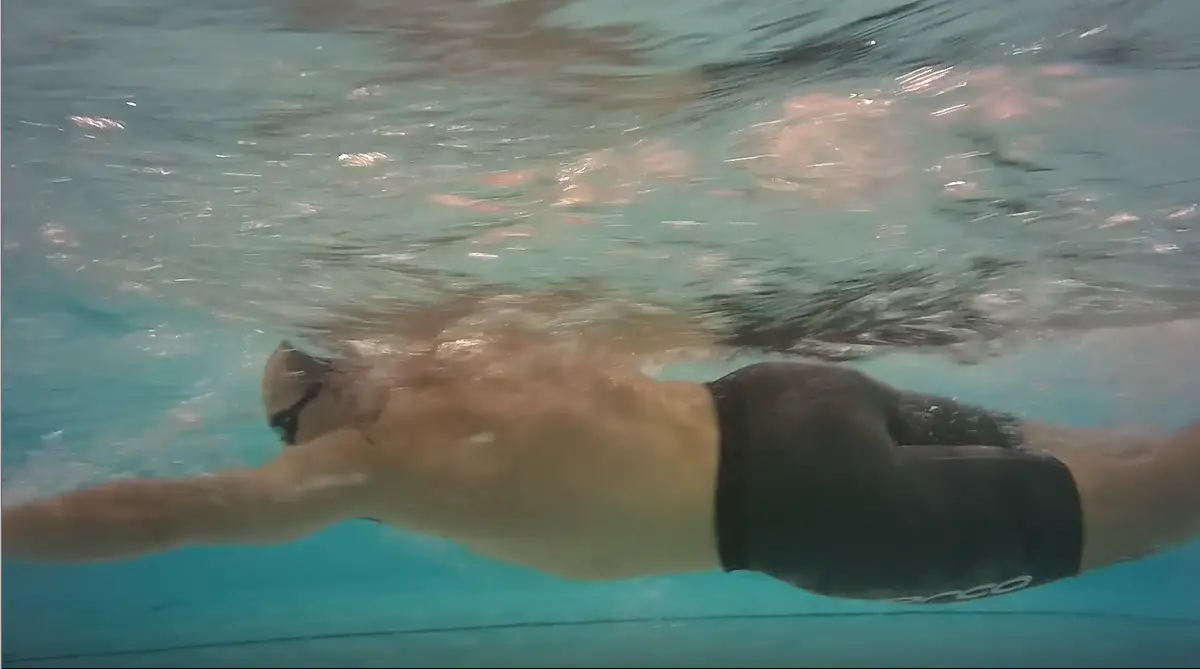 But while you can't feel any water coming through the neoprene, you are aware of the shorts "re-flushing" with water when you push off the wall of the pool. I think that this is because the new shorts use a new densely woven elasticated fabric at the waistband rather than neoprene which allows water to flow through it.
The first time it happens it's a little unsettling. There have been a couple of times when I've thought that the shorts have slipped off my hips because of the re-flush. They hadn't, but it feels like they have due to the rush of cool water through the shorts. Yet because the neoprene is so thick, the re-flush can actually be a blessing in disguise. The influx of cool water helps keep you at a comfortable temperature and prevents you from overheating.
Specifications of the Orca Buoyancy Shorts
Yamamoto 39 cell SCS coated neoprene fabric with Infinityskin2 and Aerodome2 technology.
A range of panels ranging from 2mm to 4mm providing great supportive buoyancy to improve your swim style and freedom of rotation movement
Adjustable reinforced (eyelets) drawstring waistband for a great fit.
Materials and Design of the Orca buoyancy shorts
The shorts are made from 100% Yamamoto neoprene coated with a "composite hydro-coating to provide maximum performance".
The new Orca shorts use a simple welded 6 panel design that uses neoprene of varying thicknesses to provide massive amounts of core stability where it is needed. They are made up of panels ranging from 2mm to 4mm that provide improved flexibility. This includes thick neoprene with only a small amount of give in the fabric. As a result, if you are at the upper end of a "medium" size or at the upper end of a "large", you might consider sizing up.
The thickness of the neoprene physically pushes your hips up in the water. And the slick surface of the high quality neoprene offers very low drag. This is really noticeable for a heavy legged swimmer like me. When I am wearing my new 'floaty pants' I feel much more horizontal in the water and I feel as if I am swimming more efficiently.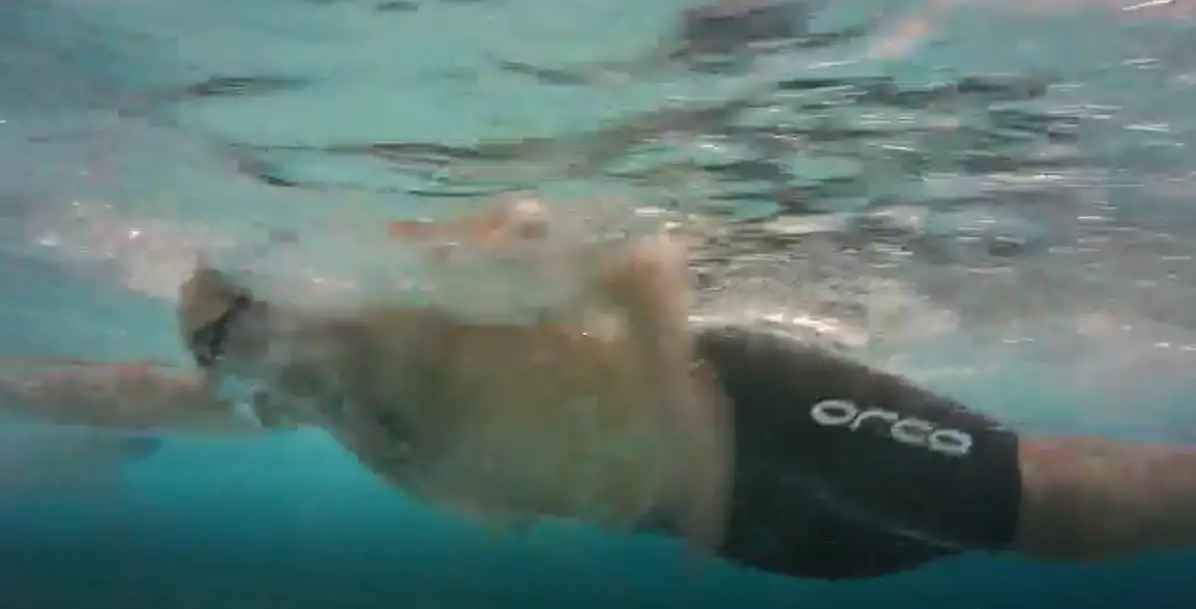 The high waist band is comfortable. And because it is made of tightly woven fabric rather than neoprene, my impression is that they will wear well. Importantly, the drawstring should not rip the fabric over time because Orca have reinforced the waistband with two small eyelets, threading the drawstring through them to protect the fabric.

When can you use buoyancy shorts?
So can you wear buoyancy shorts in a triathlon? No. They are not allowed to be used in triathlon swims. This rule applies to all wetsuit and non-wetsuit triathlon swims. But you can use them to help your training pretty much anywhere else.
Experience of using the Orca buoyancy shorts
Should you buy the Orca buoyancy shorts then? Well yes, based on my experience, I think you will see a difference in your swimming if you do.
I started using the Orca buoyancy shorts in early December 2019. Using them once a week at my Friday morning club session to help me focus on my body position whilst in the water. I have deliberately avoided using them in the Sunday evening session that I attend.
I have found that the improved body position I have gained from wearing the shorts has translated to when I'm not wearing the shorts and swimming in 'normal' jammers. I've found that my body's muscle memory seems to remember the sensations of swimming well (or at the very least, better), and I am seeing gains in my normal swimming as a result. This is because your body gets used to the improved position that the shorts put you in and remembers what it should be doing throughout your stroke.
The shorts also definitely engage my core muscles. This is noticeable in the sensation of fatigue in this muscle group after I have used the Orcas in a swim set. I have found that engaging this muscle group when using the shorts is starting to translate to engaging the same muscle group when I'm not using the shorts. This is helping to improve my swimming in general.
Performance Improvements from swimming in buoyancy shorts
What does this mean in practice? Well, in a recent Sunday evening endurance set (swimming in normal jammers), I was swimming consistent 100m laps in 1:35 with consistent 400m laps of 6:40. Before trialling the shorts I had been swimming consistent 100s at 1:45 and 400s at more like 7:15. Sure, part of this improvement will have been gained simply from swimming regularly, but I'm convinced that a large part of it is down to using the Orca's to assist my training.
So if you are looking for a buoyant swim short to wear on its own, or to add extra buoyancy under your wetsuit whilst promoting correct body rotational form, then consider buying the Orca's. They will help you to develop an improved body position and a more efficient stroke and you will reap the rewards come race day.
Benefits of using the shorts
While I was training with them I definitely found I achieved an improved body position and a more efficient stroke.
Disadvantages of using the Orca buoyancy shorts
Buoyancy shorts are very effective at what they do but that can encourage over-use and over-reliance. Ultimately this might lead to other areas of your stroke being neglected.
Buy the Orca Buoyancy Shorts – £55
Alternatives to the Orca Buoyancy shorts.
Zone3 the next step buoyancy shorts – £59
Huub Sphere Neoprene Buoyancy shorts – £74.99
Read more about buoyancy shorts in our in-depth article on Do Buoyancy Shorts Work?
See the video review from Rich and how the shorts perform in the pool improving his core position.