This weeks blog comes from Richard and his Storm The Castle virtual duathlon review. It comes as globally triathlon and associated races are being cancelled with no clear end in sight. Races are responding though and going virtual. Richard has recently completed one of the first to attempt this and shares how it compared to the real thing.
Background in Duathlon
In a normal year, many of us triathletes would be deep into Duathlon
season, using the run-bike-run format as a good way of building bike
and run fitness. It's also a great way to get used to racing in a multi-sport environment again while waiting for the water to warm up after a long winter!
Recognising the benefits to be had from "du"-ing a duathlon, me and my wife Helen Murray (of the Inside Tri Show Podcast – check it out!) had entered the brilliant Storm the Castle Duathlon. This was when entries opened way back in late 2019. We had first done the race way back in 2016 and had wanted to do it again for a long time.
Storm the Castle Duathlon
Ordinarily, the Storm the Castle Duathlon takes place in and around the town of Ludlow, in south Shropshire. It's a tough but incredibly rewarding duathlon with beautiful scenery and the chance to finish inside a castle. Ludlow Rugby Club forms the hub of the event and hosts transition. The run route being a loop of approximately 5km. It's a hard and hilly run including sections of road and off road terrain with the route being broadly the same for both runs. The bike course is a challenging 33km with enough undulation to rival the hardest bike courses in the UK. It meanders across the Shropshire / Herefordshire border. At the end of it all you "Storm the Castle" to finish in the castle keep. It's a truly unique event and one that I'd highly recommend you add to your race calendar when Corona Virus has officially done one.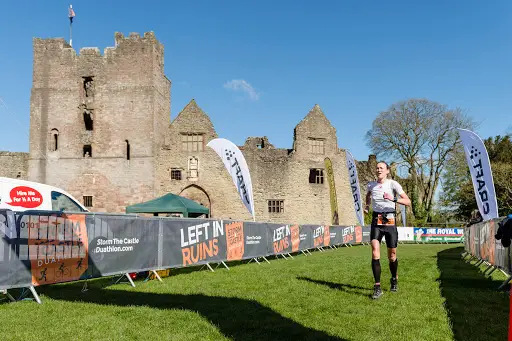 Moving virtual due to Coronavirus
Right at the start of the pandemic, even before lock down became official government policy, the event organisers Be Endurance took the difficult (but correct) decision to cancel the real race. But wanting to recognise all the training that people had put in, and to reward people with their medal and finisher's T shirts, Be Endurance decided to turn STC 'virtual' for 2020.
Having to cancel a race is any race organiser's worst nightmare, and it was no different for Be Endurance. They were already financially committed to the event so going virtual made total sense. It would still be a great way in which Be Endurance could offer athletes a real STC challenge. Rewarding their effort without taking any unnecessary risks.
Virtual Race Conditions
For the Virtual STC Duathlon, athletes were required to complete a 10km run, a 33km cycle and a 5km run. Just as they would do in the real race. But unlike in the real race, competitors had the option to either complete the event back to back or to split it out over three days. Running a 10km on the Friday, cycling 33km on the Saturday and running the final 5km on the Sunday.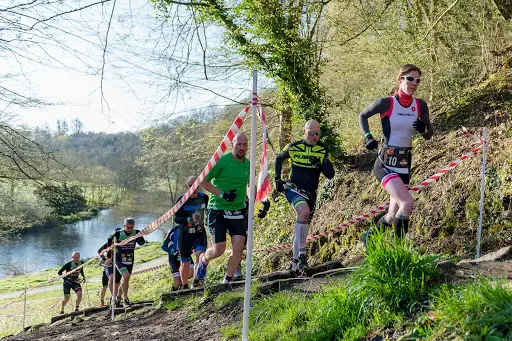 Due to time pressures, we opted to do the race over 3 days. Logging our times as we went so that we could upload them to the dedicated Storm the Castle Strava group. In the days before the race we spent a bit of time figuring out the best routes to run and cycle around Cheshire. We decided that we would mix it up with two different run courses to keep it interesting. Our first run course would be a straight forward out and back, while our cycle leg would make use of large parts of the undulating time trial route. Our final run would be a loop course.
Race Day Performance
Helen went out hard on the first 10km, clocking in with a very respectable 47:22. In contrast, I managed a relatively pedestrian 53:19. This left me with some work to do going into the bike leg on the Saturday. Cycling is my strongest discipline so I knew that I could claw back some time.
In contrast to the glorious weather we had for Friday's run, Saturday's weather was a bit guff. Being grey, overcast, chilly and drizzly. But no excuses – this was a race! I went off hard from the start and soon found myself asking the perennial question of whether I could hold my pace over the distance.
The answer was "I don't know". So, I knew the effort was about right! Even so, I was really pleased to get to the finish line, completing the 33km in a
respectable, though hardly earth-shattering 56:53. I saw Helen entering the final mile and half stretch just as I was coming into finish, so I knew I'd pulled back some good time. Helen finished in a brilliant 65:31 which gave me a cushion of 2 minutes 41 going into the final 5km. I would need it as this would be coming down to the wire!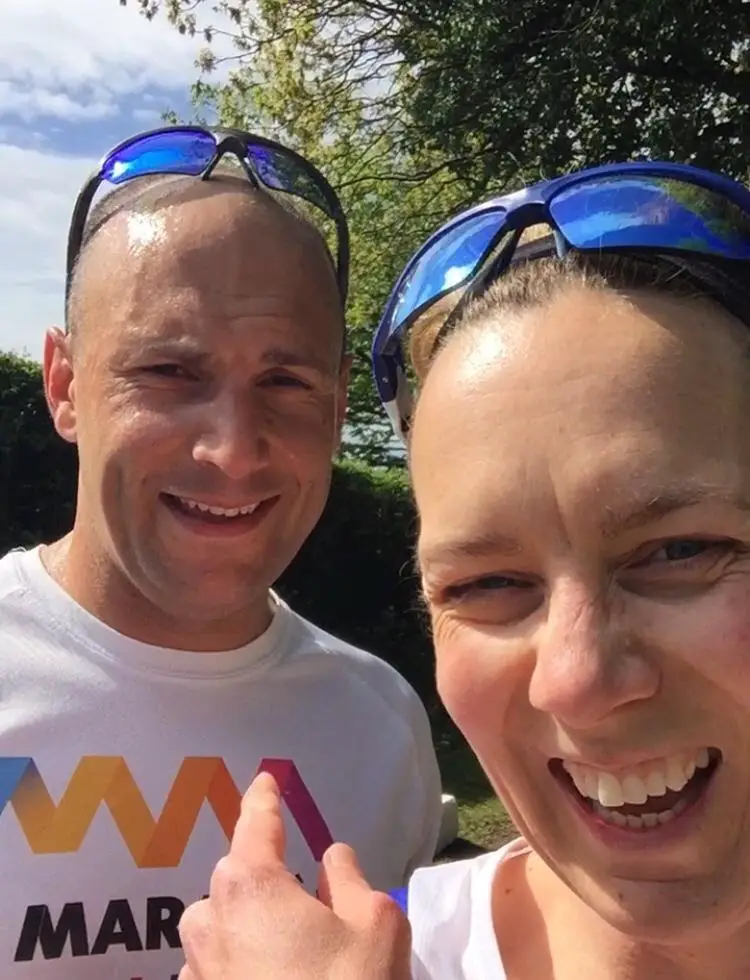 Overnight, Helen launched a Twitter poll to see who people thought would win. The poll received a whopping 24 votes, with 87% of them tipping Helen for the win (I was secretly pleased that Be Endurance backed me though!).
This was all fuel for my fire. I knew that if I could just hold on in the 5km and not let Helen disappear then I was in with a chance of taking the overall win.
Once again, Sunday dawned bright and fine, and off we went to start our 5km race. Unlike the 10km where we ran the same course, we decided to mix things up and start together, but then each run the main loop of our course in opposite directions. This meant that we would have no idea who was in the lead until the closing kilometre.
Helen went off like a rocket again, and I was struggling to keep her in sight. She hit the turn off point first with a solid lead, but all I had to do was keep moving at a reasonable pace. I did not want to lose! Yet as I came around the bend on my loop to re-join the start/finish final kilometre, I saw Helen flash past on her home leg. Damn! She was flying along and was going to beat me comfortably. Now it became a case of damage limitation. If I could just hold on so that I didn't give too much time away then I was still in with a fighting chance. Digging in deep, I completed my 5km in 24:13 compared with Helen's 22:31.
Finishing a virtual duathlon
Finished! Was it enough? Turns out it was! After 48km of hard racing, I
managed to squeak a win by just 1 minute and 1 second. Winner's Certificate, Isotonic Rehydration Drink and Energy Bar (Helen's chocolate flapjack). We tried to get close to the usual STC goodies using what we had lying around!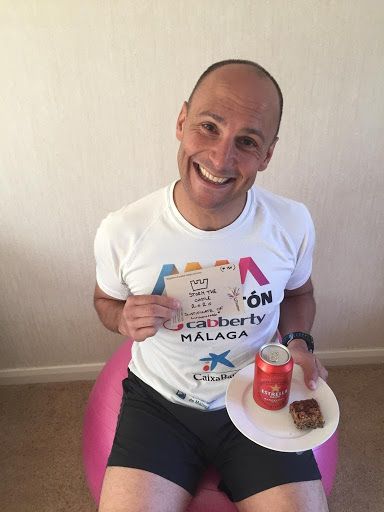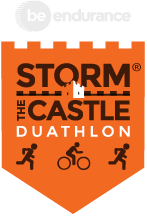 It's now a week since the virtual STC, which has allowed me to reflect on my first "virtual" race experience. And I've realised that virtual racing is really bloody tough. I think it's tough for two reasons – a) you don't have the massive adrenaline spike you get from 'real' competition, and b) you don't have loads of other competitors to pitch yourself against either to use as pacers or to use as targets to stick with or overtake.
In the virtual race arena it's pretty much you against yourself and the clock. Being able to 'race' each other made a massive difference, but it was still really hard. It was really good fun though and I'd recommend it to anyone looking to get their race fix while lockdown continues and I can't thank Be Endurance enough for making it all happen in very difficult circumstances. In fact it was such good fun that we are doing another one with our Tri Club this coming weekend. Can I make it 2 – 0 or will Helen take the victory this time? Who knows? I'll be trying my hardest though. Bring it on!
Read more article from Richard