For our blog this week we have the 2019 Reading Triathlon Review. Written as a competitor having raced in this great event for the past 8 years so having a good view on it and how it has developed. Enclosed includes my essential tips for training to prepare for the Reading triathlon.
Pre-Race experience of the Reading Triathlon
The Reading triathlon is comparable with most events now with costs of around £75 for the Olympic distance and £60 for the Sprint distance. The event is now run by the local triathlon club Tri2o. The triathlon club having taken over last year from the guys who run the lake. Sign up is pain free and you get a good flow of emails ahead of the event with race information. Registration is on the morning of the event with an army of Tri2o triathlon club members on hand. With the race at the end of the season the weather can be a lottery. This year the sun was shining and the conditions were perfect.
Racking up before the Reading triathlon
The transition area is next to the lake with astroturf surfaced area to protect those with sensitive feet. Me included. This is a welcome addition from last year with the team taking on feedback from competitors for the 2019 race. Racking is allocated but seriously tight so don't plan to expand when you turn up. With bike mechanics, triathlon kit manufacturers, massage and food on offer the race village is great. The entry and exit from transition is well sign posted to help those doing it for the first time. Just as well with the race briefing not covering this so a degree of self service.
Swim leg of the 2019 Reading Triathlon
The swim is a clockwise route around the lake with one lap for Sprint and two laps for Olympic triathlon. The lake is well maintained with little in the way of weeds or nasties in the water. A real bonus for anyone who is not confident in open water swimming. With wave sizes of around 100 triathletes it is not huge but enough people to worry less confident swimmers.
I set myself up near the front slightly to the left ready to take a longer line. Start gun sounding the washing machine swim began and my day quickly got worse. Around 50 metres into the 1500 metre swim my goggles were knocked and filled with water. Disaster. Not panicking I continued to swim and see how this would affect my sight. I couldn't carry on as both goggles were full so swam to the side and had to stop. This was a first for me and it took all I could muster not to panic. Clearing my lenses I resumed and blasted towards the first buoy.
Rounding the first buoy for the long straight I continued to pass people and quickly found myself on my own. This was not in my plan as the prospect of any drafting quickly disappeared. So my only option here was to swim the remainder on my own. Which is exactly what I did. Swimming the two laps largely on my own.
I exited the lake with help from the marshalls having really enjoyed my swim. Because I had no opportunity to draft someone I had to work hard but it meant I could swim my own race.
Cycling leg of the Reading Olympic Triathlon
Coming through transition I was one of the first to my bike. With the weather warm I quickly stripped off my wetsuit and prepared for riding my bike. I came through transition in 2 minutes quickly out on the road. Because a small part of the race is closed roads near the transition I could settle into my bike. I was pleased to have no wind to contend so I could push my pace on the bike. The bike section of the triathlon is two laps for Olympic distance but is slightly longer at 28 miles.
So my cycling has historically been my weakness but I have worked hard on it all winter. I felt the benefit of this able to put the hammer down and hold my position through the ride. I was able to maintain a pace above 20mph for most of the race without blowing up. As a result of a relatively flat course (under 1000ft of climbing) I was able to stick on the aero bars and go for it.
The bike course has some challenging descents and corners in low light with poor road surface. However, for most cyclists it shouldn't cause a problem and I found it a course I enjoyed more than many. If you are looking for tips on improving your cycling cornering technique check out our blog article on this.
The run phase of the Reading Triathlon 2019
The run course of the Reading triathlon is around the Reading lake. It is also worth noting that it is longer than standard distance and 7 miles. Because the course circles the lake it is super flat which is great but is off-road which is not so great. I wore my usual running trainers during run as the weather had been dry and the course was not too muddy. With six laps of the lake for the Olympic distance it is most important for you to have a method for counting laps. I used my watch to track my pace per mile which works for me.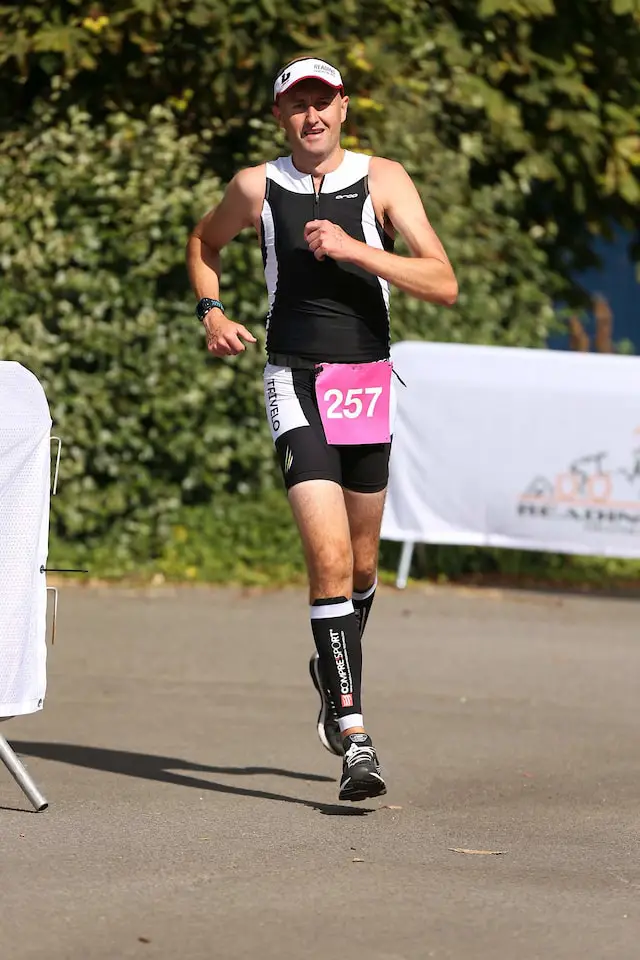 I set off with a solid 10km pace seeking to use adrenaline to help me hold the pace. As a result of a quick bike leg I didn't have much left in the tank so was struggling from about the half way mark. One great aspect of the Reading triathlon is how the race allows you to see family multiple times. I was able to see my kids smiling and cheering on each lap that really help push me for the run. Because you have Olympic and Sprint athletes side by side it was impossible for me to know how I was doing. I found myself pushing to hold every athlete even though they might be in a different race!
I managed to finish in a time of 2hrs 54mins which given a sporadic training build up was fantastic. It doesn't mean I am going to be getting a call from the Olympic committee but a great end to the season.
Training tips for the Reading Triathlon
Include open water swimming in your training using a lake
Focus on your power output for flat cycling to improve your aero position and speed.
Running off-road is essential to strengthen your ankles for running over rough ground
Summary of the 2019 Reading Triathlon Race Review
In summary I continue to love the Reading triathlon and will be back for more next year! If you raced this year let us know how you found it as we'd love to hear from you. If you've enjoyed the 2019 Reading triathlon review and looking for other races for 2020 check out review of the Croyde Ocean triathlon.