Trivelo independently review everything we recommend. When you buy through our links, we may earn a commission. Learn more >
---
For this weeks blog we have a wonderful review from another member of the Trivelo triathlon test tribe. Richard has been spending the last few weeks getting to know the latest in a series of wetsuits from HUUB. For anyone looking for a budget swimming wetsuit this is essential reading. Thrilled to be sharing with you the HUUB Alpha Beta wetsuit review.
Summary of HUUB Alpha Beta Wetsuit Review
Trivelo Score – 3.5 / 5
Although the Huub Alpha Beta does not fit me well, there is still a lot to like. Compared to my Zone3 Aspire (retail £300), it is clear that the HUUB Alpha Beta is more of a budget suit. If you compared the HUUB Alpha Beta to my original 2XU T3 it is clear that you get so much more for your money now. 
Pros
Great looking wetsuit that has a premium feel to it
At around £100 it is a very low risk first wetsuit for anyone starting in triathlon
Mesh carry bag at this price is a great addition
Good neutral swimming position for anyone not looking for too much buoyancy
Cons
Be careful to get the right fit for you especially across the shoulders
Tight across the shoulders if you are broad in body shape
Water ingress through the sleeves while swimming can be annoying
---
Swimming Wetsuit Experience
Although I have been open water swimming for a while now, I have only ever owned two wetsuits. My first wetsuit, bought way back in 2013, was a 2XU T3. For a total beginner, this suit provided a decent amount of performance for not a lot of money. But it's fair to say that the 2XU T3 was never going to win any awards. Either for its attractive design or for its performance in the water! Even so, I swam in the 2XU T3 until early in 2018. At this point I decided I wanted to enter some long distance open water swims including entering the River Dart 10km. This resulted in the need to upgrade my kit. I purchased my current wetsuit that was a step up from the T3, a Zone3 Aspire. For me is a super comfortable wetsuit which really helps me to relax into my swim. 
Trivelo Huub Wetsuit Assignment
When I was asked by Trivelo to review the new HUUB Alpha Beta wetsuit, I jumped at the chance. I was really interested to see how far budget wetsuits have come since I bought my first wetsuit. I wanted to see just what you can get for under £100 RRP when buying a triathlon wetsuit. The answer as it turns out, is quite a lot…
Opening Up the HUUB Alpha Beta Wetsuit
Right from the moment you open the packaging, it is clear that HUUB haven't scrimped on the detailing. The HUUB Alpha Beta looks and feels like a much more premium product than its budget price tag would suggest. It is incredibly well packaged. You are constantly reminded that this is a wetsuit from the manufacturer whose products are worn by Olympians such as the Brownlee brothers. The wetsuit looks sleek, with a clean, minimal design which clearly echoes that of its more expensive stablemates. It is unmistakably a HUUB.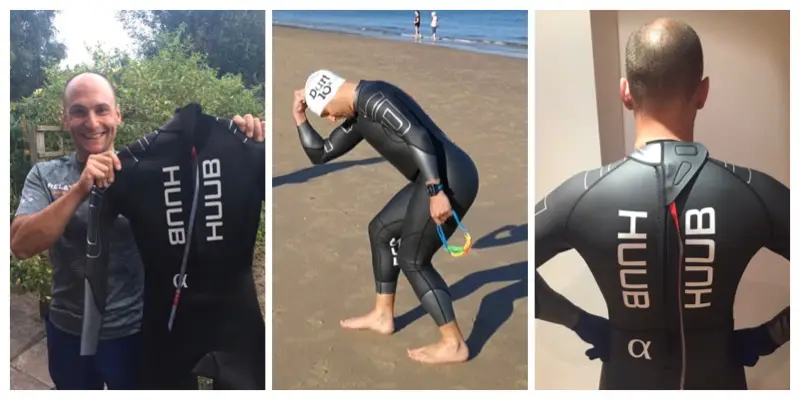 First Impressions of the HUUB Alpha Beta wetsuit
The feeling of quality goes way beyond just the packaging though. The Alpha actually shares some of the features of the more high end suits in the HUUB range. It uses a 'Breakaway' zipper to help speed you through transitions – more on that later.  The neoprene is also relatively thin; compared to my old 2XU.  The Alpha doesn't feel like you are wearing  body armour, and as a result. The Alpha is much more supple than other wetsuits in this price bracket.
Reading the product brochure tagged to the zip (because I'm a geek!) reveals that HUUB has achieved this supple feel by using a thinner 2:3 buoyancy combination. It also in places (under the arms), uses neoprene that is just 1.5mm thick. All of this is impressive technology at this end of the wetsuit market.  The only thing which would add to what is a really good 'first impression' is a mesh carry bag. Something that costs very little to produce but is really useful for carrying wet kit. It's something that I appreciate having for my Zone3 Aspire. 
Putting on the HUUB Alpha Beta wetsuit for the first time
Before I took the Huub Alpha Beat for a proper test in the water, I wanted to make sure that it fit me. Being relatively short and relatively stocky with broad shoulders, I've previously had problems getting wetsuits to fit properly. Pulling the suit on in my kitchen (as you do), proved to be quite tricky. With the neoprene (surprisingly given its thin and supple feel) not having much initial 'give'. Unlike other reviews I have read, the "speed cut" ankles did not make it quick or easy to put on – or quick to take off. My first impression of trying on the wetsuit was that it felt quite restrictive, especially across the back and the shoulders.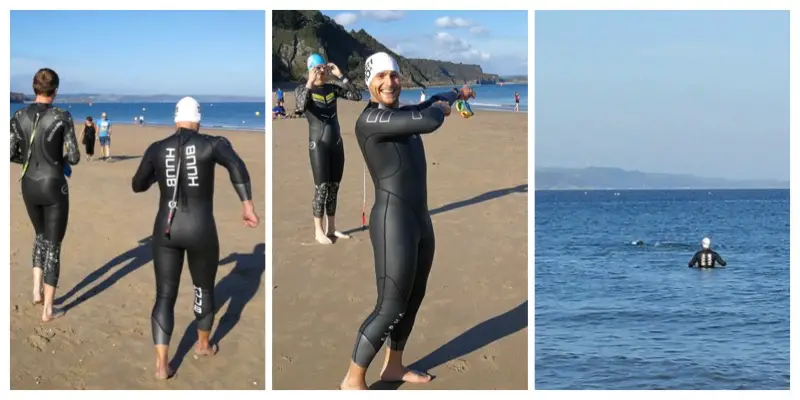 After putting this initial thought on Twitter, I was informed about the correct way to put on a Huub wetsuit – involving a manoeuvre which I christened the "Huub Hitch" – which did seem to make a difference to the fit, especially in the groin and across the chest, but compared to putting on my Zone3, getting the Alpha on, and making it comfortable, is still more of a battle than I'd like.
Swimming in the HUUB Alpha Beta wetsuit
I've now swum in the wetsuit a few times, in my local lake in Cheshire and in the sea at Tenby on the Ironman Wales course, and those initial difficulties with getting the suit on and off have eased a bit as the neoprene has relaxed. In the water the suit feels buoyant, but not too buoyant, and the 2:3 buoyancy combination helps to put you into a comfortable, neutral swimming position.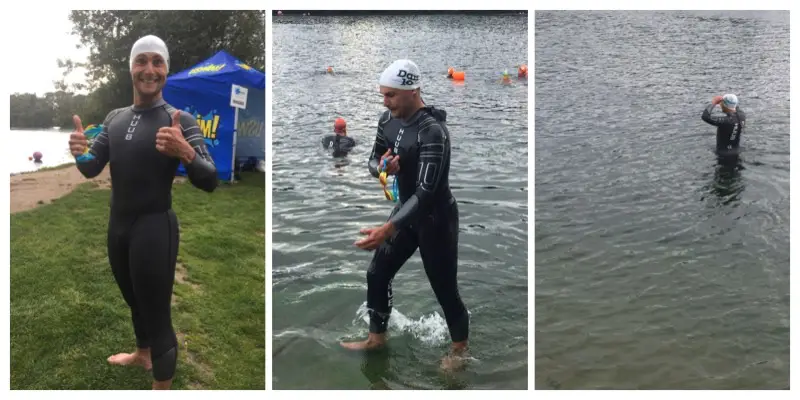 I found that the tightness over the shoulders that I'd experienced in my initial trying on made the wetsuit feel restrictive in the water after a number of trial swim sessions.  My shoulders felt more tired after each swim than they would do after a comparable set in my Zone3 Aspire. Granted these two wetsuits are very different price points. Interestingly though, I never experienced any issues with neck chafing. Even after I forgot my BodyGlide the first time I took it out. 
Like some other reviewers, I also experienced a bit of water coming up the sleeves. These issues could be more to do with the fact that I haven't yet managed to achieve an 'ideal fit' in the HUUB Alpha Beta.  Although the shoulders are tight and restrictive for me, the thin underarm neoprene actually bags a bit. I assume this is likely to be from not having found the best size for me in this wetsuit. Overall, the suit is actually very comfortable to wear and the flatlock construction which HUUB has used to put it together is a quality touch. 
HUUB Breakaway Zipper
This is the first wetsuit that I have used which features a 'Breakaway' zipper.  HUUB claim that this allows the quickest exit from the wetsuit in transition.  I'm not sure that the extra seconds gained by using it are necessarily going to benefit the kind of buyers that this wetsuit is aimed at.  This is an entry level wetsuit at only £99 and the breakway zipper gives an advantage but not likely to be enough for an age group triathlete. Using the 'Breakaway' zipper as it is intended requires looking after as you need to reattach it at the bottom of its track before each use. For me, it's too complicated to use regularly.  I didn't to master this solo so worth considering you may need help with this style of zipper.  
Overall review of the HUUB Alpha Beta Wetsuit
For those athletes who are taking their first steps into open water swimming or multisport, it's a really attractive and well thought out bit of kit.

Richard Brown – Trivelo Test Associate
If the Alpha fits you, then you'll be benefiting from some quality inherited technology at a fantastic price. The HUUB Alpha Beta feels well put together and robust. Relevant when compared to some of HUUB's other higher end wetsuits which can be more delicate with a focus on speed.  An additional quality feature is that all HUUB wetsuits are covered by a 12 month warranty and you can register your suit for an extra 6 months cover taking it to 18 months total from date of receipt.  
Buy the HUUB Alpha Beta direct from HUUB for £69 – Currently on sale with HUUB
Alternatives to the HUUB Alpha to consider
Looking for a review of another HUUB wetsuit check out our review of the HUUB Aerious II triathlon wetsuit.
If you are looking for something different from HUUB to help your winter swimming check our review of the HUUB Alpha buoyancy shorts. Perfect addition to your swim wardrobe to help improve your swim through the winter and focus on your core.
---
About the Author
---
Follow us on Social Media
---