For this weeks blog I am thrilled to be able to be sharing the Croyde Ocean triathlon race review. This brutal race held on the 14th July this year saw myself and Scott from Team Trivelo vying for honours as top Trivelo athlete. In our blog we share our view on the build up with how the race was organised, how we trained and essentially what the course is like. Thinking of entering the race next year? This is essential reading.
Croyde as a venue for triathlons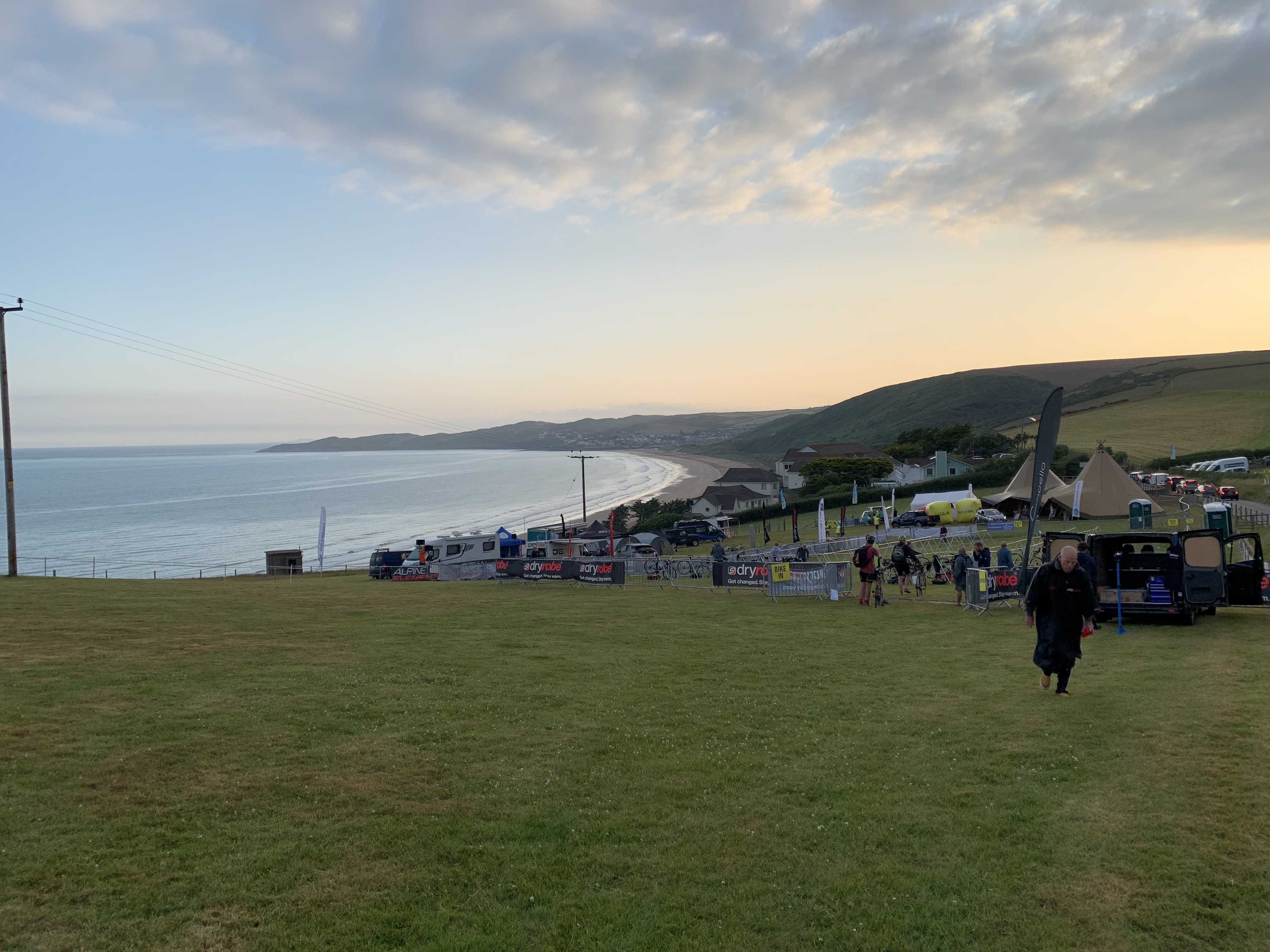 Croyde is a gem of a village nestled in the North Devon countryside. The village and beach face onto the Atlantic Ocean with a number of picturesque surfing spots attracting surfers from all over the globe. I've been a fan for the past 20 years but had not previously been able to try the triathlon on my travels. In terms of venue the geography is stunning and many beaches to choose from for the swim venue. The roads around North Devon are hilly and tend to be narrow so plenty of challenge to even the most seasoned cyclist. Running is bliss and impossible, all within metres of each other. This is very much a cross country circuit.
History of the Croyde Ocean Triathlon
The event was set up in 2014 by Croyde Ocean events seeking to create one of the toughest Olympic distance triathlons in the UK. Over the past 5 years the team have worked closely with the local community supported by many local businesses and land owners. The event has been a leading light in environmentally conscious triathlons being a plastic free event. This pioneering spirit has lead to interest among a number of other triathlons keen to replicate the success of Croyde and reduce waste in races. This drive comes through loud and clear in the race briefing including clear direction on not ejecting used gel wrappers. Littering heavily frowned upon. In addition to being plastic free the organisers seek to support re-use of all triathlon kit by encouraging competitors to bring along old kit to donate to others. Spirit and ethos all breed the right behaviours in the sport.
Pre-Race build up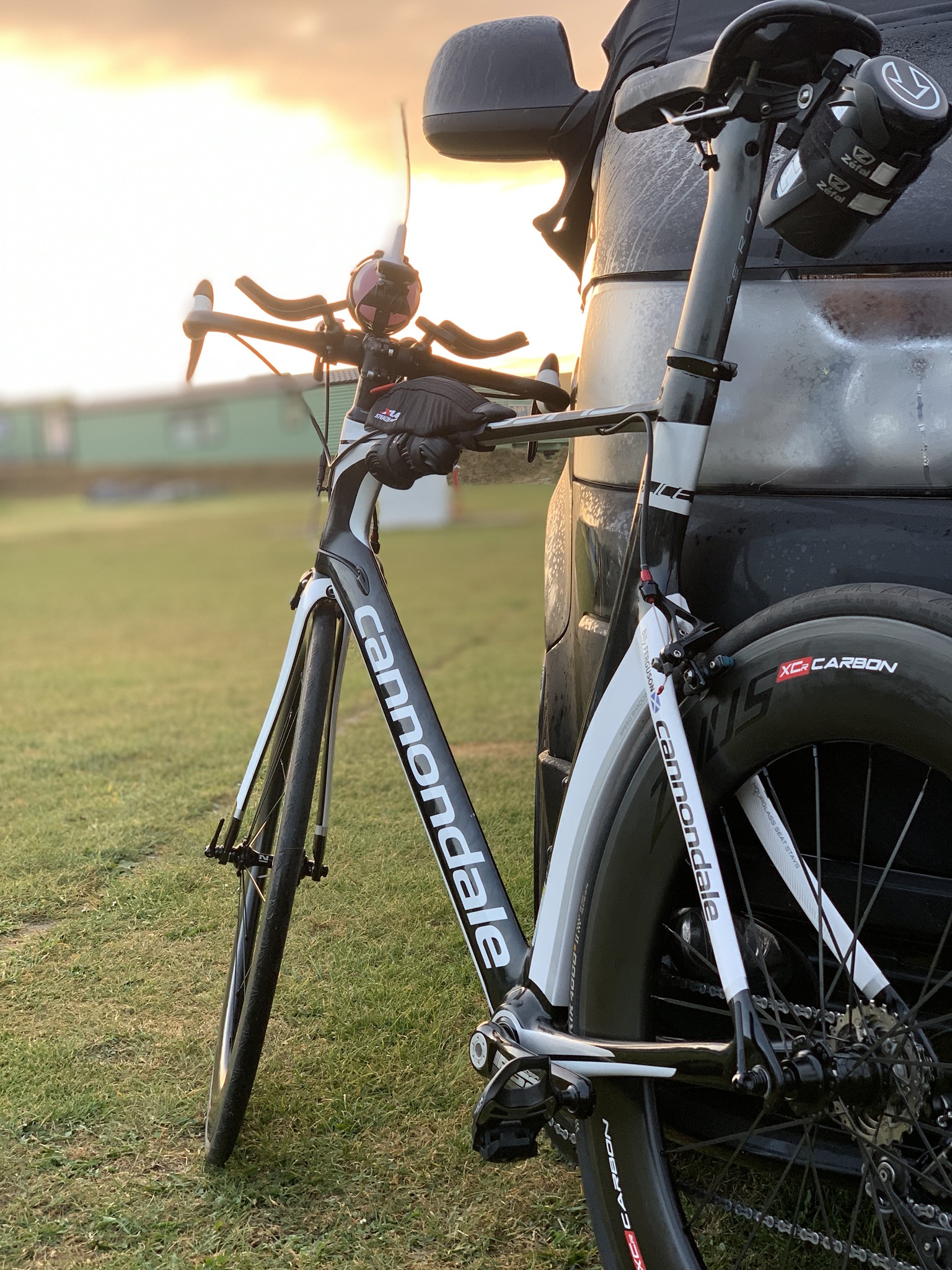 The event has a well structured website with downloadable files of the bike and run course to ensure you are clear what you are signing up to. Race application is followed by a good series of clear confirmation emails. The final two weeks before the race are accompanied by a final couple of emails with information on registration and weather conditions. A detailed race pack is issued in the final days before the event with very clear information on timing for the day. For social media users they are active on Facebook and post regularly to tease more on the event and maintain excitement about what is to come. Registration is open the night before in the Thatch pub where you will need to be disciplined and not have a pint of Thatchers Gold while registering. If you can't trust yourself entering the pub on a Saturday night then registration opens from 6am on the day of the race as well.
Transition area
Transition is in the fields overlooking Putsborough beach to the South of the bay. There is a car park available but the roads are narrow so unless you need to drive I would recommend you ride to the race. Following the race it can be grid lock with athletes leaving and beach users trying to come in. The transition and race HQ is situated in a field with access to the roads and the beach. There are a handful of tents offering food and drink dotted around and a limited number of toilets. Be warned and allow plenty of time for the loo. The toilets at Putsborough are on the way to the swim and award winning but again will be busy. The bike racking area is a free for all with no numbered allocation so again arrive early and get yourself set up where you can find your bike. The race briefing is conducted 45 minutes before the start and can be heard throughout transition.
Atlantic Ocean Sea Swim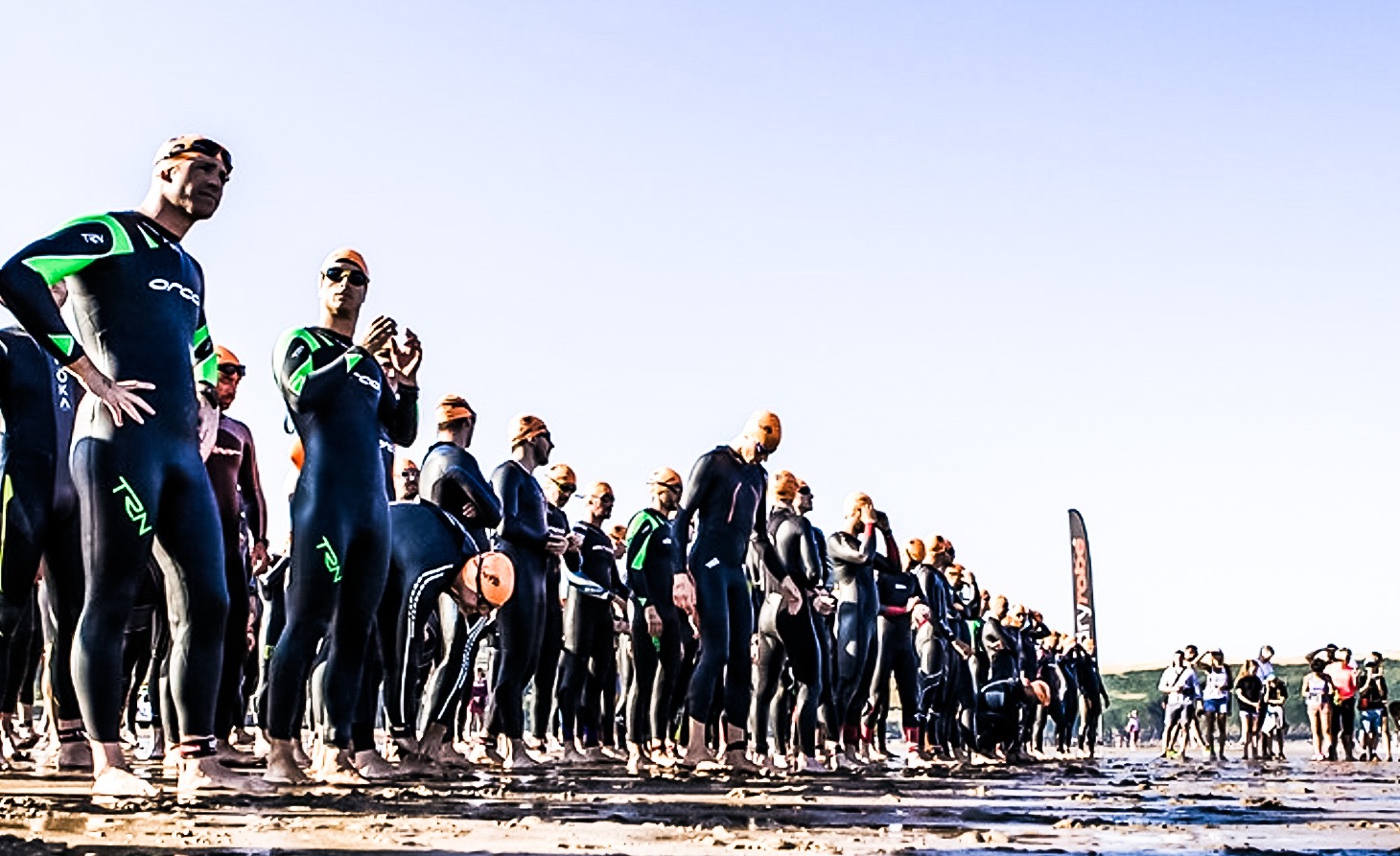 The swim course is reached by a 25 minute walk down the beach as you head from Putsborough car park towards Woolacombe. The race Director gives plenty of notice of this and you head down as a merry band of excited if somewhat nervous triathletes. As you stroll down take a few minutes to get into the water and do some acclimatisation before the start. The swim start is in waves with only a couple of minutes separating each. You begin from the beach and run through the waves onto the course heading for the first buoy.
Perfect sea swim conditions
Thankfully this year the weather was perfect for the swim. Sunny clear skies and flat water conditions. Hardly a wave in sight for those worried about the prospect of a sea swim event. The wave sizes are relatively small with around 100 people per wave so you quickly have space and able to swim. If you are a nervous swimmer just head slowly through the breakers and take a wide course around the buoys rather than cutting it fine and the shortest distance. The course takes you straight out from the beach and then left running in parallel to the beach back towards transition and in the direction of Croyde. It is a 1500m swim distance and I felt the time went really quickly. All too soon passing the final buoy and heading back to the beach.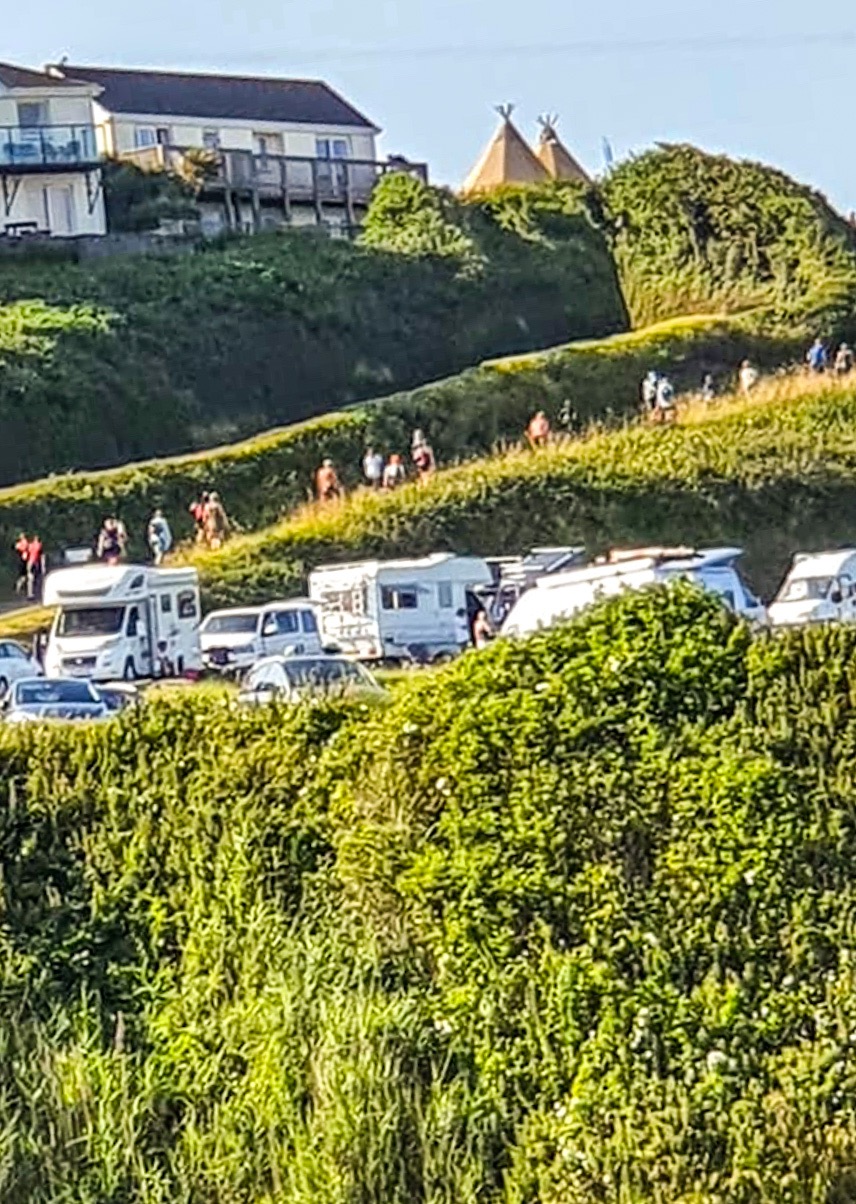 Challenging run into Transition One
Upon leaving the water you are recommended to remove your wetsuit immediately. I did this and found it by far the better option. Coming out the water your wetsuit is still wet and crucially you are then more able to run. Which is the next challenge. The swim is held at low tide so you have a 1/4 mile run up the beach to get to the footpath. Far easier without a wetsuit to hinder your progress. There is then a steep footpath up to transition of about 400 meters. I ended up walking some of this as did many around me. Don't be ashamed of preserving energy this early in a long race. Final tip is to have some water in transition and use it wash off your feet before putting on your bike shoes. Sand and stones on your feet can make a mess of your feet if not removed.
Bike course around North Devon
I competed using my triathlon bike but in hindsight a road bike might be a better option for this event. The course takes you out from Putsborough on a short closed road section heading towards Woolacombe. From the race briefing I had realised the course was hilly and it didn't disappoint. The first five miles sees you climb around 600 feet steadily including passing through a small ford. This year when I went through there was hardly a sprinkle of water and nothing to worry about. The closed road sections finish quickly so be mindful of cars and other road users.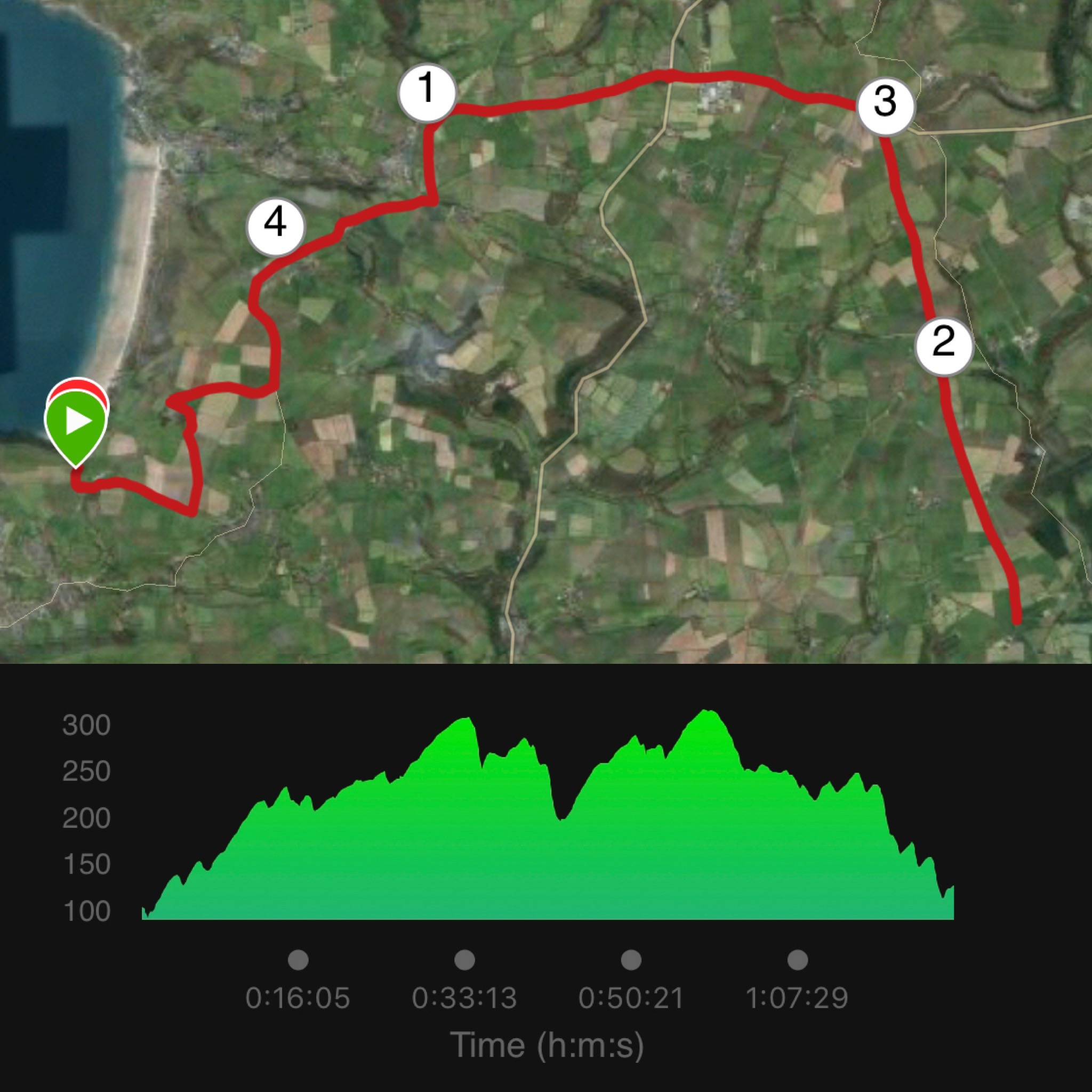 Cycling on rough road surfaces
The ride is mainly on B roads with a couple of miles on the A3123 heading back towards Barnstaple. You quickly turn back off this and head down further B roads. There is a single right hand turn to contend with including a mandatory foot down for safety. The marshalls are well placed and well briefed. Throughout they were calling out instructions and warning of areas of danger. This is a non-draft event and we even had a member of the British Triathlon Association on point to check on proceedings. That said with so many hills and narrow roads adhering to this is not straight forwards. Even on the rare occasion of a straight flat road (the A3123 or B3343) it is a relatively busy stretch so you can't afford to be doubled up for long.
Out and Back bike course
Around 12 miles out you reach a number of marshalls at the entrance to a farm and a turn around point for this out and back bike course. This comes at the end of a very quick descent (one of many) so controlled braking needed. With so much of the course climbing or descending and narrow winding roads I didn't spend much time on the aero bars. Heading back towards Putsborough you return to the closed roads for the last mile and the security of transition.
Mechanical failures during the bike leg
I've not seen as many mechanical issues on the bike leg as Croyde. There were people littered roadside making repairs as the course took its toll on various peoples bikes. Make sure ahead of the race your bike and any peripherals are well maintained. This includes water bottle mounts or Co2 canisters. Easy to be littering the roads with bike parts and you work your way round.
Run course across Croyde beach
I came into the race conscious my run was my weakest discipline. The run scared me. It didn't let me down! Having reviewed the run course I had made the decision to take my time in transition with some nutrition and socks for my trainers. I normally bounce straight through but with the course this was a decision I didn't regret. First mile of the run sees you head out towards Georgeham along country paths. At this stage my confidence was up posting a first mile in around 8 minutes. This illusion was quickly shattered.
Running Incline
You quickly reach the first of a series of incredibly steep gravel paths. The run covers nearly a 1000ft of incline in 7.2 miles of distance. On this first ascent for the first time in any event I found myself walking. Me and all those around me were reduced to striding up this hill unable to maintain a run pace. Keeping calm in the early phase of the run I maintained the resolve to keep pushing forwards at whatever pace I could manage.
Gravel Descents
Continuing through the run brings you eventually over the headland overlooking Saunton Sands beach. Inspiring. Certainly. With miles of beach to soak up the temperature continued to rise as it now reached late morning. Much of the run course around this section is narrow and single file. Frustrating for quicker runners and tough on those causing the obstacle conscious of the runners behind. Everyone is very friendly and there are plenty of places to pass it is just mandates some patience.
Trail shoes worth considering
Descending towards Saunton sees you return to sea level rapidly over gravel stone paths that separate trail runners from road runners. My trail running is poor so my technique at the descent is pretty naive tenderly creeping down one step at a time. Again trail shoes over running shoes could well be recommended. When you finally reach the bottom you are welcomed with a water and jelly bean section ahead of further marshalls to help you cross the road for your next challenge.
Beach Running on Sand
You head onto Croyde beach on the South end of the bay heading back towards Baggy point. Here you face a 2km run along the sand towards the holiday makers all enjoying the beach near the holiday park. The sand is compacted and wet with the tide still out from the morning. This is a blessing as the last 200metres up the beach are on soft sand and much to my embarrassment another moment for walking pace. Here I was buoyed by seeing my family with my kids cheering me on. A great spot for any family to wait as there is a cafe and seating while you wait with some shade for a hot day.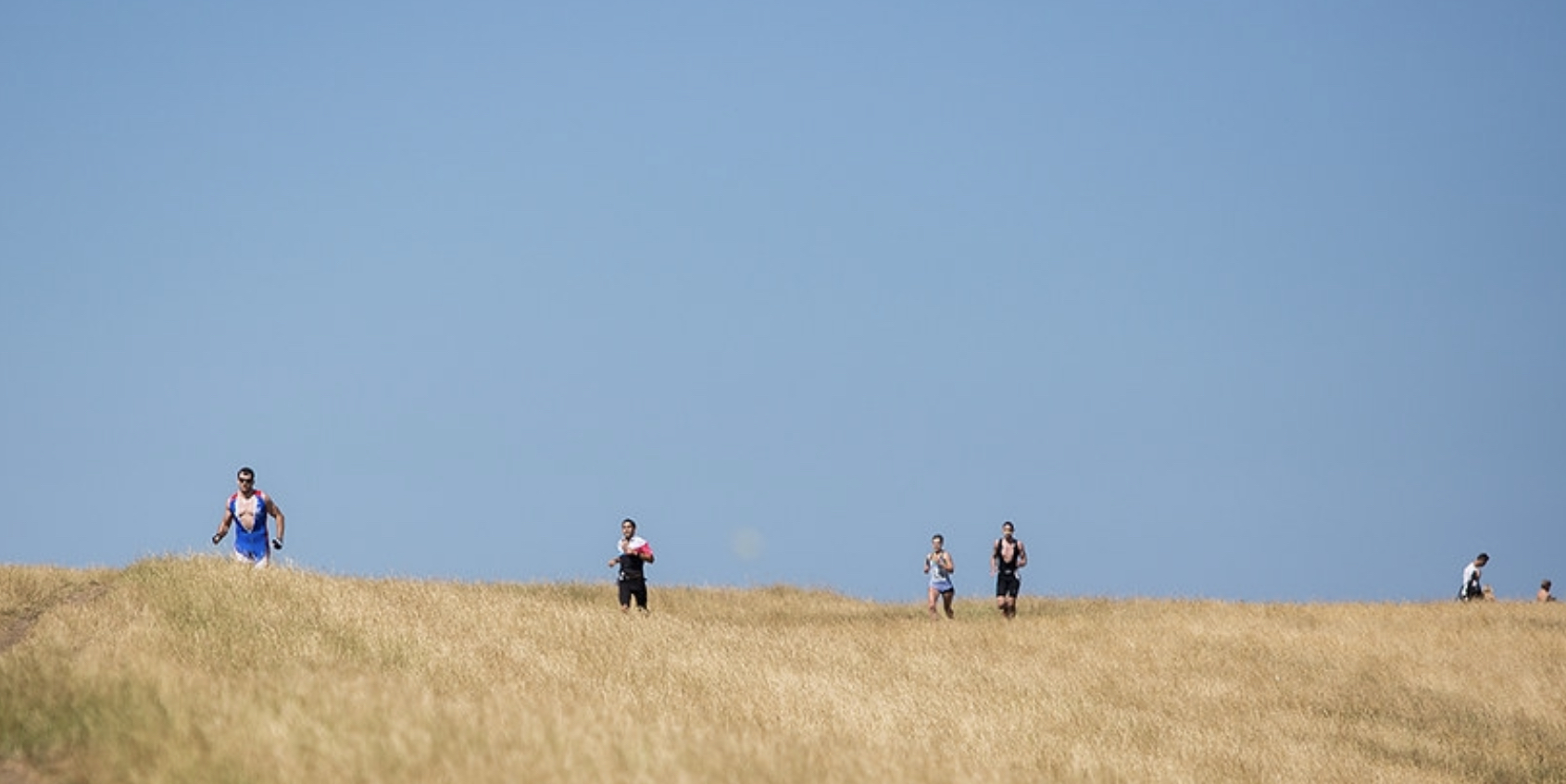 Climbing up Baggy Point
Rounding Baggy point you head up a further monster hill dodging the other holiday makers and now with thighs burning from the climbs. A further water point at the foot of the hill also gives much needed water sprays to cool you off. Temperatures on the day were high twenties. The final 3km across the headland round to Putsborough are beautiful overlooking the Atlantic Ocean but a final few leg burning stiles to cross.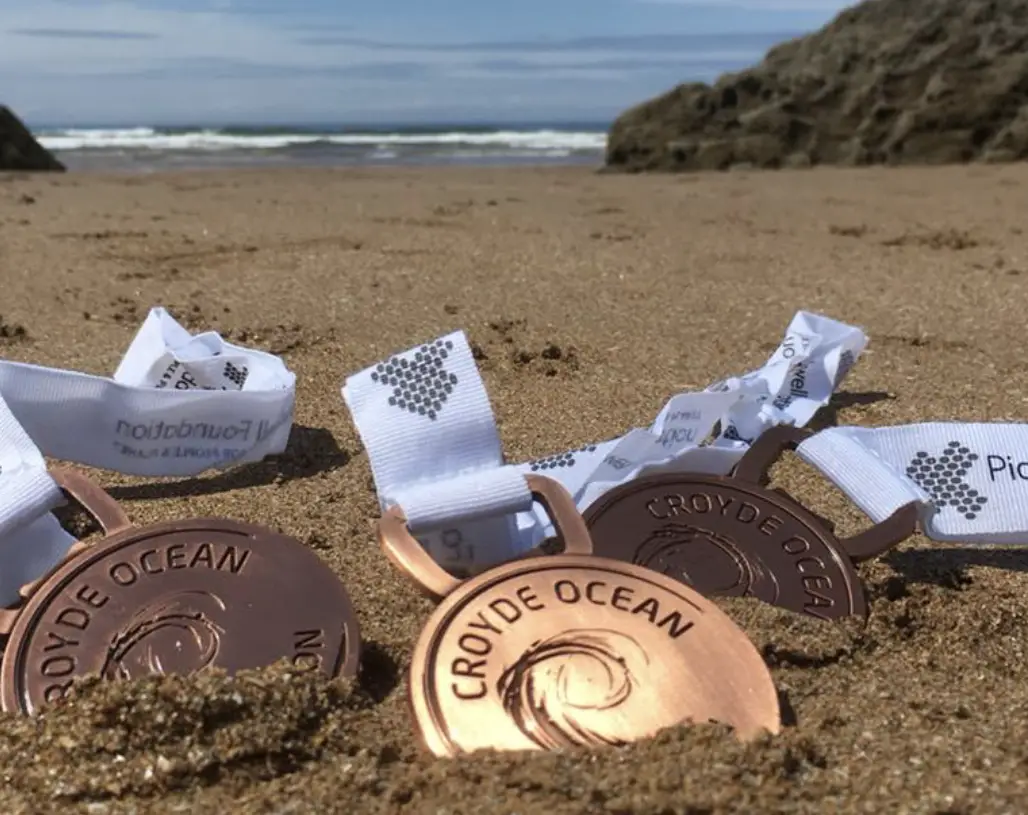 Running to the finish line
As you finally reach the final corner you see the finish line and transition. The race team cheer you on and announce your name over the speakers to cheers from the welcoming crowd. The finish. All done. Relief. I have completed many events but this ranks up there with the hardest of any of them. Having to slow to a walk for hills and then resume to a run pace is tough and really needs mental resilience. Having finished I was left to check and see if Scott was ahead of behind me. Realising he was behind returned to welcome him over the line and celebrate. Only disappointment from the day was no race t-shirt at the finish. The finishers medal is a gorgeous specimen but we always love a race t-shirt. Unfortunately more events seem to be following this trend and not providing finishers shirts. Boo.
Training for the Croyde Ocean Triathlon
Swimming Training
Training for the Croyde triathlon I had realised hill work was needed and additional stamina for the run. With a sea swim open water training is essential. Not everyone can get to a beach but there are open water swimming venues near every town so I would strongly recommend you do this and familiarise yourself with your wetsuit. Ensure you can cover around 2km on the swim to compensate for any currents and the extra distance from the waves.
Cycling Training
On the bike I had made time for my TT bike beforehand ensuring my gear shifting was clean and effective. Essential to manage constant changes in the road incline and decline. Here again I would put in as much hill work as you can. I took to going up and down the same hills to get around the right amount of incline. Around 2000ft of climbing over 25 miles.
Running Training
Finally the run. I did plenty of distance work up to 9 miles top ensure I go beyond the distance. This coupled with some brick training to have confidence in my legs off the bike to the run. What I failed to do enough of was trail running and hill running. Next year I will be factoring more of this and hill reps.
Summary of the Croyde Ocean Triathlon Race Review
If you are looking for a real challenge in one of the most beautiful parts of the country then we would strongly recommend you sign up for the Croyde Ocean triathlon. An event that sells out regularly and sees people return year on year to get their coveted gold swim caps this is a must for your triathlon schedule. We listed this in our Top 5 triathlons for 2018 last year that inspired us to enter. Check it out for other epic triathlon events to consider.
If you've finished a triathlon race this year and want to share your views let us know. We love guest bloggers sharing their stories and are always after new race reviews. Contact us here and join our panel of guest bloggers.
[contact-form-7 id="2386″ title="Contact Trivelo"]
If you fancy a crack at the Croyde Ocean Triathlon applications are open for next year so give it a go for yourself.