Proviz Tour Cycling Jacket Review from Helen. Who has been living with the cycling jacket for the past few months testing it in the darkest winter nights.
Introduction to Proviz
I became aware of Proviz when my husband ordered one of their Proviz360 gilet's a few years ago. He was spectacularly visible for his cycle commuting to work! It was so impressive and I was a bit jealous of my lack of stand-out jacket, so I was excited to test out a Proviz garment for myself.
Introduction to Helen
I'm a keen triathlete and love all things endurance sports, whether it's running, Nordic Walking or cycling. In terms of kit, I do have a lot of hand-me-down items from friends. But when it comes to new items, I have learnt over the years that I would prefer to pay good money for something that will last and perform. Rather than go for the bargain, only to find out that it's not up to scratch, will wear out and will need replacing within a few months.
We live in a village in North Wales and I sometimes cycle into an office 7 miles away. I also do a lot of cycle touring. I also drive and it really stresses me out when cyclists aren't very visible on the roads! As we live in a rural area visibility is really important when walking, running and cycling. Especially in the dark winter months in the UK.
I often wear a high-visibility gilet when I'm out running during the winter or when it's dark.  But up until now, I've never had a highly reflective cycling jacket.  Instead I've just chosen good lights and a fairly bright or light-coloured jacket or a high visibility long sleeve base layer under a gilet. 
---
>>> 8 of the Best Folding Bikes 2022 – Buyers Guide for Commuter Cyclists
---
First impressions of the Proviz Tour Cycling Jacket
When I took the jacket out of the packaging, I immediately thought it felt like a solid piece of kit. Something that would keep you warm in the winter months.   It weighs in at around 400g. When you're used to really lightweight waterproof running jackets, it does feel a bit heavier.  That said, in my eyes it gave me the confidence that it would keep me a bit warmer in the wind and rain. And when you look into the details it looks good. It boasts a decent waterproof rating (10,000mm) and it claims to be highly breathable too (10,000+gm/24hr).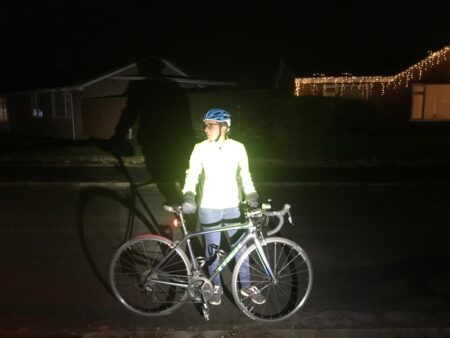 Fit of the Proviz Tour Jacket
Although I am normally a size 8-10, the jacket I was sent was a size 12. So please bear in mind, that it was not the right size for me. It's also worth noting that I asked my mum to try the jacket on as she is a 'true' size 12 and it fit her nicely, but it is not a tight aero dynamic or race style fit, by any means. Even though the jacket was too big for me, it still felt a little tight over my shoulders when I was on my bike and had my hands outstretched in front of me on the bars. That said, it was a good top layer that kept me seen and kept the wind out on an early morning walk along the country lanes, when I had two layers on underneath, including a thick hoody.
Features of the Cycling Jacket
Proviz's Classic Women's Tour Cycling jacket certainly feels robust. I sensed that if were to brush alongside a load of brambles, the jacket wouldn't rip to shreds immediately!
I liked the adjustable sleeves with Velcro fastening. However, the stitching was poor on the Velcro loop on both arms which was disappointing and with use, I fear it would continue to come loose.
Any cycling jacket that is longer at the back is a winner in my eyes.  And I think this is a great feature on the Classic Women's Tour Cycling jacket. Especially if you are out in the rain or on the roads after a heavy rainfall. Nobody wants a soggy bottom!  The adjustable waist is also a welcome feature for similar reasons.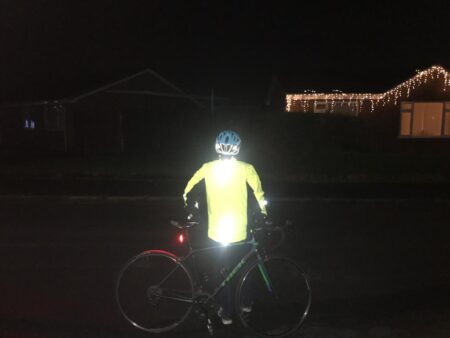 Talking of rain. The fact that the jacket has taped-sealed seams has a lot going for it when it comes to keeping you dry. I also really liked the soft touch on the collar too, and the integrated 'zip garage' which kept the zip away from my chin.
The jacket has two side pockets with good sized zips and the main zip is also a good size and easy to grab. This makes it a lot easier to operate if you're struggling with cold hands or limited dexterity because you're in big winter cycling gloves!
While the garment is bright and really good for visibility at dawn, dusk and at night. I felt a bit let down that it doesn't glow completely when light is shone upon it. This is due to the fact that it only has very limited strips of Proviz's REFLECT360 retro-reflective material.  In that sense, it felt like it could be any other high visibility jacket. But I must say, what was there worked well enough. You can certainly be seen. 
>>> Top 5 Triathlon Saddles for 2022 – Find the right saddle for your next race
---
Summary of the Proviz Tour Cycling Jacket Review
For your £100, you can guarantee that you will be seen in this jacket! While you might not shine like a beacon (other Proviz garments do it better), you will stay warm, dry and visible. Because of its generous cut, the Classic Women's Tour Cycling jacket is definitely aimed at a more leisurely ride or a steady commute style of riding. Rather than an intense interval or chain gang session. I got hot walking in it, never mind riding in it!
It's also not particularly packable. So, I would definitely look for something lighter and smaller if you were planning on bike-packing.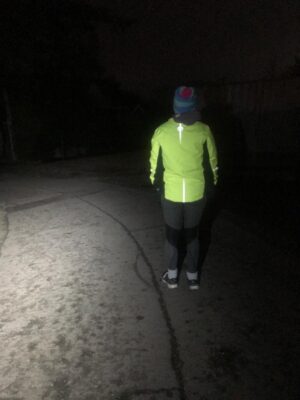 The lack of rear storage is a bit annoying as you can't just whip a banana out of your back pocket, for example. Similarly, there's nowhere to store your pump or spare inner tube other than in the two side pockets which just digs in when you're on the drops.
Overall, if your priority is being visible as a commuter, I would certainly put this on your short list. But I would definitely recommend that you try before you buy for sizing and consider alternative options within a similar budget.
Best Price for the Proviz Tour Cycling Jacket
Buy the Women's Proviz Tour Cycling Jacket direct from Proviz for £99.99
Buy the Men's Proviz Tour Cycling Jacket direct from Proviz for £99.99
Further Proviz Jacket Reviews from Trivelo
>>> Proviz Storm Cycling Jacket Review from Richard