This week we bring you a review of the new Proviz Storm Jacket. Tested in size Medium, male. As with all Proviz garments, the jacket features strategically placed reflective panels. These highlights are designed to make the wearer more visible and hence safer in low to no light conditions.
Over the winter, Rich has been putting the Storm Jacket to the test while hiking, running and cycling. Read his review of this jacket here.
Introduction to Rich
My name is Rich, and I'm a cyclist, runner, triathlete, and an active member of Wrexham Tri Club. I've been dabbling in multi-sports since around 2012 when I met my now wife who convinced me to "just give it a go". I'm still "just giving it a go" 9 years later!
Over the last couple of years I've been fortunate to complete a number of reviews for Trivelo, and I'm pleased to share my thoughts on the Proviz Storm with you.
First Impressions of the Storm Jacket
The Proviz Storm Jacket is a simple hooded design with a zipped chest pocket on the right hand side. This design is rather than the more usual location on the left, and two zipped waterproof pockets on the front. Proviz say that these pockets are intended to "house all of the gear needed on your ride". The side pockets feature a zip pull which helps you to access them while wearing gloves in the colder months. Both side zips are highlighted in reflective. Both sleeves have an adjustable Velcro cuff, and the hood and waistband are both adjustable via drawstrings. 
Unlike some of its stablemates (the REFLECT 360 for example), the Storm Jacket is not made entirely from reflective material. Instead uses a highly reflective panel across the shoulders. This contrasts sharply with the main body of the jacket (in my case black) which is made from waterproof fabric featuring additional reflective stripes on the front. The fabric, especially the reflective fabric on the shoulders does not feel as though it would be especially breathable under effort. 
>>> Read our in-depth review of the Proviz REFLECT 360 cycling jacket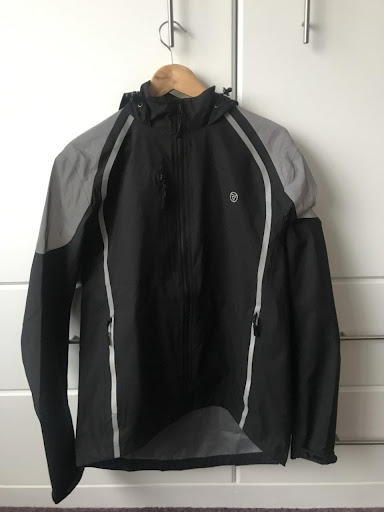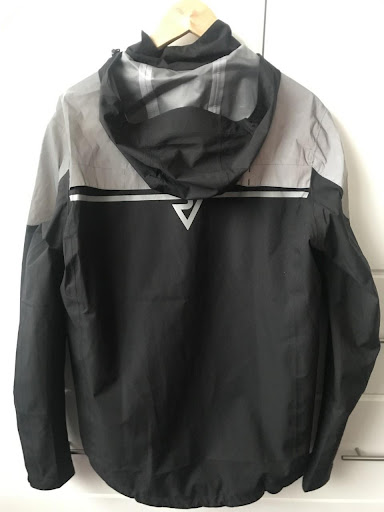 Wearing the Storm Jacket
The Proviz Storm jacket is constructed from a single-layer waterproof fabric with full seam sealing. Although it's single-layer, it is not a lightweight material.  I have also found the sizing to be a little small. I am normally a standard 'Medium' with most brands. I found this jacket to be very snug across the shoulders and restrictive so maybe a large would be better suited for my frame.  
This restrictive fit becomes a problem when on the bike and holding the bars. For me, the jacket was too snug across my back to be comfortable. Off the bike I found it impossible to fold my arms.  For the winter months, I've also not really been able to "layer up" properly. I can't get the extra layers to fit comfortably without being restricted further. 
Although it is cut tight on the back, the sleeves are cut long enough so that they do not ride up your arms when you are holding your handlebars. This helps to eliminate cold spots between gloves and sleeves which in the UK winter is appreciated! Zips are chunky and feel pretty durable, but it looks like only the zips on the side pockets are waterproofed.
While the design is clean and tidy, I'm not sure about some of the design. Proviz market it as a cycling jacket, but it lacks some functionality of a more traditional cycling jacket.  Those side pockets are not easy to access when you're in the saddle, whereas a more traditional back pocket is much easier to use whilst riding. Being located on the front of the jacket, they are also not very comfortable when you are on the bike and riding along. Results in essential items like a pump and a couple of tubes stuffed into them hindering movement.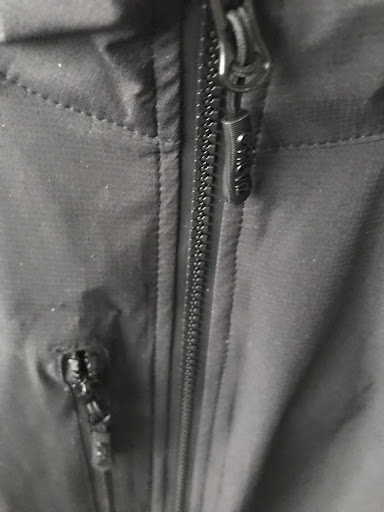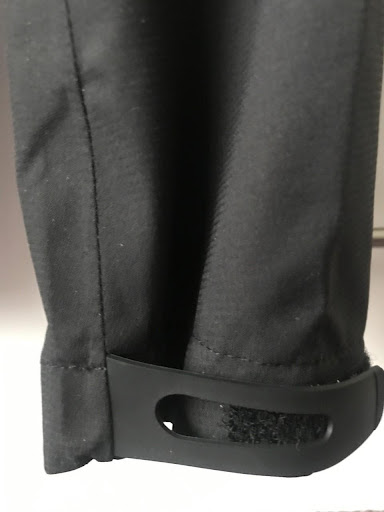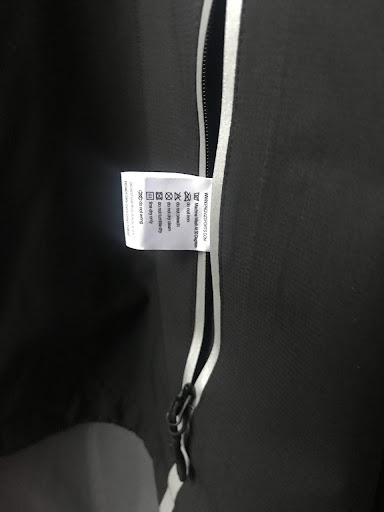 Durability of the Proviz Jacket
Overall durability seems to be OK. The fabric is a combination of Proviz REFLECT360 reflective material and high spec waterproof (15,000mm) and breathable (15,000/24hr) material. It feels fairly sturdy but some of the stitching especially on the Velcro cuff tabs could wear. I wonder if the cuff tabs would stand up to repeated adjustment. It's hard to assess their durability without doing a more extensive test. 
It will be interesting to see how durable the jacket proves to be after a few more wears over the winter. Using things like the cuffs repeatedly, being tighter to keep the cold out and then released to get gloves off.   
I haven't yet worn the Proviz Storm Jacket while it's been raining so I can't comment on how waterproof the jacket is. That said, Proviz claim high ratings for both waterproofing and breathability. This would be a combination of the fabric enhanced by permanent venting underneath the shoulder panel area. The venting personally I am not a huge fan of. 
Negatives of the Proviz Storm Jacket
For me, traditional cycling pockets at the back of the jacket would be more useful and preferable. It is not easy to access the two side pockets whilst in the saddle. That makes it rather less functional and comfortable than I would like. If you're in the market for a cycling jacket that you could also wear off the bike then perhaps that shouldn't deter you from buying it. 
I'm not a fan of the permanent vents under the shoulder area. This changes the cut of the jacket across the back and feels like they would easily tear. 
I also can't understand why the washing and cleaning label is sewn into the left-hand front pocket where it is really easy to snag it in the zip. Especially if you are zipping the pocket while riding. It would have been much better for it to be sewn into the inner face of the jacket as most manufacturers do.
The jacket has a hood. This is a good useful volume, and which can be adjusted by toggles. But there is no way of stowing the hood away when it's not required. As a result, the black hood falls right across a large area of the reflective material. This makes you much less visible from the rear (especially if the jacket is black!) which I think defeats the point a little bit. That said, when the reflective material does come under direct light, it is as bright as any other Proviz product, making you light up like a Christmas tree. 
Summary of the Proviz Storm Jacket Review
The Proviz Storm Jacket is light, made well from material that does a good job of keeping wind chill at bay. It also features reflective material that when it's not being obscured by the hood, helps to make you more visible to drivers and other road users. 
But for the reasons outlined above, I found the Proviz Storm Jacket to be less than ideal to use as a dedicated cycling jacket. I much prefer the design and functionality of my traditional 3 rear pocket softshell cycling jacket. 
If you are considering buying a Proviz cycling jacket I think you should perhaps opt for one from the fully reflective Reflect360 range. I have been a long time user of one of their Reflect360 Gilets, and for running and cycling around the unlit lanes where I live it is perfect.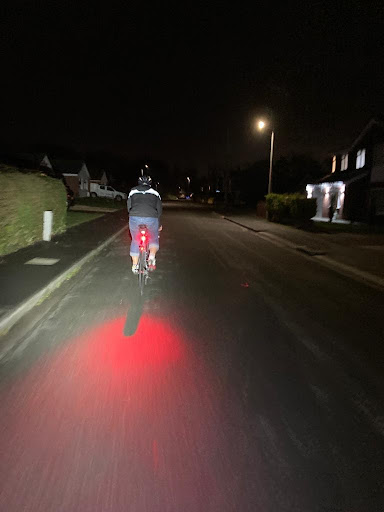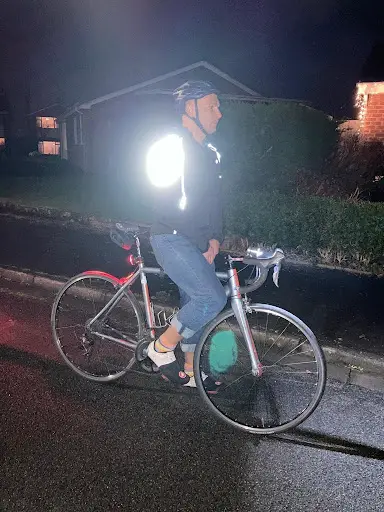 If I'm out in the dark either running or cycling in my Reflect360 Gilet and a car approaches, more often than not it slows right down because the reflective takes the driver by surprise. With the Storm Jacket, the combination of dark coloured fabric, a limited reflective area and a non-stowable hood means that the reaction from other road users is more muted.
In summary it's a decent, though far from perfect commuter jacket. Wearing it, you are more visible to other road users, but not as visible as you could be. And while it's not overly expensive (retailing at £99.99), that is still a chunk of money to thrown at an item of sports clothing. 
See the video of Rich wearing his Proviz Storm jacket
Buy the Proviz Storm Jacket direct from Proviz for £99.99
(Use discount code "TRIVELO20" for 20% off the entire PROVIZ range)