Trivelo independently review everything we recommend. When you buy through our links, we may earn a commission. Learn more >
---
This week we bring you the Proviz Reflect360 jacket review. An innovative jacket designed to make running & cycling safer in low or no light conditions.
Nicola has been braving the winter nights to test this jacket while cycling and running. Read her review and hear what she has to say about this innovative jacket.
Introduction to Nicola
I'm Nicola a Paratriathlete and active member of Tri Surrey Triathlon Club. I was introduced to Triathlon in 2012 by a colleague at work and joined Tri Surrey in 2016/17 so I could improve, learn more and socialise with like minded people. Since becoming a below elbow amputee in January 2017, I've been able to focus more on my cycling as I can now use a prosthesis that attaches to my bike giving me more stability.
Cycling has opened up a whole new world of experiences including many hairy moments, but they say do something that scares you a little every day! Then you know you're living. 
I'm fortunate enough to live by the Surrey hills and love nothing more than joining my Tri Surrey Teammates for our regular rides as well as Sportives' they arrange like: London to Brussels, Prudential 46 & an Isle of Wight tour . 

Delivery of Proviz REFLECT360
 My jacket came in a branded plastic bag. Contained within that bag was another plastic bag protecting my shining armour! As well as the jacket you get a neat little storage bag that enables you to travel around with the jacket until you need it. Ideal for the commute. 

First impressions of the REFLECT360 Jacket
It's brilliant, I'm impressed. It's lightweight and the sizing is very true and generous, the design is very smart and that's not all this jacket has! I turned the light off and I lit up like a bellisa beacon. This is exactly what I need to keep safe on the roads especially as driver distraction is high but more importantly what you decide to wear could save your life.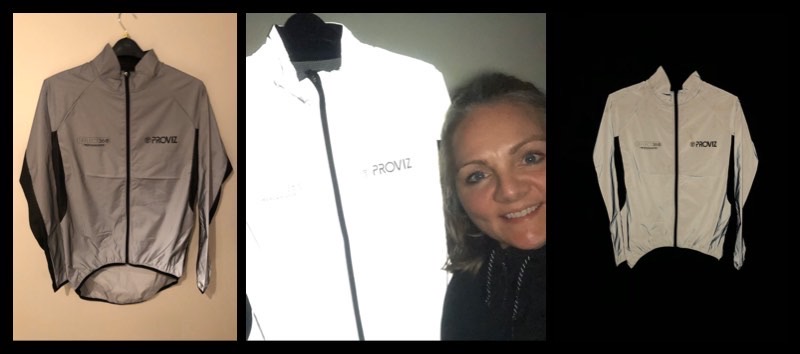 Whilst standing in my room the jacket feels comfortable and it's easy for me to put on and to use the zip. As a hand amputee I often struggle with zips, and the small hidden zips commonly found on cycling jackets can be a nightmare for me. But also, for those of you with two hands, when you have cold fingers zips are still tricky and fiddly. I'm pleased to report the first try was smooth.
I'll be interested to test the durability in a few weeks after a few wears. 

Comfort of wearing the Proviz REFLECT360
It's lightweight & comfortable to wear. The material kept me at the right temperature for my early morning bike ride, I've worn the jacket on many occasions now; even while out running, and I love it. There are no restrictions in my movement as the material stretches. I feel that it could benefit from a pocket at the back but not having one shouldn't deter you from buying one. 
I haven't worn it while it's been raining yet; the torrential downpours we've been experiencing are too risky for me, so I can't comment on how waterproof the jacket is. Although the panel at the back is not reflective but is a black breathable material so I imagine this would not keep you very dry.

Durability of the Proviz Jacket
Having had the jacket for a few months now and having worn it regularly I'm really pleased with the durability. The zip is still smooth and easy to use. 
I did think that after a few uses and washes that maybe I'd see some cracking in the material or even fading but I'm really pleased to report that the jacket still looks as good as new. If you follow the cleaning guidelines, I can see this jacket lasting many years.
When it comes to cleaning the jacket it's handwash only; understandable considering the type of material. I used a mild detergent and noticed the material feels slimy when hand washing it. It's quick and easy to clean, I then just air dried it which didn't take long.
Negatives of the Proviz REFLECT360
A pocket at the back of the coat would be useful; although I wouldn't let that deter you from buying it, I'm sure there are other designs that have pockets.
The black panel on the back is a mesh like material. If you did get caught in the rain you would have a wet and very cold back.

Summary of the Proviz Reflect360
This jacket is worth every penny. You cannot put a price on your safety when out and about.  The comments from fellow athletes are that they are very impressed with how visible it makes you; some have even gone on to purchase from the Proviz range. 
Since testing the Proviz360 I have seen many more runners and cyclists wearing the jackets. As a car driver it's so much easier to spot a cyclist; especially when there's no streetlights or poor visibility.
When driving and it's pitch black, if I see a cyclist ahead with just a flashing light, there's a second or so delay for when my brain realises what's ahead. When I've followed a Proviz wearer I get a better idea; and a lot quicker, that there's a cyclist and how much room is needed to pass safely. 
Wearing this jacket, I feel safe in the knowledge that I'm even more visible to other road users. Not to mention that it's a great lightweight jacket that has a sleek design and draws compliments from fellow athletes and road users.
Hear Nichola's summary on the Proviz REFLECT360 jacket review
Buy the Proviz REFLECT360 jacket direct from Proviz (Use discount code "TRIVELO20" for 20% off the entire PROVIZ range
For further innovative product reviews read our review of the Aftershokz Aeropex bone conduction headphones. Another fab product well worth a look for our trusted review.
Thanks and disclaimer of review
I'd like to thank both Trivelo Bikes and Proviz for allowing me to test the jacket. I feel privileged to have been chosen for my opinion.
Please note my review of the jacket are my own.

---
About the Author
---
Follow us on Social Media
---