We have started working with Kymira Sport building a new relationship with this existing brand. Jason has been doing the Kymira Sport IR50 Run Leggings Expert Review using them in some pretty challenging conditions.
Introduction to Jason
I am predominately a triathlete who specialises in Ironman and long-distance triathlon. Having completed nine full Ironman events to date with a PB of 9:16 in 2019. A strong runner off the bike who completes the ironman marathon in around 3:10. 
This review is completely my own and I have tested them extensively over the last 6 weeks. Looking to see how they hold up against my usual running tights and compression garments. 
I enjoyed testing these tights, fascinated by how they made my legs feel within several minutes of wearing them. I found them to be a great addition to my running wardrobe and have certainly put them to the test!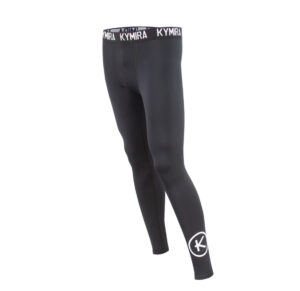 Introduction to Kymira Sport
I had not heard of Kymira before receiving these tights to review so I had zero knowledge of what they claimed to be or were marketing. They have an interesting concept behind their garments. Using Infrared Technology and something I had not heard of before within the sports performance clothing sector. 
'To bring cutting edge innovation to the sportswear market' 

Kymira Sport Mission Statement
The objective of Kymira and their kit is to :
         Exceed Performance
         Enhance Recovery
         Prevent Injuries
Kymira Sport is the flagship sportswear brand of KYMIRA. A UK based smart textile company founded in 2013 by a Tim Brownstone. An international Athlete, Tim is also a Biochemist. After becoming injured partway through the season he decided to use his background in science to research ways that could help accelerate his rehabilitation.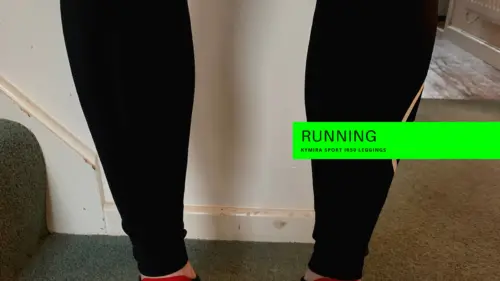 ---
>>> Nike Air Zoom Alphafly Next% Shoes Review
---
Infrared running technology
Using research by NASA about how they use Infrared light to accelerate plant growth in space, Kymira started to look at whether this technology. Could this be used to stimulate human cell growth, therefore the possibility of accelerating cell performance and healing. 
This ultimately resulted in the formation of the current range of kit they offer. It is also FDA Medically certified, meaning that the claims are backed up by research and do what they say they do. On their website, you can watch a video of how the circulation in someone's hands changes when a piece of this material is placed on their hands. 
Benefits of Infrared Technology
Benefits of using this Infrared technology include:
Nitric Oxide Production
Increased Circulation
Increased Respiration Efficiency
An Increase in Tissue Oxygenation Levels
Pain Relief
Energy Production
Muscle Relaxation
Thermoregulation
SPF Protection
Anti-Microbial
The purpose of my review is to see whether they live up to these claims.
Disclaimer: This review uses my own opinions and words, uses no affiliation to the brand and I have not been paid for this review. Only receiving a pair of running tights for the sole purpose of this review. All views are my own. 
---
>>> Salomon Wildcross trail shoes review
---
First Impressions of the Kymira Sport IR50 Run Leggings
First impressions of the tights were that they seem to be very well made and had a nice feel to them. They are thinner than my normal dedicated running tights (Nike) and have more of compression tight feel to them. I normally use the RX3 compression tights by Zone 3 and I would compare the Kymira tights to a thickness of these RX3 tights. This made me think they may not be much use for when the temperatures are low and it is chilly outdoors, with regards to keeping your legs warm. HOW WRONG COULD I HAVE BEEN!!
Fit of the Kymira Sport IR50 Leggings
They feel silky and stretchy. Using a non-adjustable waistband with the brand name 'Kymira' printed in contrast on and a large Kymira logo on the lower half of the left leg. The leggings have a premium feel to them and fit true to size. I am 70kgs and 172cm tall, inside leg of 31″. Comfortably fitting all the contours of my lower body. There are no baggy, saggy or flappy areas with these.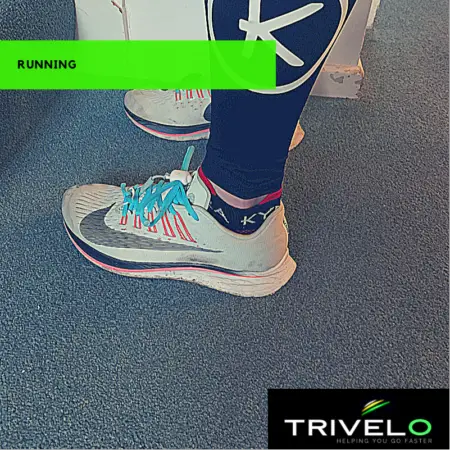 One smaller, nit-picky dislike. Which is entirely personal, is that the waistband sits high and can be noticeable around the level with the belly button. This does, however, help with keeping them up and there is zero slippage down, something you often get with running and compression tights as soon as you start to move around in them. 
Hugely impressed with the fit and premium feel of these tights. I have worn them for everything since having them. 
---
>>> Garmin Forerunner 945 watch versus 935
---
Testing the Kymira Sport IR50 Running Leggings
I have used these tights as per the instructions, yes there are wear instructions! And for other uses not mentioned in the instructions too. 
          Running (Indoor treadmill and outdoor)
          Cycling (Turbo trainer)
          Sleeping
          General wear to help with recovery
          Pre-Training
Kymira recommends that you wear these 30 mins before exercise, during and then for 60 mins post-training. This is not always possible, if you train on your lunch break at work for example, as you will probably want to shower. It would not be possible to wear them for 60 mins post-training. 
Every time I have put these on, I have almost instantly felt a warmth in my legs that you just don't get with any other leggings. Except for thick fleece-lined things, this is exceptional considering they are so thin too and look like normal regular tight leggings. It does feel somewhat weird. The feeling is difficult to explain. This could be the natural reaction to the infrared technology kicking in, I guess? 
When training I wear a pair of pants (runderwear) underneath. Then a pair of running shorts on top so I have pockets available to carry a few bits. 
Priming Legs for Running
In the 30 mins before exercise whilst wearing these, they seem too 'prime' the legs and I have often gone on to nail a run in them. I have used these in temperatures down to approximately 2-4 degrees Celsius and have never felt cold at all. Up to 16 degrees outdoors plus on the treadmill and have never felt too hot in them either. 
Therefore, I can vouch for the claim of being able to regulate temperature is spot on. Perfect.  Again, having worn them on the turbo I have the same outcome, although I do prefer to ride in cycle/tri shorts.  Post-training, they keep you warm as your body temperature naturally drops as you cool down. 
---
>>> Ultimate Triathlon Bikes Round-Up 2020
---
Recovery Leggings
I have worn these both on general recovery days and whilst sleeping. I did get a little hot when sleeping in them but that will be because of the bed covers. Popping the legs outside of the cover and sleeping like that is fine and they keep the legs at a perfect temperature. Whilst they are not hugely compressive, they hold everything in place. The following morning you do get the feeling that your legs have taken on some form of recovery, more than usual when not wearing them. 
Testing SpO2 levels
I was also interested to see if my SpO2 levels changed at all when wearing these and not. I have the Garmin Fenix 6 which records this parameter (apparently). It usually sits around 92-94%, whilst I do not think it is highly accurate, it is a base figure to draw comparisons.
On two separate days, I recorded my levels whilst not wearing the leggings at all and the figures were 92% each time. I then wore the leggings the following day, recording my Sp02 levels at the same time as the previous day. They came out at 93% for two recordings (2nd and 3rd recording) and 92% for the first. A third-day recording without wearing them showed 3x 92% again. Now, I know this is hardly scientific and many things could sway these results but for the day I wore them there was an improvement of 1% across the three recordings. 1% does not sound much but I guess when you need an extra 1% of oxygen, say in a race or an interval run or something. 1% can be significant. 
Durability of the Kymira Sport IR50 Run Leggings
I washed these almost daily for the first two weeks of use. Trying to test whether they would go baggy or out of shape by 'over-washing' them. But they have not budged and having logged probably close to 100 hours of use they fit the same as they did on day one. Even the logo decal on the left leg has survived.
Mixed with normal sports kits at both 30 degrees and the occasional slip into a 40-degree wash and have been fine. 
After being washed every day for 2 weeks, they are now only washed having worn them during training. Equally, if I wore them for a few days, either, as the 30-min pre-training period, the 60 min post-session or overnight, they have not changed shape or fit. 
---
>>> KitBrix Triathlon Bundle Bag Review
---
Summary of Kymira Sport IR50 Run Leggings Expert Review
Overall, these are a superb pair of leggings. Even if you do not believe the marketing claims, these leggings will not disappoint in performance. 
I would 100% recommend to anyone. They fit well, stay up without creeping down, react well to the body's movement during training. Even if a few wrinkles appear around the knees you only become aware of it from a visual perspective. I have never had to adjust them mid-run. 
Since having these, I have researched the brand and their kit further. I have seen that they do a pair of gloves that claim to help alleviate the symptoms of Reynaud's Syndrome. Something my wife suffers from quite badly in her hands, to a point that when she has symptoms her fingers and hands are almost sheet white. I will be looking to get her a pair of these gloves to try out. If the gloves perform like the leggings, then I am sure they will help her.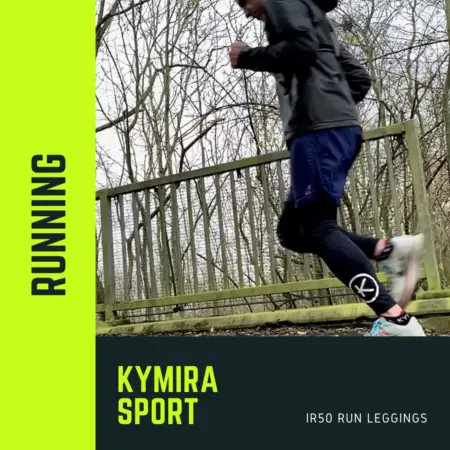 Kymira has produced a pair of leggings that are truly faultless. They have been my go-to leggings for running over the last 6 weeks and I can see these still being in great condition for a long time yet. 
If you are looking for a quality pair of running leggings that will fit, not slip down, 'energise' your legs and help with recovery too then you do not need to look any further than these Kymira IR50 leggings, best of all they are backed by research and are medically certified. 
Well done Kymira!
Best Price for the Kymira IR50 Running Leggings
Buy the Kymira IR50 Leggings for £80 direct from Kymira
---
Video Summary of Jason Kymira Sport IR50 Run Leggings Expert Review