This weeks review comes from the latest Trivelo test associate with the Nike Air Zoom Alphafly Next% Review. Matt has been putting these special Nike running shoes through their paces and shares his thoughts. The Nike Alpha Fly Next% are the shoes behind the sub 2 hour marathon effort from Eliud Kipchoge.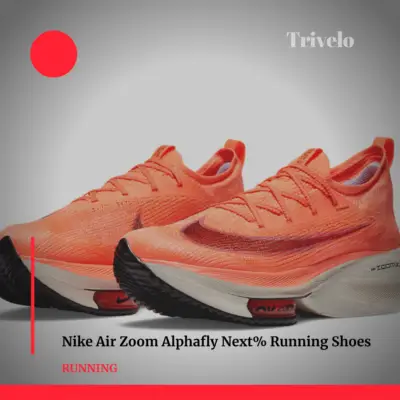 So, are the Nike Air Zoom Alphafly Next% worth the money?
Nike Air Zoom Alphafly Next% Specifications
Weight: 8 oz / 227g (Mens Approximate weight. Varies depending on size)
Offset: 4mm (Forefoot: 35mm / Heel: 39mm)
Classifcation Type: Road Racing Shoe
Upper Material: Atomknit
Midsole: Carbon Fibre plate with twin Air pockets
Sole: Rubber
---
---
Introduction to the Reviewer
I would class myself as an average club runner. My PB for 5K is 18:47. For 10k 38:55. Half marathon is 1:27 and my full marathon is 3:25. I've never really worn Nike trainers. Previously I've always been a Brooks or a New Balance man.
So when Eliud Kipchoge broke the 2 hour marathon, in what was later being called a revolutionary trainer, I was immediately interested in getting my hands on a pair. vI thought, if they are good enough for Kipchoge, they are good enough for me. Just goes to show the power of exceptional marketing I suppose. 
First Impressions of the Nike Air Zoom Alphafly Next%
I bit the bullet and invested in a pair. And when I say invest, I really mean it. These are the most expensive running shoes I have ever purchased.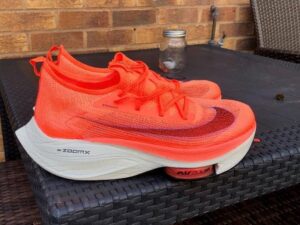 When you get the out of the box you might think, blimey, they are brighter than they looked on the website. Can I really pull these off? However what is more stunning is the weight. They are exceptionally light for such a big looking shoe.
Fit of the Alphafly Shoe 
The upper part of the shoe is called the Atomknit. This is essentially a net like structure. It's much lighter, more breathable and better at keeping the water out than the previous Flyknit. Which is perfect for racing. 
There is minimal padding except for a small pad on the heel collar which is there to prevent your heel from slipping.
For me I found the upper of the Alphafly to be unbelievably comfortable. The heel to mid-foot are fairly snug but in a good way, I felt locked in. The toe box is also wide. Finally because the laces have been placed at an angle going up the shoe, I didn't get any tightness across the upper part of either foot. Something I tend to struggle with.
Running in the Nike Air Zoom Alphafly Next%
When I first laid eyes on the Alphafly, I thought they looked so big and cumbersome. They've surely got to be difficult to run in. That's really not the case. The front of the shoe really flares out making it very stable. The mid-foot is also wider than the previous Vaporfly 4% and Next%. To be honest this design will suit even heel strikers. I found it was exceptionally good when going through turns.
The sole unit also has a carbon plate named Flyplate. It gives you a feeling of being propelled forward as you go along. This is because the plate is anchored and when the ZoomX Foam compresses and is then released it propels you forward.
The Zoom Air Pods are the biggest change, in comparison to the Vaporfly Next%. To be honest when I first got them on and was walking around I couldn't really tell they were there. However, I really noticed a difference when I started picking up pace and got this feeling of springiness in the fore-foot.
Summary of Review of the Nike Air Zoom Alphafly Next% shoe 
This is truly an amazing shoe. It feels comfortable, responsive, cushioned even on slower, easy runs. I would have no issues lacing these up for marathon, where I have traditionally run in a more supportive shoe. The shoe wants you to run fast as you'll get more out it. So, it wouldn't surprise me to see the majority of the Nike athletes competing in these.
This is truly an amazing shoe.

Matt Newell – Trivelo Test Associate
It is an incredibly noisy shoe. The sole does slap the ground and in my pair I can often hear a squeaking sound. As yet I haven't been able to identify where it's coming from. 
It does have incredibly good traction both in dry and wet weather on the roads. But take care on the pavements as I found it to be a little slippery when wet. 
Yes it's extremely expensive for a racing shoe. And yes you probably want to reserve them only for race days given the cost per mile. However, this shoe is a true all-rounder. It would be perfect for your 5K or 10K race, or even your Half or full Marathon race. For what you get, the price tag is well justified.
Buy the Nike Air Zoom Alphafly Next% direct from Nike for £259.95
Buy the Nike Air Zoom Alphafly Next% direct from Nike for $275