Running shorts. I've tried dozens of pairs over the years. None of them make me any faster! And loads of them are not that comfortable and make me look like a sack of spuds. So, for this weeks article I have been working on the Under Armour Vanish Woven 2-in-1 Shorts Review. Could they be the Perfect running shorts? Finally. Maybe. Hopefully!
Summary of Review
Trivelo Score – 5 / 5
Under Armour have designed a stylish set of 2-in-1 running shorts that I have found super comfy for running. Equally they are great for the gym as well. After running in dozens of alternatives they are the most comfy shorts I have ever run in. Love them.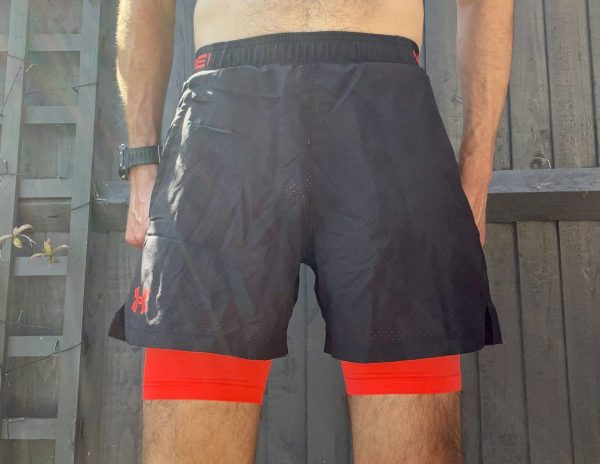 Buy them now for £29.99 from Under Armour UK (40% off currently)
OR Buy them now for $55 from Under Armour USA
---
First Impressions
The shorts come in a few colours. I went for the black outer colour coupled with a bright pinky orange under-short. Might be a bit bright for some but I like the contrast. I tend to play it safe with running kit so my drawer is littered with grey, black and blue. Picking them up they feel light and well made as you would expect from Under Armour. The lycra feels like it will last and not cause any irritation. Something all runners are fearful of. Chafing around the potatoes is no fun!
---
Fit of the Shorts
I'm 6'3″ and weigh 80kg. My waist is 32-34″ depending on what I'm buying. For the review of the Under Armour Vanish Woven 2-in-1 shorts I went for a medium size. They are a fitted style I would say which suits me as I don't have massive thighs. Some running shorts can be baggy on my but the UA shorts are a good fit. The lycra fits well without creating too much compression allowing me to move freely. The outer short is 6″ long and the lycra under short is 7″.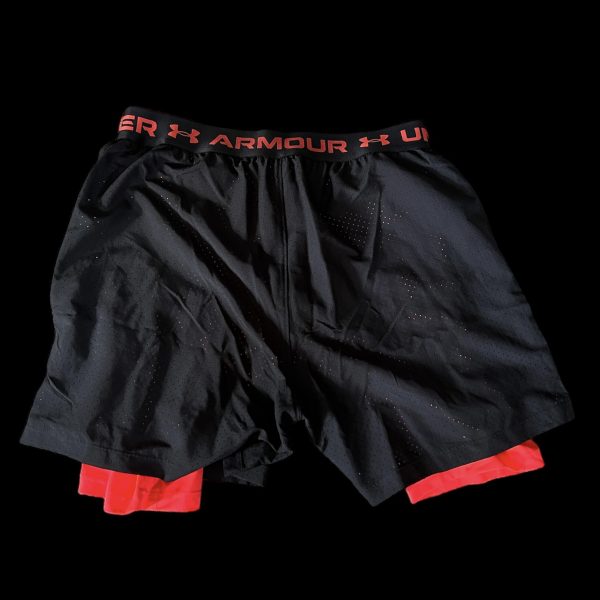 On my legs the shorts are mid thigh which works. I like the compression lycra shorts longer and there is no need to wear anything underneath. It does make my Under Armour compression pants redundant I guess.
---
Look of the shorts
The UA running shorts are very lightweight with the outer short peppered with holes to allow the bright under shorts to be seen. They are not a "short" short that I know some runners favour so worth considering. They move well with you and have the Under Armour branding that works without being too garish.
If you are looking for a new pair of running headphones read our review of the Shokz OpenRun headphones. Innovative open ear technology allowing you to hear what is happening around you. Important for staying safe while running and able to hear traffic and other people.
---
Running in the Under Armour Vanish Shorts
I ran a number of times while reviewing the Under Armour Vanish Woven 2-in-1 shorts. Generally running between 3 to 8 miles and they were comfy through each of these. I also ran in the rain for some of these runs and had no irritation from this with the shorts drying really well. The running shorts move with you without restriction maintaining a good level of comfort .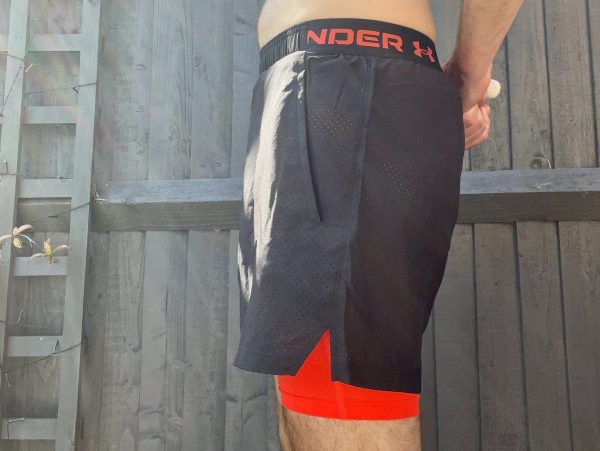 ---
If you are into your technical numbers for training read our review on what is VO2 max and how you can use it to train smarter. Helpful insight on how to measure your VO2 max numbers and ways to improve it.
Conclusion
The Under Armour Vanish Woven 2-in-1 shorts are my favourite running shorts. I've run in shorts from Nike, Adidas, HUUB, New Balance, Asics and countless others. The 2-in-1 design is something I have been looking for and Under Armour have nailed it. No reservations in recommending the shorts to anyone. Go buy them.