This weeks blog comes from another new Trivelo Test Associate. Matt has been spending time with the Ultimate Performance Aire Flex 18 Race Vest Pack review. This review is essential reading for all you ultra-runners who place high demands on their kit.
Introduction to the reviewer
I'm Matt and I've been taking part in triathlon and single discipline events in various forms over the last 10 years or so. It all started out for me after seeing a race on TransWorld sport and thinking that looks like fun. 10 years later and many races later, I am still very much taking part rather than being competitive. I love being outside and what triathlon and the training brings to me and the positive impact it has on those involved regardless of ability. Just being outside is a big plus for me.
First Impressions of the Ultimate Performance Race Vest
Unpacking the race vest, there was not much packaging which is a win. First impressions were great. The vest pack (when does a pack become a rucksack!?) looks good and there are some nice features on it that I was impressed with.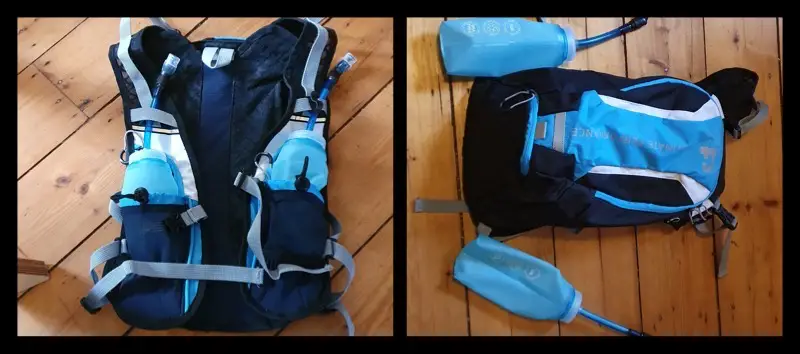 First off the weight of the empty pack is really impressive. It's very light you get the feeling that UP (Ultimate Performance) have selected their materials wisely, More heavy duty where needed and lighter weight where not. 
Secondly, the chest strap has a whistle on it. Something really simple, but on a pack that is designed for long distance adventures could be a life saver. Oh and it works, it's not one of the novelty additions, just ask my wife!!
Construction of the Race Vest
Materials and general construction no the pack, I was a little concerned over the thickness of the straps on the pack. They really are very minimal in their padding, by minimal I mean non-existent. My current pack has a small amount of padding and I have of found this to be fine for a couple of hours plus running. Only time would tell how I get on with no padding.
You get two 500ml soft flexible flasks with the pack as well which I thought was a nice touch especially at the £79.99 price point. There are three pockets on each strap that vary in size. Holding anything from a smart phone to an energy bar, these are in addition to the pocket for the flexi flask. 
Another good feature and one I have struggled with over the years with packs/ rucksacks in general is the amount of adjust-ability. There is really quite a lot on the Aire 18 that should bode well for a comfortable pack whilst running.
Comfort while running in the vest pack
I have tried the pack out on a number of runs now. On different terrains, in varying weathers, short and longer distances and with varying amounts of kit on each run. It took a couple of runs to get the pack setup to be comfortable but once done. Its been great and I haven't had any issues.
On one run I loaded the pack with a change of clothing, a full water bladder as it has space for one as well as the flexi flasks and a small amount of nutrition. I ran for a couple of hours to see how the pack faired for comfort especially given the extra weight I had loaded than previous runs.  The pack took it in its stride and despite the extra weight being noticeable it wasn't uncomfortable. I had been able to get the pack fitting really well and snugly which minimised the amount of 'bag swing' (technical term).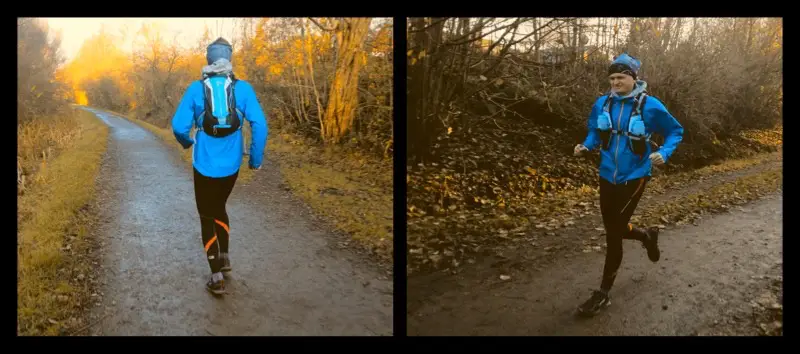 The concern I had over the lack of padding on the shoulder straps really hasn't been an issue. Even when running in a t-shirt and running in the rain with a waterproof has been equally as comfortable. And on fully loaded run the straps were more than comfortable, maybe sometimes less is more.
Hydration with the Ultimate Performance Race Vest
Using flexi flasks in any form is new to me, as I have always used a more traditional water bladder. The flasks themselves were easy to fill up and use once on your way.  However, I did find them a little fiddly to get into the pockets properly on the pack itself.  
The three pockets are all easily accessible, even the zipped one easy to access with one hand with a nicely sized zip toggle thingy.
I found myself having to take the pack off to get the flasks into the pocket after refilling. It is possible that I haven't been doing it properly and it will get quicker with time, but first impressions were this element was a bit clunky.  That being said you wouldn't want the flask to be loose in the pocket so it's probably not a bad thing to have to spend a little time on this.
As a redeeming feature there are some handy loops on each strap above the flask pocket. These can be used to support the straw on the flask, making it a little less important to get the flask fully into the pocket than without these supporting loops. I'm not sure if this is a design feature but it worked well for me and it kept the straws from flapping about which I would have found a distraction.
Durability of the Ultimate Performance Race Vest
So far the pack has been great and the materials noted earlier in the review have held up well and really haven't shown any signs of wear and tear.  The pack itself is quoted as being able to hold 18 litres of storage, I'm not sure what 18 litres of kit equates to but the weight I added has had no impact on the pack so far. Only more use and time out running will tell on long term durability but so far so good.
Summary of Ultimate Performance Vest Pack Review
The Ultimate Performance – Aire Flex 18 Race Vest Pack is a great pack and one that I would consider buying for a future adventures.  At the RRP £79.99 which includes two flexi flasks which are RRP £12.99 each, it's a fantastic value for money pack.
If you are on the lookout for a race pack for an upcoming Ultra or after a lightweight pack for walking or any adventure then give this pack a look.
Thanks and disclaimer of review
If you've got this far thanks for reading, I hope you found the review useful. Happy running. 

See Matts video review over on our YouTube Channel.

https://youtu.be/apibFg-V8Ns

Buy the Ultimate Performance Race Vest for £79.99
Alternatives to the Ultimate Performance include:
Salomon Agile 500 Run Belt for £32
Read more running articles with our fabulous review of the AfterShokz Aeropex Bone Conduction headphones review. Well worth a read.