This week Yvonne from the Trivelo test team has been completing the KitBrix Multisport Bag Review. For anyone who has racked their bike in a triathlon for the past few years it will have been hard not to spot KitBrix in transition. We've admired the Award Winning KitBrix solution to simplify transition for some time so thrilled to have the opportunity to complete this review finally. KitBrix believe their multisport bags will save you time and help you perform at your best. Hear what Yvonne made of the Kitbrix kit bag in this in-depth review.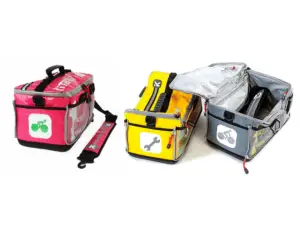 Introduction to Yvonne
As a keen amateur triathlete, I jumped at the opportunity to test these versatile bags from KitBrix. The bags are by no means just for triathletes. The product range is broad and has something for any active person who loves to be organised when on the go.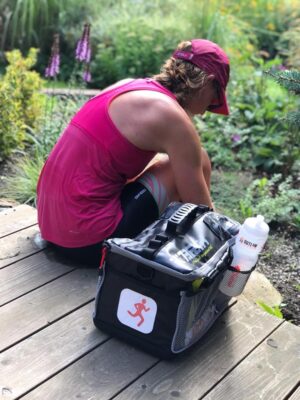 First Impressions of the Kitbrix bags
I was positively surprised when this huge box arrived on my door step. Inside was not just one big bag but three, as well as a day rucksack and dry bag. From first impressions you can tell that the products are very well made using a sturdy, waterproof material which is very appealing.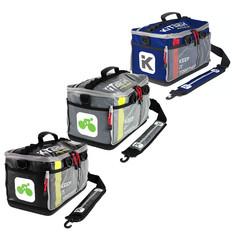 KitBrix Day Rucksack
The day rucksack is an excellent size for taking down the local pool or just heading out for a hike. It's great that it comes with a front pouch and I like the system of rolling down and clipping in to lock the bag securely. The straps are adjustable and should fit any size and shape. I tried to run with it as the pool wasn't far but wouldn't recommend it as its not set out to be a running bag.
The Dobi dry bag fits very nicely into the rucksack. It has the same roll down lock in system which is a great way to keep the wet stuff from leaking out. I use the dry bag as my everyday swim bag which is the perfect size to fit in my tools such as pull buoy, paddles and goggles. The waterproof lining is easy to pull out and dries really quick ready for the next swim. My previous carrying devise was a plastic bag, so am super chuffed to have this Dobi Dry Bag.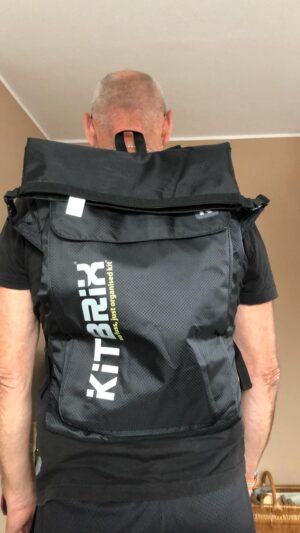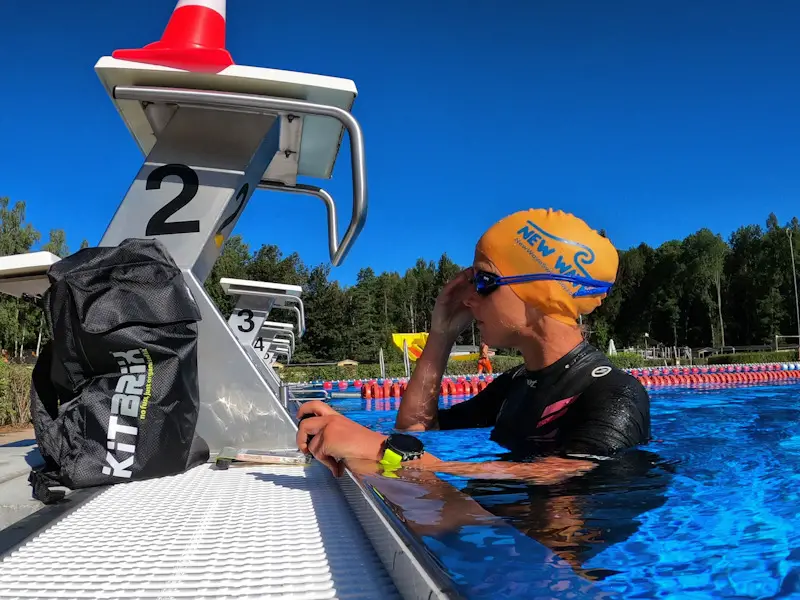 Triathlon bags specifications
As the product is aimed at triathletes, I was given three big storage bags which each had their own shoulder straps. Each bag has webbed pockets outside, a bespoke icon pocket and a little see-through window for your ID card. Inside of the lid is a see- through pouch with a zip which allowed any paperwork and passport to be stored safely. Additionally there is another side pocket as part of the big compartment (perfect for competition racing).
Each bag comes with its own swim, bike, run icons. These easily slip into the pocket on the front and help you quickly identify what is where. The icon badges can be customised to fit your sport or even club which I think is a nice touch. Personally, I think It not only looks great but lets others see your passion. Most of all, it helps to methodically plan and pack your bags for a triathlon race and being organised in transition. We all know how hectic things can go and we easily forget or misplace the goggles or forget the running socks.
"Having three bags just takes that stress away and results in an enjoyable race day experience."

Yvonne – Trivelo Test Associate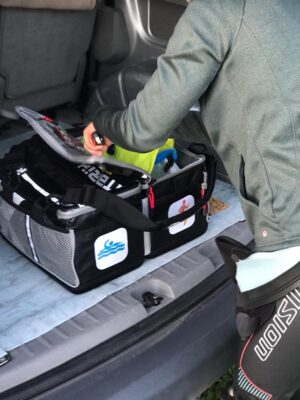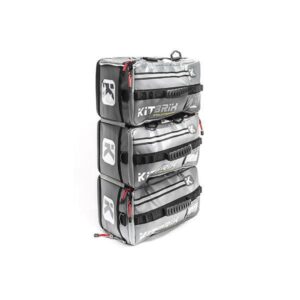 Kitbrix Dimensions
The bags measure at 39cm x 24cm x24cm and my first thought was, will a wetsuit fit in there? I didn't need to worry, as to my surprise there was plenty of space. I managed to pack the following in the KitBrix Bags:
Two pairs of shoes
Bike helmet
Wetsuit
Socks
Goggles
Triathlon Race nutrition
Two water bottles
A change mat
Sunglasses
My dry bag with change of clothes for after the race.
As the bag has a very rigid base, it keeps its shape not matter how you pack the bag. The next challenge was how to zip them all together.
Using the KitBrix bag system for the first time
There weren't any specific instructions on how to assemble the individual bags. The videos on the KitBrix website weren't accessible at the time of testing. So, it was a bit of a trial and error but I got there eventually. I guess, as with many brand new products, the zip was quite tough. After regular use this will become much easier to use.
Now with all three bags zipped together, I had to decide how to adjust the shoulder straps. This involved a lot of experimenting with initially. To do this I needed some help adjusting and fitting, which took quite some time due to so there being so many configuration options. It's literally try on, take off, readjust, put on, take off. We got there in the end.
Fit of the Kitbrix kit bags
Being only 5ft 3in, all three bags zipped together were almost as tall as me! Result was it made me disappear whilst carried on my back, which gave my other half quite a chuckle. On race day I left two of the bags in transition and took one with me. This had googles, nutrition and warm clothes and which I then dropped off at the car shortly before race start.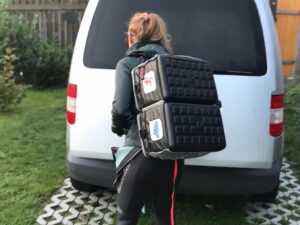 See Yvonne adjusting the fit of the KitBrix kit bags in her video.
Race Testing of the KitBrix kit bags
After the year we've had, I felt very lucky to have at least one triathlon race over the middle distance at the end of August. So was great opportunity to put the gear to the test in a real triathlon race.
In previous races I would just throw everything in the back of the boot of the car after the race and head straight back to the accommodation. This time everything was nicely organised and look far less chaotic.
So, if you are someone who values organisation and having the boot of your car looking like you are in charge of your life, the KitBrix bags are for you. The idea of having as combining multiple bags together to form one big one, but still compartmentalising your items is a great idea and takes out the worry of looking for things or wondering have I packed everything. The initial set up took some time, but the versatility in putting it all together, it really fits any size and shape.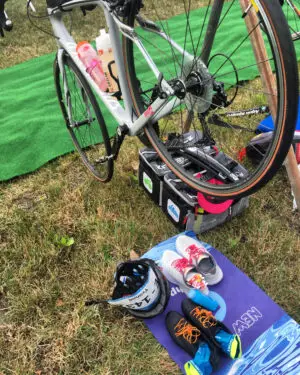 Summary of KitBrix Multisport Bag Review
And yes, they might not be the cheapest bags on the market but they are a great alternative to just one big bag and serve as great storage space when not out and about swimming, cycling or running.
See the video review summary from Yvonnes experience with the KitBrix Multi-sport Bag
Best Price for the KitBrix Triathlon Kit Bags
Buy the KitBrix Triathlon bundle from Kitbrix direct for £220
For further triathlon related articles from Trivelo
Best of best triathlon bikes 2020