This weeks blog is the latest in our series of swimming wetsuit reviews by real athletes. The author is a first time Trivelo guest blogger so be gentle with him. Warm welcome to Shayne one of our Triathlon test associates who shares his views with the Huub Aerious II Triathlon Wetsuit Review. This is fab. Well worth a read.
About HUUB
If you're in Triathlon then you'll be familiar with super brand HUUB. If you're new to Triathlon then prepare to find out about them!  Initially a wetsuit specialist, HUUB are now a more generalist Triathlon sports apparel and accessories company. HUUB offer cycle gear, luggage, leisure wear and a host of training aids.  You'll no doubt know of them through their sponsorship of elite athletes. HUUB notably sponsor "The Brownlees", Georgia Taylor-Brown, Jess Learmonth and endurance swimming legend Ross Edgeley. Ross Edgeley famously swam around the U.K in a Huub wetsuit and the star of the Sink or Swim celebrity Channel 4 programme.  The brands investment in the HUUB cycle racing team, testament to their technical understanding and commitment to racing – fast. 
Ordering your Wetsuit from HUUB
My wife actually bought this suit as a surprise!  What a fantastic surpise!  However, this tells you that the ordering process is quick, easy and needs the minimum of fuss – just add your dimensions and place your order.
3 Essential considerations when buying a wetsuit online. 
Where possible – try it on first.  Wetsuits are snug, and they all have a slight difference in shape, one suit may suit broader shoulders, another may not. 
If you're on the edge of a weight category, I'd say go a size up rather than squeeze or be squeezed into a tight suit.  Put a pound or two on and you'll find your suit may pinch in areas it shouldn't. You may end up fighting your suit and not the water come race day.
Have a look at Huub's bundles, or also their end of sale items can give you great value.  
First impressions of the HUUB Aerious II Wetsuit
So the Huub suit arrives in a gleaming Huub branded box, more akin to a designer item of clothing arriving rather than the uber fast suit inside.  All cardboard and minimum plastic to be friendly to the environment and arrived in good time. 
How to put on a HUUB Wetsuit
Believe it or not, there is a knack to putting on a wetsuit.  Kindly Huub have a great video to demonstrate this, with none other than Richard Varga demonstrating the correct way to put a suit on.  I'll not go into this in detail here other than to say there are multiple things to consider and ignore the tutorial at your peril.  I found this out the hard way in my first race using it, after about 400m I found I was fighting against the suit, with it being harder to recover my arm than it was pull against the water – all caused by me not putting it on properly, not the suit!
Review of Swimming in the HUUB Aerious II Wetsuit
Firstly, I should mention my swim. I used to be a 22min 1500m swimmer, reasonable for an age grouper. I have managed a PB in this suit with  a 19:56, so the HUUB wetsuit is fast and definitely does make you faster – considerably faster!  I have been working on hard my swim but the effect of this wetsuit compared to other I've used should not be underestimated.  Once I had mastered the putting on technique, I then found I could truly enjoy its benefits, which are plentiful!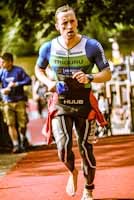 Firstly the HUUB Aerious II triathlon wetsuit is a 3:5 ratio.  This means 3mm of neoprene thickness in the upper body to 5mm in the legs.  Ideal for those swimmers who have sinky or lazy legs or those who dont want to kick quite as much to save their legs a bit.  The fact my body felt more horizontal than usual did take a bit of getting used to, particularly with the head position, but it doesnt take long to make those adjustments.  
HUUB X-O Skeleton technology explained
What is really noticeable to me is the HUUB X-O skeleton technology, with the suit noticeably supporting your body rotation and making it much easier to get the rotation you need to glide through the water.  The neoprene is super thin and therefore super flexible in the arms and shoulders!  Once you get the fit right, it is really flexible compared to other suits I've worn and the impingement on your shoulders is minimal.  
Super Fast transition in the HUUB Aerious II wetsuit
It's super fast in transition – I love the fast release zipper on the back – no more faffing in transition trying to find the zipper, this comes off literally in a snap!  Pull the zipper conveniently velcro'd near the arm and you've unzipped!  Coupled with the spped cut calves to make it really easy to get off the legs and ther are no more excuses for losing a place or two by a few seconds in transition anymore!  
Disadvantages of the HUUB Aerious II swimming wetsuit
So what downsides are there to this wetsuit… As you can tell there arent many!  Price – it is at the pricier end of the market, but in my opinion if you are a competitive triathlete, then it is well worth it – it will save time in the water and in transition.  The putting on of the suit does take practice to get right.  Cut to your race morning – spending 15 minutes or so getting it on right, while you're nervous and you'll half a multitude of things to think  about already. So make sure you practice putting it on!  
Summary of the HUUB Aerious II wetsuit review
I'm really impressed by the suit HUUB Aerious II triathlon wetsuit. But also impressed with HUUB. Impressed with their other products, but more so their commitment to understanding the sport of triathlon and what is required to go fast.
Huge thanks to Shayne for this epic review. Fantastic insight into owning and racing in the HUUB Aerious II wetsuit. We want one. If you are looking for a good comparison then check out our review of the Zone3 Vanquish swimming wetsuit.
Best place to buy the HUUB Aerious II Triathlon Wetsuit – Wiggle £379.50