Triathletes often have a real appetite for data to help drive structured training and race execution.  Heart rate based training zones rely on accurate information on your exertion level with instant feedback on the numbers.  To help you navigate through the sea of options we have pulled together our list of 6 of the Best Triathlon Heart Rate Monitors 2022.  Using our panel of triathletes we have been able to get real world user views on what works and what doesn't.  
Use our Triathlon Heart Rate Monitors Buyers Guide to help you compare models and decide what fits your needs best.
List of the 6 Best Triathlon Heart Rate Monitors 2022
Garmin Forerunner 945
Garmin HRM- Pro
Garmin HRM-Tri
Garmin HRM-Swim
Polar H10 Heart Rate Monitor
Wahoo TICKR X
---
Best Triathlon Heart Rate Monitors 2022
1. Garmin Forerunner 945
If you don't fancy using a heart rate strap for capturing your heart rate information then a watch with wrist monitoring could be the answer. The Garmin Forerunner 945 is our favourite triathlon watch and comes fully featured with optical heart rate monitoring.
The Garmin Forerunner 945 uses green low-intensity light that is shone through the skin to determine heart rate. This works by measuring the light refractored by the blood flowing through your veins. It is subject to variance based on the bone and soft tissue around your wrist.
All the other triathlon heart rate monitors in our round-up use chest straps that measure the small electrical impulses given off by your heart as the muscle contracts. It means as you get warmer and begin to sweat the accuracy of a chest strap heart rate monitor improves. This can be in contrast to a wrist based optical light sensor that can be impacted by changes in sweat and water.
Best Price for the Garmin Forerunner 945 Watch
Buy the Garmin Forerunner 945 for £499 from Wiggle
---
>>> Best Garmin 945 Watch Alternatives
---
2. Garmin HRM-Pro Heart Rate Monitor
Garmin no surprises feature in our list of the best triathlon heart rate monitors. They have been refining their monitors for over a decade and still firm advocates of the quality of data from chest strap monitors. The Garmin HRM-Pro heart rate monitor with chest strap promises more accuracy than ever before. This triathlon orientated strap can work through all disciplines with full water proofing to capture metrics through the swim.
The strap needs to be paired with a suitable Garmin device such as the Garmin Forerunner 945 Watch. The HRM-Pro has a combination of ANT+ and Bluetooth connectivity for pairing meaning you are not limited to multi-sport watch connectivity. The heart rate monitor strap will also function perfectly well for all those using it on a Turbo Trainer for Zwift or equivalent indoor cycling.
The Garmin HRM-Pro Heart Rate Monitor captures your heart rate in near real time. In addition it is able to calculate steps and intensity using algorithms inside the monitor itself so it is not a purely passive capture device. The device is able to capture and store the information in local storage for up to 18 hours use allowing you to finish a swim and then connect to upload the results. Or complete a full Ironman if you wished! All that water can make connectivity for devices a problem which many of you will know from inconsistent results on various historic monitors.
The Garmin HRM-Pro Heart Rate Monitor is designed with open water in mind as opposed to the challenging environment that is a swimming pool. The harsh chemicals tend to not only be bad for us but also technology. The HRM-Pro will cope with occassional use in the pool but if this is your bread and butter routine use the HRM-Swim. More tech to buy!
The HRM-Pro is powered using standard CR2032 cell batteries rather than being rechargeable. Garmin have not yet nailed the connections for waterproof straps retaining a permanent battery it would seem. That said with low costs on the CR2032 batteries it is a perfectly adequate solution. In addition with a forecast 12 month battery life you won't need to worry about this very often.
Best Price for the Garmin HRM-Pro
Buy the Garmin HRM-Pro for £113.99 from Wiggle
---
>>> CycPlus M1 GPS Bike Computer Full Review
---
3. Garmin HRM-Tri Heart Rate Monitor
Second offering from the gurus at Garmin in our list of the 6 best triathlon heart rate monitors comes the Garmin HRM-Tri Heart Rate Monitor. This is my personal favourite and go to chest strap based HRM for triathlon. The strap and monitor are the lightest and most comfortable from my own use. I wouldn't go as far as to say you will forget you are wearing it but pretty close.
The functionality is shared heavily between the Garmin HRM-Pro and the HRM-Tri. Both use local storage to allow the capture of information without connectivity issues with the HRM-Tri quoting storage of up to 20 hours. 2 more hours when compared to the HRM-PRo. It is designed to connect to a suitable device such as Garmin watch through ANT+.
The HRM-Tri shares the battery technology with the HRM-Pro using CR2023 cell batteries. The quoted average life of these from Garmin is up to 10 months. Two months less than the HRM-Pro. These figures will be dictated by your level of use. If you're out there doing 10 hours of training a week the numbers are likely to be less.
Like the HRM-Pro the HRM-Tri will capture more than just heart rate information but is a useful running aid. The HRM-Tri also uses an in-built accelerometer like the HRM-Pro to capture steps but also torso movement for running dynamics.
The Garmin HRM-Tri is most suited to open water swimming rather than harsh chemical based swimming pools. The materials will not last in the same way the HRM-Pro will suffer if put in this environment on a regular basis. So why buy the HRM-Pro instead of the HRM-Tri?
>>> 9 of the Best Triathlon Bags 2022 Buyers Guide
Best Price for the Garmin HRM-Tri
Buy the Garmin HRM-Tri for £94.99 from Wiggle
---
Garmin HRM-Pro HRM vs Garmin HRM-Tri HRM
There are 2 main differences between the GarminHRM-Pro and the HRM Tri.  Firstly is the battery life with the Pro having 12 months and the Tri having 10 months.  The other difference is the connectivity.  The HRM-Pro HRM introduces bluetooth connectivity in addition to ANT+ connectivity that the HRM-Tri relies on.  Bluetooth allows the HRM-Pro to connect to a wealth of additional devices beyond the obvious Garmin watches.  If you are looking to connect through to a phone or possibly use in the gym with bluetooth equipment the HRM-Pro is better for you.  
---
>>> 15 Best Triathlon Wetsuits 2022 Ultimate Buyers Guide
---
4. Garmin HRM-Swim Heart Rate Monitor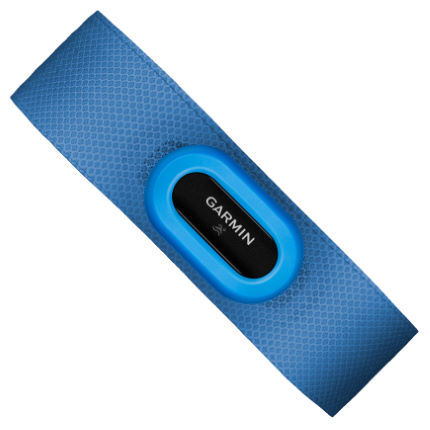 Garmin appearing for the 4th time in our line up of the best triathlon HRMs. The Garmin HRM-Swim is class leading for swimming but can be used throughout triathlon training and racing. The Garmin HRM-Swim has a waterproof classification of 5ATM that means it can withstand water pressure up to 50 metres in depth. Reality is the device is only rated for time under water of 1 hour although I know plenty who use it for longer periods than this.
The Garmin HRM-Swim relies on CR2032 cell batteries with a forecast of 8 months. The Garmin HRM-Swim vs Garmin HRM-Tri vs Garmin HRM-Pro sees battery life reduce through each version. The HRM-Swim recording the shortage battery life at 8 hours compared to 10 for the HRM-Tri and 12 for the HRM-Pro. As stated already the battery life estimates are based on usage that varies depending on your training regime. The Garmin quoted battery life for the HRM-Swim is 8 months based on an average of 3 hours swimming a week.
The Garmin HRM-Swim heart rate monitor relies purely upon ANT+ for connectivity so unable to connect to bluetooth devices. This in practice means you are reliant on a Garmin watch such as the Forerunner 945. Not really a big problem for most who are likely using this for SWOLF metrics alongside heart rate information.
Very much the other Garmin Heart rate monitors the HRM-Swim has local storage for up to 20 hours of information to be captured. This compares directly with the HRM-Tri likely sharing the same storage for this.
Best Price for the Garmin HRM-Swim
Buy the Garmin HRM-Swim for £75.99 from Wiggle
---
>>> 15 of the Best Road Bikes under £1500 2022 Buyers Guide
---
5. Polar H10 Heart Rate Monitor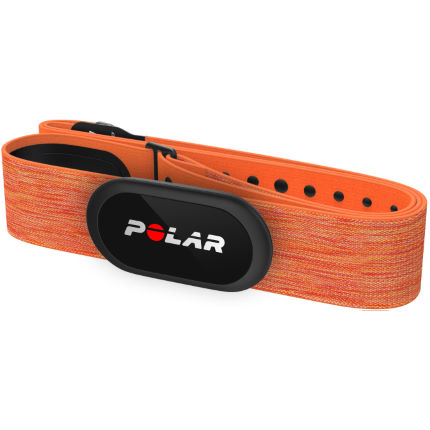 Number 5 in our list of the Best Triathlon Heart Rate Monitors comes from another mainstream player – Polar. Like the 3 earlier Garmin chest strap HRMs the Polar is designed to capture heart rate information through swim, cycle and run. Designed following a common approach with a chest strap Polar promise first rate accuracy from the Polar H10 Heart Rate Monitor.
The Polar H10 uses ECG sensors following the Garmin which uses the most advanced electrodes to guarantee accuracy. Polar claims on the quality metrics achieved. The sensors are fully water proof and capable of storing heart rate information for a single exercise thanks to local storage. Allowing for the information to be uploaded following exercise.
The Polar H10 HRM comes with both bluetooth and ANT+ connectivity so you do not need to pair this with a Polar watch. Bluetooth connectivity allows direct connection to a mobile phone or suitable fitness equipment. This makes the Polar H10 HRM a direct competitor for the similar specced Garmin HRM-Pro Heart Rate Monitor.
Battery life is impressive with over 400 hours operation on a single battery that should mean battery replacement at a class leading level.
Best Price for the Polar H10 Heart Rate Monitor
Buy the Polar H10 Heart Rate Monitor for £75.52 from Wiggle
---
6. Wahoo TICKR X Heart Rate Monitor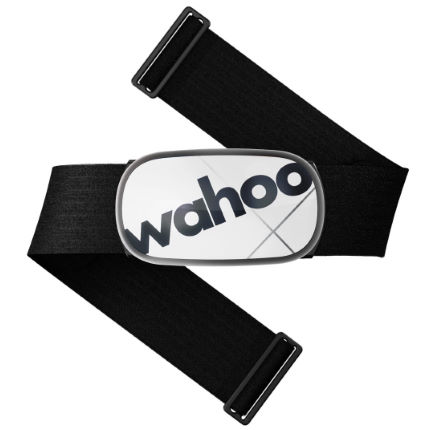 Wahoo have transformed the turbo trainer market with various products so no surprises they have extended this to peripherals such as heart rate monitors. Maintaining their innovative approach they pushed for full connectivity to allow bluetooth pairing with the bike and other kit. Meaning their triathlon heart rate monitors are compatible with a wide range of kit as well as crucially being waterproof. The waterproof casing is IPX7 rated so good for 30 mins and up to 1 metre only. Potentially a limiting factor for anyone considering using in longer swimming events.
They have recently updated their heart rate monitor with the Wahoo TICKR X focused more on comfort and design. The monitor has bluetooth as mentioned but is capable of handling 3 bluetooth connections. This means you can integrate across multiple products such as the app on a phone, watch and the bike unit itself. If you want to purely use the Wahoo TICKR X it can sync to the proprietary Wahoo mobile app on iOS and Android.
Like the two Garmin triathlon heart rate monitors the Wahoo TICKR X heart rate monitor has local storage. This memory has increased on the latest version. It now can handle up to 50 hours of memory. This is class leading against both the Garmin HRM and Polar.
The Wahoo TICKR X Heart Rate Monitor is not limited to cycling sensors. Wahoo HRM will track running metrics as well as heart rate. The Wahoo HRM will track cadence, vertical oscillation and running smoothness through internal algorithms.
The battery life of the Wahoo TICKR X has reduced in comparison to the predecessor that could achieve up to 500 hours. The TICKR X only managing 200 hours with additional battery consumption from the accelerometer sensors for additional metrics.
Best Price for the Wahoo TICKR X HRM
Buy the Wahoo TICKR X HRM for £64.99 from Wiggle
---
Why Should You Buy a Heart Rate Monitor?
Using a Heart Rate Monitor improves the effectiveness of training. This is because it can provide a scientific measure of how hard you are working. Rather than relying on your perception of effort you have a measure of how hard the heart is working. This can help you avoid lazy training sessions that don't add real value but also help you increase effort as your fitness improves.
A HRM is also very useful for ensuring the training you are doing is safe and within your limits. As we age the safe limits of our maximum heart rate reduce and we should consider how we are training within this to stay safe while exercising.
Assuming you are planning to use your new heart rate monitor for triathlon training and not just once you can record any improvements. Regular training of a common type can be compared to determine how your heart and general fitness are improving.
---
>>> 15 of the Best Gravel bikes for 2022 – Find the best prices and compare models
---
Why is heart rate an important measure for triathlon training?
The amount of times the heart beats per minute (BPM) is called your heart rate. Through exercise your heart can become stronger. This allows the heart to pump more blood around the body for every beat. Oxygen is carried from lungs to muscles in the bloodstream. When you exercise muscles need to consume more oxygen that is supplied from the heart. This increase in oxygen demand requires the heart to beat faster and the BPM number to increase.
---
What does Resting Heart Rate mean?
Resting Heart Rate describes the number of beats per minute while not active. At rest. This can be measured simply by sitting in a relaxed state and measuring the BPM to determine your resting heart rate. This can be impacted if you are under tension or stress or if you have taken some form of stimulus such as coffee. It is best to record your resting heart rate over a number of days to get a true value from the average discounting any outliers. Generally the fitter you are the lower your resting heart rate is likely to be. As an example Mo Farah is reported to have a resting heart rate of 33BPM. For most adults a resting heart rate should be between 60BPM and 100BPM.
---
What does Maximum Heart Rate mean?
Maximum heart rate is a number that equates to the recommended peak of beats per minute you should push your heart to. It acts as a guide to determine how high you should push your heart through exercise while remaining safe. You can engage a specialist in sports science to calculate but it is widely accepted to use the calculation of 220 minus your age. Examples of maximum heart rate calculations:
220 – 20 = 200BPM (20 year old)
220 – 30 = 190BPM (30 year old)
220 – 40 = 180BPM (40 year old)
220 – 50 = 170BPM (50 year old)
220 – 60 = 160BPM (60 year old)
---
What are the types of Heart Rate Monitors?
There are two types of Heart Rate monitors for triathletes.
Chest Strap HRM
A chest strap HRM is worn across your chest under any clothing. The chest strap features a recording sensor that is worn centrally on your front close to your heart. The sensors detect the electrical signals that the heart generates as it beats.
Optical Sensor HRM
An optical sensor HRM uses green LED lights to shine through the skin and measure blood flow from the reflected light generally on the wrist. The sensors are generally fitted in a multi-sport watch such as the Garmin Forerunner 945 as listed in our best triathlon heart rate monitors.