This week we have a guest blog from James with an article on how to set up and use Garmin Connect – an in-depth guide to using Garmin Connect. Huge thanks to James for this epic guide.
If you're looking for a reliable and efficient way to track your workouts, Garmin Connect is the ultimate solution for many with multisports a real sweet spot. With its advanced features and user-friendly interface, this powerful platform allows you to monitor your progress, set goals, and stay motivated towards achieving your fitness objectives.
Whether you're a beginner or a seasoned triathlete, Garmin Connect offers a comprehensive range of tools and resources to help you optimize your workouts and enhance your performance. From tracking your heart rate and calories burned to analyzing your running pace and distance covered, Garmin Connect is the ultimate guide to taking your workouts to the next level. So whether you're looking to lose weight, build muscle, or simply stay in shape, buckle up and get ready to explore the endless possibilities of Garmin Connect!
---
Introduction to Garmin Connect
Do you own a Garmin multisports watch? Are you tired of trying to keep up with the latest applications and features that regularly burst from the crowded depths of the app markets? Me too.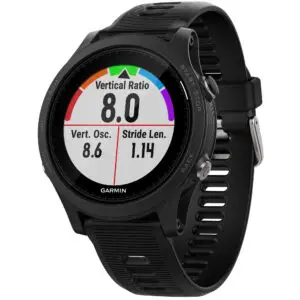 But I've got something for you. An app that a) just works with your Garmin watch (assuming it's compatible – most are) and b) won't leave advertising ghosts burned into your retinas! 
Fellow athletes, I give you Garmin Connect: the hidden gem in a sea of not-so-great applications.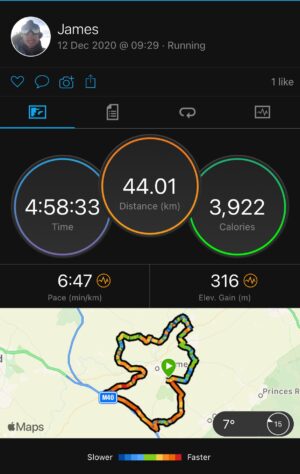 Look at all that beautiful data! 
Today we're going to walk through setting up Garmin Connect. First you need to check compatibility (sorry to say, but that kitchen table-sized GPS enabled watch you bought back in 1991 probably won't work with Connect. But most modern watches are compatible, and many are inexpensive). We'll wait for you… 
Ah, you're back. I like the new watch, very flash. 
Okay, let's rock this configuration guide. 
---
Within the Garmin Connect swim functionality you can track your SWOLF score. This is a great aid to anyone who takes their training seriously with science and metrics. Find out more with Garmin SWOLF Score explained: Everything you need to know.
---
Installing Garmin Connect 
Configuring the Garmin Connect app is simple and this first step doesn't come any easier. If you're an iPhone owner, download from the Apple App Store. Before you download, take a look at those review stats. Currently 44,000+ with an average rating of 4.4 stars. That's what you call a well-designed app. 
If you own one of those 'other' phones, download from the Google play store. Currently 600,000+ very happy, outdoorsy type people voting for this app. 
P.S. I'm kidding. Android phones are great, I really like Google's range of smartphones. 
Boom! You've downloaded the app. Now's it time to configure the essentials you'll need for pretty much any sporting activity. 
I say "pretty much" because there's no guarantee all sports will be catered for. Like the Aztec ballgame in which the losers were sacrificed to the gods. You won't find that activity listed. 
---
Garmin Connect can track and provide details on your Ironman performance. With the time spent racing an Ironman race many Garmin watches can struggle to make the finish line. Read our guide to help you with How to set up your watch for an Ironman distance race.
---
Setting up your Garmin device with Garmin Connect
To use Garmin Connect, you need to have a compatible Garmin device that can track your workout data. Setting up your device with Garmin Connect is easy and straightforward. First, download the Garmin Connect app from the App Store or Google Play Store and create an account. Next, pair your device with the app by following the instructions on the screen. Once your device is connected, you're ready to start tracking your workouts.
One important thing to note is that not all Garmin devices are compatible with Garmin Connect. Make sure to check the compatibility of your device before purchasing it. Also, make sure that your device is updated to the latest firmware version to ensure that it works seamlessly with Garmin Connect.
Garmin Connect supports a wide range of activities such as running, cycling, swimming, hiking, and more. Make sure to select the appropriate activity type on your device before starting your workout to ensure that your data is recorded accurately.
I'm not going to duplicate Garmin's guide as it provides a much better and quicker explanation of how to connect your watch to the app. Here's the link. 
If you train listening to music running or cycling you face the constant worry about staying aware of your surroundings. We have reviewed the Oladance open ear headphones that don't block out all the surrounding noise. Find out if Nick thought this was worthwhile as a runner and cyclist who never used headphones before for this reason.
Trouble Shooting guide to setting up Garmin Connect
What do you do when your watch won't connect to Gamin Connect?
I've followed the guide several times. It works. But you may find that your watch refuses to connect and the best way to resolve this issue is by rebooting your phone (and checking you have Bluetooth enabled – very important step). 
I work in IT. A reboot is the accepted method of fixing many technical issues. Don't know why it works, it just does. 
Connected? Cool. Let's move on. 
How do you add another watch to Garmin Connect?
If you need to add another watch – because you're a bit flash, or you upgraded – go to the settings and use the 'Add Device button at the bottom of the page. Scroll through the options until you see your watch, tap and wait for it to pair. 
Note: you can only use one watch at a time. I tested this by running wearing two different watches and only one of them logged to the app. I looked silly but proved my point. 
How accurate is Garmin Connect?
Garmin Connect is generally very accurate when it comes to tracking your workout data. However, there may be some discrepancies from time to time, especially if you're using an older device or if you're in an area with poor GPS reception.
Can I use Garmin Connect without a Garmin device?
While it's possible to use Garmin Connect without a Garmin device, you won't be able to track your workouts. However, you can still use Garmin Connect to connect with friends, join challenges, and explore the platform's features.
Is Garmin Connect free?
Garmin Connect is free to use, but some features may require a paid subscription. For example, Garmin Coach, which provides personalized training plans, requires a subscription.
---
If you are considering an upgrade to the latest Garmin Forerunner 965 read our comprehensive guide to the Garmin Forerunner 965 v 955 v 945. Compare the key features of these three incredible multisport watches. Read our recommendations on why you might want to consider an upgrade.
---
Key Garmin Connect Settings You Need to Configure 
Garmin have made the Connect's home screen simple. I like this. No clutter, just a roundup of your daily health stats that tell you you're doing just fine. Hopefully!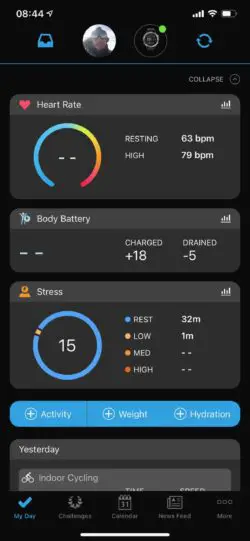 The Garmin Connect home screen aka 'My Day'. Simple is beautiful. 
Tapping on the various sectors will take you deep in the murky world of data. Your personal health data. I love delving and exploring all the information this app knows about my body, makes me feel like a spy. 
Go on a tour. Browse through the information the Connect has collected. You'll be amazed. 
Before I move on, don't be too concerned about the information held in Connect. Why? 
First: the data can't be sold to some murky, foreign intelligence service bent knowing the average resting heart rate of every man, woman and child on the planet. Why not? Data protection (a great way to thwart the ambitions of any dictator). 
Second: apart from you, nobody cares that your VO2 Max is a touch below Ussain Bolt's? 
Let's tweak those settings and turn your watch into a training partner who'll push you until your muscles and lungs are squishy sacks of pains. AND make sure you get the recovery time needed for your body to mould itself into a modern-day Spartan warrior. 
---
The Home Screen aka 'My Day' 
Let's make it lean and mean! Just like you'll be when you finish your annual training cycle. 
Open the app and from My Day, tap the three little dots on the bottom right of the screen.  
You'll now see a view like this: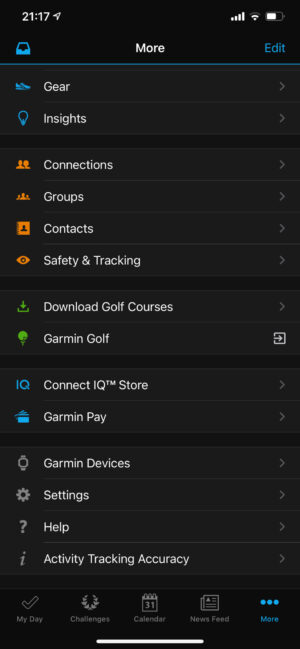 My Day settings. 
Tap to remove any information you no longer want visible, or that isn't useful to you. If you're not sure, here are the fields I have showing in My Day: 
my heart rate – always good to know I'm still alive. 
Stress score – really useful as it provides a visual reminder that my body needs rest (and that some clients leave me feeling really stressed). 
Body battery – same as stress score. 
Calories in and out – tells me that extra bar of chocolate is a big no-no! 
Sleep – huge, massive, important. If your brain and body don't get enough sleep, you're going to pay a heavy price. Track this information and use it to plan in lots of recovery time. 
That's all. The vitals. The key information you'll need to get an 'at a glance' view of your health. 
---
Creating a training plan in Garmin Connect 
I love this. Garmin's training plans are awesome. They're like having Joe Wicks at your side, encouraging you to reach for your goals, but without having to endure his irritating voice. 
Perfect. 
Sorry Joe! 
Let's make a plan (and stick to it).
From 'My Day', tap the three dots on the bottom right of the screen and you'll arrive here…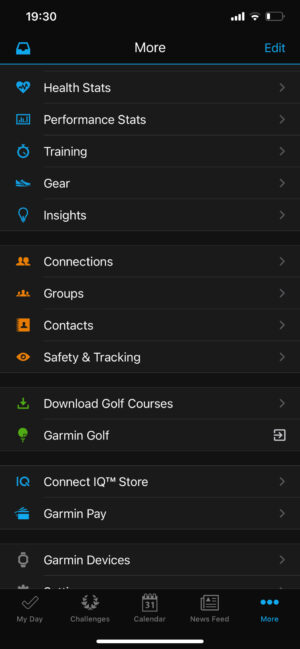 The three dots take you deep into the options as shown in the image above.
Now tap Training and you'll see the following options: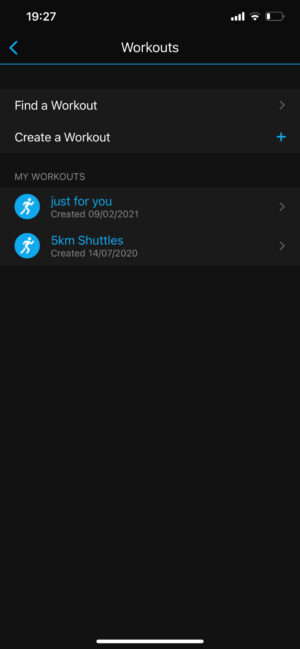 Image (connect-training-menu.jpeg): Tap training options and, hey presto… 
Pretty self-explanatory – you choose either a pre-programmed training plan or make your own by following the steps below (we will build a series of shuttle runs over 5km, with rests).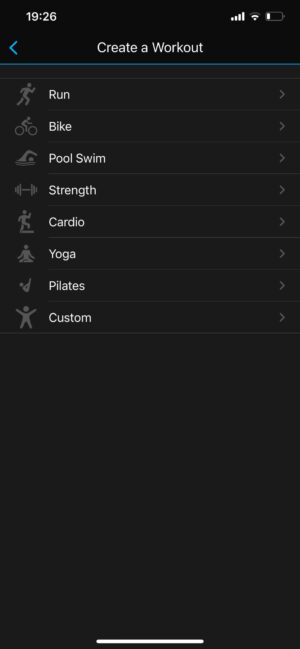 Tap 'Create workout' and chose the type. 
Image (create-training-plan.jpeg ): tap 'Add step'.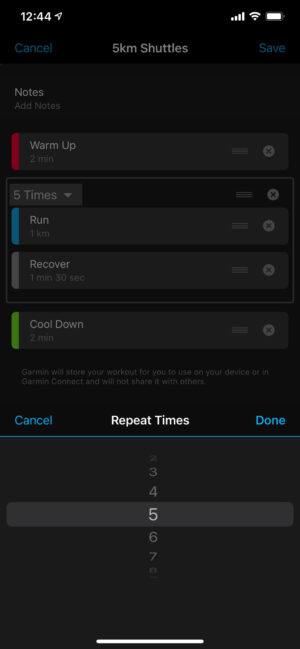 Rather than create every single step manually, use the 'Repeat' option for this shuttles session 
Pretty cool, but this latter option means you have to already have some kind of training plan in mind. 
Once you've created your plan, save it for future recall.  
---
If you are considering alternatives to Garmin Connect read our post on Strava and how it works. You might think you know Strava and it is not for you but read our guide to how it works and the wealth of features it also offers.
Simplicity of Garmin Connect
The simplicity of the app is brilliant. Sure, there are plenty of competitors, but most of them want your money. Garmin have already taken my cash in return for the beautiful Fenix 6 so it's only right they give something free back to me, and you. 
Before you go, turn on LiveTrack 
Going on a long hike, or a big cross country run that will take you in bear country? Planning to cross bottomless crevasses and climb mountains unaided? 
Cool. I like your spirit. And there two more additions that need to go on your 'to do' list: 
Buy a good life insurance policy. 
Turn on Garmin LiveTrack. 
Understanding the features of Garmin Connect
Garmin Connect offers a wide range of features that allow you to customize your workout experience and track your progress. These features include:
Customizing your dashboard
The Garmin Connect dashboard is where you'll find all your workout data and statistics. You can customize your dashboard to display the metrics that matter most to you. For example, if you're training for a marathon, you might want to display your weekly mileage and running pace. You can also set goals for yourself and track your progress towards achieving them.
Analyzing your workout data
Garmin Connect allows you to analyze your workout data in detail. You can view your route on a map, analyze your heart rate and calorie burn, and track your progress over time. You can also compare your stats with other athletes in your age group and see how you stack up against them.
Creating and following personalized workout plans
Garmin Connect allows you to create personalized workout plans based on your fitness goals. You can choose from a wide range of training plans, or create your own custom plan. Once you've created a plan, you can follow it using your Garmin device and track your progress on Garmin Connect.
Connecting with friends and joining challenges on Garmin Connect
Garmin Connect allows you to connect with friends and join challenges to stay motivated and accountable. You can create your own challenges or join existing ones. Challenges can be based on distance, time, or any other metric that you choose.
Syncing with third-party apps and devices
Garmin Connect can sync with other fitness apps and devices such as MyFitnessPal, Strava, and Apple Health. This allows you to track all your fitness data in one place and get a complete picture of your progress.
---

What is LiveTrack? 
A simple tracking feature that your family and friends can use to trace your remains locations in the event you don't come home. 
To enable LiveTrack, go to the Settings page, scroll to the bottom and tap LiveTrack. Accept all the usual privacy warnings and you're done. 
If nothing else, this GPS tracking feature will give your loved one's peace of mind. 
Image (enable-garmin-connect-live-track.jpeg): Garmin's Live Track costs a small amount of money, but it could save your life! 
You're done. Got be an athlete 
Seriously. That is all you really need to configure Garmin Connect. Now the app and your rather smart new multisport watch will do the rest. 
All you need to do now is start your watch. Go train. Get awesomely fit. 
Enjoy. 
Thanks for reading. My name is James, I blog at TrekSumo, and have completed many very arduous journeys and suffered only a few minor losses e.g. the tips of my toes! Feel free to drop by, say hello and enjoy our reviews and tales.