Trivelo independently review everything we recommend. When you buy through our links, we may earn a commission. Learn more >
For this weeks review I have the Asics Gel Nimbus 24 review. I have been a long term of the Asics Gel Nimbus for the past decade so keen to see how the latest version compared. Read to find out if I think they are still the ultimate neutral running shoe?
Also read about why I may recommend you don't buy this shoe depending on your foot shape.
Asics Gel Nimbus 24 Key Facts
Trivelo Rating 4.5/5
| | |
| --- | --- |
| Running Shoe Type | Road running shoe |
| Support | Neutral |
| Weight | 290g |
| Heel Toe Drop | 13mm |
| Price | £165 |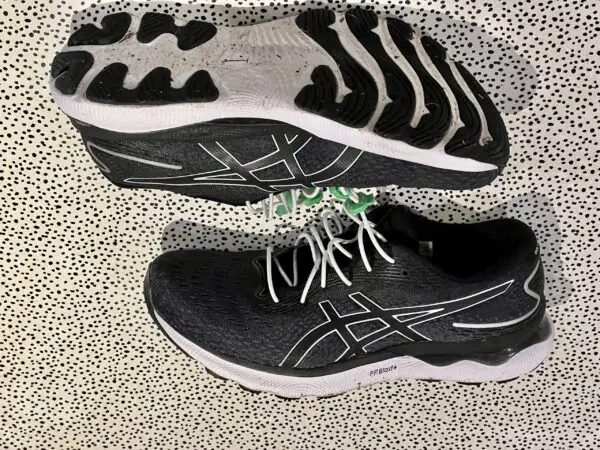 Asics Gel Nimbus Running Shoes History
When a shoe reaches its 24th iteration, you can assume it is something that is building on a winning formula and fixes are enhancements on a quality product. Asics have been releasing a new version of the Nimbus around every 12 months for the past 20 years. The Nimbus has been their flagship neutral running shoe commanding a premium price. But with the advent of so many "super" shoes such as the Nike Air Superfly is it still one of the best shoes you can buy?
Many people are training hard at the moment. Trying to find time and conditions for training. We have 15 Top Training Tips for Triathlon Running to add in your schedule. Keep your training fresh and motivated for your run.
Asics Gel Nimbus 24 vs Asics Gel Nimbus 23
Asics has made some noticeable changes for their latest running shoe. The main change is the FlyteFoam Blast + midsole that is lighter and softer than the previous version. The shoe feels noticeably lighter and much more spring from the new material. Always the case when changing from a worn in running shoe but these felt incredible urging you on with your run. Asics have managed a clever double act here improving the spring in the sole while also reducing weight. The Asics Gel Nimbus 24 weighs 20g less than the previous Asics Gel Nimbus 23 model.
First impressions
The running shoes come in a range of colours and I selected black for this review as a common favourite with runners. Looks wise they are pretty stylish as far as genuine running shoes go. You would not be the ugly duckling alongside people wearing more fashion trainers such as the casual range from New Balance. They feel light and stretchy with the familiar knitted upper shoe and cosy ankle collar. I switch my laces to elastic laces for triathlon hence the photos with these added. The shoes come with standard laces out of the box though so don't fear if you don't favour elastic laces.
If you love your stats like I do then a triathlon watch is an essential piece of kit. The latest Garmin Forerunner 965 has taken the watch forwards substantially from the previous version. If you are considering a new watch of upgrading we have compared the Garmin 965 vs 955 vs 945 watches. See the differences and reasons to upgrade. Or not!
Fit of the Asics Gel Nimbus 24
I normally wear an insole for additional bridge support but I found when putting these in the shoes were too tight across the top of my foot. They are a snug fit with the elastic knitted upper and integrated tongue. Even removing my insoles replacements and reverting to the standard insole they are pretty tight. Asics do offer a wide fit that may be worth considering if you also have fat feet like mine! I tend to find shoes relax from running so sticking with the stand fit.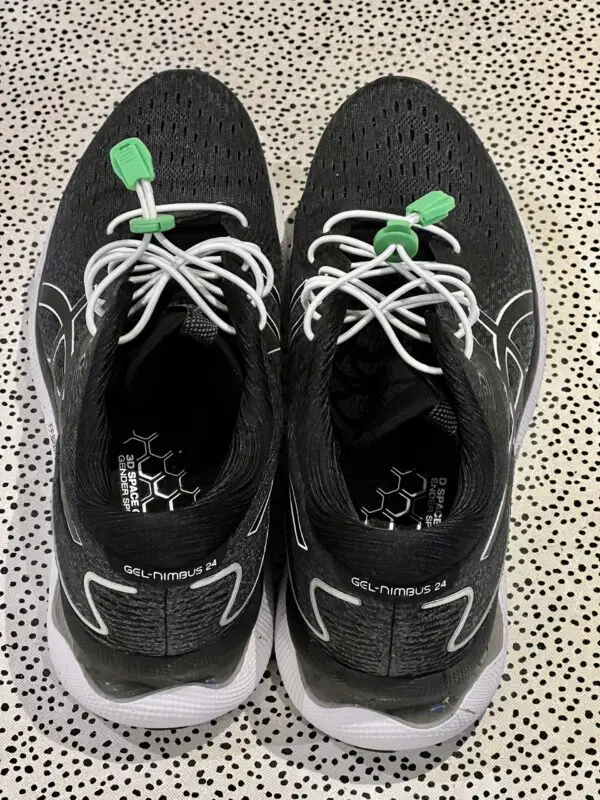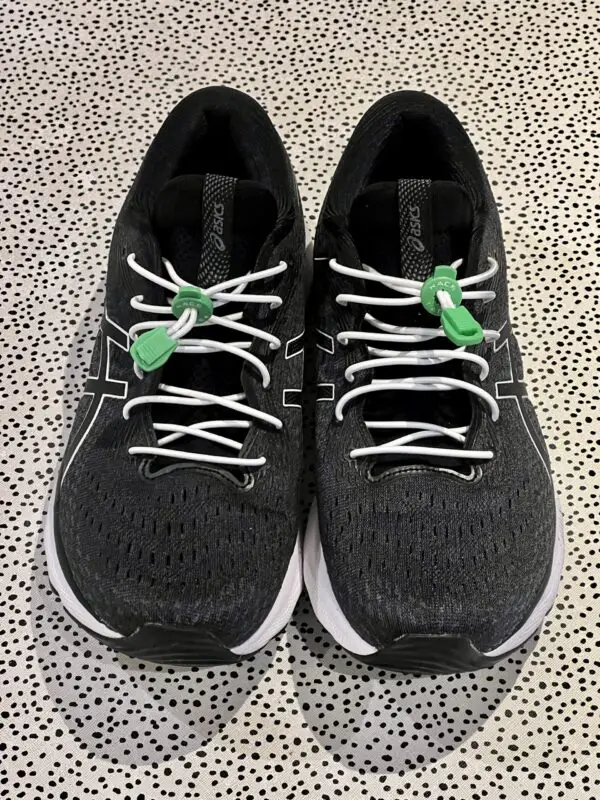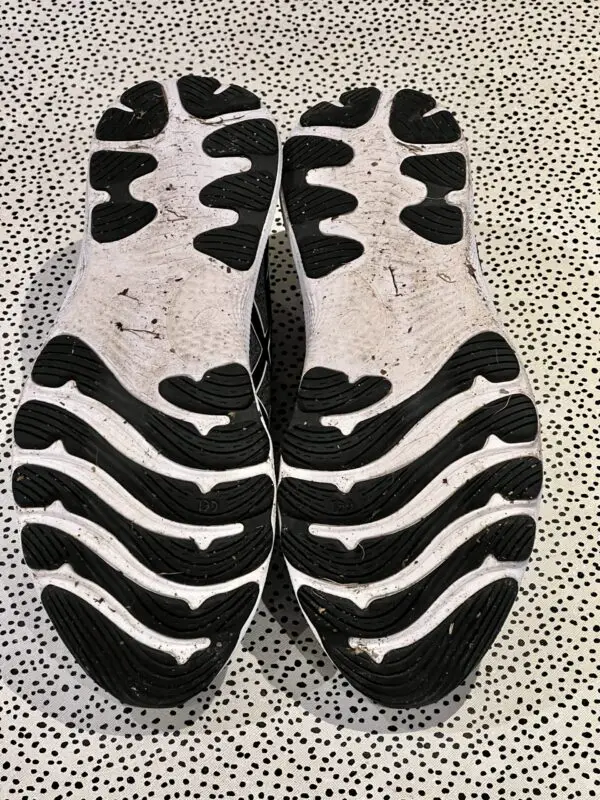 First Run Observations
Heading out for the first run in any new shoes is always a blissful pleasure. The Asics Gel Nimbus 24 are no let down. The tightness presses your sole down on a run so I would suggest build up to longer runs while you wear them in. That said the spring from the new FlyteFoam Blast + is a revelation. I found my pace improved 10-20 seconds per mile compared with my older shoes. This is a combination I am sure of new shoe enthusiasm and that extra cushioning.
If you are planning on more trail running take a look at our Salomon Alphacross trail shoe review. Running off-road or even through winter mean having a trail shoe in your locker can be hugely valuable.
Overall review of the Asics Gel Nimbus 24
They are another masterpiece from Asics. They feel super supportive but worth trying on and comparing with the wide fit if you have a larger foot. The new tongue needs properly pulling up to make sure laces in the best position but is a well designed integrated tongue. I have only run in the dry but the knitted upper is not likely to give much protection in the wet so you may need a trail pair of shoes as a back up. The soles also don't have much grip for slippy surfaces so again consider where you are running when using them. They are not for hardcore sprinters given the weight but for anyone looking for a neutral support middle and long distance running shoe they are a winner.
If you are looking for new running shorts check my review of the Under Armour 2-in-1 Vanish shorts. Easily my favourite running shorts. Ever.
Why to avoid the Asics Nimbus 24
If you have a wide fit foot I would avoid the Asics Nimbus 24. For this latest version of the shoe Asics have changed the shape compared to previous versions. If you think that you currently run in the Asics Nimbus 23 and therefore immediate choice to buy the Nimbus 24. Beware. The front of the shoe is much narrower than previously. This is due to a complete redesign. When I ran in the shoe I found the nerves on the base of my foot became pinched over 5km and started to burn. Please make sure and wear the shoes before purchase.
Asics Nimbus vs Asics Cumulus
We have completed a side by side review of the Asics Gel Nimbus 24 vs Asics Gel Cumulus 24 and share our findings. Check the article for details on differences and which we recommend to buy.
Best prices for the Asics Gel Nimbus 24
Buy from Asics direct for £115 or Asics worldwide
Buy from Wiggle for £132 for the mens shoe or for £103.88 for the womens shoe
---
About the Author
---
Follow us on Social Media
---