From one of the earliest supporters of Trivelo we bring the Salomon Alphacross Trail Shoes Review. Huge thanks to Bryan for his continued support and his wonderful review of these awesome looking trail shoes.
Introduction to the reviewer
Hey, my name is Bryan Hutton. I race cyclocross in Scotland CX League and Super Quaich Series. Cyclocross tends to be about late autumn and goes on into the depths of winter. There will be times where I have no option of riding the bike on some sections of the course due to the depth of mud or snow, so to help me in my training I add in some hill running and trail running. I am glad to have been selected to test the new Solomon ALPHACROSS shoes.
First Impressions of the Salomon Alphacross Trail Shoes
Unwrapping the packaging and opening the box I lay eye on a nice looking pair of shoes. Dark blue material and black sole. Nice and simple colours and definitely something I would have picked off the shelf.
First thing I notice when I lift them out the box is the weight. These are a very lightweight shoe. I have the Solomon Speedcross and have these for the past few years. The Alphacross are about half the weight! Being a weight weenie I am liking these shoes even more.
Slip the shoe on for it's first to fit, at the heel of the shoe, there is a great addition. A long tab is there to help hold the shoe and not crush the back while you slip your foot inside. I am a UK 10 and normally some sport shoes are tight around the forefoot but Solomon has made these quite wide and are perfect for my fat feet so a great fit so far.
Field trials using the Salomon trail shoes
My first run in the Salomon Alphacross was in the local woodlands with the dog. A lot of leaf litter and gravel on the trails and the shoes handle conditions well. Not one-foot slip and come home from my run and my feet haven't rubbed away at the heal which is common for me and new shoes.
My next few runs I test the shoes to the max by hitting the hills. My favourite place to go is the Old Kirkpatrick Hills. These are situated about 5mins Cycle/Drive from my house in Clydebank.
I have been using a route that is about 10k loop. Conditions in the hills vary from gravel bridleways to single track deer runs and lots of bogs. At this time of year (November) it is very boggy and wet, after every run my feet are still blister free.
Summary of the Salomon Alphacross trail shoes review
After 6 weeks of trials I still love Solomon running shoes and would be my first pick for trail running shoe.

Bryan – Trivelo Test Associate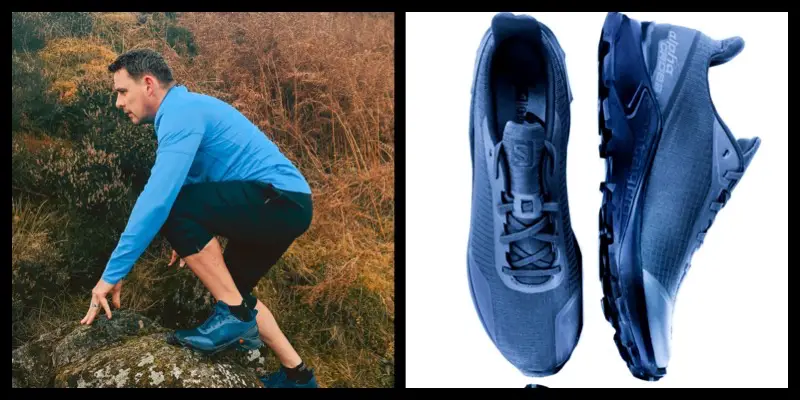 My findings with the Alphacross are that they are a great light weight Grass or Gravel shoe. While doing my runs I felt that the grip of the sole can only be described as "Oily" on the wet rocks and tree roots. Had a few slips traversing roots and going over boulders during runs. I am not sure if they will get better as the grips get a bit of wear to them and hold he surface better. This led me to slowing down and losing a bit of confidence as things became technical. This being said, running down or up grass slopes where there is some thing for the grips to bite into I couldn't fault the shoe.
Improvements to the Salomon shoes
Last thing that could be improved would be a Gore-tex layer, like the Speedcross. I know that your feet never stay 100% dry hill running but would be nice to do a park run in them an have dry feet heading back to the car. All in all a great Grass/Gravel shoe super lightweight and very comfortable shoe and would happily buy from a store next time I'm looking for running shoes.
Best Price for the Salomon AlphaCross
Buy the Salomon Alphacross Blast GTX latest model currently available in Salomon's Amazon shop for only £60.99. Good stock levels in all sizes and all colours (noted October 2020)
Alternatives to the Salomon Alphacross trail shoes
Salomon Speedcross 5 trail shoes for £99 (best current price) direct from Salomon in their Amazon shop. Read the review from Melanie from Team Trivelo and her review of the Salomon Speedcross.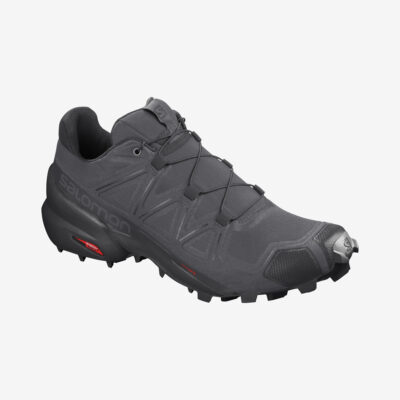 Salomon Sense Ride 3 trail running shoes for £95-£108