This weeks blog is the first in a series of reviews of swimming wetsuits by the triathletes themselves. Over the coming weeks we will be sharing over a dozen reviews covering a number of wetsuit brands to help triathletes at all levels. This week we bring you the Yonda Spirit Wetsuit review. The review has been expertly penned by one of our newest guest bloggers who was kind enough to share his experience of the Yonda Spirit wetsuit.
Yonda Wetsuit Spirit Review – Andrew Ferguson
Having only previously dabbled in triathlon I decided now was the time to 'up my game' and invest in a serious wetsuit. I stumbled on Yonda through recommendation from a friend. I contacted the business owner Angus, who was kind enough to let me come down to their office to try a wetsuit on to ensure the perfect fit.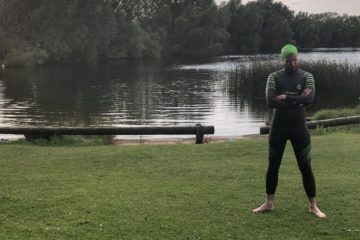 Yonda Spirit Flexibility and Feel
The swimming wetsuit I chose was the Yonda Spirit. This was a mid-range triathlon wetsuit priced at just under £340. I was instantly impressed by the fit and the flexibility of the wetsuit. Even more so when I tried it out in open water swimming for the first time. The key features of the Yonda wetsuit include Yamamoto neoprene which gives the wetsuit extremely good flexibility and buoyancy.
Key features of the Yonda Spirit wetsuit
The Yonda Spirit includes a reverse zip which avoids your wetsuit being accidently unzipped during. This also helps in a race by promoting quick removal during T1 transition. The wetsuit also has a super soft lining which hasn't caused any irritation around my body and neck and I've not had to use any lubricant. Other nice features of the Yonda Spirit wetsuit include internally printed trim lines should you want to cut the legs down and lycra sleeves to allow you to feel your catch.
Yonda Spirit wetsuit overall summary
Overall I think the Yonda wetsuits are easily comparable to that of the bigger brands but at a fraction of the cost.
About Yonda Wetuits
Yonda are a relatively new brand in the world of triathlon having been founded in 2014. In spite of the name they are a UK brand based in West Yorkshire. They are a focused firm concentrating on trisuit & wetsuit performance and improvements. Using premium materials such as the Yamamoto 39 cell neoprene there are no corners cut in manufacturing. Yonda retain a close relationship with their customers and are huge believers in customer feedback to aid product development. A challenger in the triathlon wetsuit community making huge strides already.
Best place to buy a Yonda wetsuit
Buy the Spirit wetsuit Direct from Yonda supporting this UK firm – £249
Huge thanks to Andrew for his honest account of the Yonda Spirit Wetsuit review. If you have a wetsuit you love then please contact us and share your experience.