Looking for the Best Alternatives to Huel 2022? Find a better meal replacement shake that you will want to keep using. Tastier and with all the same benefits. I tested Huel over a 120 days and found some shocking results.
Huel Black vs Huel v3.0
Having been impressed by Huel for some time I decided to take more interest in nutrition and try Huel Black. Starting with a trial of Huel Black Chocolate I spent 60 days using it every day as a replacement for lunch. This trial resulted in me progressing through the Huel Black and Huel 3.0 range before finding something that was much better.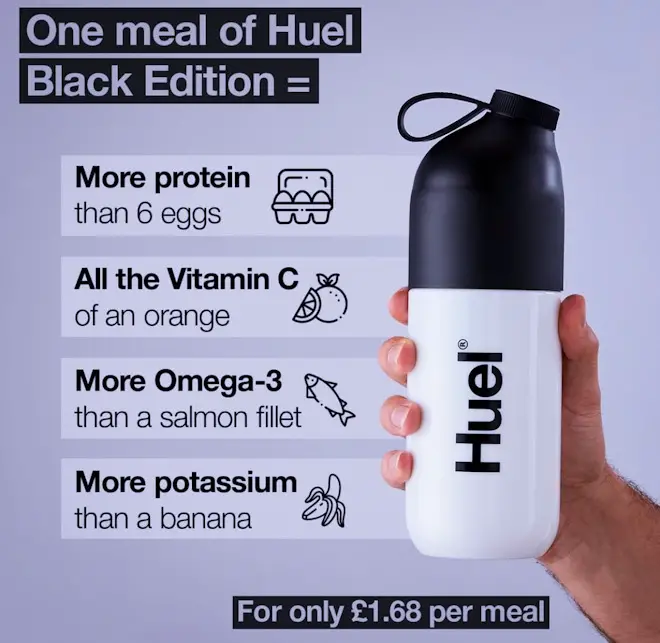 What is Huel Black?
Huel is branded as a future food. A powder meal replacement shake that you only needed to mix with water. The name is derived from combining Human and Fuel.
Key ingredients of the Huel powder include powdered oats, sunflower, flaxseed, coconut, rice and dietary supplements of vitamins and minerals. Amino acids are also naturally derived from the ingredients.
Each serving is a 600ml shake delivering 400 calories of nutrition. Huel is vegan friendly and pitched as natural. Huel Black uses a 37:30:30:3 macronutrient split. 37% of the energy is carbohydrates, 30% fats, 30% proteins and 3% from fibre.
Huel black has been developed with 50% less carbohydrates and 33% more protein than Huel 3.0. It offers a lot for a single meal replacement shake.
>>> 7 Top Nutrition Tips for Triathletes
Review of Huel Black
After my initial trial of Huel Black Chocolate I decided to try Huel Black Salted Caramel. The chocolate had a really metallic artificial taste to me and a very odd consistency. No matter how much you shake it the shake is not smooth. I tried making in the morning and putting it in the fridge shaking it through the morning. but no matter what I did it just didn't taste right.
Salted caramel was much the same. My trial now spanned over 100 days and I had progressively noticed stomach pains from drinking the Huel Black. I simply couldn't finish an entire shake. I would get stomach cramps around 2/3 of the way through that would last for around 2 hours.
From reading online it appeared I was not alone. Not to be put off I decided to give it one final crack and tried Huel Black vanilla. After 10 days this ended up in the bin. It was not a pleasant taste and I couldn't adapt to it.
Huel Black Nutritional information
What does Huel Black do you for? Huel Black is a complex blend of ingredients offering a good chunk of your daily nutrition in a single meal replacement shake.


Per 90g serving
% RI* per
90g serving
Energy
1680kJ
20%
400kcal
Fat
17g
24%
– of which saturates
2.9g
15%
– of which monounsaturates
2.5g
– of which polyunsaturates
11g
Carbohydrate
17g
6%
– of which sugars
4.6g
5%
Fibre
8.2g
27%
Protein
40g
80%
Salt
1.1g
18%
Information from Huel website
By comparison a BLT sandwich which has similar calories (around 450 calories) has 28g of fat of which 7.5g are saturated fats, 27g of carbohydrates, 2.5g of fibre, 20g of protein, 10.1g salt.
What is Huel v3.0
Huel 3.0 is the original Huel human fuel powder that predates Huel Black. Huel Black was developed as a higher fibre evolution of Huel. I decided the stomach cramps could be a result of my digestion not coping with the level of fibre. From various online forums this seemed to be a popular theory.
Huel 3.0 has 7 grams of fibre per serving compared to 8.2g in Huel black and I had read for some people this improved the stomach pains following drinking.
Review of Huel 3.0
I switched to Huel 3.0 ordering both chocolate and salted caramel flavours. Huel has a minimum 2 bag order which is quite a commitment. Given my previous experience was a concern but keen to fully test Huel I ordered both. Huel 3.0 has a similar grainy texture to Huel Black. The taste of both the chocolate and salted caramel was very similar to Huel Black. A somewhat artificial flavour. Ironic as it uses all natural flavours.
After a few days of using I had to pause again as the stomach cramps resumed. The shake is very filling so I had no need to supplement this with additional food. I also found good energy levels for exercise that I do daily. I tried reducing the recommended amount of powder compared to the water to make it more diluted. This improved the stomach pains but I still couldn't finish a shake without getting them.
Overall I came to the same conclusion as Huel Black. Huel 3.0 is great at providing a filling and nutritious meal replacement snack. It is not, however, tasty. Given the complex nature of the shake it may also cause issues for people to digest. I wouldn't I am afraid to say recommend it.
Huel v3.0 Nutritional information
Huel v3.0 is a complex blend of ingredients offering a much the same as Huel black with 26 vitamins and minerals and low carbohydrates.


Per 90g serving
% RI* per
90g serving
Energy
1680kJ
20%
400kcal
Fat
13g
19%
– of which saturates
2.3g
12%
– of which monounsaturates
2.4g
– of which polyunsaturates
7.7g
Carbohydrate
38g
14%
– of which sugars
0.9g
1%
Fibre
7g
23%
Protein
29g
58%
Salt
0.71g
12%
Information from Huel website
Depending on which nutritional targets you are focused on Huel v3.0 compared to Huel Black has some benefits. It has less fat than Huel Black and less salt. Conversely if you are watching your carbs Huel Black is better and equally in terms of fibre. The high fibre content of both I think is what made it difficult for me to digest and continue with.
Best Alternative to Huel
While I found Huel gave me stomach problems and I didn't like the taste I still am keen to get better nutrition in my diet for improved performance.
A healthy lunchtime meal replacement from a busy weekday is what I need. Something that is low in fat and carbohydrates with a range of vitamins and essential protein and fibre for training. Ideally something easy to make that also tastes good would be great.
So what would I recommend as an alternative to Huel Black or Huel v3.0?
The Protein Works complete 360 meal. Very similar in composition to Huel. A powder that you mix with water and drink as a meal replacement.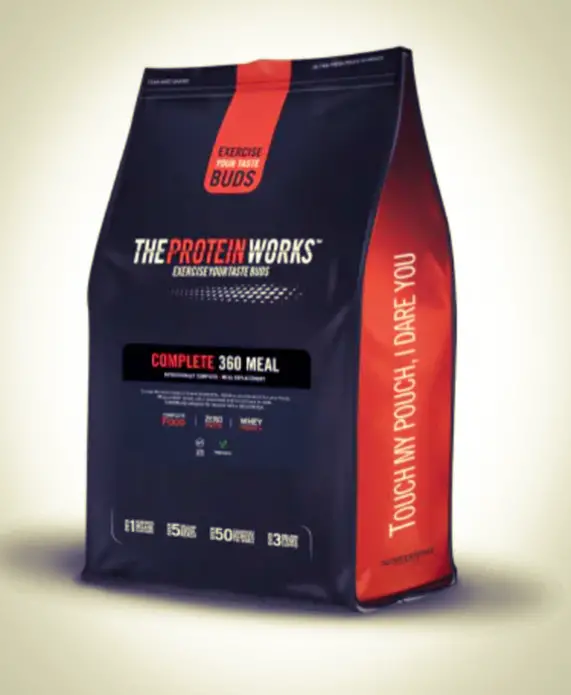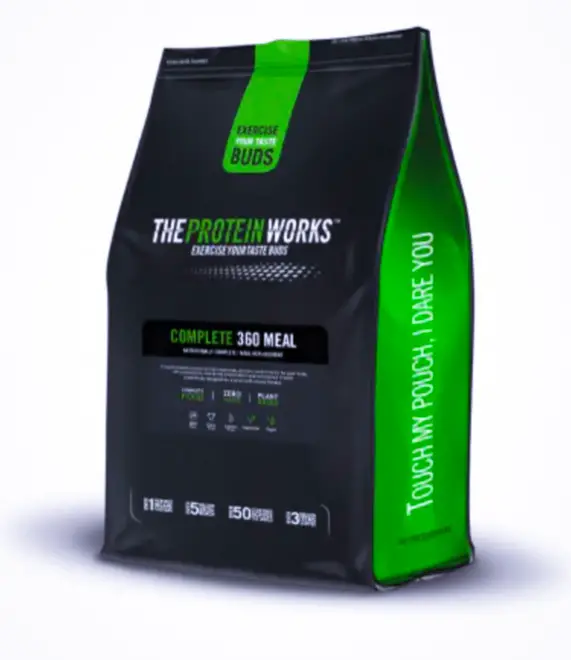 The Protein Works Complete 360 meal nutrition information
Providing what I was looking for with a highly nutritious meal alternative delivering low carb, low fat, high protein and fibre it is a great alternative to Huel.


Per 100g serving
% RI* per
100g serving
Energy
1680kJ
20%
400kcal
Fat
10g
15%
– of which saturates
2.8g
12%
– of which monounsaturates
– of which polyunsaturates
Carbohydrate
45g
17%
– of which sugars
1.9g
2%
Fibre
9g
30%
Protein
30g
60%
Salt
0.32g
5%
Information from My Protein Works website
The Protein Works Complete 360 meal replacement is a real alternative to Huel. In my 90 day test so far it is night an day compared to Huel. It tastes bloody lovely. I get no stomach pains. It is really filling and leaves me energised for any activity in the afternoon. If you have been battling with Huel but want an alternative then look no further.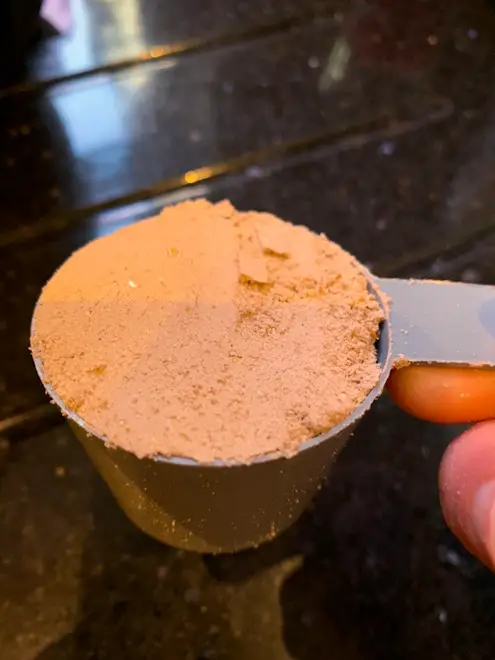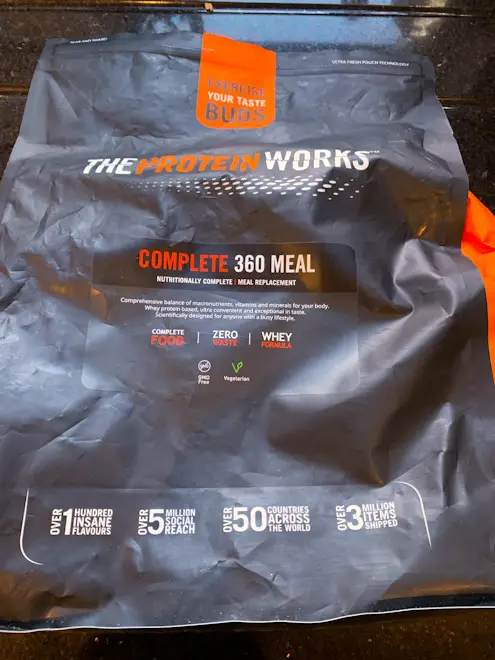 Buy the Protein Works 360 Meal replacement Double milk chocolate 2kg bag for £38.99 direct from them currently discounted from £51.99. Try it in this small size and see what you think.
Vegan Alternative to Huel
Or try the Vegan alternative perfect if you are looking for a vegan alternative to Huel Black.