Garmin Vector 3 Power Pedal Review
Here is my review of the Garmin Vector 3 Dual Power Pedal system that I have had fitted to my TT bike for the past 2 years.
I am a top Age-Group athlete over the Half and Full Distance triathlon distances, my current Ironman PB sits at 9 hours and 16 Minutes, this included a 4:44 bike split and I also have a 100 mile TT PB of 3 hours 49 minutes (26.1mph average), using a power metre has definitely improved my cycling performances.
What is a power meter?
A power meter is a device fitted to a bike that measures the power output of the rider, most commonly, power meters use strain gauges that deflect slightly when a force is applied. By measuring this torque and combining it with angular velocity, power (measured in watts) can be calculated.
If you find that you tend to go too hard on the bike, or that you struggle to regulate your effort whilst riding hilly courses, subsequently resulting in your run becoming a walk or very emotional at the very least then a power metre would be a wise investment.
Read our full review of power meters and are they worth it for more information.
Types of power meter
Pedal based systems (either dual or single sided) eg Garmin Vector Series
Crank-arm based systems (either dual or single sided) eg Stages
Full Crank based systems eg SRM
Wheel-hub based systems eg powertap hub
Smart turbo trainers
That is not all, each one of those above are then divided into many different manufacturers and models. The ones that are classed as the industry standard and from where all other systems are compared too, are the full crank based systems, but these come at a cost. As the price drops, the accuracy tends to waver slightly, with some of the lower priced smart turbos presenting up to 5% error compared to either the top end Tacx Neo and the SRM Crank based systems.
However, do not fall into the trap of comparing your own power data with someone else's, YOUR power data is YOUR power data, it is not as simple as saying
'My mate can hold 50w more than me so he/she must be faster on a bike'
All kinds of things also come into play when attributing power to actual speed out on the road, things like rider weight, bike weight, Variability Index and aerodynamics all play a part. I know guys who can hold 280W over an ironman distance bike leg yet post a slower time to one that I would post on the same course whilst holding 225w (my normal IM target).
Equally you cannot use the data produced on a turbo trainer indoors and then use those same figures whilst outside using a different power metre. Number will not be the same.
Training with power meters
Training with power is a huge topic so I won't go any further with the details, instead let's have a look at what I use.
A quick run through the different versions:
Vector 1 – Dual sided with 'power pods'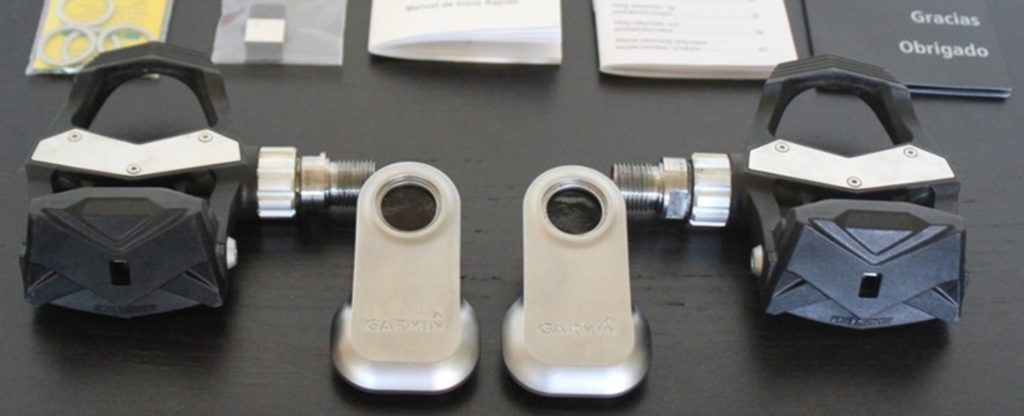 The power pods were a pain in the ar…neck, You had to torque load them onto the crank but only after lining them up correctly, there was no keyway to ensure they stayed still whilst tightening them, saying that though they worked incredibly well but were also prone to the odd drop out.
Garmin Vector 2 Pedal power meter
Then came along the Vector 2, which were dual sided or single sided data recording, the biggest change was the different power pod, you could now remove the pods without removing the pedals. Both Vector 1 & 2 ran on the flat CR32 batteries.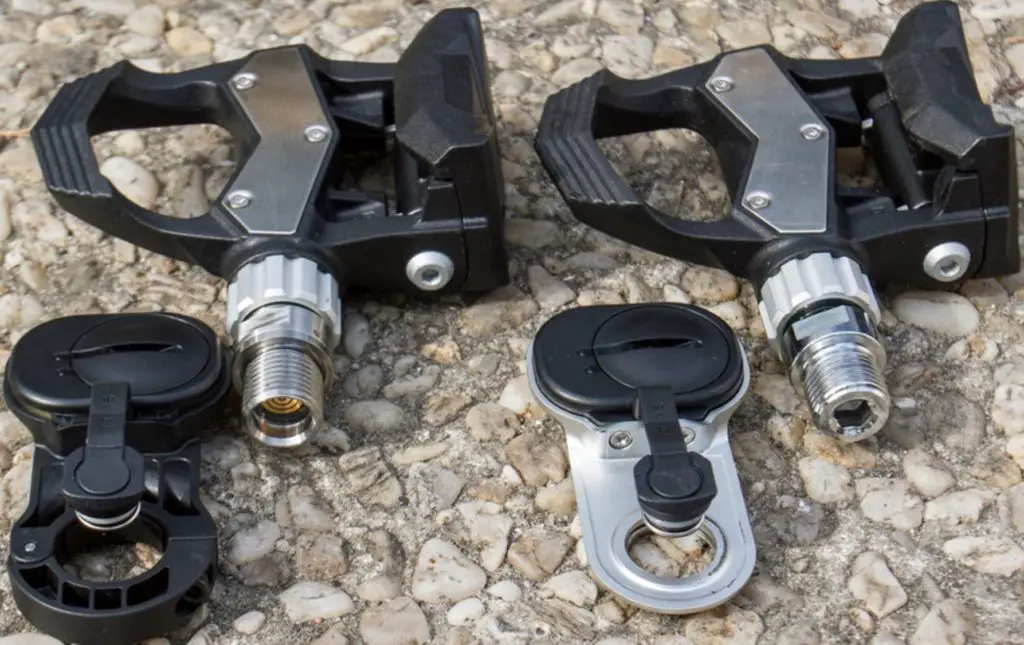 Vector 2 on the Left and Vector 1 on the right.
With the Vector 2, they were again pretty good, less dropouts than the V1's and battery life improved slightly, not that this was an issue in the first place.
One massive issue I found was that because the V2's pods were thicker, they didn't quite sit as flush with the cranks as the V1's, which caused the little electrical clip that fastened in behind the pedal itself to be chopped off during maximal sprints on the turbo. I must have chopped through 3 or 4 of these during the 2 years of ownership and at £50 a pop for a new pod, this was mounting up.
Garmin Vector 3 dual sided power meter
I present to you the Garmin Vector 3 Dual Sided Pedal based Power Meter.

I have owned these for nearly 2 years now, they are the third iteration in the Vector Series of power metre made by Garmin.
These are by far the best version they have released, saying that they still have teething issues, of which I will come onto later.
The biggest difference you will notice is that there are no power pods, instead Garmin have managed to house the batteries and all the electrical gubbings inside the pedal body.
Issues with the Garmin Vector 3
The CR32 batteries have been replaced by LR44 batteries, and here lies the new issue with the pedals.
Initially the end caps were prone to letting moisture in, this was resolved by Garmin sending out new end caps that had a different seal in and slightly different design.
Then, when replacing the batteries it became apparent that he contacts Inside the battery compartment had become squashed by the batteries and placing new batteries in, for some unbeknown reasons, would leave you having drop out after drop out for the first few weeks until things settled down and then they would be faultless until you came to change the batteries again. Plus, new batteries come coated in a thin film to help them not corrode, this would also provide dropouts from time to time so I found I had to wipe the batteries with a towel before inserting them.
There is a work around for the squashed contact issue and it involved placing a very thin piece of cork behind the contact to make it sit slightly higher than usual. I have done this, and I have not had a drop out in 8 months since doing it. Garmin have now addressed the issue by releasing a complete replacement kit for this, free of charge. I have two kits sat in the garage awaiting fitment, but at the moment whilst everything works, I am reluctant to change them!
I will change them at some point, and now is probably a good time to do it whilst all the races have been postponed or cancelled. Here is a link to the fix!
Positives of the Garmin Vector 3s power meters
Despite these issues I have experienced, now that they are working without the issues mentioned, they are a damn fine pedal. The positives are that they as accurate as I want them to be, easy to use, they pair with Zwift my Forerunner 935xt and my Garmin edge 520 immediately and calibrate successfully every time. A massive positive for these are with the ease of switching them onto another bike. This means you can use them both on the TT bike that's on the turbo one day and the next whilst you commute to work or go for ride out on the road bike they can be swapped over and recalibrated within a couple of minutes.
Summary of Garmin Vector 3 Power Pedal Review
Overall, they are a great power solution, not without issues but now Garmin have addressed the known problem areas they are faultless. You can pick the Single sided pedals for less than £400 and the Dual sided version for around £750.
Thank you for reading and I hope this helps you decide whether or not the Garmin Vector Pedal based system is for you.
Buy the Garmin Vector 3 power meter pedals for £325 from wiggle (single upgrade pedal)
Buy the Garmin Vector 3 power meter pedals for £349.99 from ProBike Kit (single upgrade pedal) using discount code TRIVELO12 for an exclusive 12% discount.
Read further reviews from Jason
Nourished product review with 3D personalised nutrition.
Trek Speed Concept Gen 2 bike review
Aftershokz Aeropex bone conduction sports headphones review.
Disclaimer: Images taken from Google for illustration purposes as all my kit is currently packed away as I am not riding right now.