Helping you go faster with another fantastic bike review from one of our finest test associates.  Proud to share with you the Trek Speed Concept Gen 2 Bike Review from Jason.
Bike Manufacturer – Trek
Bike Model – Speed Concept Gen 2
Your Overall – 9/10
Price when purchased – £3950
Bike type – Time Trial Bike
How long you have owned the bike – 2 years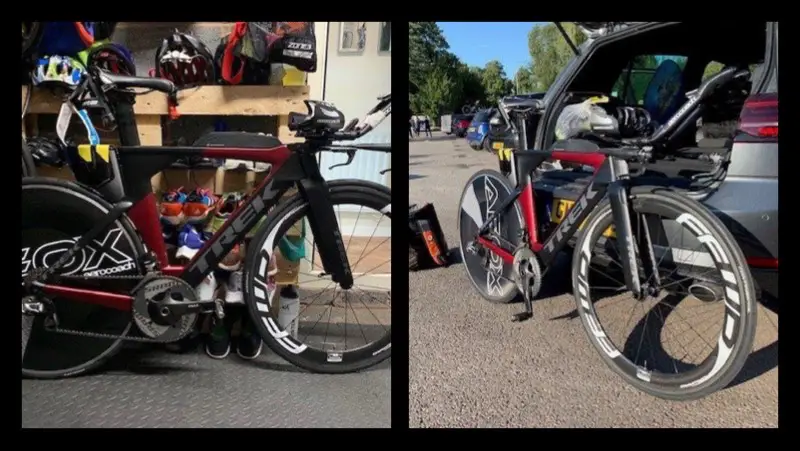 Pros & Cons of Trek Speed Concept Gen 2
Pros
Huge range of options to obtain the right fit.
Aero storage for nutrition and spares/tools.
Great handling and balance.
Cons
Complicated headset if you have to strip it down.
Bottom bracket bearings made of chocolate, not the best.
Introduction to the reviewer
I started racing on road and triathlon style bikes back in 2006. A borrowed steel framed Peugeot tri bike was used for my first triathlon. A month later I had my own TT bike, an aluminium framed Specialized Transition Comp. An absolutely superb bike. I then made a huge mistake by changing this for a bespoke carbon offering from a local bike shop. Which was subsequently sold less than 9 months later as it was utter rubbish.
I then had an Argon 18 E112. Another superb bike until the steerer snapped and Argon 18 refused to even answer any of my calls or emails. Another change, this time to the Gen 1 Trek Speed Concept. Phenomenal bike.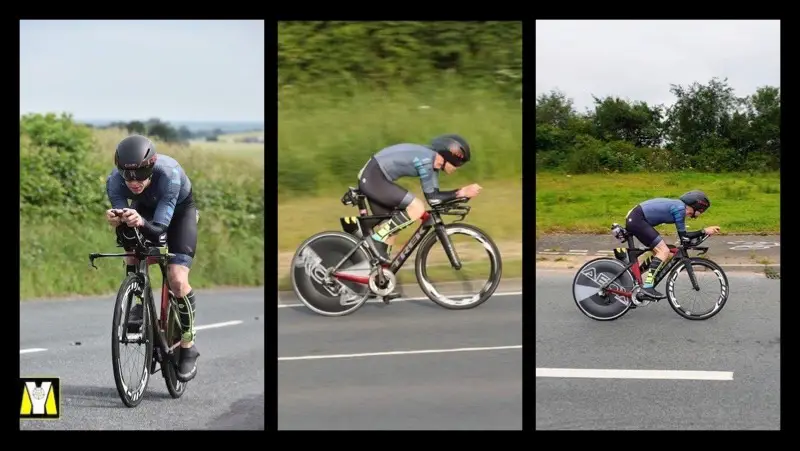 Then in 2015 I became a sponsored rider for Felt and had a Felt IA Tri bike for a season. I didn't enjoy this bike remotely near as much as I did the trek, which was now hibernating in my loft. 2016 saw me change sponsored rides from Felt to Boardman. The Boardman TTE was a great bike, unfortunately I had to hand that back at the end of 2016.
2017 was a year where I did very little racing for family reasons and I sold the Gen 1 Trek to fund my current ride. The Gen 2 Trek Speed Concept, and here is my review on this bike.
Introduction to the Trek Speed Concept Gen 2
Trek describe this bike as 'pure drag-defying tri performance' 'A complete aero system' 'The fastest bike on the planet' Those are some bold claims! My Speed concept is a project one creation, where I chose the paint scheme, it offers aerodynamic integration for spares and nutrition and boasts an incredible range of fit options.
Trek Speed Concept Gen 2 Frame
Lightweight 500 series OCLV Carbon FibreFrame, with drag reducing Kammtail Virtual Foil (KVF) tube shaping designed to employ the advantages of airfoils in a cycle specific platform. This ensures the bike handles well in cross winds and is aerodynamic at a range of different Yaw-Angles, and boy does this bike handle well!
Riding it almost feels like you're cheating the wind. Confirmed when I rode it on the Velodrome earlier this year when carrying out aerodynamic testing with the guys from Aerocoach. Achieving a CdA co-efficient of less than 0.189 shows that this bike is one of the most aerodynamic framesets out there.
Bike Component Highlights
I run SRAM Etap 11 speed Groupset with a SRAM Red Chainset spider and SRAM Red 53/42 Aero Chainrings. There are shifters on both the aero extensions and blips on the brake hoods. The brakes are integral to the frame and forks and are Bontragers Speed Limit brake set. Tricky to set up but once aligned and set to your preferred tension and throw at the levers they are very a good set of calipers; offering solid confident grip. The pads I use are Swisstop Yellow carbon pads. In one word – superb.
Riding the Trek Speed Concept Gen 2
This bike is perfectly balanced. Lightweight (for a TT bike) and comfortable. What else do you need from a TT bike? Fast that's what, and you are not disappointed when you get this wound up to speed. As I have mentioned previously, it almost feels like cheating when the wind comes out to play because it really does feel like the only limitation to going faster is the rider.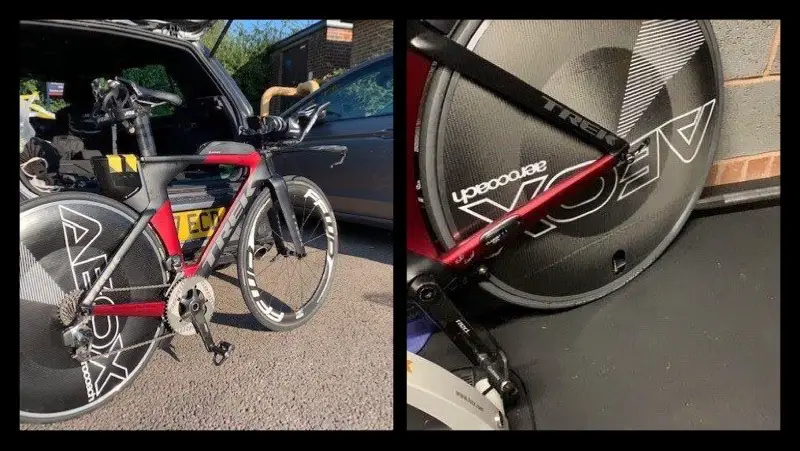 Equally adept on twisty technical courses. I can rely on this bike to really hammer it on descents or through corners as far as my own confidence will allow me. Obviously the wheels and tyre combination plays a huge part. Running Continental GP5000 TL tyres give you all the grip you need in any weather conditions. Combined with either the Aerocoach Carbon disc rear/Fast Forward F6r front combo. Or the superb all-round Fast Forward F6r front/F9r rear wheelset I also have. I can 100% rely on them. This leaves only one thing, for me to concentrate on executing that perfect bike split!
Upgrades made to the bike
The bottom bracket is Treks own BB90 system, I have replaced the standard bearings with ceramic version from Kogel Bearings. This is to save a few watts, they run super smooth and are far more durable than a standard bearing.
The major upgrade to the bike and my position has been changing the cockpit. I have swapped the standard integrated stem and ski-bend aero extensions for a Bontrager Mono extension stem and Aerocoach 35-degree aero extensions. This came about after having some aerodynamic testing with Aerocoach earlier this year. Having my arms and hands raised into the Mantis position saved 25watts over my previous set up. This equates to approximately 8 minutes on an Ironman Bike Split for the same effort.
I also upgraded my wheels to an Aerocoach Carbon Disc wheel and a Fast Forward F6r front wheel. Both wheels have been converted to tubeless and are running Continental GP5000 TL tyres. All the upgrades have helped me smash my PB's this year. Initially by breaking sub 60 min for a 25 Mile TT (57:25) and riding a 21:12 for 10 miles at the start of the season. Then towards the end of the season I clocked 3:49:53 at a 100 mile TT. Rregistering a new 25 mile PB on each of the first three 25 mile splits and only being 22seconds slower over the final 25 mile split than my previous standalone 25 mile PB. Also riding a 4:44 Ironman Bike split. This bike is fast!
Summary of the Trek Speed Concept Gen 2 review
This bike is the best bike I have ever ridden in terms of a TT/Tri bike. Comfortable, light, balanced and more than enough adjustment to obtain your perfect fit, it ticks all the boxes for me. I would happily recommend one of these to anyone looking for a fast, direct and well-balanced bike that will leave you smiling ear to ear with its blistering speed and lightning handling capabilities. This will also leave you in great position to run a superb run portion of an ironman. I have ran myself, several 3:12-3:15 marathons in an ironman off the back of 4:45 bike splits. Get yourself on Trek's Project One bike builder and start designing your own dream build!
Buy the Trek Speed Concept Gen 2 for £4150 to £4700 direct from Trek Bikes
Or the Cervelo P3X Ultegra DI2 Disc TT bike for £7499
Buy the BMC TimeMachine 02 One Ultegra DI2 TT bike for £4999
Read our round-up of 9 of the Best Triathlon Bikes for 2020. A money is no object selection of the ultimate triathlon bikes on the market.
For something a bit more mainstream check out our Merida Reacto bike review.