Indoor cycling on a turbo trainer is not just for winter. Zwift is the market leader but there are cheaper challengers out there to consider. For the past few weeks I've been conducting the Elite My E-Training Review with my Elite Direto turbo trainer. With Zwift putting prices up ever since Covid can you get the same experience for less? To read more on ZWIFT check our in-depth review on this and why some of the team in Trivelo swear by it.
Summary of Elite My E-Training Review
Trivelo Score 1 / 5
Price £19.99 Annual subscription
The Elite My E-Training is a basic smart turbo training application that can be installed on phones, tablets and laptops. It connects with a smart turbo trainer using bluetooth or an Ant+ dongle in the laptop USB. the app comes with a limited range of training videos and has a cheap annual subscription model. If you are looking for a smart turbo trainer app but cannot afford Zwift it is an option but is a very poor alternative if you are used to Zwift. It is dated with limited functionality and there are much better applications available.
Pros
Connects easily with Bluetooth heart rate monitor
Gives useful information while riding in an easy to read display
Accurate readings of mileage, time, power, and cadence
Cons
No Group ride functionality
Limited app updates
Limited range of training videos and routines
Interface is dated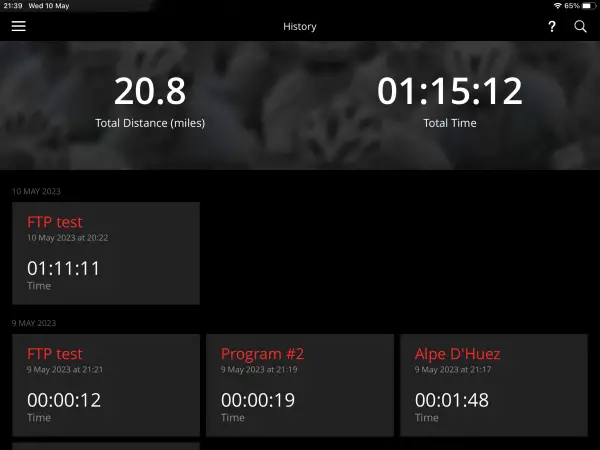 Setting up the Elite My E-Training App
This is relatively easy and works well. With your compatable smart turbo trainer switched on and in pairing mode you search for devices from the My E-Training App. I was connecting an Elite Direto to the App using an iPad 10th Generation device. Within 10 seconds the App detected the Elite Direto and connected. This provided cadence, power and speed data directly from the turbo trainer. I then paired a heart rate monitor using bluetooth. I connected a Garmin HRM Dual heart rate monitor. This was a bit more hit and miss. Took a couple of attempts to get connection but when established it was stable. The interface doesn't make it obvious but when it is paired the serial number for the HRM appears next to it on the settings page. See image below.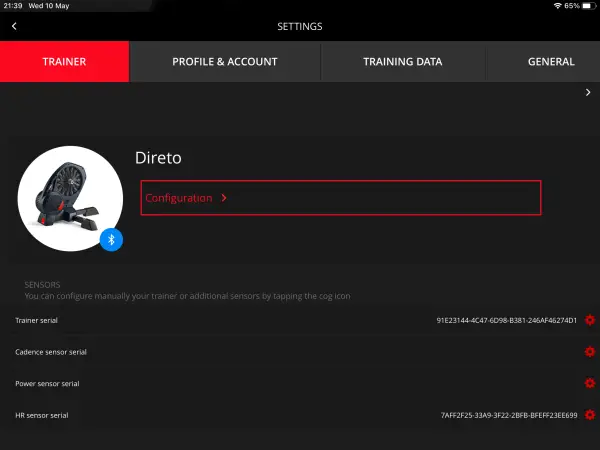 Read our updated guide to the best smart turbo trainers for 2023. We list 5 of the best with pros and cons to consider plus best prices from our wide range of partners.
Key Features of the My E-Training App
RealVideo training and FTP test with results
Compatible with Smart Bluetooth sensors and ANT FE-C
Compatible with ANT+ or Bluetooth Smart power measuring sensors
Video or audio playlist creation
Road race GPS course recording
Data export to Strava and MapMyRide
Display of power, cadence, heart rate, speed, time, and distance data
Compatibility with various ELITE hometrainers and rollers
Cycling Training Courses in My E-Training
There are around 50 training videos with real course available to ride. Many of these are from the main cycling events key stages such as the Tour de France and Girp d-Italia. I rode a number of these videos that provide realistic footage allbeit digital. This isn't real video simulated where you are embedded as an avatar but a computer simulation. The course difficulty was transferred well to my Elite Direto and the climbs were a challenge.
Elite don't seem to be adding to the list of training videos so it is something that you will soon complete which is a shame that they are not expanding this. It also is not a social ride as you are not connected to other riders.
For better ride information we recommend a power meter if you are taking your cycling more serious. To help find out more check out our guide to Power Meters, how they work, how you can use one and which ones to buy.
Real Video Training
The app allows you to film your favourite rides and upload this to then use them for training. This gives you a more real view and you are able to share these when uploaded. Be warned file uploads take ages and they use loads of storage so if using a small memory size iPad it could fill up fast. Feels more of a gimmick that a genuine training advantage in my view.
Training Programmes
The Elite My E-Training app includes an FTP (Functional Threshold Power) test. This supports custom training programmes that can be created in the app. The FTP takes an hour and 20 mins and gives you your FTP value measured in Watts. The app can then use this to tailor 4-week training plans based on this level of cycling performance. This is useful if you don't have a trainer or following any plans yourself.
If you don't currently have a heart rate monitor then you need to check our guide to heart rate monitors. With so many smart turbo trainer benefits unlocked from heart rate analysis they are a must.
Pedalling Analysis
When connected to smart turbo trainers with a power meter the My E-Training app can do pedal analysis. The Elite Direto smart turbo trainer I was using had this functionality and was an interesting test. Not something you would do regularly but good to assess efficiency of your pedalling and any variations between legs.
If you are looking for a recommendation for an outdoor cycling app we recommend Strava. It provides a wealth of features for cyclists and many other sports. Read our guide to Strava and how it works for more information to help you decide.
Would I buy the Elite My E-Training App
Honest answer is no. It has limited functionality so becomes repetitive fast. Interface is clunky and dated against alternatives. It may be cheap but I would rather pay more and get richer functionality. So, is it an alternative to Zwift? Not really. It may be cheaper but it can't realistically be compared given such an inferior experience. Sorry Elite. Love the smart turbo trainers but hate the training app.
Best Alternative to the Elite My E-Training App
While Zwift may be the obvious answer before going for your subscrtiption read my review of ROUVY. An alternative to the Elite My E-Training App with virtual real videos of courses all over the world.
For the best free alternative to Elite My E-Training check out MyWhoosh. This has some serious investment behind it and is continually developing with new features. Check out my review of the MyWhoosh indoor cycling app for all the information on how it works.
---
About the Author
---
Follow us on Social Media
---