For our latest review thrilled to bring you something really special. One of the most inspirational members of the Trivelo Squad Nicola brings you the Raleigh Strada Speed 1 bike review. A genuine trusted review from an unreal athlete!
Bike manufacturer: Raleigh
Bike Model: Strada Speed 1
Overall Score: 8 / 10
Price when purchased: £550
Bike type: Road/Hybrid bike
How long have you owned the bike: Nearly 3 years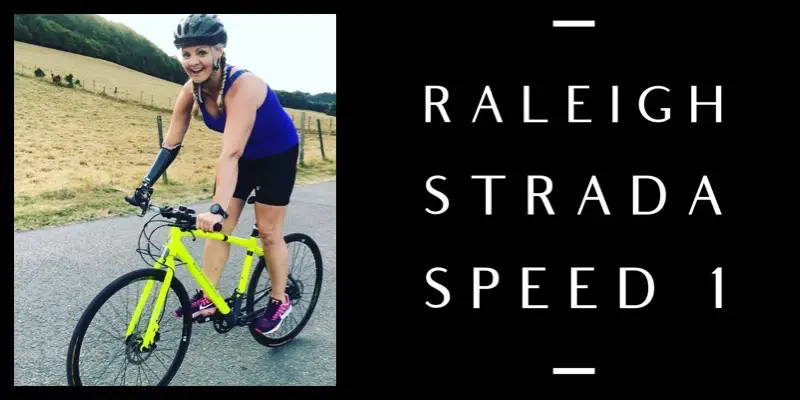 Pros & Cons of the Raleigh Strada Speed 1
Pros
Sturdy & strong
Easily adapted & fitted for my specific needs
Simple & effective
Cons
I feel like I slide forward when riding so I had to change the seat, but perhaps if the frame was longer, I'd be sitting further back.
Introduction to the reviewer
I was introduced into the world of triathlon in 2012 where I started on my uncles heavy Carrera commuter bike. As my desire to compete grew, so did my need for a bike that was better suited to me, and safer.
As a below elbow amputee with little to no right shoulder strength/use, I needed to purchase a sturdy bike that I could adapt and that didn't have dropped bars. I was recommended the Raleigh Strada Speed 1 by Anthony Hole & Sons Independent bike retailers in Burgess Hill. Julie built my bike moving the gears all to the left so I could utilise all my gears. At this point I still only had one brake; the front, as they're hydraulic & I needed to find a way of safely combining the 2. This would come a year later.
Introduction to the Raleigh Strada Speed 1
It's designed for both commuting & racing and I think that's an accurate description of the Raleigh Strada Speed 1. 
Raleigh Strada Speed 1 Frame
The Strada speed 1 has a lightweight compact frame aimed at commuter cyclists with the capability of handling rough surfaces.
The frame design is a fast, agile geometry. Built from super lightweight hydro formed Aluminium frame and a tapered headtube for greater steering control. The Strada Speed 1 comes equipped with mudguard and rack mounts for a range of uses. The forks are also aluminium for strength and managing weight.
Bike Component Highlights
Shimano Claris groupset with 21 gears coupled with Shimano Rapid fire shifters. Disc brakes using the Tektro reliable set for safe and reliable braking.
Riding the Raleigh Strada Speed 1
I needed to adapt my bike to meet my needs so had C&N Cycles expert Amy help. The 2 hydraulic brake hoses were cut & then fit together using a splitter so the lever pulled both brakes. They then did a bike fit where they rotated the bars then fitting an ergo grip and dialled into position. Both gear shifters are fitted to the left and repositioned making it more comfortable for me to ride. They swapped the tyres to 32 width for comfort and stability, fortunately the frame was wide enough to handle a wider tyre.
Lastly I changed over to cleats and my cycling has come on in leaps and bounds. It's a comfortable ride & after I put thicker tyres on, I felt even more stable.
In August 2018 my Tri Surrey teammates & I cycled to Brussels. Day 1 was 60km, day 2 80km & day 3 was Bruges to Brussels 116km. Not once did I have a mechanical. I've also cycled the Prudential Ride 60km & the Isle of wight. Not to mention several triathlons & duathlons.
My bike is my current trusty steed & it suits me perfectly.

Nicola – Trivelo Test Associate
Summary of the Raleigh Strada Speed 1 Bike Review
I'm very pleased that this bike was recommended to me as it's been perfect. I've been able to have the bike adapted to have a more bespoke fit. It's a safe, steady ride that can endure the many tumbles I've had throughout my cycling journey.
I have my bike maintained by a mechanic and even after many crashes during the start of my journey I'm pleased to say that it's still going strong.
I'd highly recommend the Raleigh Strada Speed 1 due to all the points I've mentioned previously but I also like how it looks. Bright yellow may not be to everyone's taste but, it stands out and I think that it looks smart & sleek. I'd also like to mention that the very reasonable price tag of £550; it may even be cheaper now, means it's not nearly as expensive as some of the others out there so there's no excuse not to 'get on yer bike' ad go explore.
Buy the Raleigh Strada Speed 1 – £475
Alternatives to the Raleigh Strada Speed 1
Cannondale Trail 5 Mountain Bike – £489
Specialized CrossTrail mechanical disc brake bike – £475
Read further trusted bike reviews from real athletes with our Specialized Crux Elite Carbon 105 bike review.