This weeks blog is the latest bicycle review from our test squad of real athletes with trusted reviews. Pleased to be able to share with you the Specialized Crux Elite Carbon 105 bike review from test associate Mark Shepherd who has been working on a number of reviews across Trivelo.
Bike Manufacturer – Specialized
Bike Model – Crux Elite Carbon (2015)
Overall Score – 7/10
Price when purchased – £2,000
Bike type – Cyclo Cross bike
How long you have owned the bike – 4 years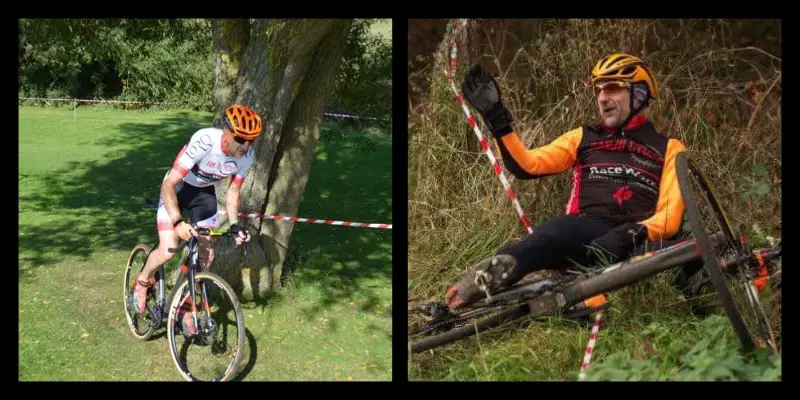 Pros & Cons of Specialized Crux Elite Carbon
Pros
The Frame is excellent, light and strong.
The TRP brakes, surprising as cable to TRP reservoir rather than full hydraulic.
Contact points, seat, bars and stem are all well up to the job 
Cons
It's only 105, fine with levers and cost effective but I found changing on the rear very clunky.
The wheels, seems to be the standard place where Specialized save money
Introduction to the reviewer
I'm into time trials / road racing who moved towards cyclo-cross and mountain bike racing through the years. As a duathlete I have medaled at the British Age Group championships 3 times and have represented GB as an Age group athlete at multiple championships. 
Introduction to the Specialized Crux Elite Carbon
The Specialized Crux Elite Carbon is marketed as a middle of the range option. Sold as a bicycle you could just go out and race on. I did just that and then made the decisions on what I needed to change.
Specialized Crux Elite Carbon Frame
This is a race bike with a racing frame geometry. Yes it has bottle cages on it but make no mistake the frame is designed to allow you to go racing.  
Bike Component Highlights
The Specialized Crux Elite Carbon comes with a full Shimano 105 groupset but with TRP cable to hydraulic brakes. The standard wheels are AXIS 2.0 Disc. All contact points are built using in-house Specialized components
Riding the Specialized Crux Elite Carbon
The Specialized feels light, a full blown race rig. I used it out the box in the Wessex league, brakes and general feel of the bike was excellent but it was let down by the wheels and tyres. I use the bike as my winter road bike. It is also my back up cyclo-cross bike for races. It is also my choice of bike for holidays.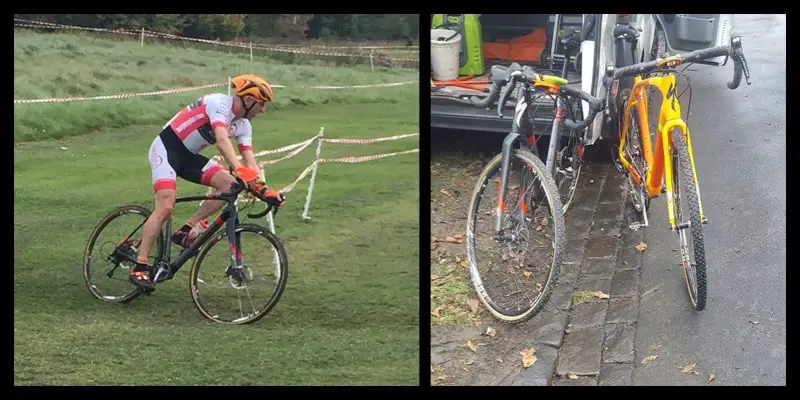 Running the Specialized Crux Elite Carbon with 2 sets of tyres it is a very versatile option as it has mount points for 2 bottle cages and is comfy enough for big miles and light enough to use in the mountains.

Mark Shepherd – Trivelo Test Associate Cycling specialist
Upgrades made to the bike
Wheels and tyres – Upgraded to Novatec CXD wheels with Challenge Tubulars tyres using various sets. Lets be honest here though. I bought this bike to be a back up for another higher spec Crux so knew this was going to happen. I tested the Axis wheels to make sure they would stack up as training wheels with better tyres.
Seat post – Cyclo-cross is hard on my body so I fitted a Specialized Cobbler carbon seat post which has Zertz vibration damping. I had one on my other bike and until I rode 2 almost identical cross bikes back to back never realised how much the Cobbler was absorbing.
Gearing – I converted the bike to a single front chainring with external BB and CX50 cranks running a narrow wide chainring. The bike is purely a racing choice for me. I changed to the Shimano Ultegra rear mech. Possibly bike snobbery but I hated the clunk of 105 and love the ride feel of the Ultegra and Dura Ace on all other bikes. The difference in feel and confidence in the change makes this worthwhile for me.
Summary of Specialized Crux Elite Carbon Review
Brilliant tool. This bike has been raced, crashed and thrashed. I have used it for road training and gravel riding. If I was in a situation where I needed to buy a bike to cover multiple things then for me the Crux is that bike. I park mine after CX season has finished as I have road bikes but when the weather turns I often haul it back out.
Buy the Specialized Crux Elite Carbon Bike for £2999.
Alternatives to consider include the top end Specialized S-Works Crux Dura-Ace Di2 CycloCross bike for £6599.
Check out our recent review of the Kinesis Racelight 4S for more trusted reviews from real athletes.