This week we are thrilled to bring you the Cowboy 3 Review. We have long been advocates of belt drive bicycle technology and Cowboy have coupled this with a motor to create something special.  Scott and I have spent the past 8 weeks getting to know the Cowboy belt driven eBike.
I've ridden dozens of eBikes and belt drive bikes but must admit I have been looking forwards to riding the Cowboy 3 eBike.
Summary of Cowboy 3 Review
I rode the Cowboy 3 while reviewing it over an 8 week period.  It is such a gorgeous design and put a smile on my face every time I rode it.  The electric motor is quiet and works effortlessly with the Gates carbon belt drive.  For a stylish city e-Bike you will struggle to beat the Cowboy 3.  
Pros & Cons of the Cowboy 3
Beautifully design eBike
Quiet and smooth ride 
Electric motor with punch 
Single speed 
Relatively pricey
Tyres make a stiff ride 
Best Price for the Cowboy 3
Buy the Cowboy 3 eBike from Cowboy bikes
Introduction to Cowboy Bikes
Cowboy bikes are a relative newcomer to the bike scene founded in 2017 with HQ in Brussels but rapidly expanding.  Continually developing their urban bike concept Cowboy have been breaking convention with the merger of technology in bicycles. We included them in our round up of the Best Belt drive eBikes for 2023 and been working with them to bring you this review.   
First Impressions of the Cowboy 3
"I'm a Cowboy."
Your experience begins as the box is removed from the delivery van.  Cowboy have crafted a customer experience that cuts no corners and creates a special connection with your bike before you take it out of the box.
Removing the Cowboy 3 from the box initial reaction is how heavy the bike is compared to the weight of a normal bike.  However, finish of the bike is incredible and reality is for an eBike it is light.  This is no crowd funding pilot release with the niggles still to be ironed out. Finished in stealth matt black it urges you to set the bike up and take it for a ride.  With integrated mud guards and lights the bike presents very clean design lines that can remain uninterrupted.  Smooth.    
Inside the box alongside your new Cowboy 3 eBike is a black box.  This has an Apple or Sonos type feel with everything cleverly housed.  Here you will find your pedals, charger, user guide, keys and all the tools needed to set your bike up.  A final addition should you need it are additional lights and a bell to complete your ride.  I loved the quality of all the parts and the connection I immediately had with the bike.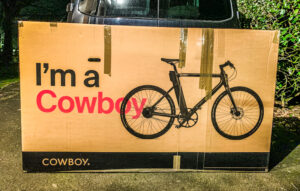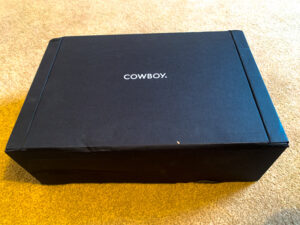 Before you can use your bike you need to register it and synchronise the bike with the mobile app.  Downloading the Cowboy app I was met with a very slick user interface that maintains the positive vibes from the delivered bike.  The bike works using bluetooth to pair to your bike and then has a GPS unit to allow remote tracking of your bike to protect you from theft.  Each bike has a unique code that you will find inside your black box with user guide.  
My experience here was alas not without some hiccups while doing the Cowboy 3 Review.  The e-bike I was testing here has had prior owners as it has been doing the press circuit.  When I attempted to register my eBike on the app I had a number of pairing issues and had to use the in-app support.  There is a Chat function allowing you to connect to a support person from the Cowboy team.  I had to use this over a number of days as my bike was unlocked from previous registered users.  Once connected no issues and I put this down to the eBike being a press bicycle so you should not experience similar.  
The issues did allow me to test the support available from Cowboy that was extremely personal.  Try getting hold of someone from many mainstream brands and you will not find it so straight forwards.  
First ride of the Cowboy eBike
The Cowboy 3 is a hard bike to pigeon hole in terms of labelling what type of bike it is.  Hybrid?  Commuter?  Fixie?  When asked we have described it as a stylish city bike trying to find a suitable definition.  The electric bike handles with the sure footing of a mountain bike thanks to the solid and polished build of the bike.  The style masks the eBike credentials with an aero frame style with the detachable battery bike contributing to the look of the bike rather than an afterthought.  
For commuters everywhere if the Cowboy 3 isn't what you need and you need something that can fold we have you covered.  Read our Round up of the Best Folding Bikes available – 9 of the best current folding bikes
I found the ride a touch disconcerting at first.  Firstly due to it being a belt drive bike and therefore it is silent.  Pulling away it makes no creak or click or grind.  Smooth from the first pedal.   This takes some getting used to for anyone who has spent a lifetime of chain driven bikes.  Even the smoothest £10k super bike makes some noise as it is engaged.  The second experience to adapt to is the eBike assistance.  I've ridden plenty of eBikes where the power is engaged but this surge of power comes in and ushers you up to a rapid pace without any conscious trigger.  The electric motor supplements your pedalling to bring you rapidly up to a speed of around 12mph.  Far quicker than you would naturally.  
From your very first ride this feels like something special.  Something disrupting the way we think about bikes. 
The ride is like an effortless magic carpet ride sweeping you along in stealth like silence.
Testing the Cowboy 3 eBike around town
Taking the Cowboy 3 eBike out for a first decent ride on the review putting in some miles was a nervous moment.  It isn't like any other bike I have ridden so the prospect of covering some reasonable distance on my maiden journey found me cautious as I set off.  With assistance coming in as you apply pedal pressure your speed picks up quickly.  As a regular cyclist I urge the bike up to my usual speeds well above the assisted speed limit of 12mph.  This means you end up working hard as you push the bike towards a 20mph pace as it weighs 16kg and has relatively fat tyres.  My fear of not getting a work out was quickly removed!
The bike is perfectly suited to the city commuting where you encounter regular disruptions to your flow.  Traffic lights.  Roundabouts.  All usually viewed as the nemesis of a cyclist but with the eBike assistance your pace is a lot less interrupted.  
Riding the Cowboy 3 offroad
To be clear I didn't ride the Cowboy 3 while reviewing up any mountains as this is no alternative to a hardtail mountain bike.  I did, however, use the bike over trails to see how it felt in rocky and grass surfaces where you might consider taking a hybrid.  The eBike felt comfortable on this type of terrain but I wouldn't want to push it onto anything more challenging given the proximity of the mudguards that might struggle.  The chunky tyres work well and the electric power assistance is a useful companion where you are riding at slower speeds generally and the motor is enabled.   
Electric motor performance on hills
There are many expletives I could well use here.  Going up some serious gradient the Cowboy 3 is awesome.  Doing the Cowboy 3 review I rode this with it side by side with a mountain bike on a 1.5 mile ascent that has over 100 feet of climbing.  It is a good training ride on a normal ride.  With the Cowboy 3 it was a breeze. Taking it in turns to compare the rides both of us could not believe the acceleration uphill.  I wondered if the single gear and 250w motor strength would fade when pushed on a serious hill but it didn't falter.  
Battery Life Real Life Results
The 360Wh battery requires around 4 hours to fully charge and claims a range of 70km from this.  While reviewing the Cowboy 3 around town the Cowboy 3 measured up to this claimed distance.  Pushing the bike with rougher terrain and some serious ascents we saw the real life results dip slightly below this.  Taking the bike through its paces I still saw the range achieve over 65km each time on a full charge.  Worth noting that we were testing during the day and did not use the integrated lights that will further impact on battery performance.  
Specification of the Cowboy 3 eBike
| | |
| --- | --- |
| Frame |  Aluminium 6061 |
| Fork | Aluminium 6061 |
| Brakes | Tektro, Hydraulic, HD-R310 system (with HD-M285 levers) |
| Motor | Custom-designed 30 Nm / 250 W motor, integrated into the rear wheel |
| Rear Hub | 63 front & 22 rear teeth, |
| Battery | Custom-designed 10 Ah, 360 Wh  |
| Charger | Custom-designed 36V / 3A charger |
| Front Hub | Gates™️ Carbon Drivetrain |
| Rims | Alloy rims – J25D 27.5"*13G*36H F/Vs |
| Tyres | 42mm Cowboy-custom tyres, puncture resistant tyres with a flexible grip and a puncture protection layer |
| Pedals | Urban Light, with anti slip protection and reflector |
| Chain | Gates Carbondrive CDX |
| Grips | Ergon GA30 |
| Saddle | Cowboy-custom saddle |
| Seat Post | Concept EX, aluminium |
| Handlebar | 540 mm width, 7 deg sweep, 15 mm rise |
| Stem | Concept EX, aluminium |
| Front Light | Custom made integrated front light |
| Rear light | Custom made rear flashing light |
| Weight | 16.9kg |
Best Price for the Cowboy 3
Buy  the Cowboy 3 direct from Cowboy for £1990.
The latest Cowboy 4 has now been released and we will be testing this shortly.  The new model comes with some changes over the 3rd generation and priced at £2290.  Of particular interest could be the two frame designs potentially broadening the appeal of the bike.  
Video Review of the Cowboy 3 eBike
Weakness of the Cowboy 3 eBike
Cowboy have really pushed the innovation boundaries with the Cowboy 3 eBike.  It has been a welcome guest in the Trivelo offices and we would love to contribute in its continued improvement.  Enclosed are areas to further improve the product based on our review of the Cowboy 3.  
A bike with its own App is a revolutionary concept.  Being able to track usage and location of your bike including taking firmware updates is very Tesla inspired.  One improvement we would love to see is more data on individual journeys.  For each journey detailed performance information on how the battery was being used compared to unassisted cycling.  Many cyclists love the data from their rides and this feels the next logical step.  To what degree was your ride assisted versus under your own steam.  
On the top tube are a set of LED lights to help you understand the charge level and let you know the bike is ready to ride.  It would be great if this changed colour during the ride to indicate when the motor was being used to understand the battery consumption.  This would give a clear signal on when you were creating power versus the bike.  
Best Alternatives to the Cowboy 3
Alternatively if you are in the USA we are big fans of Priority Bikes based out of New York.  There Priority Current eBike is a real alternative to the Cowboy 3 eBike.  It has a similar ethos focused on design unlike the Tenways that is a very good functional e-Bike.  Check out the Priority Current.
Buy the Priority Current eBike for $3,299 from Prioirty direct