Belt drive? Check. Pinion 12 speed gears? Check. Inverted front fork suspension? Check. Read on to find out about the Priority 600x Adventure review. A hardtail mountain bike that can't help but draw attention and has a lot to shout about.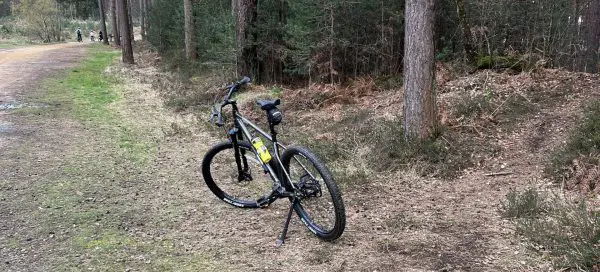 ---
The Priority 600x is a hardtail mountain bike that is built for durability and a perfect partner for maintenance free endurance distances.
Trivelo Rating 4.5 / 5
Pros
600% pinion gearing offers incredible under pressure gear adjustment,
huge amount of clearance from front suspension running 29″ wheels,
belt drive creates incredible efficient transfer of power
Cons
bike is pretty big with 29ers and 110mm travel inverted forks
15kg makes it relatively heavy
Price as reviewed – $3,500
Buy the Priority 600x Adventure mountain bike – Direct from Priority Bikes for $3,500
---
Introduction to Priority Bicycles
Priority Bikes are a US based manufacturer of bikes. They are based in New York and have been building belt drive bikes since 2014. Only belt drive bikes that makes them somewhat unique. I have been working with Priority Bikes now for the past 5 years seeing their range of belt drive bikes grow continually throughout this time. They are focused on the US market but if you want to ship a bike worldwide then they are a small business and will work to get you the bike you want. Read the Priority 600x Adventure review to find out more about their latest innovation.
Frame Geometry and Design
The Priority 600x uses an aluminium frame that has some very heavy duty welding that gives impression bike is built for durability. This matches directly with how the bike is marketed. With 20 x braze-on eyelets top and bottom on every part of the bike it is designed for touring add-ons and loading up the bike. At this price point for a more conventional hardtail such as the Cannondale Scalpel you might expect carbon frame but the strength of this bike is targetting a different rider. The frame feels very rigid through a range of terrains.
Comfort wise I was riding the Large and am 6'3″ tall. The bike has a 62cm effective top tube which kept me riding in comfort and well able to guide the bike around trails. As you see fom pictures I used the seat tube well extended still so bike is capable of accomodating riders taller than me. A 74 degrees seat angle is relatively conventional in line with a number of the Priority 600x competitors. Comfort high in the mind in the design seeking to provide a frame suited to many hours riding. I only took it out on rides up to 5 hours and was a good fit throughout.
Cabling is internally routed to allow the frame to remain clean for any touring kit to be added.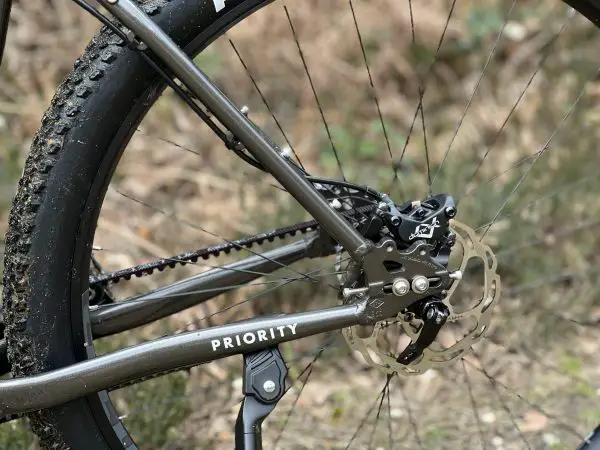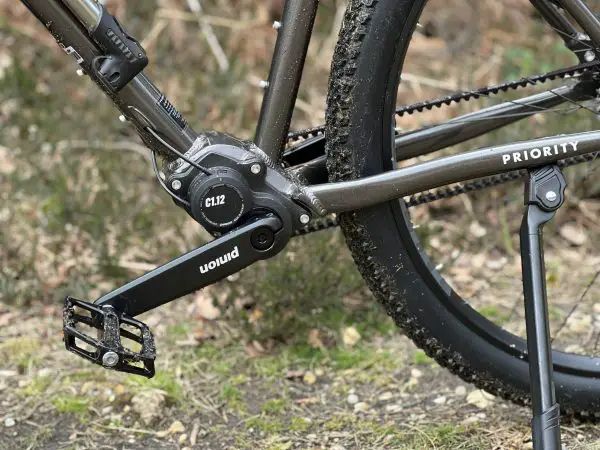 Suspension
The Priority 600x has inverted front suspension forks using the Wren mountain bike forks. Priority uses this technology as it matches much of the mantra of the bike. All seals pointing downwards gives greater protection from the realities of off-road riding. All weather components not just in the belt drive system that makes the bike a winner for trail riding.
With 29inch wheels and a 110mm of travel the front of the bike makes you feel like you are riding high. Comparing against a Specialized Epic Hardrail Comp the Priority sits higher. Around 5cm higher. However you size it the bike feels big. Suspension is responsive and not at all soft and includes lock-out as you would expect.
Belt Drive system
The biggest talking points on the Priority 600x Adventure is the belt drive system. The Priority uses the Gates carbon CDX belt drive which is a marvel on a mountain bike. This is one of a handful of bikes now adopting carbon belt drives over chains. We have done a deep dive on the pros and cons of belt drive bikes that covers this in much more detail. The belt drive on the Priority allows full transition of power to the wheel with no loss of torque. The belt is continuously optimised for power and is unaffected by dirt or other external forces. Riding through any terrain you don't need to worry about any of those elements entering your chain and risking breakage.
Conventionally people have considered belt drive systems as single speed bikes. There are in reality a number of belt drive gearing systems. As a belt drive cannot flex laterally in the same way as a chain most systems use a rear hub gearing. The Shimano Nexus 8 gear system being a good example and conventional thinking of the maximum gears available to belt drive bikes. This offers increased flexibility for belt drive bikes but can be limited for a mountain bike. Priority have a taken a different path using Pinion Gearing.
If you are a fan of belt drive bikes, like me! Check out our round up of 15 of the best belt drive bikes that now includes the Priority 600x Adventure MTB. Bikes across every niche are adopting belt drives and you can read about the best current models in our buyers guide.
Gearing
The Priority 600x Adventure uses the Pinion 12 gear system that sits mid-mount and is often mistaken for a motor. Plenty of people asked me if the bike was an eBike. Not so much when heading uphills. The pinion system offers a 600% range of ratios with no overlap. From riding up inclines up to 10% I found I had the right gearing to make the climb.
Shifting is via grip shifters and I found shifting mid-incline was effortless. Something foreign to chain bikes. Changing mid climb can result in a snapped chain on a conventional mountain bike but with a Priority bikes belt drive mountain bike means this is genuinely possible. Changing gears initially I did find a strange sensation on my first few rides. In the middle range the shift can be so smooth it is almost disconcerting coming from a lifetime of sprocket based gearing. Once you tune into the silent shifting it is less conscious but initially strange.
Read all about the Pinion C-Line 12 speed gearbox for bikes in our deep dive article.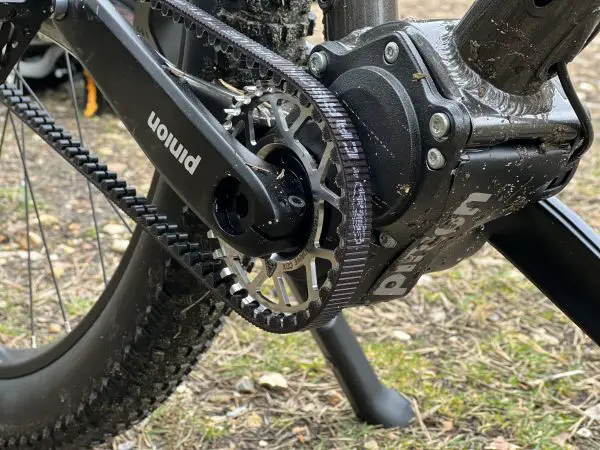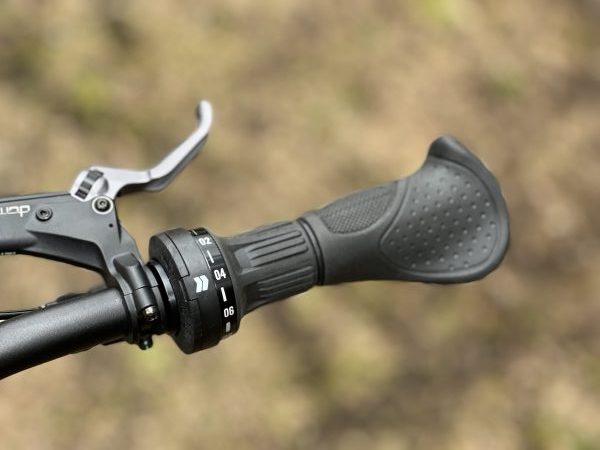 Ride Performance
I am a massive evangelist for belt drive bikes having ridden them on a range of bike types. For the Priority 600x Adventure review I must admit it is the first belt drive mountain bike I have ridden. All of the benefits of belt drive bikes that I have written about previously come through in an MTB. I rode the 600x over trail, forest, gravel, beach and road and that silent smoothness never fails to impress. It is a beautifully quiet and effortless ride.
It continually gets mistaken for an eBike both due to the mid mount Pinion gearing housing but also how easy it is to ride. I took it over some jumps but nothing major. I don't really see this bike as a serious downhill jumps contender. It is more of a go anywhere mile muncher that can be a trusted steed. With fewer ingress points for dirt it can be relied upon for rough treatment and little if any maintenance. Crucial if you are on the road.
The high front and scale of bike mean it can't truly be described as nimble coupled with the 15kg of weight. It feels assured though off-road and planted with those 2.4inch tyres. The Goodyears really worked well especially on lose terrain.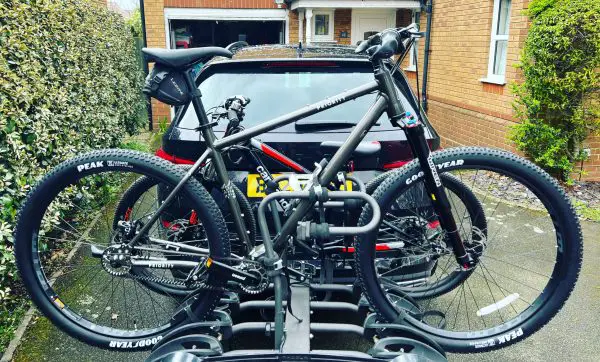 Specification of the Priority Bikes 600x
Following specification is from the Priority 600x Adventure bike I have been testing and riding for the past 6 weeks. Priority offer some upgrade options so for transparency this is spec as reviewed.
| | |
| --- | --- |
| Frame | Ultralight 6061 T6 Aluminum |
| Forks | Wren Inverted Suspension with 110m Travel |
| Wheels | WTB KOM Tough i35 29″ Tubeless Ready |
| Tyres | Goodyear Peak Ultimate Tubeless Complete Dynamic: 29″ x 2.40″ |
| Crank Arm | Pinion Crank |
| Belt Drive | Gates Carbon Belt Drive CDX |
| Rear Cog | 30t Gates CDX |
| Front Cog | 32t Gates CDX |
| Gears | Pinion C-Line 12 speed 600x ratios |
| Brakes | Hayes Dominion A4, 4 -piston hydraulic disc |
| Saddle | WTB Pure  |
| Headset | FSA Sealed Bearing |
| Weight | 15kg (size Large) |
| | |
---
Why you should buy this bike
Riding this bike with the silky smooth belt drive and pinion gears puts the biggest smile on my face. It is near silent which is a superpower for a bike. For me it was such a different ride akin to the first time I rode an eBike. This bike is special.
Summary of review of Priority 600x
The Priority 600x Adventure bike is breaking new ground for mountain bikes. One of the first to transition to belt drives. The bike is a perfect long distance machine to be loaded up and support you across your journey. It is not just for bike packers though with the brilliant Pinion system that connects you to the terrain with effortless control over gearing. Stand out from the crowd in a very positive way with a bike that rewrites the book for off-road bikes.
Video review of the Priority 600x Adventure
Hear from me as I share my views on this incredible bike.