This weeks review comes from James who has been doing the BlueSeventy Swim Bag Review. A high quality swim bag that also has plenty of functionality to work as a triathlon bag. Read the review from James and his experience using regularly.
---
Product Summary
The Blue70 swim bag is a bright, well-designed and highly useable bag. With features that allow it to be used for training, work and travel. It is sizeable for swimming equipment and laptops
Trivelo Score – 4/5
A well-made and highly useable bag. Only let down by the lack of a waterproofing on the 'wet kit' pouch and no internal zippered pocket.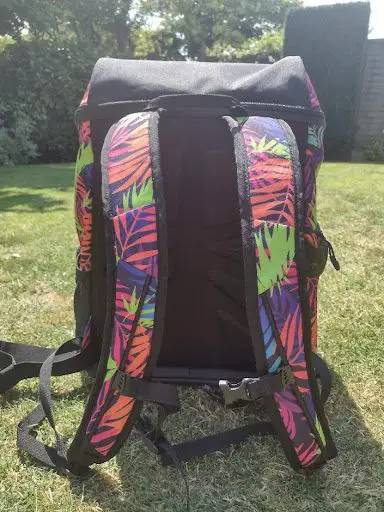 Pros and Cons of the Blue70 Swim Bag
Pros
Colourful design that stands out
Spacious for all your kit and commuting needs
Comfortable straps and back padding
Versatile for swimming/tri/travel uses
Lightweight
Cons
Wet kit pocket not waterproof
No internal zipped pocket
---
First Impressions of Blue70 swim bag
The Blue70 swim bag is not a quiet offering from the Seattle based company that started producing wetsuits in 1993. Both on poolside and travelling it definitely stands out. With bright tropical leaves criss-crossing a black lightweight material and a large Blue70 logo superimposed in white to leave no question as to who the design belongs to.
If the first impressions when pulling the bag out of the delivery wrapping was of the colourful design (a plus for this reviewer), the second was of the weight. The majority of the bag is made of a thin but tough material that is incredibly light. It makes it ideal when cycling or travelling, especially on flights where there may be weight restrictions. To enhance the travel specification there is a chest and waist strap, both of which are adjustable with plastic buckles and two wide padded shoulder straps that help distribute weight well. The back is also cushioned with a cut out design to help promote some ventilation between the bag and your back. The base is a hard-wearing, slightly rubberised material. This extends approximately an inch up the sides to reduce scuff damage when travelling and moving the bag from floor to locker and anywhere else.
If you are looking for a new swimming wetsuit Richard from our Test Squad recently rigourously tested the BlueSeventy Fusion wetsuit. Read his full review on this full length mens swimming wetsuit.
BlueSeventy Swim Bag Capacity
Externally there are 3 zippered pockets and a wet kit pouch that is ventilated. Plus a large opening top that allows easy access to the internal compartment. With an official capacity of 45 litres the Blue70 swim bag has enough space for fins, kick board, pull buoy, paddles and any other equipment you may want to carry to the pool. There is also an internal padded laptop sleeve. All of the zips are well made and run smoothly with large oversized pull handles. Additionally there is a mesh water bottle pouch that can take a 750ml bottle comfortably and two carabineers that can be used to attach extra water bottles or accessories as desired.
Fit and Functionality of the bag
The wide adjustable straps and light weight of the bag make it comfortable to use both to and from the pool. It can easily carry everything required for swim training or an overnight stay or two. The top loading nature make it easy to see what you want to pull out. The internal laptop sleeve is incredibly handy when the bag doubles up for training and study/work duties. The sleeve is padded at both sides to help protect your laptop. It is big enough to take up to 17.5 inch laptops without compromising the internal wet kit bag that pokes into the main body.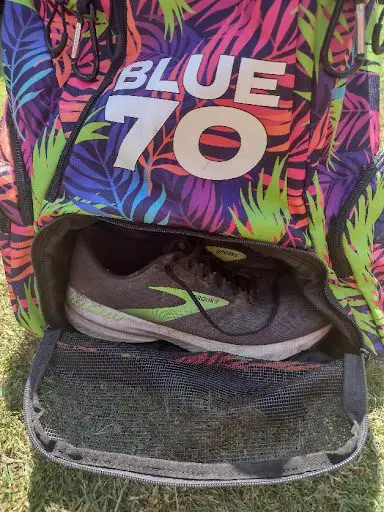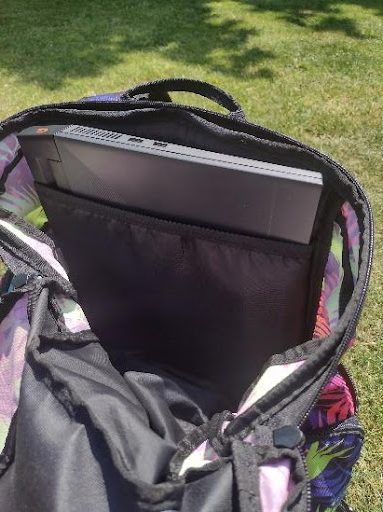 The wet kit pocket is external accessed and ventilated with rubberised mesh. It will take a swimming costume, hat and goggles easily. There may be space for hand paddles and/or a small pull buoy depending on the size of your own equipment but a kick board won't fit. Slightly questionably the wet kit pocket is not waterproof. So, the dampness does seep into the main compartment. Something to keep in mind if you are carrying books, electronics or other clothes at the same time!
To see immediate improvements in the pool you have to try swimming with buoyancy shorts. Read our post on how they work and the performance impacts they can have on your swimming.
Versatility as a triathlon bag
Handily, the waterproof pocket can double up to carry shoes or a bicycle helmet which increases the versatility of the swim bag. It could potentially be used as a triathlon bag as you can fit a wetsuit and bike shoes inside the main compartment. My medium aero road helmet and size 10.5 running shoes both fit comfortably in the pocket (although separately!).
The external water bottle pouch is sturdy and I didn't fear jettisoning my bottle when jogging for trains or whilst cycling. The three external pockets also allow for some separation of belongings. One is meshed at the top so could be viable for additional wet equipment but again it isn't waterproof. I would be slightly hesitant to store anything too valuable in these external pockets. The zips run so smoothly you wouldn't notice them being opened if you were on public transport whilst wearing the bag. This is where the addition of an internal zipped pocket would be beneficial. 
If you are looking for a triathlon specific bag we have built a round up of 9 of the best triathlon bags with something for every budget. If you thought KitBrix were the only game in town for a triathlon bag then read our list of the best triathlon bags for more to consider.
Quality of the swim bag
After using the bag for several weeks for the pool, commuting and general travel it has held up well going in and out of lockers, cars and trains with minimal scuff damage or wear visible. The material although light is hardwearing and I'm confident it will last several seasons of use. The zips are smooth with sturdy pull handles so again I don't foresee any issues with them. A slight point of weakness may be the plastic buckles on the waist and chest straps but so far they are still in perfect condition
Comparison to other bags
Retailing at $80 (roughly £60-65) the Blue70 swim bag is similarly priced against comparable bags from major swim brands. Slightly less than triathlon 'transition bags', albeit potentially lacking a waterproof wetsuit pouch or other triathlon-specific features. However, with the laptop sleeve it does increase its versatility for use for commuting/work and general travel.
Would I buy it?
Although a more expensive option than a regular rucksack the Blue70 swim bag has increased uses for commuting and training. It is likely to be a long-lasting product over many seasons. If I was in the market for a new bag this would be high on the list.
Best price for the BlueSeventy Swim Bag
Buy the BlueSeventy Swim Bag direct from BlueSeventy for $80
---
Video Review of the BlueSeventy Swim Bag
Hear from James in his video review from our YouTube channel.