The Good Mood Co Recovery Product Review 2022. David has been spending 10 days with the Good Mood Co Recovery Product and it has had quite an impact on him. Read about his trial.
Introduction to the Good Mood Co
The last 12-18 months have been tough on a lot of us and I can wholeheartedly admit my nutrition and sleep have taken a nosedive (writing this has just reminded me to take my Good Night tablet) coupled with having our first child 2 weeks into lockdown 1.0 I've managed to pile on a few kg's. As most first time parents will I'm sure admit I've eaten what I can when I can and slept very little trying to juggle this new somewhat joyful and definitely stressful journey with all the surprises of first time parenthood thrown in for good measure!
Introduction to David
So who am I? Well I'm now a dad approaching 40 and a keen road cyclist and newbie triathlete who has completed a few Sprint Tri's over the last year or so. I played a fair share of sports when younger, mainly rugby, cricket and golf and considered myself to be above average at best at most sports. As most can understand being the age I am, warmups and cool downs were never a thing like they are now so soreness and poor flexibility has become something I have had to accept and work on improving as I get nearer to the big 4-0.
As next year approaches faster I also wanted to see what I had left in the tank – could I still cut it to a degree with swimming, cycling and running further than I have done and as a result I've been looking at half ironman events as a 40th celebratory challenge, so when I discovered Trivelo and the opportunity to test and review products I thought this could be a great motivation to get training seriously. I'd also never heard of The Good Mood Co. before either when the offer came through to test their products.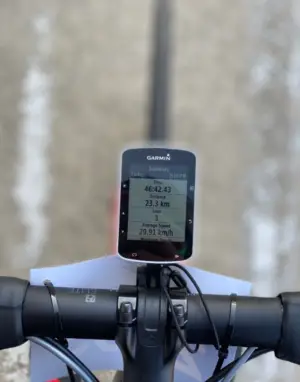 >>> Best Alternatives to Huel Black – Discover awesome meal replacement alternatives to Huel
Why use the Good Mood Co Recovery Products
So where do I begin? Who and what is the The Good Mood Co. The website says Say Goodbye to Feeling Drained! Recover Energy, Restore Focus & Boost Performance NATURALLY. TGM Co. are a plant based, vegan supplement that claim to bring:
More Energy – Supporting gut health – fighting fatigue, and leaving you feeling fresh and energised.
Sharper Focus – Improves mental performance – enhancing concentration, clarity, memory and learning.
Deeper Sleep – Enhances quality sleep, promoting more rest and preparing you for the next day.
Better Mood – Promotes positivity – supporting your relaxation and managing stress and anxiety.
Full Body wellbeing – Our all-encompassing approach helps you maintain a healthy mind and body.
Testing the Good Mood Co Recovery Products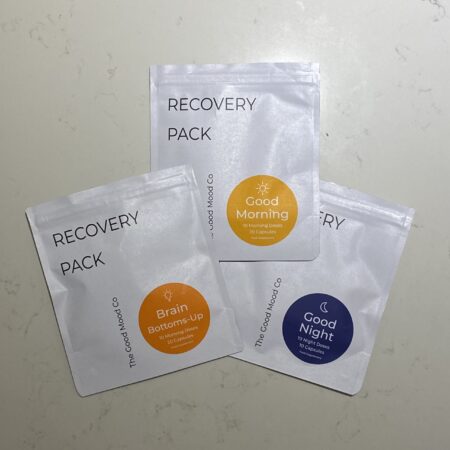 I was kindly supplied a free 10day sample pack from the guys at Trivelo and I have to say found immediate and positive results. In no way can I claim to understand 90% of the active ingredients and what they do or how they can be beneficial so I felt like I was going into this trial with no preconceptions of what to expect. Reading through the ingredients for each packet – its probably worth mentioning at this point the way The Good Mood Co. works is you take 2 tablets when you wake up called Good Morning, then 2 tablets of Brain Bottoms-up once you've had your breakfast followed by 1 Good Night tablet one hour before you go to sleep, I did recognise a small portion of the ingredients but again if asked I wouldn't know how these could benefit me on a daily basis.
Results from using the Good Mood Co Recovery Products
Within 2-3 days of trialling the tablets I was pleasantly surprised! The most obvious result for me was sleep. I'm not a morning person and rely on a good strong coffee to get me up and ready for work. Even now the 20 yards or so I have to walk to the garage now we're are working from home can be a blur without my coffee so to
wake up feeling fresh and rejuvenated was a real positive for me. It really did feel like waking up refreshed and immediately set for a positive day like you see in the movies! It's also helped me start running in the mornings albeit just 2 days during the week – when time allowed it with a toddler tearing around the living room high on rice cakes and breast milk before being shipped off to nursery.
Improvements in Sleep
As I mentioned above quality sleep has become somewhat of a distant memory for me. Our 2year old is not the greatest of sleepers so there has been a fair share of restless nights back and forth trying to settle him and teach him sleep can be beneficial and also fun when achieved in 6-7hour blocks each night – he would still argue otherwise!
Reviewing my sleep patterns in my Garmin Connect app I could see straight away the longer patterns of deeper sleep I was obtaining was having a positive effect on me, I was feeling less stressed and anxious throughout the day and relying less on coffee to get me through to bedtime to only just repeat the cycle day after day. I
could also see lower stress scores in Strava and Training Peaks app after training sessions too which was a real positive for my mindset. I felt like I was slowly moving in the right direction not just with my sleep but with my mindset also.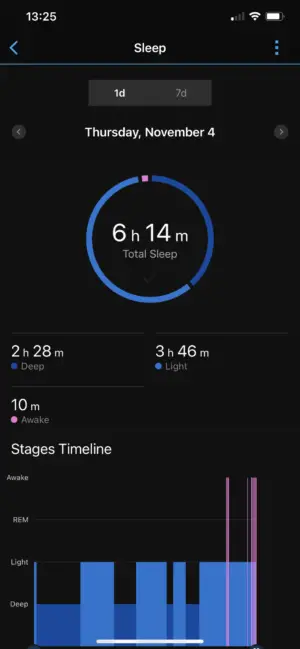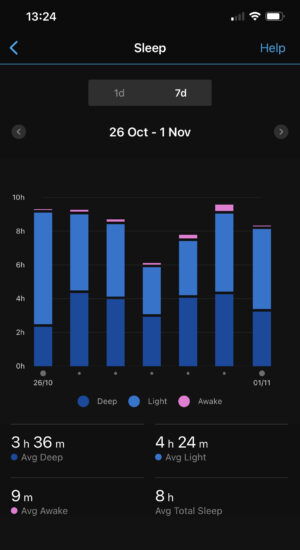 Improvements in Energy from using the Good Mood Co
With better sleep my daily energy also started to feel better. It really helped giving me a more positive healthy focus to each day and my partner also comments how much of a better mood I had been in since since starting the trial.
I had a goal in the back of my mind that I wanted to start 2022 in a better more positive light, which I know others may feel the same after the tough year 2020/21 has brought to us. I knew my general level of fitness was starting to fade, my 5km/ 10km running was becoming tougher on the legs and finding the time to go for what would have been a relaxing 40/50mile bike ride was becoming a time trial to get the distance and a real leg burner resulting in a longer recovery time during the week. Although at present I might not be the fittest I've been, since taking TGM Co. tablets I felt an increased level of energy and a positive relaxed approach to daily life and work.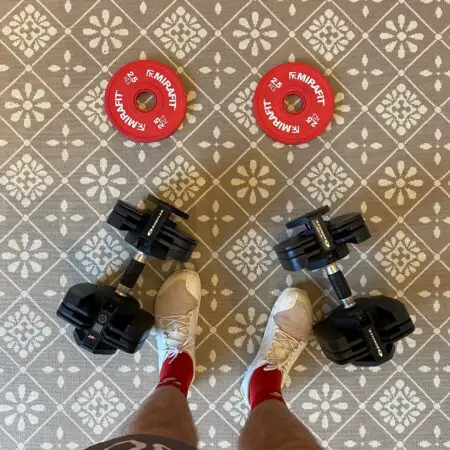 What next with my trial?
So what next after completing the 10day trial? I was extremely keen to carry on with TGM Co. as I was seeing positive effects to both my mental and physical wellbeing but didn't want to rely on taking daily tablets and finding I was over reliant on them and ensuring my body would still be able to absorb the nutrients for each 20day cycle. Looking at their 20day subscription they note the same notion which I felt was a great USP – allowing our bodies time to recover, align and balance independently for 10days each month.
So yes I've subscribed to their 20day package and have recently finished the first 20days and am feeling great. Mornings are being less chaotic and my training has increased to 2 morning runs around our local lake and a mid week strength session with either a Zwift weekend ride during the winter months or an open water swim when the weather was milder.
This has been a great trial for me and I've appreciated the opportunity to discover a daily supplement which I feel will stay in my armoury for the foreseeable future especially during training blocks. If you find yourself struggling in any of the above areas I'd recommend trialling TGM Co. and hopefully it can have the same positive effect as it has done for me.
Best Price for the Good Mood Co Recovery Products
Buy the Complete 10 day pack direct from the Good Mood Co for £28.99 and discover the benefits that David experienced from his review.