This week we have the TRR Nutrition Pro Advanced Collagen Liquid Supplement Review with a double review from Shayne and Beth. Hear the results of their testing of this complex product for athletes. Two incredibly valuable viewpoints on an innovative product.
Introduction to Shayne
Im a 40 year old age group triathlete. I've a young family, and a demanding job with many stresses and hours to work. Pre – family I represented GB age group, and have qualified a couple of times since (had to pass it over due to family commitments) but have ambitions of qualifying again this season to go to the Europeans Champs next year.
This year I've taken on an Ironman for my 40th birthday (I figured Mrs Wilson has no choice but to let me if its for my 40th) and not just any triathlon, I'm tackling Triathlon X- marketed as the toughest triathlon in the world, hping to raise a little money for Mind – the mental health charity.
I have a love hate relationship with running, I love it, however my body (chiefly my knees and hips) hates it. At the time of starting my trial I could run for around ten minutes before needing to stop due to joint pain, specifically my knees, where I had previously had surgeries. Naturally, I sought opinion from a Physio at the time, my coach and I have worked really carefully to build mileage and intensity. However, my team is more from a mileage and duration than an intensity perspective.
Its because of this and having read up on collagen supplementation that I've been really intrigued to trial TRR. As an over 40 Age Group athlete (Im officially a vet now – Shhhhhh!!!!) recovery is one of the most important aspects of my training – gone are the days I can just train, not recover properly and get up again the next day!
>>> 15 of the Best Triathlon Wetsuits 2021 Buyers Definitive Guide
What is collagen?
Collagen is the most predominant protein in the Human body, its in your skin, bones, tendons, cartilage, ligaments and muscles. It has been described as the glue that holds your body together. There are 16 main types, the four main types are:
Type I. This type accounts for 90% of your body's collagen and is made of densely packed fibers. It provides structure to skin, bones, tendons, fibrous cartilage, connective tissue, and teeth.
Type II. This type is made of more loosely packed fibers and found in elastic cartilage, which cushions your joints.
Type III. This type supports the structure of muscles, organs, and arteries.
Type IV. This type helps with filtration and is found in the layers of your skin.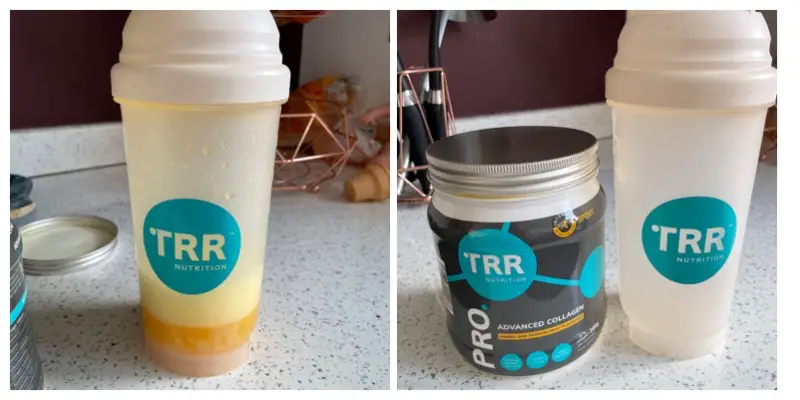 What are the benefits of collagen supplementation?
Improved skin health: In one study, women who took a supplement containing 2.5–5 grams of collagen for 8 weeks experienced less skin dryness and a significant increase in skin elasticity compared with those who did not take the supplement
Joint pain reduction: Collagen helps to renew cartilage in joints, keeping these natural shock absorbers healthy reduces joint pain. In one study, 73 athletes who consumed 10 grams of collagen daily for 24 weeks experienced a significant decrease in joint pain while walking and at rest, compared with a group that did not take it
Reduce bone loss: Studies have shown a 7% improvement in bone mineral density in women who supplemented with collagen, versus those who did not take collagen supplements. Low bone mineral density is associated with osteoperosis
Boost muscle mass: Collagen is a primary protein found within muscle mass. In one study, 27 frail men took 15 grams of collagen while participating in an exercise program daily for 12 weeks. Compared with men who exercised but did not take collagen, they gained significantly more muscle mass and strength
Improved heart health: Collagen is a key protein to promote structure with arteries and blood vessels. Without collagen they can become weakened, promoting artherosclerosis. In one study, 31 healthy adults took 16 grams of collagen daily for 6 months. By the end, they had experienced a significant reduction in measures of artery stiffness, compared with before they started taking the supplement
>>> Do Buoyancy Shorts Work? Feel instant results in the water
Whats in TRR Nutritional Supplements?
10,000mg of marine collagen
Glucosamine-
Vitamin C
Turmeric
Turmeric, vitamin C and Glucosamine are all products related to the reduction of inflammation. With Marine Collagen helping to repair structures that are collagen based – tendons, ligaments, cartilage and such like. Vitamin C can also help with the absorption of collagen.
How does TRR Nutrition Supplement taste?
The flavour I trialled was Passion Fruit – its delicious and very natural in taste. Its also great in smoothies!! How does it mix? The trial came with a mixer, and the supplement mixed really well. No lumps and was quick to get to a point you can drink it. Ideal for a quick shake on the go.
What are the reported benefits of TRR nutrition?
Improved recovery from training
Normal function of bones and joints
Reduction of joint pain.
Findings from review of TRR Nutrition
I have certainly had a reduction in pain while running – I progressively found that pain while running definitely reduced throughout taking the supplements. I've gone from running for ten minutes and having to stop, to running up Scafell Pike and back down, an act which a few months ago, did not seem remotely possible!
Improved recovery – less DoMs and ready again the next day to get back to training. I have definitely noticed an improved rate of recovery throughout supplementation. I can train hard one night and be ready the next morning to go again.
Would I recommend TRR collagen supplementation?
Yes, absolutely, I have continued to purchase the product since the trial has ended due to the reduction in pain and improved recovery from training. I have recommended the product to friends also.
Any downsides to TRR Nutrition?
At certain times of day, or post a meal the product did give me some gastro discomfort for a very short period.  However, if taken before bed, or in the morning before eating then I had no issues.  I've taken the product pre training in the morning and found no issues here either.  My preferred method of consuming it is in smoothies and I have to say they're delicious.
Best Price for the TRR Nutrition Pro Collagen Supplement
Buy the TRR Nutrition Pro Collagen Nutrition Supplement
---
Introduction to Beth
I'm Beth, a middle-distance triathlete aiming to qualify for the 2022 Ironman 70.3 World Championships. Despite 2020 being a blip of a year for most of us, for me it was even more so. I was diagnosed with a stress fracture in my lower shin in May, which meant I had to take 4 months completely off running and build it back up very cautiously from there.
It's been painfully slow progress, but my leg finally seems to have adapted to regular running and I'm managing to get 3-4 hours of it done per week. All alongside my cycling and, now the pools are back open, some swimming. With Outlaw Half Nottingham coming up as my first race of the 2021 season in June, I wanted to make sure I was as fighting fit as possible. When I saw these collagen supplements come up to review, with my injury rehab in the back of my mind, I was intrigued to give them a go.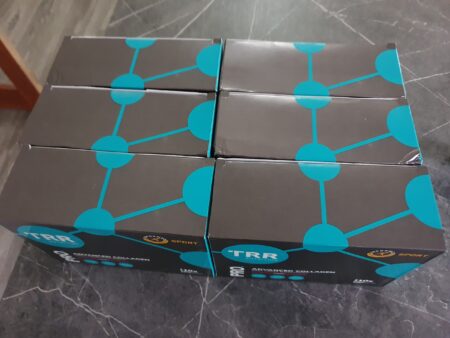 Review of TRR Nutrition Pro
The supplement is designed for athletes (Andy Murray is behind it). Aimed at strengthening and maintaining cartilage and connective tissue, supporting joints and bones and providing immune boosting anti-inflammatory properties. This is in the form of turmeric and ginger root extracts.
Note that it is 'informed sport certified' which is important for us competitive types as it's free of banned substances.
>>> Nike Air Zoom Alphafly Next% Review
I started taking the 50 ml a day liquid supplement in February, completing the 2-month course at the start of April. The directions stated that the supplement should be taken after a workout, to have the best effect, and so this is what I did. Note that I currently do 10-14 hours of training a week, half of that being cycling, 3-4 hours of it being running and the rest swimming and strength/conditioning.
Despite my leg being healed and strong enough for running, it did tend to ache after a period of time pounding the pavements. So, I was keen to see if the connective tissue strengthening properties of the supplement helped with this at all.
First Impressions of the TRR Nutrition Pro Supplements
The liquid supplement (there is also a powder option) comes in a nifty, smart looking, plastic hand sized bottle with a metal lid. Each box contains 10 of these bottles. So, for a 2-month supply that gave me 6 boxes in total. I'm trying to be more conscious of the environment and the amount of waste I produce, so the disposable plastic element of the supplement was something I was conscious of. Noting that it was recyclable.
>>> BiSaddle Adjustable Saddle Review
Tasting the TRR Supplements
So, what did I think of the supplement? Firstly, I found the taste odd. It's flavoured to taste of cherry. There is turmeric in the supplements which you pick up immediately from the yellow, rusty colour of the liquid. It also has a distinctive smell as soon as you open the bottle. The taste definitely takes getting used to (I still find the taste strange).
Training while using TRR Supplements
Performance wise, I didn't notice a change myself. 2 months of testing potentially isn't long enough to notice a solid difference. I was hoping for a reward for my efforts! I have noticed an improvement in my leg in general, it doesn't really hurt at all anymore. During training as well as taking the supplements I have been doing regular stretching, massage and adaptation. Since completing the TRR supplement my leg has continued to improve.
I do take regular supplements myself (a daily multi vitamin and cod liver oil tablet) and have a balanced diet. It may be that athletes not taking supplements could see even more impact than I did.
Summary of TRR Nutrition Pro Advanced Collagen Liquid Supplement Review
At £38.99 for 10 days' worth, £87.72 for 30 days' worth it's a pricey product. While there aren't any scientific statistics on their website there are lots of positive reviews. Most of them are general, the ones that are specific are from older people (in their 50s) who have joint pain. Now, me being a 28 year old with no joint pain who already takes supplements for general well-being means I don't tick that box.
Best Price for the TRR Nutrition Pro Collagen Supplement