This week we have a monster test of the Salomon Wildcross Women's Review 2020 from Heather. We have already tested these shoes with Mark using them over a range of surfaces. Heather has taken the testing to the extremes putting the Salomon Wildcross through their paces in ultra off road racing.
Introduction to Heather – Ultra Runner!
I'm Heather Taylor and I have been participating in triathlons and duathlons at a high level for about 4 years now. Last year I competed in my first Ironman and have plans to compete in another next year. Running has always been my first love and there is nothing more I love to do than to take my dog running on the trails.
This year I completed my first ultramarathon on the 3rd of October. The ultramarathon I chose to make my debut was the Chiltern Ridgeway Ultra, 50km in length with 990m of climbing. I completed this in just under 5hrs and came 2nd Lady Overall which was a surprising result.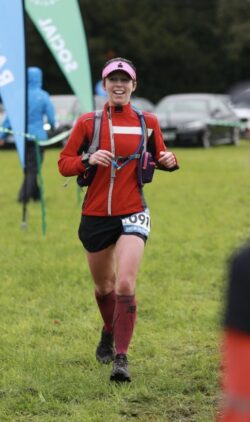 I wore the Salamon Wildcross during all my training and during this event so they have clocked up a fair few miles now. The weather changed drastically in the UK during my time testing, so they have been tested on the dry summer trails and the muddy autumn trails. Here is my review:
Saloman Wildcross Specifications
The Saloman Wildcross is designed to keep up the pace in muddy conditions. The shoe has multi-directional lugs for extra grip, a waterproof Gore-Tex membrane and SensiFit™ wings which keep your foot securely in place. The shoe also has an optimized drop and stack height to give you stability.
Used for: Training and racing
Waterproofness: GORE-TEX membrane
Terrain: Muddy and soft terrains, Technical terrains
Lacing system: Quicklace pull
Drop (in mm): 8
Weight (g): 264g Ladies Size 5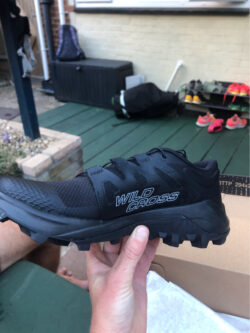 Pros of the Salomon Wildcross
Water repellent and when submerged quick drying,
Resistant to clogging,
Great traction on slippery and loose terrain,
Comfortable and adjustable fit,
Efficient Quicklace design,
Cons of the Salomon Wildcross
No designed for road or hard trails,
Limited Colour designs,
First Impressions of the Salomon Wildcross
The shoes arrived and I was slightly disappointed that they were plain black but then they only get muddy anyway. Straight away in noticed the aggressive deep and effectively designed lugs. The shoe also has a fairly generous stack height for cushioning and protection and the Quicklace looked neat and effective.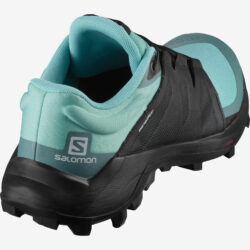 Fit of the Trail shoe
The fit is true to size, being a UK size 4 all my running trainers have fitted a size up and these at a UK size 5 fitted perfectly. The felt like they had a slightly wider fit than normal which I believe is welcoming when running long distances.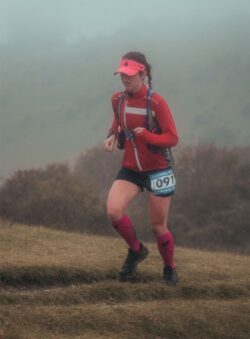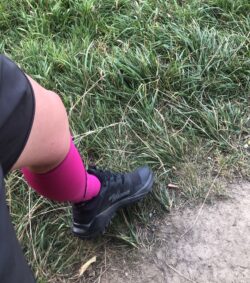 The sensi wings wrapped my mid foot making it feel snug but not over tight or loose. This wing system gives you the option to loosen or tighten the shoes quickly which can avoid chaffing issues.
The integrated quick lace system is a great addition to comfort and performance as well. The chord has a pocket on the tongue you can tuck it into which prevents any flapping and stopping to do up your laces during runs.
Comfort of the shoes
The first few runs I had with the Wildcross I experienced some rubbing on the inside foot just above the arch, however, this went away once broken in after a week or so. I found the upper fabric helped provide stability and helped keep speed on the really muddy trails.
The midsole cushioning is tolerable, but doesn't give you that soft bounce, when running on the hard trails and road. When running in softer conditions, grass, mud and loose rock I found the shoe very comfortable and did not notice this. I would say the response wasn't very impressive, the Wildcross give a comfortable and stable ride but I would not say they are a fast shoe.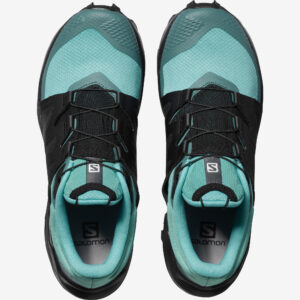 The upper of the Wildcross is very comfortable, the wings still enable them to be breathable and they still drain and dry out fast after running through water. Having had my feet drenched during the ultra after a few miles I noticed the water would clear very quickly from the shoe unlike others I have had which improved the comfort over the race.
The Grip on the Salomon Wildcross
The WildCross has the new multi directional lugs, which gave steady footing in the soft muddy terrain I experienced. I didn't manage to test them in snow but I am sure they would be well suited for this. With the Chilterns being a hilly area, I felt a firm grip up and down the hills, particularly during the ultra where we ran up chalky hills which can be treacherous and slippery. I saw other runners slip and fall, but felt the shoes gripped and avoided this happening. When running through muddy fields which have previously caused clogging in other shoes, I was surprised to find these shoes remained light and seemed to resist clogging and on the uneven terrain they provided protection against roots and larger rocks.
Salomon Wildcross Women's Review 2020 Summary from Test
I had absolutely no issues with the shoe during the ultramarathon (no blisters or chaffing, no laces coming undone) and enjoyed running in them in the wet conditions we had on this day. The shoe is heavier than my previous trail shoe and I was initially concerned about this, yet I did not notice this when training and noticed the considerable benefits of them staying light and not clogging with mud during my runs. For a winter trail shoe and cross-country shoe, I would highly recommend them and feel they are good value for money. One point is as a female I hope to see more colour options available.
I really enjoyed trail running in Salomon Wildcross, during the Autumn months and will continue to use them throughout the rest of the winter. However, during the dry summer months I found them too hard for me. The shoe is built to tackle challenging terrain, hills, mud, snow, puddles and steep slopes. They are perfect for wet terrain with their quick drying ability and the stability and traction they provide. I was very impressed with the comfort they provided me when running for 5hrs.
Hear direct from Heather in her video review of the Salomon Wildcross
Best Price for the Salomon Wildcross
If you loved the Salomon Wildcross Women's Review 2020 and want to buy we have been working to get you the best prices. Buy the Salomon Wildcross Women's Trail Shoes for £120 direct from Salomon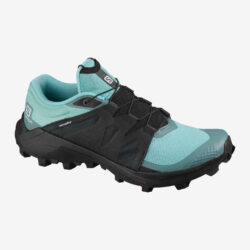 Alternatives to the Salomon Wildcross Trail shoes
Check out the Salomon Supercross trail shoes and read out in-depth review from Melanie.
Check out the Salomon Alphacross trail shoes and read the detailed review from Bryan on these shoes.