Rockay Running & Cycling Socks Review – Environmental clothing for athletes.  Read our review of this ethical environmentally focused brand.  
We connected with Rockay and were immediately drawn to their mission.  They are a truly eco-friendly brand with a focus on making a change to the environment through their product range.  How do they deliver on this promise?  Through sourcing fabrics that can be recycled and by turning plastic into fabrics with sustainability at the core. 
Rockay was created by the founder – Daniel Chabert and his passion for running. He realised that the world needs sustainable textile production and how this could have a positive impact on fitness clothing. Every year over 80 million tons of plastic is thrown into the oceans and the textile industry can help clean this up by turning it into clothing.  Learn more on the products themselves clear that they can help you Go Faster but also are good to the planet.  Love it.  
Who am I? Introduction to Vicky
I am Vicky McKinnon, coach, sports nutrition student and triathlon enthusiast. I have participated in GB age group duathlon events in the past, but I now focus on both keeping fit and coaching others. I spend my time studying, coaching athletes.  Mostly virtually at the moment, and home schooling. I exercise every day, usually two or three times.  But I would say I 'train' twice a week for running and cycling, plus some strength training.
I was delighted when my parcel arrived from Rockay. It arrived in a very inconspicuous brown packet which housed the socks in biodegradable plastic packets. 
The heavy duty paper that hold the socks is recycled and kept the socks secure in transit, without any plastic tag attaching the socks to it.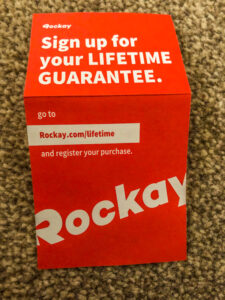 First Impressions of the Rockay Socks
My first impression was it was an environmentally friendly company and a high quality product. The packaging on the outside is subtle and I am not sure it would stand out on the shelf. But the ethos of the company and the information on the inside of the packaging is very informative and appealing to the conscientious athlete. The option to register for a lifetime guarantee is a really nice touch and very appealing to athletes who get through a lot of socks!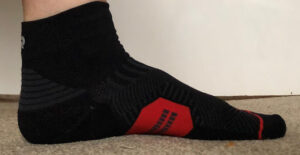 The run socks feel really comfortable and felt like they are sculpting your feet. Different types of fabric are used in different areas providing tougher coverage across your toes and a tighter band across the arch which feels very supportive. The material is really smooth and quite thin. The thin material is great in road shoes and would be good to wear in a road race. They felt a little too thin for my personal preference when wearing with trail shoes. However, despite getting very wet and muddy I didn't feel like bits of grit had got into the socks and the socks did not move at all.
Running Socks Durability and Comfort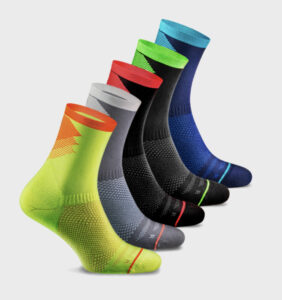 Throughout all my runs with the socks they stayed in place with no slipping or scrunching up. The information states that the Polygiene's Stay Fresh Technology is anti-odour control so you can wear more often in between washes. This was a bit outside my comfort zone.  But I did test it and was pleasantly surprised. I have worn and washed the socks numerous times and they are still in really good condition with all the positive features still functioning.
The cycle socks have all the same great features as the running socks. They cover your ankle.  Going higher up the leg than the running socks.  They are made with the same material, have the same smooth and supportive feel and are very comfortable. I am a little unsure about the colour.  They are off white, but look a bit grey. I thought these would be too cold for cycling outside at this time of year, but I have no complaints. The socks didn't move at all during any of the rides I completed when wearing them. It was also really pleasing to note that although the socks felt like a firm fit.  They did not leave sock marks or any indentations on my skin.
Summary of the Rockay Running & Cycling Socks Review
I really enjoyed trialling these products. The washability of the products is impressive as despite being put through their paces they still feel like new(ish) socks and there is no hint of odour. They do feel really nice and smooth and although I thought they felt very thin, they didn't feel like this when running or cycling. 
I would buy this product in the future and would recommend it to other athletes.
Video review of Rockay Socks
Buy the Rockay Running & Cycling Socks