Folding bikes are an eco-friendly and convenient way of transportation. They offer the functionality of a full-size bike, but the flexibility to stack it in a car trunk, under a desk, or store it in the closet is applaudable. The benefits of folding bikes are clean, and their potential extends beyond mere personal use.
There are numerous job opportunities for bike riders on Jooble that connects skilled riders with various gig-based opportunities. So, if you're seeking to make some extra income bike riding, it's essential to suss for the best bike. This article will explore how to find the best folding bike in 2023 that could work for you. If you are looking for a job as a bike rider you may not have space for a full size bike so a folding bike could be a great option to help you get on the road.
What to look for when buying the best folding bikes in 2023?
Whether you're a job seeker or a passionate cycling enthusiast, getting the best folding bike offers a huge difference in your riding experience. With many different brands of folding bikes in the market to choose from, below are key differences you can use to find what works for you:
Folding mechanism
The folding mechanism is the design or system that allows the bike to collapse into a more compact form. There are various types of folding mechanisms employed by bike manufacturers:
Half or mid-horizontal fold
Triangle hinge vertical fold
Swivel fold
Breakaway frame
Folding handlebars and pedals
Each folding mechanism has pros and cons regarding the overall riding experience, folding size, ease of use, and folding speed. So, it's essential to take note of the differences and choose what works best for you.
Weight and size
Generally, folding bikes are designed to be lightweight. However, a trade-off exists between size/weight and stability/durability. As such, the key to choosing a bike that meets your standard is matching the weight and size to your chosen activity and physical capability. Also, note that going for a lightweight bike can mean weight limitation for the rider. Generally the lighter a folding bike the more expensive it tends to be. Lightweight materials like carbon fibre mean more cost.
Wheel size
The size of a foldable bike wheel is another vital factor to consider. Smaller wheels mean lighter and more compact when folded but less momentum on the road. In contrast, a larger wheel means more weight and cumbersome but faster speed. 
Furthermore, smaller wheels are stiffer and stronger due to their shorter spoke length, but you will feel the road's imperfections. However, fundamental physics prove that bigger wheels are more suited for longer distance and comfort while riding. The bigger the wheel size the less compact a bike can collapse down for transport.
If you are looking for our guide to the best folding bikes to buy then see our round-up of the 11 best folding bikes for 2023. Something for every budget with the latest best prices and reviews from the team at Trivelo
Suspension
Many folding bikes come with suspension made of aluminium or some form of alloy. However, some offer no suspension or have a front or rear suspension built into their folding mechanism. 
Having suspension on your folding bike helps cushion the road's imperfection by absorbing the shocks, leading to a more comfortable riding experience. But having a suspension on your bike adds to the bike's overall cost and increases the bike's weight.
Electric options
Over the past few years, there have been several innovations, notably introducing electric options in foldable bike designs. Foldable bikes with electric options are also known as e-bikes. They require electric motors and batteries to work. This innovation assists in the rider's pedalling effort. 
Typically, e-bikes can achieve a range of anywhere from 20 to 100+ miles depending on the size of the battery pack. Depending on where you are in the world will dictate the type of eBike you can use with local regions having different laws around the use of electrically assisted bicycles.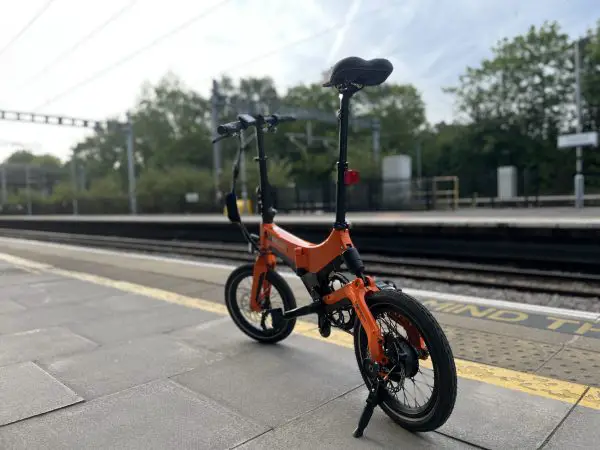 If you are looking to buy a folding eBike we have a round up of the best folding eBikes 2023 with comparison tables between the eBikes to help you make the best choice.
Adaptability
It's worth ensuring that the model of the folding bike you buy meets your needs. For example, having a long Seatpost that is adjustable via a simple, quick-release lever makes it easy to swap between riders. It can also be a deciding factor on the best bike based on your physical needs. Taller riders will need a longer seat post and handlebar stem to ride comfortably. A pannier or rear racking braze-ons will be important if thinking of loading the bike up for transporting goods.  
Future upgrades
Finally, check if the foldable bikes you're getting are compatible with standard full-sized bike components or specialized parts only—particularly the tyre sizes on the bike, as there are only limited options for small wheels. You'll appreciate having a bike with many choices when looking for specific components.
Conclusion of what to look for when buying folding bikes
Conclusively, when shopping for a foldable bike, it's essential to balance functionality and convenience. A lighter model is more suitable if you'll carry the bike frequently. On the other hand, if you prioritize stability and durability over weight, opt for a heavier and more robust folding bike.