This weeks blog is the latest bicycle review from our test squad of real athletes with trusted reviews. Pleased to be able to share with you the Kinesis bikes Racelight 4S review from test associate Rich Brown.
Bike Manufacturer – Kinesis
Bike Model – Racelight 4S (2016)
Overall Score – 9/10
Price when purchased – £2,250
Bike type – Road bike
How long you have owned the bike – 3 years
Pros & Cons of the Kinesis Racelight 4S
Pros
Do it all "Kinesium" aluminium alloy frame.
'Frame only' means you can spec it high or spec it low depending on your budget.
Clearance for up to 30mm tyres with mudguards / 32mm without.
Lugs for fitting a pannier rack
Cons
'Frame only' may put some buyers off.
Not many people have heard of Kinesis!
Introduction to the Kinesis Racelight 4S
Kinesis UK has been around for almost 20 years. During that time, it has built up a very solid reputation for designing quality alloy frames which have proved themselves as 'winter' bikes and in the cyclocross arena. More recently, Kinesis has become popular with riders tackling the gruelling Trans Continental Race (TCR). In addition to its popular alloy winter bikes, Kinesis also offers titanium frames and has also launched the race-oriented Aithein.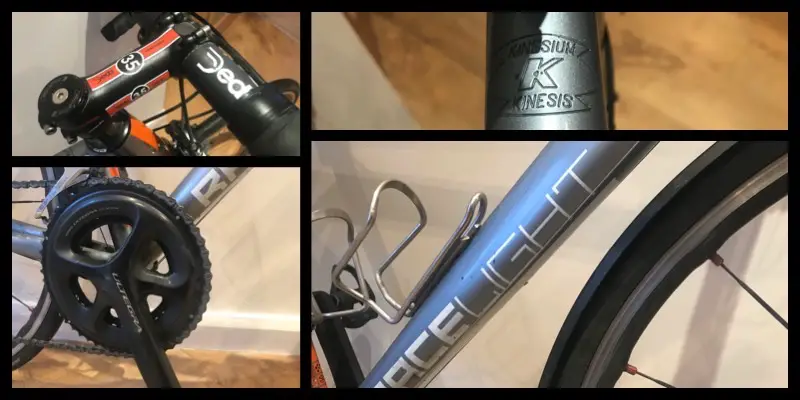 The 4S is Kinesis' four season bike, featuring 'proper' race geometry but also offering the ability to fit full length mudguards and a pannier rack. This makes it ideal for riders looking for a winter bike that handles more like a summer race bike which can be used throughout the year. 
The n+1 rule of cycling
When asked the question "How many bikes do you need?" The answer most cyclists will give is always "One more". This (clichéd) response is also known as the N+1 rule, where N equals the number of bikes you currently own. The implication being that you should always be looking to acquire your next bike. 
In the real world, this rule is almost always tested by two key issues – space and cost. But what if you could get around this by buying just one bike that would give you the functionality of several bikes? Well, the Kinesis 4S allows you to do just that. 
Do you want a triathlon training bike? Sorted. A bike that offers a fun ride? Yep, it delivers that too. Commuter bike? Definitely. Touring? Easy. In fact, the Kinesis Racelight 4S is one of the few off the shelf frames that has all these different uses covered. 
Kinesis Racelight 4S Bike Frame
The Racelight 4S frame is made from Kinesis' proprietary 'Kinesium' aluminium alloy. It also features a standard English threaded bottom bracket shell. Its geometry is relatively 'racey' but there's ample clearance. The frame can easily take up to 30mm section tyres with mudguards fitted too. The frame's wide clearances mean that it needs long drop brake calipers, something to think about when choosing your components. The tubeset is 'Super Plastic Formed', which allows Kinesis to optimise the shape of the tubes for strength and lightness. The down tube is vertically ovalised at the headtube and then horizontally at the bottom bracket providing rigidity at these key points. Chainstays are oversized to reduce power loss and ensure that whatever power you put through the pedals goes straight into the frame and is not lost. 
The frame is completed with a lightweight (claimed 450g) Tracer 1.5" monocoque carbon fork which features a 1.5" tapered steerer. This gives the bike precise handling and a direct, predictable ride. 
All of this combines to make the Kinesis Racelight 4S one of the most versatile 'off the shelf' framesets on the market.
Bike Component Highlights  
When I was looking to buy a new road bike, I benchmarked my choices against the Canyon Ultimate AL SLX 9.0 (2015). This bike offered a seemingly unbeatable combination of relatively high end components at an unbelievably low price. The trouble was that for me, this just wasn't enough. I wanted a bike that would literally do it all – something that was the swiss army knife of bikes. Something that would allow me to train, commute, do the club ride, race in Summer, grovel in Winter, ride with mudguards, ride without mudguards, fit a rack, do some light cycle touring and also be easy to maintain. 
While the Canyon offered a lot, it was not quite versatile enough. If I'm honest, by the time I'd bitten the bullet and committed myself to buying a new bike, Canyon had sold out of all Ultimate AL SLX 9.0s in my frame size (proving how much of a bargain it really was!). So I started to look around for something which was equivalent to the Canyon, but which was more of an all-rounder. I soon came across the Kinesis Racelight 4S frameset which seemed to be just the ticket. It offered all the functionality that I was after at a reasonable price (I paid £750 for the frameset). 
I wanted my build to be performance oriented while offering solid reliability. This meant choosing Shimano's tried and trusted Ultegra 6800 11 speed groupset. 
I opted for a semi-compact chainset (52/36) with an Ultegra 11-28 cassette. For me, this combination offers more than enough potential for speed, while still offering enough low down grunt to get up all but the steepest hills. 
I swapped out the Ultegra 6800 brake calipers front and back for equivalent units from TRP (TRP RG957). This was because Shimano do not offer a long drop Ultegra caliper. These are very stiff, and combined with Swiss Stop pads provide progressive braking with loads of feel at the lever.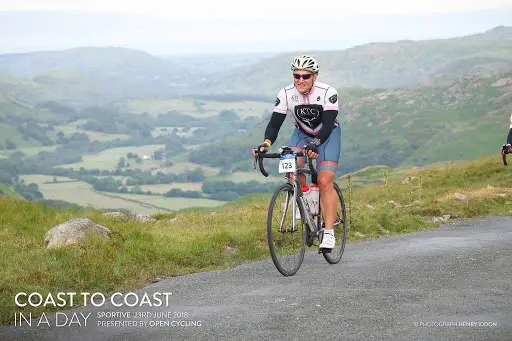 Wheels are Mavic Ksyrium Elites. These are not the most aerodynamic or the widest options, but in my opinion they offer a good stiffness to weight ratio. They come with 25mm tyres as standard (although the Mavic Yksion Pro tyres they come fitted with are not as good as they might be). I quickly swapped the Yksions out for a pair of Continental GP4000s (and have more recently swapped these out for a pair of Continental GP5000s – which are simply awesome tyres).  The wheels also come in a range of anodized hub / nipple colours to compliment your build: I opted for red.
I opted for Deda finishing kit. Speccing a Deda Trentacinque 35 Road Stem and Shallow Drop Road Bars and a Deda 27.5mm seat post. The saddle is a Fi'zi:k Antares R5.
Full details of the build are in the table below. 
| | |
| --- | --- |
| Frame | Kinesis Racelight 4S 6000 Aluminium with "Kinesium" tube-set (2016) |
| Headset | 41.8ø¸ upper, 51.8ø¸ lower, for taper head tube. FSA No.42/ACB headset |
| Shifters | Shimano Ultegra 6800 11-speed |
| Stem | Deda Trentacinque 35 |
| Handle Bars | Deda Trentacinque 35 |
| Seatpost | 27.2mm Deda |
| Wheelset | Mavic Ksyrium Elite S (Red Anodized Hubs!) |
| Saddle | Fi'zi:k Antares R3 |
| Bottom Bracket | 68mm British, Shimano Ultegra |
| Brakes | TRP RG957 calipers, Swiss Stop pads |
| Cassette | Shimano Ultegra 6800, 11-28, 11 speed |
| Chain | Shimano Ultegra 6800/XT M8000 HG701 QLink Chain |
| Cranks | Shimano Ultegra 6800, 52/36, 170mm |
| Fork | Tracer 1.5" Full monocoque, unidirectional carbon fork |
| Front Derailleur | Shimano Ultegra 6800 |
| Rear Derailleur | Shimano Ultegra 6800 |
| Front Tyre | Continental GP5000 (25mm) |
| Rear Tyre | Continental GP5000 (25mm) |
Riding the Kinesis Racelight 4S
My Kinesis 4S is everything that I wanted it to be when I was planning the build. Although it is an off the shelf frame, I love the fact that it is built to my own specification, and that it is unlikely that I'll see another one exactly like it out on the road.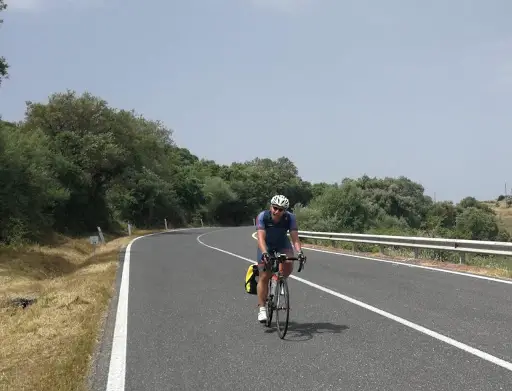 And it rides beautifully, easily coping with everything that I've thrown at, just like I expected it to. In many ways, the bike is much more capable than its rider! Since owning it, I have used it to race (completing several Olympic and Sprint distance triathlons on it, including the Ayia Napa Olympic and the Saundersfoot Sprint).
I have cycle toured it several times (using it for a light and fast 11 day, 1100 mile End-to-End cycle tour of Italy and this year a loop around Sardinia). In 2017 I used it to ride the 150 mile Coast to Coast in a Day sportive. More generally, I've ridden it through the winters, commuting on it, using it as my all weather training bike and racking up more century rides than I can remember. It has done all of this with ease, and proved to be perfectly suited to playing each and every role. 
Upgrades made to the bike  
Since owning the bike, I have made no significant upgrades, apart from to swap out the rear derailleur. I swapped out the Shimano Ultegra 6800 to a 'long cage' Shimano 105 (for some reason there is no long cage Ultegra 6800 rear derailleur). I did this specifically to allow me to run an 11-32 cassette for the Coast to Coast in a Day sportive. This sees riders haul themselves over two of the Lake District's major passes – Hardknott and Wrynose in quick succession. Running this gearing (52/36 semi-compact chainset with an 11/32 cassette and long cage derailleur) saw me up Hardknott Pass without a problem. The only other things I've changed from 'standard' are to bin the Mavic Yksion tyres in favour of better rubber from Continental. It's now fitted with GP5000s as mentioned previously. 
Summary of review of the Kinesis Racelight 4S
In short, I love my bike.
It's everything that I wanted a "Do it All" bike to be.

Richard – Trivelo Test Associate
It's comfortable for long days in the saddle (so comfortable that I will be using it in 2020 to ride the Wales in a Day 185 mile sportive and to cycle tour around the Black Forest). It can easily be winterised, and it can easily be serviced thanks to its external cable routing. It can carry a rack and panniers and it can be raced. In short, it can do it all.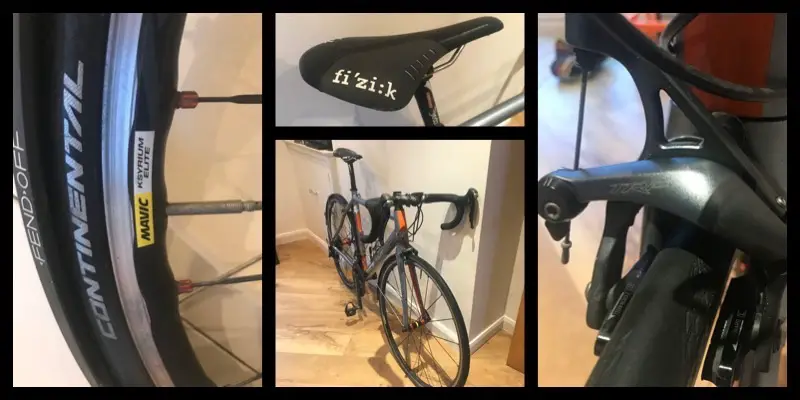 So if you can't quite accommodate N+1 bikes either due to cost, space or both, then you could do much, much worse than buy a Kinesis Racelight 4S. Would I change it? Not without doing some serious thinking. And then probably only for the Kinesis GF Ti V3, which is essentially only a Titanium version of the Racelight 4S! 
Buy the Kinesis bikes Racelight 4S frame for £750 from Tredz. Contact us for the latest discount codes with Tredz that we update regularly for money off.
As an alternative you could buy the fully specced Kinesis Tripster AT Disc Adventure Road bike for £1980
Looking for alternative bikes to consider? Check out the review of the Merida Reacto bike that continues to be one of the most popular pages on the blog.