This weeks blog is a truly innovative product. The team at Form have developed something that swimmers have been after for decades. The ability to get real time feedback on your swim performance without disrupting your swim. Alice has been running this latest review. Hear what she has to say. Enjoy the Form goggles review: Everything you need to know article. Learn how you can track your swim with these ground breaking goggles.
These unique swim goggles provide a digital read-out using a set of sensors to track your activity in the pool. The Form swim goggles display a real-time selection of metrics (time as well as one of distance, calories or lengths) are displayed in your eyeline as you swim. Further details including split time, stroke rate, stroke count, distance per stroke, pace per 50 or pace per 100 can be displayed after every turn. Proud to share with you Alice's review of augmented reality smashing into the world of swimming.
Introducing Form Swim Goggles
I was really excited to try this product having heard and seen a lot about them on the social media platforms. The Form Swim Goggles were described as –
"A pair of premium swim goggles with a see-through augmented-reality display that delivers performance metrics in real time"

Form Swim Goggles
Fancy right?! 

The goggles came with two information packs. One for the goggles themselves and one for the polar heart rate monitor that attaches to the strap of the goggle. These packs were really useful and give you a great insight into how the goggles were developed and how they work. 
Appearance of the Form goggles
As you would expect from a product that costs $199 USD the goggles come very well presented. In the box you get a protective case, the goggles and 4 extra nose pieces to make sure they fit you correctly. The goggles themselves are quite bulky. This is due to the miniaturised onboard computer. Although it seems quite big when you have the goggles on you they are still comfy to wear.
The instructions are easy to follow and simply require you to download the Form Swim App. You then follow the instructions on the screen to sync the goggles to the app and then you're good to go! The whole set up process literally only takes a few minutes which is great. The goggles also can be linked with your Strava, Garmin, Training Peaks and Health accounts. Allowing you to easily share your swimming data.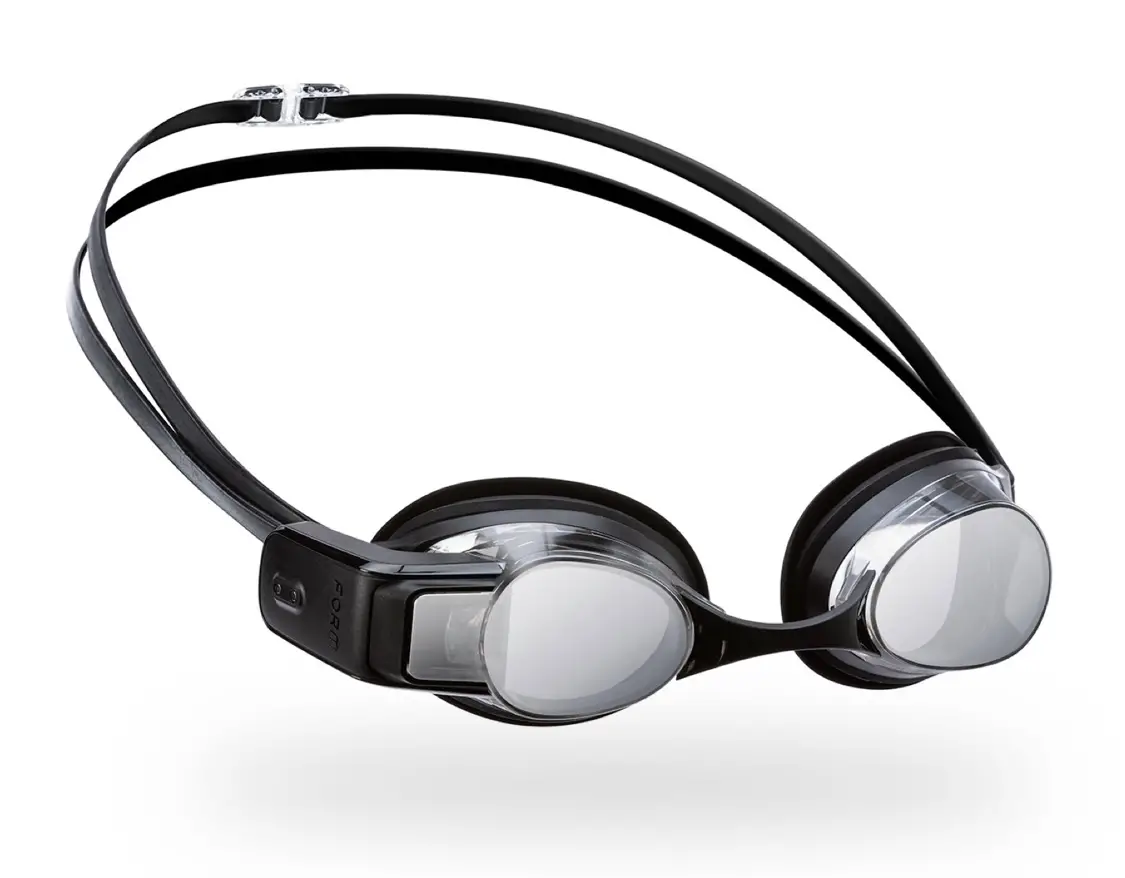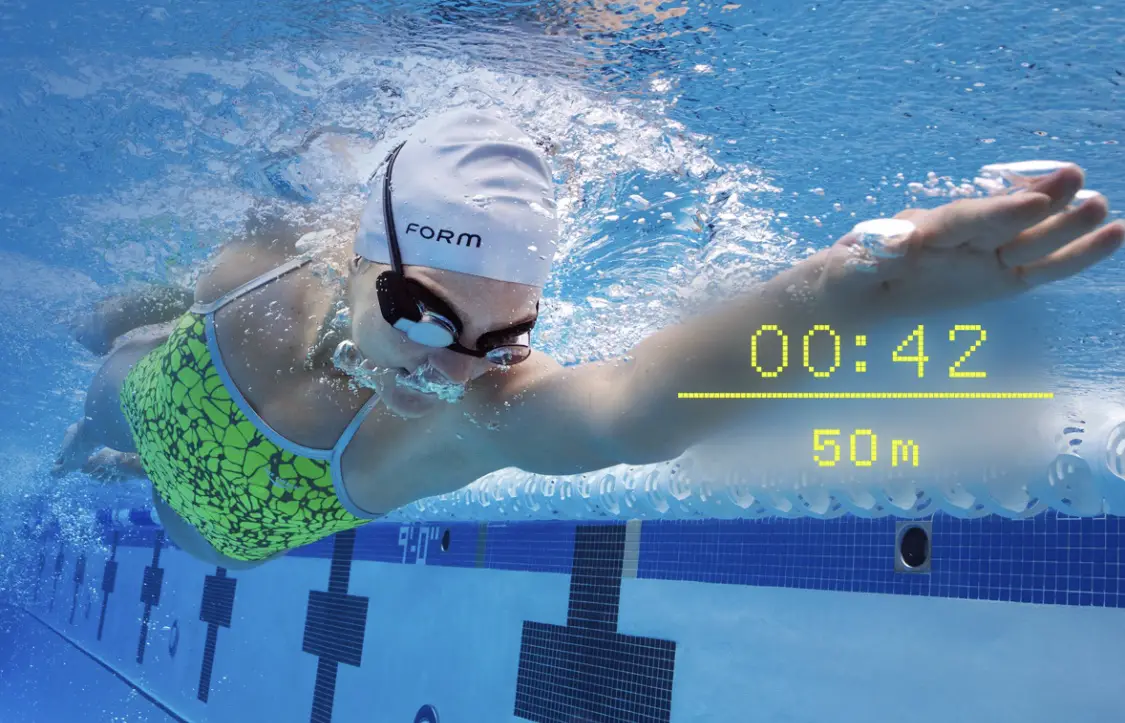 Polar Heart Rate Monitor
While doing the Form goggles review the manufacturer provided me with a Polar Heart rate monitor and goggle mount included. The idea is that your heart rate is measured from your temple and then displayed to you in real time. You can then set up the goggles to chart how much time you spend in each of your heart rate zones which is pretty cool! The monitor and mount are easy to attach to the goggle strap. A little fiddly but nothing horrendous. They sit quite comfortably on the strap and I found I wasn't really aware of the monitor once it was fitted.
I did however struggle with turning the Polar monitor on and synching it through the app. I still haven't been able to do this despite receiving help from Form customer service. This is a shame as I was really intrigued to see how this feature of the goggles works. I think it may possibly have been a faulty unit or maybe just me being a technology idiot. Either way when I mentioned it to the guys at Form via an Instagram post response was fast. They responded immediately to help me out so I'm very impressed with their customer service. 
Swim Testing the form goggles
The goggles work via a Bluetooth connection with the app. I just left my bag on poolside with my phone in it and the goggles connected straight away. They are really easy to use; you just follow the instructions on the screen of the goggle. The computer unit on the side of them has two buttons to navigate through the screen options. So, there really is no room for error. The screen is incredibly clear. You can choose between having your distance and time on the screen or you can have your pace per 100m displayed. The screen is set up to be seen on the right-hand side but you can change this using the set up instructions on the app.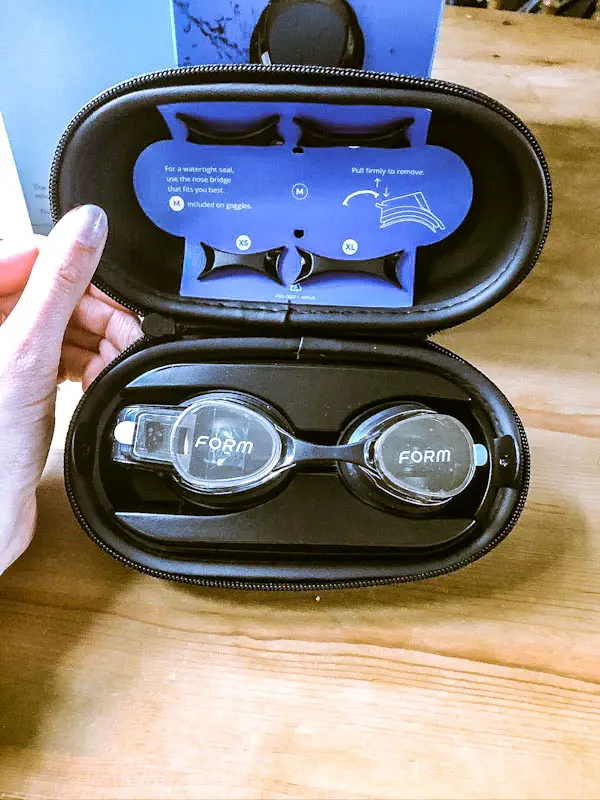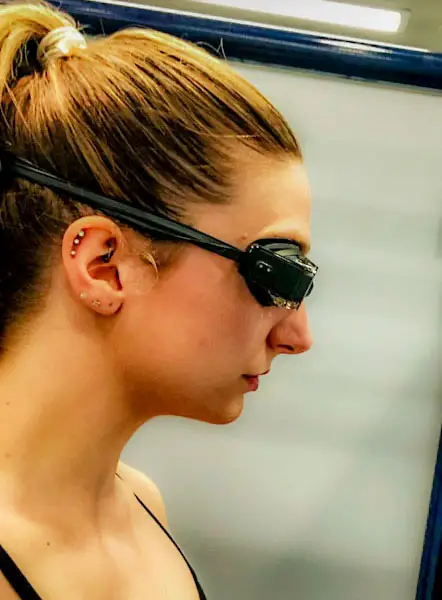 Pro's from doing the Form Goggles Review
The goggles fit well. The bulkiness of them that I've previously mentioned isn't noticeable at all when you're swimming. They don't leak and they also don't fog which is always a bonus. I will be interested to see how long the anti-fog properties of the goggle last. The screen is incredibly clear and the data is easy to see. The display is in yellow/green so it shows up well against the pool backdrop. It took me a little while to get used to stopping / pausing / lapping in between sets. The buttons on the side of the computer unit are quite small but once you get used to it it's fine.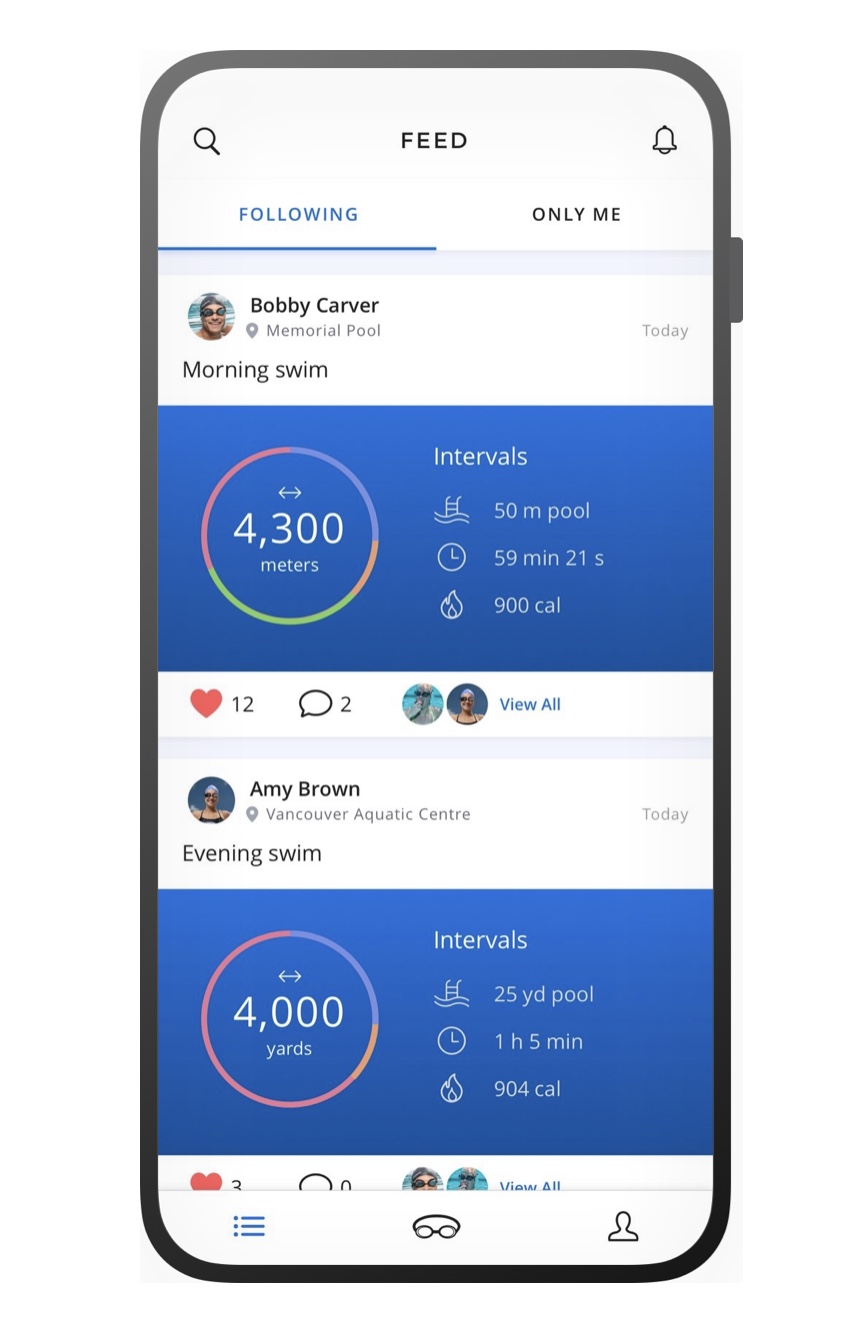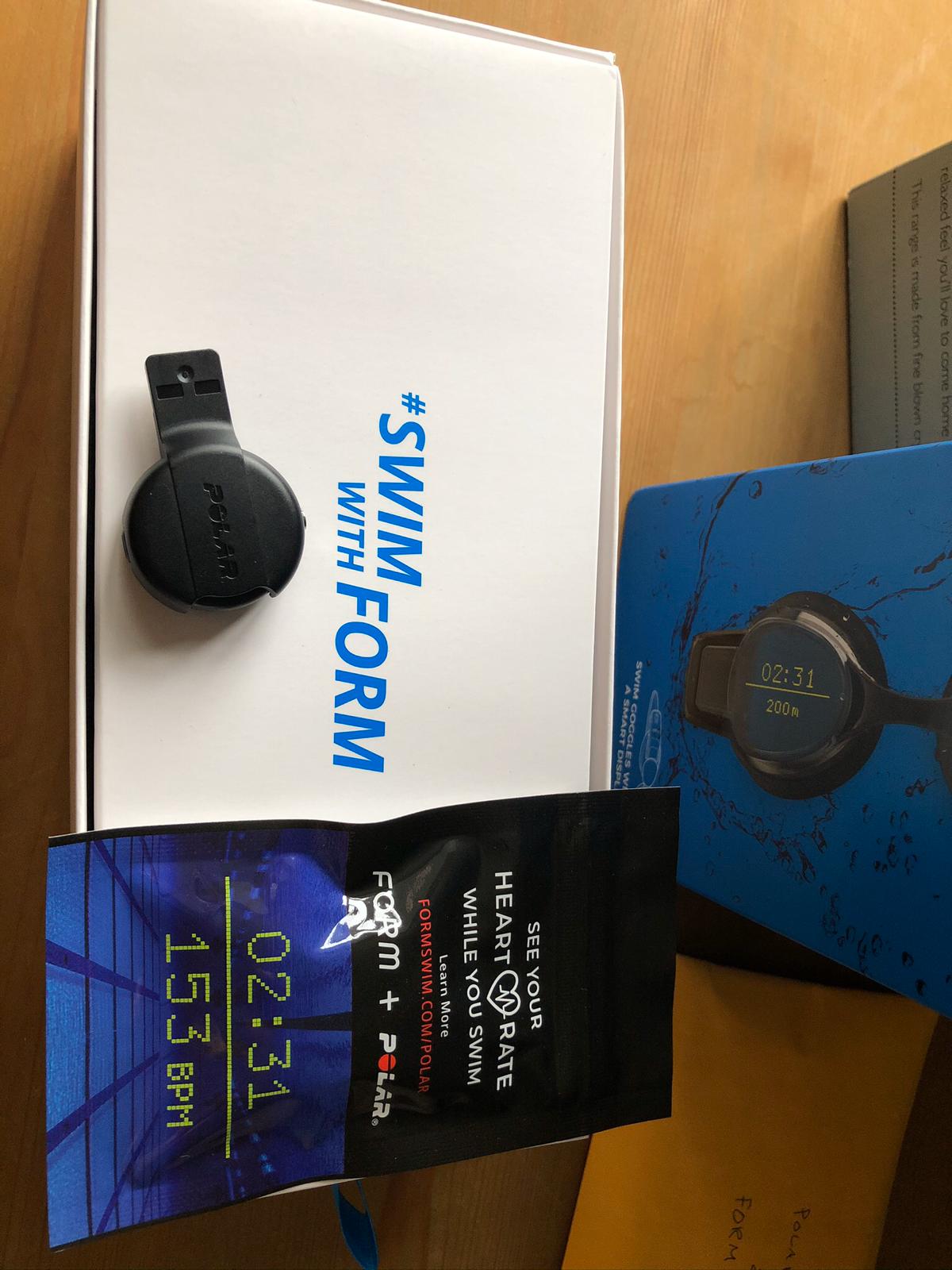 The data the Form Goggles display is interesting. Maybe even a little disheartening when you think you're swimming like Phelps and really you're about 10s per 100m off your pace. But they certainly give you the instant feedback that they are designed for. I also really like that you can switch between the functions whilst you're in the pool. I was using the time and lap counter for my warm ups and then the pace function for my main target sets. The data they collect is easily uploaded after you've finished your session. The App is well set out to display all your information. 
Con's of the Form swim goggles
I'm almost embarrassed to say that I really struggled swimming with the Form Goggles. There is nothing wrong with the fit, the data that they display or how they work at all. I just really struggled to get used to them. It felt to me like they took away my peripheral vision. I struggled to focus on anything but the display and found that I slowed down for every single tumble-turn and finish. As a result I didn't feel confident that I wouldn't swim headfirst into a wall.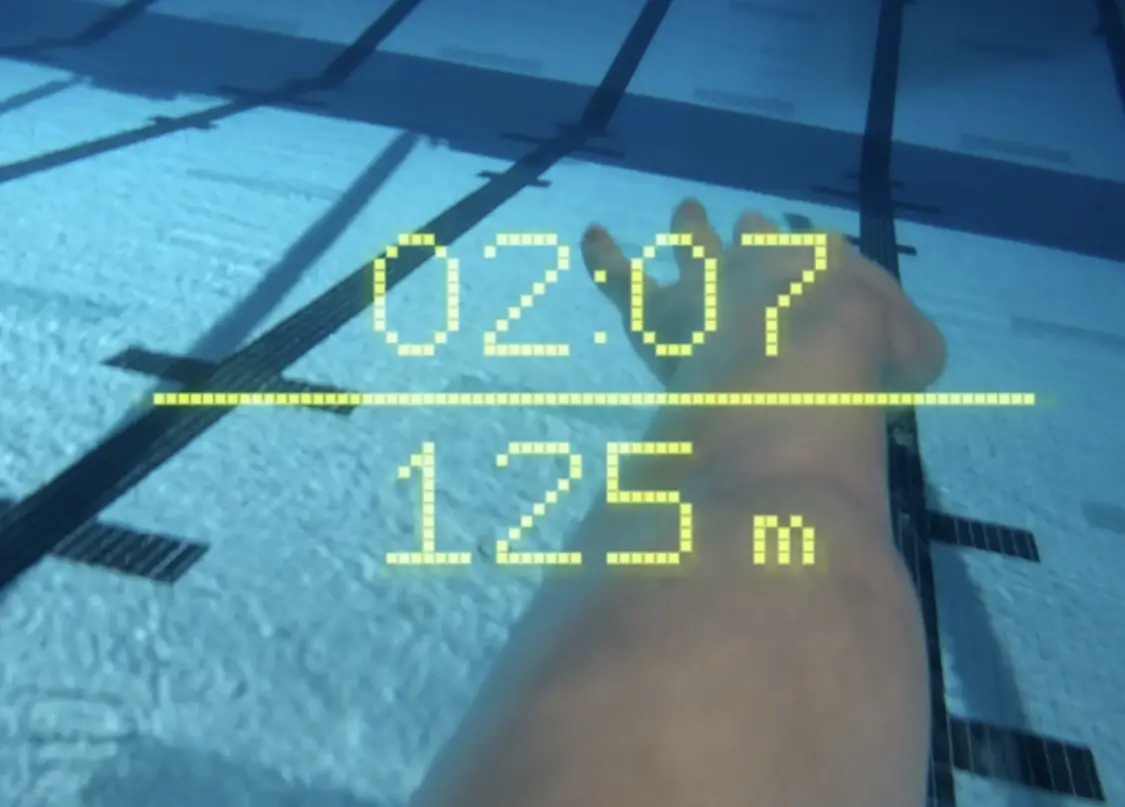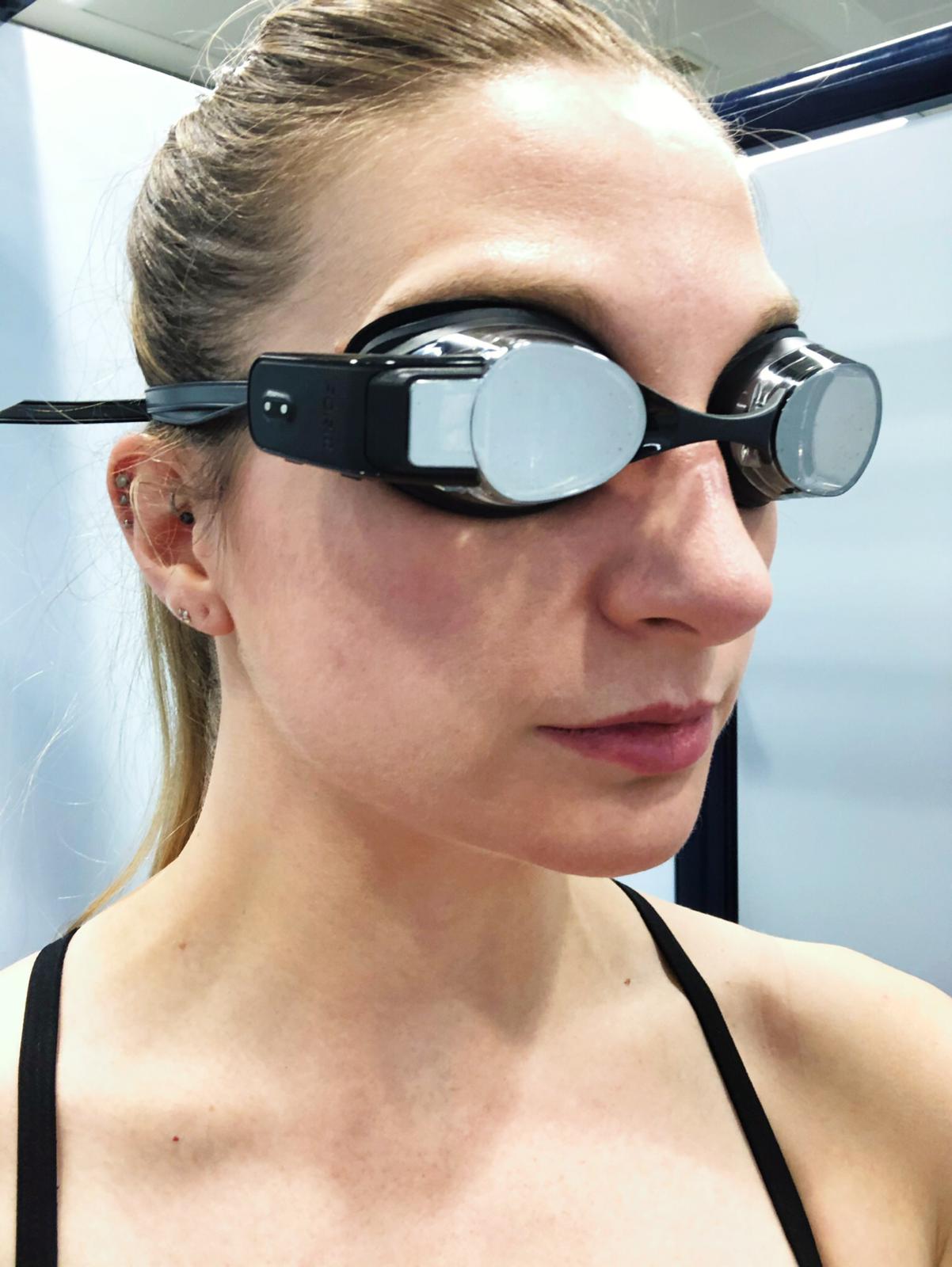 I also felt nervous when other swimmers were sharing a lane with me. Again it was just a case of me of not being able to focus properly. I didn't feel confident that I wouldn't swim into someone. I'm sure that the more you use them, the better this gets. After a few sessions I started using them mainly for my warm ups before switching to my normal goggles for my main set. 
My final question would be how long they would last. I typically swim 3x a week for 60-90mins a time. Then racing from May through to September. I normally go through 4 pairs of goggles a year due to them losing their anti-fog. The Form Goggles are expensive. I wonder what the longevity of them would be. They are definitely a luxury product and this makes me question their longevity.  It will be interesting to see.
Open Water Swimming Testing
As part of my test for the Form goggles review I was keen to see how I found using then when I swim in open water. I don't imagine they would be as disorientating and I think the information regarding pace over 100m would be really useful during open water swim set. My intention was to try them out in April when the lakes opened. Unfortunately due to the Corona Virus outbreak this won't be possible at the moment. Hopefully I'll get to use them in the lakes soon and can provide an update! 
Summary of Form Goggles Review
The Form Goggles are a great piece of kit but they take a lot of getting used to. They fit well, they are easy to use and they do provide some interesting training feedback. If you're looking for some real time swim data then they definitely do what they say they will do. I can't fault them at all on that. It boils down to whether or not you can still swim confidently with the display in front of you. I found they hindered my training slightly because I was consciously slowing down. I was making sure I didn't hit anything or anyone. As I've said I really would like to try them out in open water before I make my final decision.
Hear direct from Alice in her YouTube video summary –
Buy the Form Swim Goggles direct from manufacturer for $199
Footnote response from Form Swim Goggles
The goggles definitely take getting used to, and we recommend at least 3 swims to get comfortable. We're delivering a whole new paradigm, so that takes a bit of time to get accustomed to.
Regarding distraction, we have the option of a "display off" mode between the walls, so that you only get data on turns (splits, distance, pace, etc), and at rest. This can help if you find the display distracting. Or, you can turn down the brightness too. 
Regarding durability, all materials in the goggles are premium and carefully selected so that the goggles are long-lasting. They also come with the case for protection and storage, to prevent any wear and tear outside of the pool. We offer replacement parts if a customer contacts Customer Support, and have a 1-year warranty.
Huge thanks to Form Goggles for their response to our review and to the additional information provided above.
For more swimming innovation read our article on buoyancy shorts and how they improve your swim.
---
About the Author
---
Follow us on Social Media
---