Transporting triathlon bikes is something we will all be looking forwards to as International racing opens up again. If you have a triathlon bike you will know the challenges this can present. This week to help we bring you the Bike Box Alan Review from Sophie who has been spending time with the Triathlon Aero Easyfit model.
Introduction to Sophie
I'm Sophie Johnson, GB Age Group Triathlete. I've been participating in high level sport for the last 6 years and traveling all over the world to compete.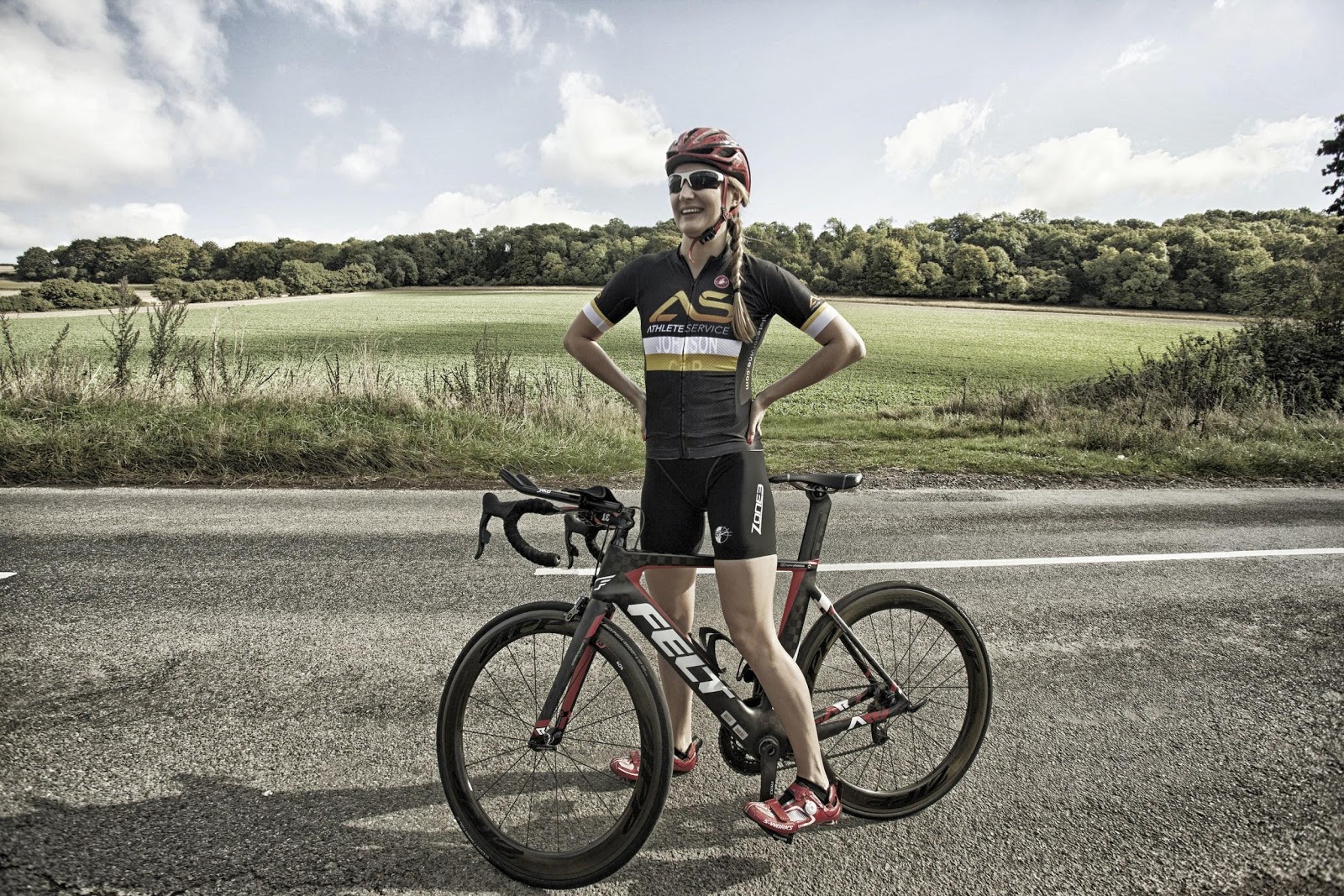 I've used various means to transport my bike in the past and it's always been an anxiety filled wait at the airport on the other side. Did my bike make it onto the right plane? Is it here in one piece? Has something exploded inside…etc etc.
When it's arrived and in one piece I usually like to have it built and tested as soon as I hit my hotel room. Then and only then, can I chill out. Which is why in the past I've mostly travelled with a bike bag. In the bag my frame attaches onto upright and wheels either side, but I'm always nervous.
Testing the Bike Box Alan Triathlon Aero Easyfit
With all of this in mind, I'm reviewing the latest Bike Box Alan Triathlon Aero Easyfit Box.
The reasons I love this bike box are numerous. I'm going to give a review against the other methods I've used to pack my bike and travel for reference. It's also worth noting that I'm 5'10 with a mens 54 frame, high saddle and wide handlebar width.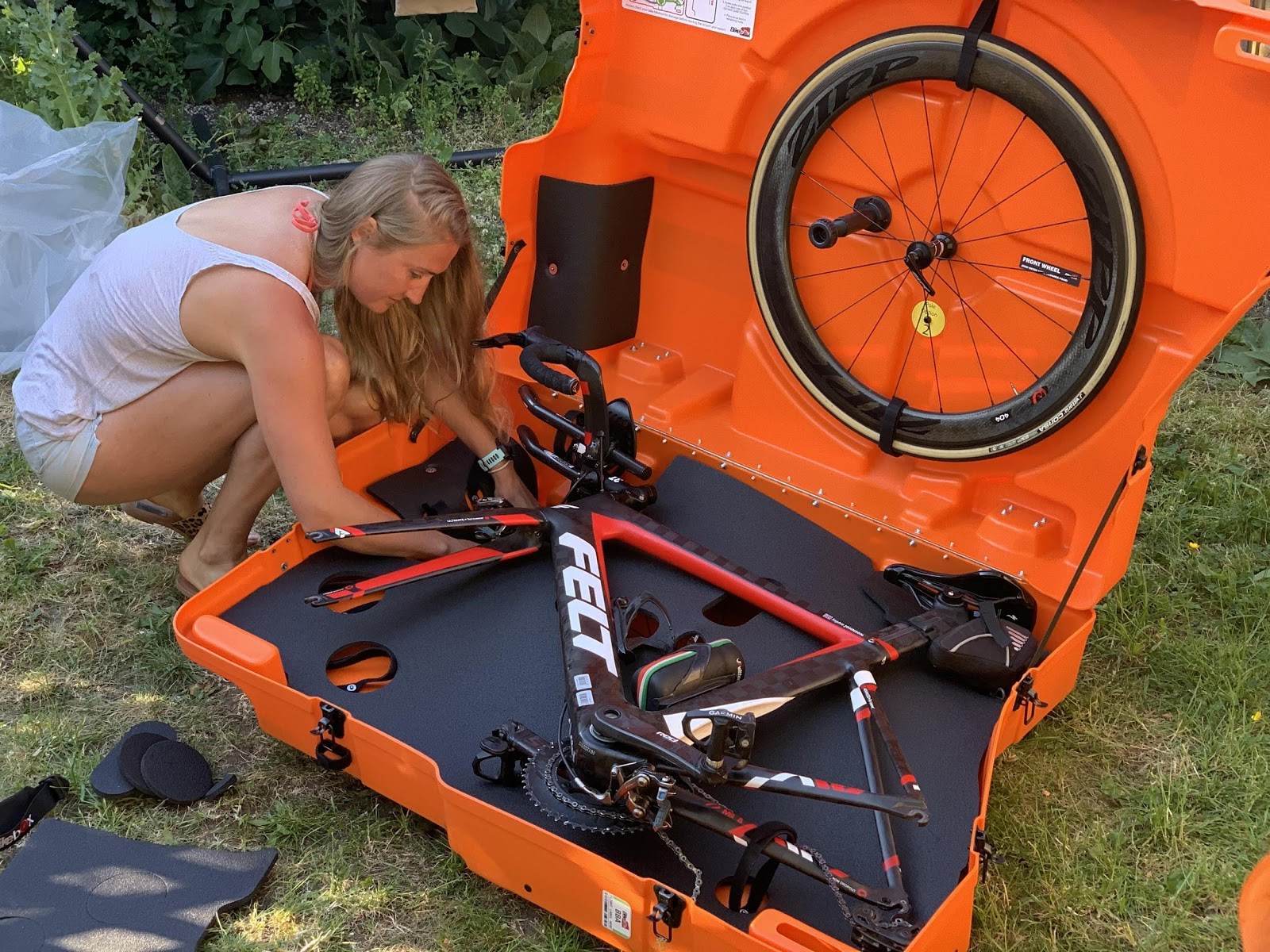 Pros And Cons of Bike Box Alan
Pros
Numpty Proof: I've used the triathlon bag to travel for the last few years. I had to take off the wheels, take out the skewers, wrap the bike, mount the bike on the base frame and go. SOMEHOW BBA have managed to make this even simpler. No need to even take out the skewers from the wheels, just strap them in, pedals off, strap in the frame and go. It took me less than 7 minutes, with no instructions, first time to complete the pack, same reassembling.
Durable AF: I've used the old style bike box Alans in the past. I was previously put off by the faff of having to remove my seatpost and handlebars. I loved the much reduced anxiety knowing it was packed in a bulletproof shell pretty much. Bye bye baggage handling anxiety.
Take an extra wheel: for those non-crosswind races (I'm sure they exist) you can take a disc wheel in your box with little to no extra faff. Legend.
Customise and accessorize: it's a silly one, but I love the fact I got my nickname and all my sponsors printed onto the box by BBA. The nickname is NSFW but something to do with the pride of wearing my GB kit.
Easy Wheel: my bag used to be a right faff to wheel in the airport and the wheels always got knocked in transit. BBA's wheels are a bit more hidden and little more damage proof and the box in general steers well.
Summary: Super strong and the easiest method to pack your bike I've seen on the market. Extra wheel win!
Cons:
Storage: If you buy a BBA, especially the latest one, take note of where it will sit and pick a colour you like ;-p. Some have popped it behind the sofa or in the shed, but if this isn't an option I can tell you it won't be fitting in your loft hatch! Similar thoughts on Hotel Room Real Estate.
Long tall Sally: You may need to take off your saddle if your frame is 56 or above.
Can't fit as many in the car: One will fit comfortably in my BMW 1 Series with two full soft suitcases and hand luggage. I used to be able to fit two of the old BBAs in. This is the trade off of being able to keep your TT bars and Handlebars on. We usually hire a people carrier or an Uber XL to get us to the airport and all is well for 3 of us and luggage.
More weight than a bag: but I'm okay with that for the much much improved level of protection.
Summary: Big but not huge, both a blessing and a curse.
Bike Box Alan Dimensions
Weight: 11.2kg Dimensions: approx L 116cm x H 96cmx Width 36cm
Highlights
Ease of Use. I just couldn't believe how simple it is to pack and unpack this. It's exactly what I was hoping BBA would do next so I could be lazy on packing but also low on transport anxiety.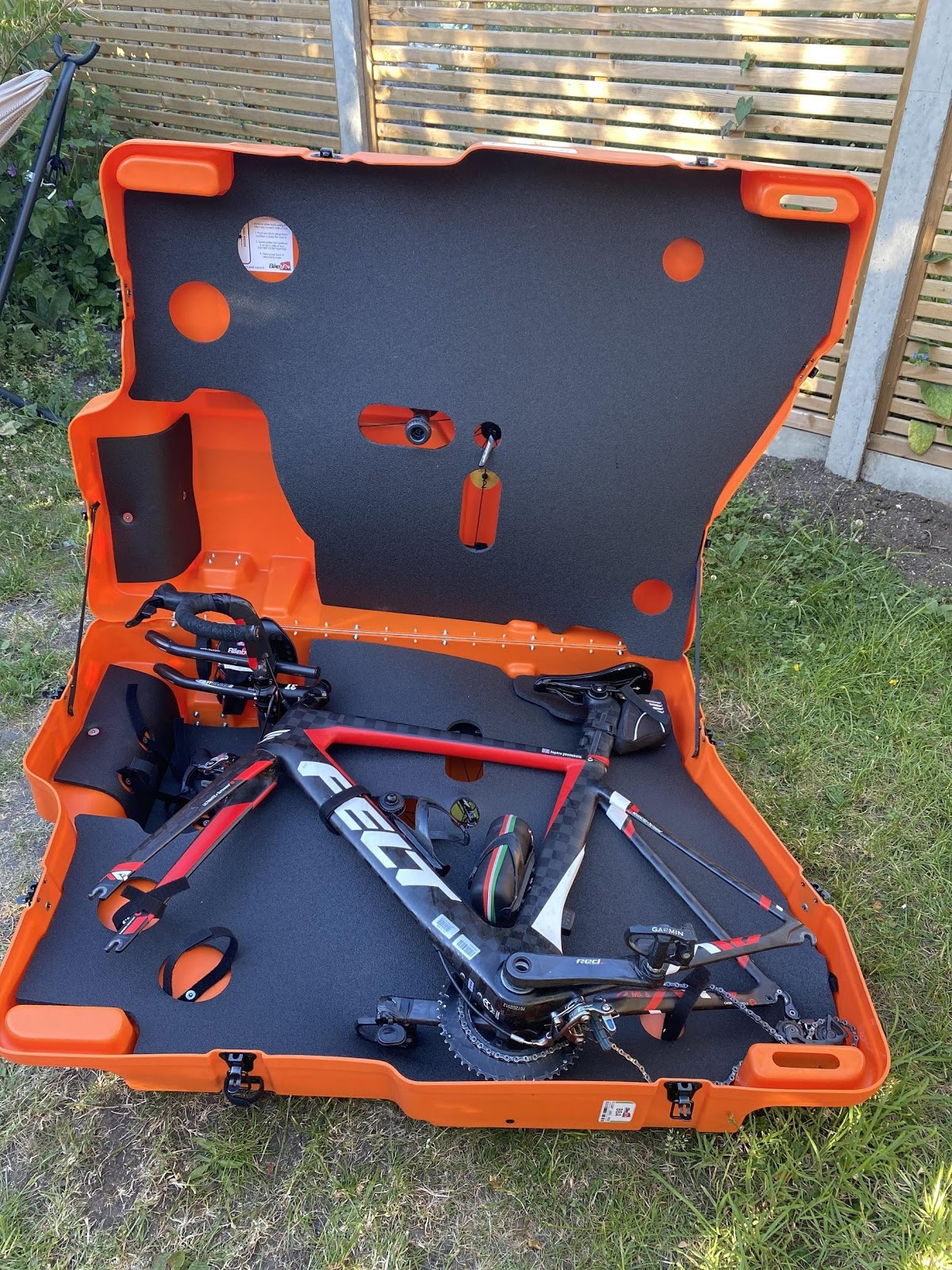 Quality of the materials and finish: they've thrown it off a bridge and shot at it with a gun, I'm happy they've got the material down and they've made it look nice in the process.
Extras with the Bike Box Alan Triathlon Aero Easyfit
The one's with GPS tracking are a bit of a dream, anxiety level 0.
They've added TSA locks so they can get in and others can't.
Apparently it fits in a mountain bike (YASSSS).
Packing triathlon bike hints and tips
There's not much to it really. The only other thing I'd add is use up your space in there! There's plenty of space in there for your bits, bobs and any other business. I've put a full track pump in in the past with absolutely no issue!
Summary of Bike Box Alan Review
I'm over the moon with this box. No chance of it getting damaged in transit and no chance of me messing up my bike trying to put it back together.
They've made the easiest and safest transportation method on the market and made it so that you can take an extra race wheel. They've obviously really thought about how us Triathletes need to travel and catered for exactly that.
It takes a lot of stress out of the packing pre race (and by god there's a lot of it) and the stress out of travel.
Just get used to looking at it if you don't have a shed…Just as well it's so pretty!
Video Review from Sophie of Bike Box Alan
See how easy it was for Sophie to use the box for the first time and package up her triathlon bike in only 7 minutes.
I would recommend 1000%. 11 out of 10.

Sophie – Trivelo Test Associate
Buy the Bike Box Alan Triathlon Aero Easyfit for £575 and travel with peace of mind!
If you are looking for a triathlon bike to put to use with the Bike Box Alan Triathlon Aerofit then check our ultimate guide to triathlon bikes 2020.