This week we focus on sharing the lessons we learned from our first triathlons. We share the things we wish we would have known as a new triathlete. So for all you first time triathletes we have the 15 biggest mistakes beginner triathletes make. I have even included the biggest mistake I personally made in my first triathlon that you have to avoid.
Mistakes in swimming training
Failing to learn swimming technique
Most of us can swim. Most of us can get from one of the pool to the other. This doesn't mean you have a good technique or are prepared for a triathlon. Even the shortest distance triathlon (Super Sprint Triathlon) requires you to swim 400 meters. That means you have to be able to swim 16 lengths of a standard sized pool without stopping. Swimming technique is the difference between maximum effort minimal progress and minimal effort maximum progress. Find a swim coach and learn to swim front crawl efficiently. Failing to do this will leave you slower and more tired than the rest of the pack.
Not including any open water swimming in your training
Swimming is often the most daunting phase of triathlon.  So much so it puts plenty of people off even trying.  Getting your swim technique nailed is hugely important as preserving energy for the rest of the race is key.  That doesn't mean that you only ever head to the pool to test out your swimming.  Lane swimming versus open water swimming is massively different.  Some of the most competent swimmers can struggle in open water.  Not seeing the bottom.  Being in a pack with no discipline.  All these things can ruin your race.  So make sure you plan at least one session in open water before your race.  Ideally in the same type of open water as your triathlon.  So if you are swimming in a lake.  Find a lake.  Swimming in a river.  Find a river.  Swimming in the sea.  Definitely find some sea to swim in.  Waves add a new dimension of complexity. 
Mistakes in cycling training
Avoiding hills in cycling training
Bike handling technique is important in triathlon in the same way it is in Sportives.  You will be cycling alongside a number of other people with varying degrees of cycling capability.  You are also unlikely to be riding on closed roads so contending with road traffic as well.  Understanding how to ride your bike is essential.  One of the key areas of complexity is on ascending and descending hills.  On the ascent you need to be comfortable with gear changes and if you sit or stand.  On the descent you need to have confidence in your brakes and your body weight for corners.  Beginner triathletes can be purely focused on recording faster average speed times on their bike than anything else.  This can be at the expense of hills as they avoid them.  If you hide from them in training you are lining up a tough race day.  First time triathletes too often fail to include enough hill rides in their cycling training. 
Spending more time spending money than training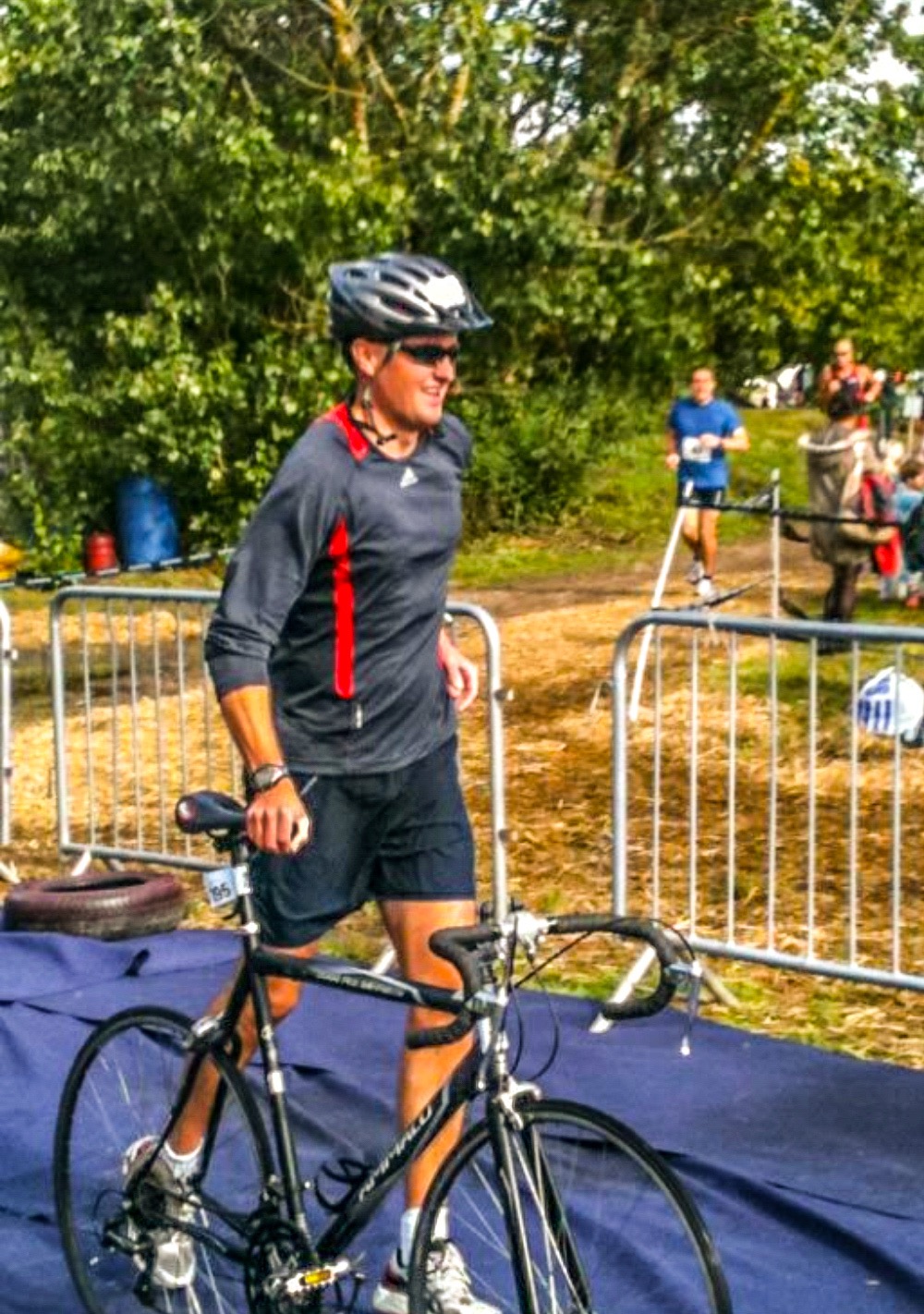 With so many shiny things to go for in cycling it can be all too tempting to think you need it all for your first race.  It is a waste of time to spend time buying a TT bike complete with power meter and all the extras.  For your first race having a bike is of course essential but you don't need to be competing the Brownlee's.  The most important thing about cycling for your first time is to spend time in the saddle training. Get or borrow a road bike to use and get time on it ahead of race day.  As you grow to love the sport there will be plenty of time for upgrades.  Don't waste time with all the gear and no idea for your first race. 
Mistakes in running training
Running too frequently
Running is the most high impact phase of triathlon and as such is the most likely to result in an injury and give you a DNS before you begin. Many triathletes come from a running background and have confidence in the third phase of a triathlon. What they fail to consider is as they train for triathlon the workload will have intensified with swimming and cycling training. Recovery days are as important in triathlon training which is hard for a beginner triathlete who is cramming in training. Building up to more than 6 hours of training in a week will take time if you have been a casual runner who has been running 1-2 hours per week. In early phases of training for triathlon you should look to run once or twice a week maximum.
Mistakes in triathlon training
Failing to have a training plan
Triathlon training means that you need to fit in the training for three separate sports. Most people struggle enough with training for a running event. Triathlon training can be daunting and mean that you fail to train effectively. Most beginner triathletes think they need to split their training into three with equal amounts per discipline. You need to consider the relative duration of each phase of a triathlon. We recommend you split your training with 25% on swimming, 50% on cycling and 25% on running.
Failing to allow for rest days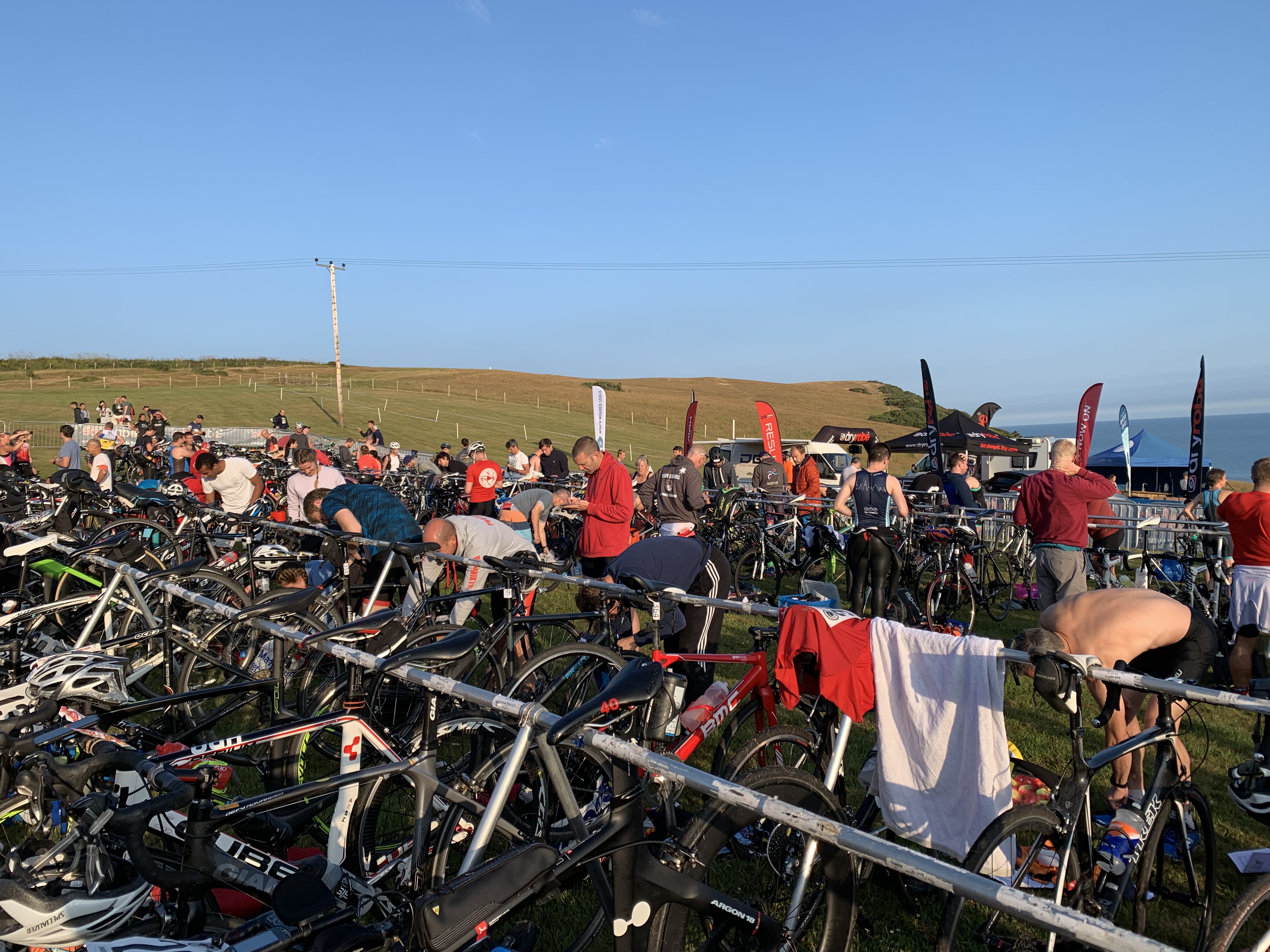 First time triathletes are amateurs meaning there is little money to look forward to. That means triathlon training probably comes behind work and family. The temptation can be to sequence in as much training in as possible. Muscles need recovery time which means if you train while fatigued you are adding little benefit. To make the most of your training you need to be ready for each session and able to go hard. Quality training delivers quality results and faster racing. Don't train when your body is not up to it.
Failing to include brick training
We provided a detailed review of what Brick training is in a previous blog article. Essentially for beginners brick training is the process of building up "Bricks" of disciplines together. This means brick training to combine swimming with cycling and the brick training session of cycling and running. The reason this is so important is that your body needs to get some muscle memory in how it feels to shift from one to another. Coming off the bike your hips are often locked into a fixed position and thighs can be burning from hills. Moving onto the run your legs will feel like jelly and it can be extremely demotivating. Adding in brick training into your triathlon training helps you to understand your body better and prepare for triathlon race day better.
Mistakes in first triathlon races
Failing to select the right first race
Humans are dreamers by nature. Ambition is a wonderful thing but before you shoot for the moon make sure you understand which moon you are shooting for. First time races at most need to be a Sprint triathlon. Sprint triathlons are 750 metres of swimming, 20 km of cycling and 5km of running.  Taken individually this can sound straight forward for a first time triathlete.  This compounded by the triathlon imagery of ironman everywhere you look and banter on going "long".  You might well be the next Dave Scott (Ironman legend) but for your first race go short.  Pick a race where you can learn.  Enjoy the experience and tee you up for the next one.  Choosing an epic adventure for your first triathlon is a mistake. 
Trying something new on race day
If you are going to use something on race day make sure you have used it in your training. This becomes relevant in a number of areas and while obvious even seasoned triathletes seem to fall foul of this.
Triathlon Nutrition. If you are going to try eating something in your race make sure you can break it down while racing (chew and swallow it). Also make sure you can digest it without any unexpected results. Emergency trips to the loo.
Triathlon hydration. This includes the water bottle that you use. If you are unfamiliar with the fluid or the way to ingest this could be dangerous in a race or best case be irritating.
Triathlon clothing. Shoes, tri-suits, wetsuits. Whatever the item is make sure if fits you well and that it is both comfortable for racing in and doesn't irritate your skin. Bleeding nipples on the first kilometre of a 5km run is no fun.
Ignoring the drafting rules
Unless otherwise stated under ITU rules triathlon races are non-drafting for the bike. This means that while you are cycling you cannot tuck in behind another competitor and draft on their tail. On Olympic and Sprint triathlons this means the 10 meters behind a bike is no-mans land. You cannot enter this space behind a bike unless you are moving to overtake. Equally this means if you are overtaken you must respect this and not draft the overtaking bike. Beginner triathletes can ignore (or not know) this rule and risk being disqualified. Triathlon races are littered with marshall's and race officials around the bike course. Mainly to help you avoid dangerous sections and follow the course but also to monitor for drafting. Avoid Disqualification and don't draft.
Failing to pace yourself
Any distance triathlon is a lengthy event. This isn't an adrenaline fuelled 100m dash. If you have trained for your first triathlon you will know your pace for each discipline. Use this knowledge and follow it come race day. In the heat of competition and with others around you we all find that extra gear but be wary of going too hard too early. Settle into your own pace and don't be distracted by others or you risk lactic acid building up and ruining your first triathlon.
Mistakes beginner triathletes make with equipment
Not using a triathlon race belt for your first triathlon
A race belt is a low cost piece of triathlon kit but hugely valuable. The value of a race belt is it helps you manage the transition at pace. When racing in your first triathlon in registration you will be gifted with a number of race numbers that you need for your race. In the swim you don't need any race number but will get a swim hat with a unique colour to your start wave. Coming out of the swim though and onto the bike you need to identify your race number with marshalls. This means race numbers on your helmet and bike but most crucially also on your back. A race belt gives you a mechanism to attach your large race number too and clip on as you leave the water after the swim. Quick T1 means using a race belt. The same is true for T2 as you leave your bike and head onto the run. Your large race number now needs to be on your front. The genius of your race belt means this just involves spinning it around your waist. Smashed it. If you don't use a race belt you have to pin numbers to various pieces of clothes and go through changes or worse go through number pinning and changes.
Failing to have your bike properly prepared for your first triathlon
In all triathons as you arrive you will find your bike gets lots of attention. Not just from fellow competitors checking out the quality of your bike but from officials. There are over 100 pages of International Triathlon Union rules and guidelines to comply with and many of these relate to the condition of your bike. Key things to consider when preparing your bike for your first triathlon are the following:
Brakes work front and back. They don't need to be within 2mm of each wheel but must be able to stop the flow of the wheel when pressed.
Your handlebar tapes have bar ends on them. Such a random point but can catch people out. Tatty bar tape without bar ends can prevent you starting your race.
Non-traditional bikes are not allowed without prior permission provided in writing. So if you have comedy gold plans of racing on your BMX maybe best to check first.
Other obvious but not necessary for ITU rules check is to make sure you have your tyres inflated to the correct PSI. Poorly inflated tyres will slow you down on the road meaning more effort needed. In addition poorly inflated tyres are more prone to puncture so leave you more susceptible to a DNF.
Biggest mistake I made in my first triathlon you have to avoid
Failing to train for your transition
The transition is often considered the fourth discipline of triathlon and just as technical. Beginner triathletes will often fail to train for this and focus on swimming, cycling and running only. This is a huge mistake. This was my biggest mistake in my first Sprint Triathlon and cost me at least 10 minutes that overall.
I left the lake open water swim in a good position. The swim has always been my strongest discipline. Running confidently into transition I quickly realised I didn't know where my bike was. Trawling up and down the racks looking for my bike I lost precious time and my wetsuit quickly clung to my body. Finally finding my bike and kit I battled to get my wetsuit off. Showing signs of stress and frustration as my fellow competitors who had come out after me changed and left me. After battling what seemed like an age I got my wetsuit off. I then realised I didn't have race number on so had to fashion it onto my t-shirt. Safety pins and desperation not a great combination. Finally leaving for the exit I was halted in my tracks by the marshall as I had pinned the number onto my front. A quick whip round of the shirt and it was on back to front but with my number. I left for my ride.
Coming back into transition after my ride I was already broken. Here I battled once again to find my rack forgetting my number. Finding a home and dumping my bike I then spent an age faffing with my trainers to prepare for the run. Heading out I once again caught the attention of the marshalls who stopped me dead. "Number on your front!" They screamed at me attempting to help me progress with some pace. Realising what was going on I spun my shirt around again, now facing the correct way and off I went. All in pretty much 10 minutes of time lost that I could ill afford with my first triathlon. You have been warned.
Full list of the 15 Biggest Mistakes Beginner Triathletes Make
Failing to learn swimming technique before your first triathlon
Not including any open water swimming in your triathlon training
Avoiding hills in cycling training for your first triathlon
Spending more time spending money than training for your first triathlon
Running too frequently
Failing to have a triathlon training plan
Failing to allow for rest days in triathlon training
Failing to include brick training in your triathlon training
Failing to select the best first triathlon race
Trying something for the first time in your first triathlon race
Ignoring drafting rules on the bike
Failing to pace yourself
Not using a race belt for your first triathlon race
Failing to have your bike properly prepared for your first triathlon
Failing to train for your transition
Infographic of the 15 Biggest Mistakes Beginner Triathletes Make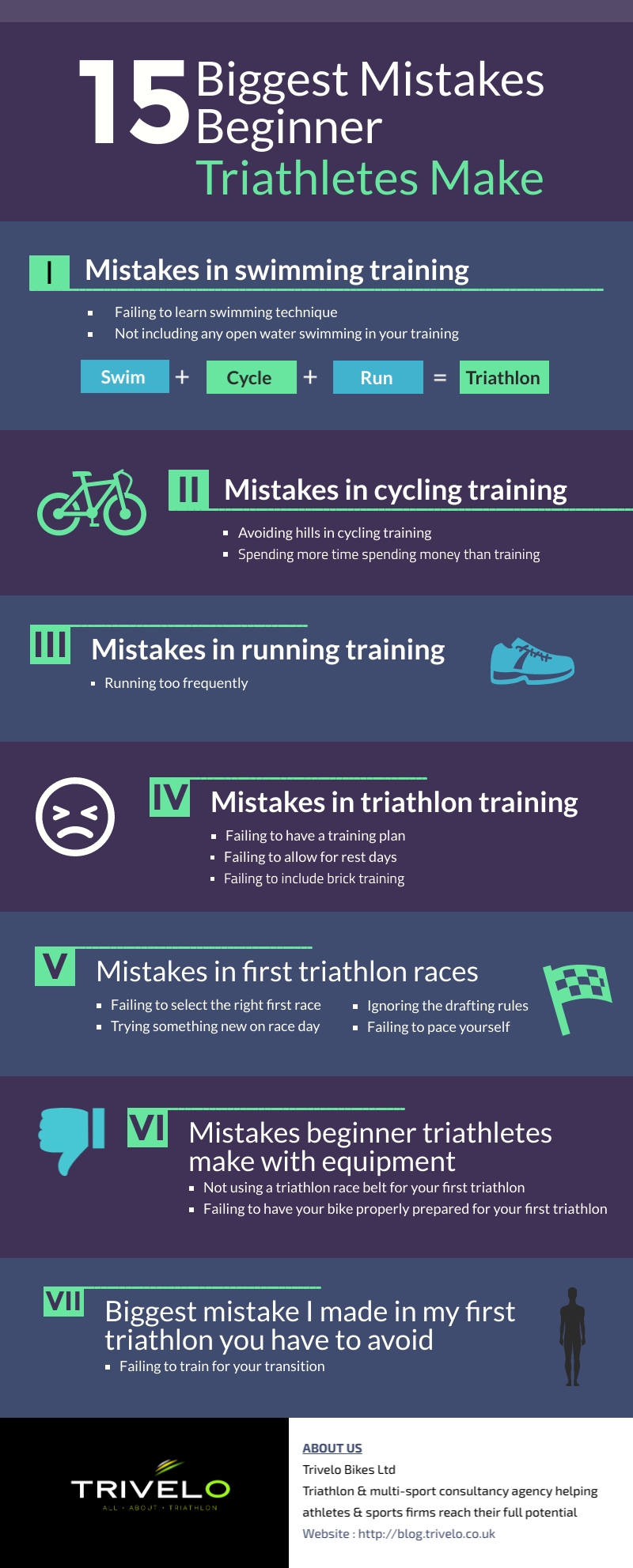 If you are still keen and want to know more check our blog on the Top 50 triathlon training tips and hacks. And if you want some quality bedtime reading check out the full ITU triathlon rules & guidelines.